Sexuality and Symbolism
John Haber
in New York City
Frederic Leighton's Flaming June and Mystical Symbolism
What could be more stylish than a carefully displaced tress of hair? With Flaming June, Frederic Leighton goes beyond style to a languid and ambiguous sexuality, perhaps close to death.
Joséphin Péladan was a writer, a mystic, and not incidentally an entrepreneur. That very year that Leighton was painting June, Péladan was creating a bridge from estheticism, decadence, and the spiritual to a still unknown modern art. At least he did so in his own eyes—and in the eyes of the Solomon R. Guggenheim Museum of Art. For the museum, he helped make Symbolism central to the arts, with an influence as far reaching as Kandinsky, Kupka, and Mondrian.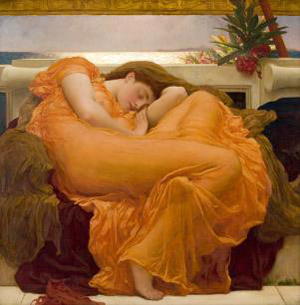 It shows instead artists largely forgotten and even then late in the game. "Mystical Symbolism" tracks the annual Salon de la Rose+Croix in Paris over its mere five years, beginning in 1892—six years after Jean Moréas, never once mentioned, published his Surrealist manifesto. It suggests an obsession not with another world, much less a more spiritual future, but with the past. With just twenty paintings along with prints and documents, it comes off as a curator's thesis not yet ready for prime time. It would be criminal if it leaves visitors thinking that they have seen Symbolism. Yet it has one asking about the place of Symbolism in modern art.
Toss in a fin de siècle weariness, a touch of the ancient Greeks, and a heavy dose of fantasy, like the willowy figure with a lyre in an exhibition poster by Aman-Jean, and one has a style. And a high style it was. The Guggenheim's curator, Vivien Greene with Ylinka Barotto, welcomes one into a near recreation of a Salon, right down to velvet red walls and background music—by such heroes of the movement as Richard Wagner and such contemporaries as Erik Satie. What, though, did the style mean? For one thing, the artists took style seriously, in a time of arts for art's sake. For another, its looking back reflects a thoroughgoing revulsion at modern life.
Asleep and aflame
Frederic Leighton may have had death on his mind. It was the very year before his death, in 1896, although he was by no means ready to retire. His career had won him a peerage, the first ever for an English painter, and presidency of the Royal Academy. He may have had sex on his mind, too, because not even a man in his sixties needs an excuse for that. He definitely had luxury on his mind, quite as much as John Singer Sargent in portraiture, for Flaming June began as a detail, embellishing a marble bath in another painting. On its own, it has become his most popular and recognizable work.
He found sex and death an enigma all the same. His subject curls up so tightly that she could easily fit in a bathtub—and so close to the picture plane that one can almost reach out and touch. A bare foot lightly touches the floor, as if she could spring up at any moment, leaving her flaming dress behind. A preternaturally large and muscular thigh occupies the painting's center, pressing tightly against the almost translucent fabric of her orange dress. Its satin flows as freely as her long brown hair, on top of still more sheer draperies in deep burgundy and yellow. The flowers above her to the right offer just one more temptation.
She has a presence well beyond the fluid play of color, highlights, and shadows. She is asleep, in evident comfort, although her twisted pose makes it difficult to account for her limbs. The brightly lit shelf behind her could be the marble niche of an altar or a tomb, as if sculpture had come suddenly to life. Her face has the indifference of death but the reddish glow of life itself. Leighton hardly needed an excuse to lend his sitters at once solidity, an assertive glance, and an outrageously diaphanous robe. He did so for himself, too, in a bulky self-portrait.
Not that the Frick Collection needs an excuse to indulge in elegance either, with a loan from Museo de Arte de Ponce in Puerto Rico. While running up, rightly, against objections to expansion plans, it has been adept at collaborations with other small museums, such as the Norton Simon in Pasadena and the Scottish National Gallery. If it fills out its image of luxury with simply its own standing portraits by James McNeill Whistler, it has made an exhibition before of "Whistler, Women, and Fashion." And if Leighton's over-the-top yet thoroughly academic art was long an embarrassment, the Frick has its period rooms for Jean Honoré Fragonard and François Boucher as well. Flaming June landed in Puerto Rico some fifty years ago, when Victorian art and bluster was at its least fashionable, because no one would meet the stated price.
It deserves a close look nonetheless, along with an oil sketch focused on that flaming orange, for not just the virtuosity, but also the enigma. People debate even the identity of Leighton's model and the origins of his title. That masculine thigh makes its sexuality ambiguous, too, just as with its source in Michelangelo—who used it in a sculpted Night for, fittingly, a tomb and in a Michelangelo drawingand a lost painting of Leda and the Swan. The flower is oleander, a serious poison, meaning that June could be dying or the carrier of death to others in her sway. You just cannot trust those women. You might not trust Leighton's sexuality either, and speculation continues as to why he never married.
Do not answer too soon. Sex and death had been in the air at least since Romanticism, as with Anne-Louis Girodet in France, and the Pre-Raphaelites in England had taken them as their theme. And the painting's compressed space has parallels in their highly linear compositions. Leighton, who had studied in Florence, also shared their interest in the Renaissance and myth, in what a modernist might call a dying culture—or a Freudian something frightening and new. He just happens to add excess and ambiguity. While their lovers faint and their bodies on the ground are dead, his could only now be coming to life.
Symbolism as pop-up
Joséphin Péladan may not have become a household name, but he sure had charisma. Jean Delville paints him in the white robe of a choir boy or a savior. Marcellin Desboutin lends him the richer costume and dashing pose of a visiting celebrity from the East, while Alexandre Séon accentuates his pointed beard, wild hair like a Russian's fur hat, and gaze toward a higher power. One could mistake him for Rasputin at the court of the tsar, and indeed they label him a sâr, or leader in Assyrian.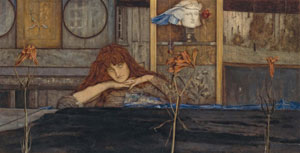 Unlike the official Salon that had cast out Edouard Manet and Impressionism, his was in today's language a pop-up, turning up where it may. Of course its name stands for its dedication to a none too secret society, the Rosicrucian order.
That order had its heyday in centuries past, and the artists look back as well. The most prominent symbolist painter, Gustave Moreau, appears only through a pupil, Pierre Amédée Marcel-Béronneau, and his influence. It shows in the death of Orpheus for Delville, with a bejeweled and shining face drifting in a blue-gray sea. Pierre Puvis de Chavannes, Odilon Redon, and Edvard Munch do not appear at all. Others, like Charles Filiger, turn instead to silhouettes and color out of Paul Gauguin or to Pre-Raphaelites like Dante Gabriel Rossetti. Armand Point mimics their Madonnas, shallow spaces, and decorative naturalism, as with a peacock after Antonio del Pollaiuolo in the Renaissance.
The movement's estheticism appears in the frequent return to Orpheus. Naturally, he wants something more, and naturally, too, he is doomed. Séon paints his lament, face down on a rocky beach with his lyre cast aside. And the revulsion is implicit in the choice of styles. Most are quite conservative—although the flat colors in narrative paintings look forward at times past Edvard Munch to Gustave Klimt and German Expressionism. A poor follower of John Singer Sargent might have painted the portraits of Péladan, give or take their pointed disdain for a secular aristocracy.
The disdain appears in subject matter as well. Charles Maurin poses nubile bodies against smoking factories as The Dawn of Labor. They play out beside the twisted flesh and lamentations of his Dawn of the Dream. Ferdinand Hodler paints The Disappointed Souls as less a circle of hell than a bad day on a park bench. Jan Toorop uses his own daughter as a model for The Next Generation, only to lose her amid bare branches, a willow as a sign of mourning, a snake, and delicate curves of paint. Could the trees alone promise a next generation, with humanity left behind?
To save themselves, the artists have only the dream—and an idealization of women that women today might not appreciate one bit. They paint anonymous saints and shepherdesses with a youthful vision. And that idealization comes at a price. When Delville looks at a woman, he sees only an Idol of Perversity, in graphite, her hair and chest all but exploding toward the viewer. A languid young woman for Fernand Khnopff has the eyes of a zombie, like a beleaguered temptress. She also has a terrible fate, as (in a quote from Rosetti's sister Christina in poetry) I Lock My Door upon Myself.
Symbolism sought a departure from the allegory and iconography of older religious art in what words cannot express, and writers truly at its origins, like Stéphane Mallarmé, look beyond narrative and mysticism to words themselves on the printed page. Wassily Kandinsky, František Kupka, and Piet Mondrian take painting beyond narrative, too, to the birth of abstraction. One can be grateful for the occasional familiar name, like Félix Vallotton in woodcuts or a young Georges Rouault. One can be grateful, too, for the insight into a newly cosmopolitan Paris. Artists come from as far as the Dutch East Indies or Algiers—with a plurality from Switzerland and Belgium. Or one can settle for jewel-like patterns and worldly fears.

Frederic Leighton ran at The Frick Collection through September 6, 2015, "Mystical Symbolism" at The Solomon R. Guggenheim Museum through October 4, 2017.