Settling In for Winter
John Haber
in New York City
Gallery-Going, Winter 2008: The Lower East Side
From its opening weekend, the New Museum of Contemporary has brought new visitors to the Bowery. Ironically, it faces away from the Lower East Side. Ironically, too, its new architecture has almost drowned out what had seemed big news only months before, in galleries old and new to every side. Has the Lower East Side swiftly become art's future or a new outpost for the past?
Already familiar names mix freely with newcomers to selling art, very much as in Chelsea. With Do Ho Suh and others, uptown galleries now try to leave their stamp on the neighborhood. At the downtown startups, Jimi Billingsley, Pieter Schoolwerth, and the video artists in "Closer Now" do their part to make the familiar worth a second look.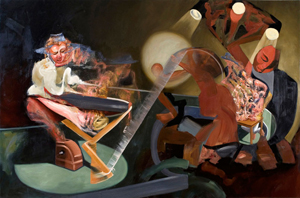 The shadow of a contender
When galleries opened after 1980 in the East Village, they were fleeing late Modernism and making a scene—before bringing it back to Soho. When galleries left for Chelsea, they were fleeing Victoria's Secrets and seeking one another's clients. Now galleries are fleeing only each other. Now wonder they spread so widely and amid so many bars. No wonder, too, that they are bringing with them some pretty familiar art. From now on, thanks to the New Museum, they must live in the tall shadow of a contender.
The buzz of life beyond Chelsea peaked briefly in 2004, as experienced dealers sought new ground. And it dispersed almost as quickly as it began. Now the cycle has begun again, and this time it has reached critical mass—and endless critical attention. Salon 94 from the Upper East Side, Museum 52 from London, and Lehmann Maupin from Chelsea have all opened branches on the Lower East Side.
It definitely does not look like the East Village then, like Williamsburg of the late 1990s, or even like the burst of galleries that came and went near Orchard Street only three years ago. These guys have been around. Does the air of success mean that experienced dealers can experiment on the side? Does it resemble instead the birth of Chelsea, when an existing scene simply picked up and moved, but not without changing its contours for good? Or has Chelsea swallowed Manhattan? For now, the Lower East Side can have it every which way. Each newcomer announces its receptivity to youth and change, and yet none leaves its past behind.
Salon 94, known for closed doors and private dealings, has plunked down in a picturesque alley, with open doors and regular hours. It dares one to find it or to call it scruffy. It has also focused on joint exhibitions, with itself and others. When it started its new life with Huma Bhaba and her earthy sculptures, one had to travel first uptown and then to Chelsea to catch them all. Even on tiny Freeman Alley, Bhaba's oversized limbs had one gigantic foot in a new neighborhood and one in the old.
The gallery loves work at once polished, sexy, and disquieting. Uptown, it has displayed Marilyn Minter with her high heels in the mud. Downtown it last showed Aïda Ruilova's slick, four-color film reenactment of Lulu—with multiple large screens, sweeping camera angles, and a male actor. Now Katy Grannan's aging transsexuals pose as if for greeting cards. One hardly knows whether to notice most the assertion of pride, the mockery of commercialism, or its embrace.
Museum 52 takes over for now the space vacated by Participant, Inc., on the latter's way to Houston Street, but with a better paint job covering those cheap plywood floors. Anthony Titus's smoothly staggered black painting and sculpture make the most of its two levels. They also treat overly admiring visitors to a scolding. In reality, Titus follows recipes from The Joy of Painting. Sherrie Levine might have collaborated with Tom Burr, both agreeing to leave out matters of gender and sex. Downtown, irony serves for comfort food.
Comfort in sad spaces
These galleries come with the reputations to draw buyers and critics to new territory, just as some Chelsea dealers started downtown to build theirs—including a gallery that calls itself ATM. The last and largest, Lehmann Maupin, has a two-level space, so that one can look down in proper awe at the main event. For its first show, that means a triumphal arch by Do Ho Suh, capped with a pagoda and reflected on the level above. The artists says that he draws on memories of Korea. Yet he also points two other ways—to the gate down in Chinatown and to the grandeur of Paris and Rome. Old or new, some culture will pass beneath it in triumph.
The uncertainty does not end with reputations made elsewhere. One chilly Saturday I turned again to the New Museum's surroundings. Gallery after gallery brought home the contrast to past seismic shifts in the display of contemporary art. How perfectly nice they were—not in the sense of clean or lavish, but in the sense of reasonably solid, unthreatening exhibitions. But could the next big thing be this nice? Should it be?
I admired Jackie Saccoccio for her loose and colorful "Uninterrupted Grid" paintings, like Sean Scully with a shot of American optimism. I admired enough Khalif Kelly's African-American children. His paintings combine the palette and simplicity of Jacob Lawrence with the round faces, wide eyes, and age bracket of contemporary animation. I admired him more on the walk home, as the fear of his characters finally sank in. So, too, did their shared isolation in the streets of an African-American community, even while at play.
I found still more comfort in sad spaces with Jimi Billingsley's photographs. They show the "lost paradise" of Spreepark, once a busy amusement park in East Berlin. They hold memories of a totalitarian state and a failed Communist utopia, but of something closer to home as well. A scarred and still garish painted woman could have emerged out of a torn poster photographed by Walker Evans. The tracks of a roller-coaster rambling deep into the hills could belong to an abandoned mining town in America. Perhaps Chelsea will look like this one day.
All of these are taking safe currents in recent art and personalizing them. Pieter Schoolwerth even inserts himself into Modernism's most fearsome manner. His large paintings owe a big debt to Francis Bacon, but with warmer and more sober colors. Patches of brighter, more variegated impasto interrupt tight spaces, murky shadows, and liquid actors. The darker surrounding figures complete the audience along with the viewer. They might also belong to a police state—or a dysfunctional family.
No doubt artists, dealers, and gallery-goers more closely resemble the latter. Schoolwerth treats it as his own family as well. The paintings brighten noticeably in the foreground. In one, the main actor literally holds the spotlight, as in a rock concert or circus. I have only his word that the star performer represents the artist, and I cannot put my finger on his dilemma. For now, though, I am willing to believe in it.
The silence of Sunday
These artists describe their fears, but in a pictorial language of comfort and caring. A small group show in fact takes caring as its theme. At least three of the videos in "Closer Now" focus specifically on parenting. At just five minutes apiece, all four might well express maternal solicitude for viewers exhausted by new media.
The exception, by Natsuki Uruma, nonetheless ends in a parting kiss. The artist herself opens a coffin, in which a bearded young man lies dead. While the image itself seems more sentimental than shocking, it turns the viewer's experience from a funeral into a wake. Her choice of an unknown, at a welfare mortuary, implies a concern for community among the living as well.
Uri Aran nudges grieving toward comedy, while Leigh Ledare takes caring as more sober and personal. Aran plays Madonna to a large dog, who sits on his lap with front paws draped over his shoulders. As the dog's weight shifts, Aran's mouth shifts between sadness and a grin. Regardless, both characters clearly enjoy the petting. Ledare shares the experience of a child in the role of caretaker, with a grim and necessarily static shot of his hospitalized mother. One may well mistakenly remember it as black and white.
Ledare has made his mother part of his project for some time, in photographs that approach the voyeuristic family sagas of Nan Goldin or Diane Arbus. His video here extends his frankness faced with the strangeness of aging and the strangeness of his own love, with his mother this time in the hospital. Leigh Johnson, in turn, makes it even harder to know who is complicit and who is using whom. Her mother, a handsome woman with a splendid figure, dances naked in a garden to silly music, waves one last time to the viewer, presses her saccharine grin toward the camera, and ducks out of the frame. The image of an older woman, the choice of the artist's mother, the backyard as paradise, and the incongruity of the dance make obvious fun of the nude in art, the male gaze, and the identification of woman with nature. Perhaps the video also makes fun of her, but she plays the active role, and she has definitely earned that smile.
Ledare has shown in the last year in Chelsea and in a group show on Madison Avenue, and his video plays at a Lower East Side pioneer that has now slipped two blocks north of Houston. They attest to how some still yearn for the freedom that comes with leaving the pack, but the pack is never far behind. When Maccarone helped inaugurate the scene, its namesake had already directed Luhring Augustine gallery. She and the director of Participant, Inc., had also served as curators at Thread Waxing, the former Soho nonprofit.
Already newcomers to the Lower East Side shut their doors Sundays, starting with Salon 94 on that picturesque alley. When Chelsea first gave up Sunday walks, business as usual was about to begin. I could only think again with trepidation of the new building for the New Museum—now on the same block as a Whole Foods Market. The museum's opening show, "Unmonumental," has plenty of visitors. It unfolds in stages, like this series of reviews, to allow a good look at the space, and it too, sends mixed messages about art's past, present, and future.

Katy Grannan ran at Salon 94 through February 23, 2008, Anthony Titus at Museum 52 through February 16, Do Ho Suh at Lehmann Maupin through February 2, Jackie Saccoccio at Eleven Rivington through February 9, Khalif Kelly at Thierry Goldberg through February 10, Jimi Billingsley at Christopher Henry through March 10, Pieter Schoolwerth at Miguel Abreu through March 2, and "Closer Now" at Rivington Arms through February 22. Related reviews look at the New Museum's opening on the Bowery and its inaugural exhibitions, "Unmonumental," along with other possible heirs to Chelsea.