A Tale of Two Cities
John Haber
in New York City
Summer 2010 Group Shows: Swell and Lush Life
Some spent the Fourth of July nurturing the divide between the coasts and "real America." All I could think of was the distance west.
New York can always claim the Armory Show and Joseph Cornell on Utopia Parkway. It has given birth to MoMA and Art of the Future, the "New York School," and a shifting street carnival of lofts and galleries. Yet this summer's New York theme shows take on the coasts. Maybe it says something that Chelsea on the comfortable far west side evokes surfing, while nine Lower East Side galleries are going for blood.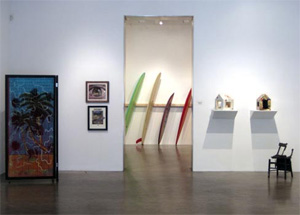 Each of the nine takes a chapter in Richard Price's 2008 Lush Life, set in a neighborhood halfway between a crime scene and an early-hours party. Being New Yorkers, naturally they apologize that Price neglects to blame art, and naturally they refuse to be left out. LA artists practically insist on belong left out—or at least left alone to the surf and sea. It gives the artists in "Swell," spanning three galleries, more coherence, but also at times the quaint air of classic comics.
Thou swell
I try not to talk about the divide, honest, sometimes to look for Minimalism beyond America entirely. In fact, I try not to talk about California at all, in between surfing (the Web), renting movies, and catching up on Pynchon novels. Maybe I remember Wayne Thiebaud, Llyn Foulkes, or Edward Kienholz for Pop Art without pop culture, as if fears and temptations alike ran too deep. Maybe I lose patience with Larry Bell's glass cube on a pedestal or John McCracken's plank leaning everywhere against the wall. Maybe I want to forget a version of Minimalism so laid back that it is positively in your face.
Maybe I learned to smile when a Bay Area friend insists on stopping by a Chelsea gallery that, to my tired eyes, shows oversexed, over-nourished cartoons. An LA magazine snatched up my article about Jeffrey Deitch's departure for LA MOCA, just when New Yorker's were saying good riddance. Then it rejected a report on "Skin Fruit" at the New Museum as old news even before it opened, while New York artists can still hardly stop complaining.
New Yorkers like to complain. No one is complaining in "Swell: Art 1950–2010," but all is not well either. Maybe in 1950 swell meant stylish. Now the sea's swelling intensity has a mind of its own, and Californians are out to catch it while they can. Sure, I cringed at first when each gallery brought in surf boards—an assortment of art and commerce at one gallery, strict resin geometry at a second, and a showy nude woman plus a logo for the good old USA at a third. Come to think of it, McCracken's plank could pass for a surfboard.
Things get more interesting, however, once one looks past them toward the sea. Just this winter, a Chelsea gallery dragged out several of the usual suspects, including Bell and McCracken. It even had one of the same curators. "Primary Atmospheres" had a novel idea, however: this version of the 1960s stood not for blankness but for light. At "Swell," one can see the light, but it tells only part of the story.
In fact, each gallery tells its own story. As one crosses the three, one moves from a documentary impulse to dark seas and finally to more placid visions—figuratively into the light. I went in the opposite direction, and no doubt it softened me up. The back wall does have those leaning surfboards, to give Metro Pictures a heart in Venice Beach. It also includes a surfer portrait by Catherine Opie, for whom laid back really has become in your face—and a gender role at that. Still, the back wall already suggests a gathering, while the solo visions suggest quirky but rewarding fantasies.
Craig Kauffman picks up Bell's transparent geometry. Fred Tomaselli indulges in decorative human wallpaper, and Robert Graham's small standing nude has his kitschy bronze classicism. Mary Heilmann (a California native) drops in from New York, with a swirl of green for North Shore. I guess others, too, can see the light, as Anne Truitt proved for Minimalism's eastern landscape. Already, though, all this idealism sounds dangerous or insipid, and the artists embrace that, too. As Jay Battle puts it with a small sculpture atop another board, I Want to Become Immortal and Die.
Surf's up
So far death sounds like fun—or maybe fun while it lasted. George Herms takes some of the threat out of Kienholz's dark interiors and decaying constructions. He uses them for a kind of natural history museum, but Scientific American has already curled and faded, and the interior is already dead. At Friedrich Petzel, night descends and practically everyone dies. The curators at all three venues, Tim Nye and Jacqueline Miró, went to school together in Massachusetts. Perhaps they know when to keep a distance from the sea off Venice Beach.
Gary Hill brings a chilling distance to his Incidence of Catastrophe. In the long, breathtaking 1988 video, the ocean gradually leaves a corpse, while the onlookers come off almost as murderers. The resin of surfboards has become Alex Weinstein's black resin—and from there Jeremy Everett's black sign paint, Vija Celmins's black abstraction, and Jeff Lewis's swelling dark star. Opie's lone surfer has become Olaf Breuning's masked Vikings or Sandow Birk's Night Surfing. For Timothy Williams's Dark Ocean, Dark Sea, death swirls through a cow's skull in electric colors. The real Kienholz turns up, as a still gaunter and more deathly skull.
The curators quote David Hickey, for whom the ideal art means as little as possible beyond mass-cultural communion. He gets his due at last at Nyehaus, where one gallery's "courtly" strain, as he puts it, and the other's terror find their roots in history. It includes Robert Longo with his images of an A-test and a rocket launch. It includes documentary photos by Jimmy Ganzer and a poster from The Endless Summer. It includes sketches by Raymond Pettibon, with annotations that speak directly to their time—or at least to Pettibon himself. With that USA logo and nude, it also includes the most culturally specific surfboards.
Several artists, McCracken included, appear in more than one gallery. They thus develop contrasting moods, like Ed Ruscha or Ashley Bickerton in both dark and light. At Petzel, Peter Alexander's night descends across California highways, while at Nyehaus he becomes black velvet. At Petzel, too, Longo contributes simply a swelling dark wave. R. Crumb's cartoons turn up just in time to make any hipster feel old.
Laddie John Dill has a very different idea of California Minimalism. He recreates the shore itself in dust and light. I felt stranded on the sand at night, even on the third floor of a Chelsea brownstone. I could almost accept LA after all, just as I had learned to appreciate the Beach Boys. "Surf's Up," after all, swelled to crescendo in a minor key, while Brian Wilson pigged out on Oreos. So what if Chelsea residents would find organic cookies at Whole Foods?
One need not work too hard to give sixty years a time, place, and history. One has New York for that. Or one has Pettibon's colored-pencil waves, with the flippancy of cartooning and the grace of art. One drawing's text speaks of "the Romance of it, the sport of it and the smashing of it, the pleasure—an endless pleasure—of balancing to the swell: well, it's over." And Labor Day is still weeks away.
Dead man walking
Where "Swell" treats California as a state of mind, "Lush Life" treats New York City as contested real estate. It reels in nine galleries, over more than seventy square blocks of the Lower East Side. In New York, even a summer group show wants to compete with art fairs, biennials, and "Greater New York." Just to cover it all means wearing out shoe leather. It also means passing the same precinct, projects, and trendy bars as in Richard Price's novel, set in 2002. One descends much the same cramped stairs and airless interiors as well.
It is a tale of petty drugs and pointless murder, posturing and recriminations. Pretty much everyone tells the truth, and pretty much everyone is trying to pin someone else in a lie. Price gives the murderer away from the first, even before the police put a bar manager and failed actor through eight hours of interrogation and innuendo. Those thirty-six hours nearly destroy him in ways that he could never foresee. It hardens him, and it drives him to silence that turns others against him. It takes still more amateurish bullying and betrayals to sort out the pieces.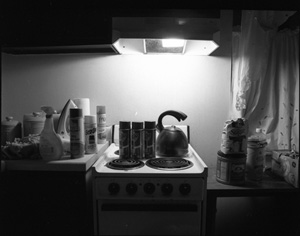 The show makes a point of how much galleries have since become part of the mix. Like every assertion in the novel, it is both boast and confession. While each gallery sticks to a chapter, none follows it all that closely. New Yorkers are readers and not surfers, you know, but only in between making art. Often as not, "Lush Life" forces art to confront the facts on the ground. And often as not, that leads to art about art.
In the brief third chapter, "First Bird (A Few Butterflies)," the killer lies alone listening—with a heightened sense of his surroundings and very little guilt. And a gallery teems with birds, including the predatory owl in a photocopy by Xaviera Simmons and a deliberately yucky ceramic by Jeffrey Gibson. In Dana Levy's video aviary, white birds fly through a natural-history museum, where they alight on a ghostly ceiling fan. Other works present fragmentary messages, including the End of Abundance by Karen Heagle and What Visions Burn by Ezra Johnson. They could be riffing on the killer's sensations or on just a word in the chapter title. Again and again, I kept finding connections to Price's images, and again and again I had to wonder if I were merely imagining them.
Chapter 6, "The Devil You Know," is about eulogies, denials, and dead ends. Some artists see only the devil they know—Nina Lola Bachhuber's black wig on a black tusk, Chakaia Booker's art deco masks, or Gail Thacker's Viking at the computer. LaToya Ruby Frazier and Robin Graubard evoke an older devil in collage and photos—forty years of East Village clubs, walk-ups, and protests. (Ishmael Randall Weeks suppresses that documentary impulse by pulping The New York Times into abstract sculpture.) But when Paul Gabrielli places a surveillance mirror on a pole next to a small platform, is the setting the stage for the chapter's orations? Is he thinking of security, an ego trip, or art's self-reflection?
For the opening and closing chapters, artists recreate history. At both, Nanna Debois Buhl has a slide show of Jacob Riis's Lower East Side. One even sticks to a gallery's back office, to suggest a sweatshop—or to allow the front room to hold onto its last show, a stellar painting by Jackie Saccoccio. There Alice O'Malley gives the appearance of old prints, David Kramer stages a bar (not, alas, used at the opening), and David Shapiro announces Everything Must Go. Amy Longenecker-Brown paints a page from an 1823 essay on Macbeth by Thomas De Quincey—himself quite familiar with drugs). Like the entire exhibition, she combines guilt trip with nostalgia.
Ghetto portraits
Kramer's stage set is fairly generic, and Joanne Greenbaum's painting could fit just fine in any group show. Saccoccio herself turns up at another venue, in Chapter 4. For "Let It Die," Bachhuber has Goya-esque skulls, Cynthia Lin a tall graphite drawing of cracked earth, Claudia Weber multiple shattered paintings in prints and in reality, and Rashid Johnson simply the word DEATH spray-painted on a mirror. And then it sank in: while the chapter title quotes advice to the police investigator, the curators have quite another death in mind—the death of painting. With Alisha Kerlin's painted game of solitaire, Ruby Shepherd's flat ghetto portraits, and Jonathan Van Dyke's paint drips for Chapter 5, it might have already died.
Not that painting is going anywhere, any more than the investigation. Self-reflection and incompleteness help keep it alive. In this huge show, galleries get along just fine with Postmodernism and gentrification alike. One sees it in Chapter 2, where Manuel Acevedo's Polaroids bring back the Twin Towers, Tim Davis positions the drug wars at an ATM, Ezra Johnson paints DOUBT in the style of Paul Klee, and Carol Irving parallels the protagonist's interrogation with a lie-detector test. One sees it at in Chapter 8, where Tommy Hartung fakes a box camera out of a minimalist wood box, Yahsua Klos calls a painting Cell, and Paul Pagk outlines cells in a red abstraction. They are sketching "17 Plus 25 Is 32," in which the killer goes to jail, but also asking whether painting is confining or adds up.
The mess of nine galleries and seventy artists would have anyone wondering. The dealers basically surrender their spaces to the curators—with a small payback. Franklin Evans and Omar Lopez-Chahoud ask each dealer for one artist, who gets to select another, and then they throw in a good thirty more. And then they make accommodations. They put on an extravaganza of emerging artists, but the two galleries that have invaded from Chelsea and the Upper East Side get pricier names. This, too, is a parable of quick bucks, bungled aspirations, real visions, and artistic integrity.
Naturally an especially pricey gallery looks at its surroundings and sees only danger. Ghetto types appear as threats to a charming alley with a picturesque restaurant. Chapter 7 describes a beating, a coke deal, and the moment before a police breakthrough. Erik Benson photographs the city as a war zone. Robert Lazzarini sculpts a gun in anamorphic projection, Leslie Hewitt uses a shattered teacup into an allegory of entropy, Paul Pfieffer and Mario Ybarra, Jr., draw on sports figures for macho, and Patrick Lee sketches a tattooed hulk with a shaved head. Artists, like the police, look at the street and see themselves.
Richard Price knows the pattern. Everyone is an artist, until the condos move in, and the artists move to Bushwick. Price himself has moved to Harlem, probably not blaming himself for repeating the pattern. He is also a master of plot and dialogue, to the point that he prefers to convey plot through dialogue. Is the exhibition an open-ended dialogue, a blow for sanity, another step in gentrification, a survey of New York art, or just a mess? Or all of the above?
Funny thing, though—the playgrounds, projects, and Chinatown endure. The next stage in New York art is always a mess. As I turned west on Houston Street that evening, an artist I know was heading home. And as I passed another gallery, a director was staring across Houston. Fire trucks rushed to a building sheathed in scaffolding, and so did crowds to watch. She was exhibiting the raunchy video of Michel Auder, who lived there before it went condo.

"Swell: Art 1950–2010" ran at Nyehaus, Friedrich Petzel, and Metro Pictures through August 6, 2010, "Primary Atmospheres" at David Zwirner through February 6. The chapters of "Lush Life" belong in order to Sue Scott, On Stellar Rays, Invisible-Exports, Lehmann Maupin, Y Gallery, Collette Blanchard, Salon 94, Scaramouche, and Eleven Rivington. Closing dates varied, through August 13. Michel Auder ran at Participant, Inc. as well as Zach Feuer and Newman Popiashvili through August 1.