Naughty Bits
John Haber
in New York City
Bill Henson and Nathalie Djurberg
Judith Eisler and Nan Goldin
My, artists are getting naughty again. And this time—unlike, say, Andres Serrano when it comes to desecrating Christian symbols—they really mean it. Then again, this time it concerns sex, drugs, and rock 'n' roll. Americans always prefer sex to sacrilege.
Several artists this spring, including Bill Henson and Nathalie Djurberg, range from dark to comic views of the action. Judith Eisler gets hers on more elusively, in a kind of film noir in living color. Last, Nan Goldin frankly unfolds two lives that led to her drug-ridden art—her own and a family suicide. She makes no effort to mask her traces, and not even her hints of martyrdom and self-justification can cushion a wrenching exhibition.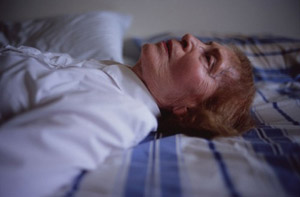 Earth and clay
No doubt sacrilege went out at least two years ago, when Chris Ofili entered the collection of the Museum of Modern Art and Andres Serrano prepared to abandon piss for something browner. At the Whitney Biennial, artists get their kicks even when they purportedly tackle global politics. Three other spring 2006 exhibitions set aside the drugs and rock that so fascinate Fred Tomaselli pretty much entirely, to question images of sexual transgression.
Actually the best of these exhibition comes all the way from Australia, and perhaps I only imagined the transgressions. Bill Henson peoples a dark world. A woman poses erect or on the ground, pressed close to the picture plane against an indecipherable background. Others lurk in forests, made eerier by the lone touch of sky. Nothing marks them as erotic beyond the fire raging in one photograph—unless one counts the dialectic of touchable and hidden, vulnerable and vanishing into that nothing. The nearly six-foot prints, like the characters themselves, soak up color from the shadows.
They have something in common with the staging and scale of Jeff Wall, right down to a highway underpass out of one of Wall's photographs, although without light boxes or his pretense of storytelling. They also avoid the self-conscious artifice of Deborah Mesa-Pelly or Hanna Liden, who takes her goth fantasies more seriously than she may care to admit. Henson's elegance and lack of irony probably make him sentimental by comparison, but he pulled me in and scared me off, and that takes doing. Perhaps the fleshy cheeks, vulnerable eyes, and look of film stills blown way too large update early Cindy Sherman for today's glossier art market. You do what you have to do on West 26th Street.
If mystery mined for beauty turns you off, Jocelyn Hobbie's paintings makes things perfectly explicit. A nun poses naked from the belly up, a painter's model awaits a spanking, and a dozen others expose their preposterously pointed breasts. As a woman milking a repertoire straight out of Francis Bacon and Pablo Picasso, Hobbie asks whose gaze turns on whom. That helps explain why many of her models indulge in art, even if that means carving vaguely "primitive" patterns in wood. The, er, pointed drawing and garish colors make her too condescending for me, however. In the best "Idols of Perversity" at the same gallery last year, I succumbed to idol worship myself.
Nathalie Djurberg ups the ante still further, to porn flicks—only in claymation. Never has plasticine indulged in so much sodomy in so short a time, and that counts as new-media artistry in itself. The Swedish artist manages at least half an hour of stop-action. Djurberg, who works in Berlin, takes equal pleasure in the video's choppy movement and her cast's virtuosity at slipping in and out of something comfortable. Her slick, ignorable soundtrack similarly plays against the clumsy, scrawled dialogue, which appears within thought balloons at the pace of actual handwriting, in block capitals. On two visits, I found myself wandering from monitor to monitor, less to take it all in than to join the leisurely carnival.
The videos, of perhaps three to five minutes each, involve a cartoon tiger, little girls, a mother bear, a mustachioed gentleman, poison apples, and other stock figures. Call them Rocky and Bullwinkle's "Fractured Fairy Tales" in an age of Madonna, Matthew Barney, and photographers like Julie Blackmon. For all the air of repetition, like the insistence of the unconscious itself, the plots take suitably perverse turns. The woman who slices off a man's legs and head may then leap all over him, an innocent little girl may taunt and glower at everyone in sight, and yet the raging bear escaped from its cage puts on an apron and rocks the child to sleep. Djurberg never once probed my own fears or fantasies, although I enjoyed every minute. I hoped for a Freudian insight into the uses of enchantment, and I felt instead Mary Gaitskill's savoring a Chelsea opening for her next novel.
Let it all hang out
What, a recent book by W. J. T. Mitchell asks, do pictures want? Judith Eisler's want to impress, to puzzle, and to shock. Maybe they want to come over and hang out, too.
Quite aside from what lives and desires always hover around art, Eisler certainly offers her share. They appear as present as the acid red light that bathes a character from behind and as elusive as her slightly blurry compositions can make them. They let down their long, flaming hair and breathe in the smoky indoor air while talking on the telephone—the old-fashioned kind with a handset and spiral cord. They expose their flesh and lower their bodies underwater. Her close-ups ensure that their bodies remain near the picture plane while their heads get cut off. As for what has stained those panties, she hesitates to say, and so shall I.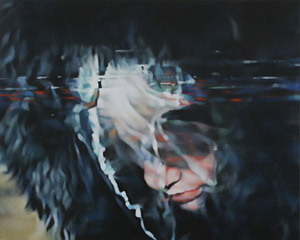 If this kind of imagery seems not yet ready for prime time, Eisler apparently begins with stills straight off the tube. From there, she paints smoothly and thinly enough that the weave of her canvas still shows. The exhibition title, "Rapt," might pun on "rapped" and "wrapped"—as in heightened states of consciousness, pop culture, and the danger of suffocation or a thorough beating. Call it Gerhard Richter meets film noir, the Lower East Side, and daytime television. Expect a crowded party.
This must sound like painting conceived in a postmodern focus group, like that of another photorealist, Marilyn Minter, in her studies of disgust and desire. And it does try a bit hard to hit all the right notes, preferably on electric guitar. Without the artistic, political, and personal reference in an actual Richter, elusiveness runs the risk of avoidance. However, I did feel caught up in the technique, the echoes, and the threats. Her photorealism can easily trick one into stepping back in the hope that it will all come into focus.
If not, as an antidote one can always see how the rest of the focus group pulls it off. Perry Rubenstein has just one work each by ten artists, Richter at his murkiest among them. That plays it safe, but they hang together well. They include Jack Goldstein's fireworks against an enigmatic city in silhouette, Vija Celmins's galactic points of light, Enoc Perez's solarized cliff dwelling, Mary Weatherford's hazy Crystal Shores of You, and Eberhard Havekost's even blurrier cross between an automobile hood and a Mark Rothko. The exhibition title, "The Trace of a Trace of a Trace," makes Eisler's cast a model of clarity by comparison.
Take Angelina Gualdoni and Memory Glides Forward (The Future Precedes the Past). The title gets at what happens when art translates visual data into a human landscape. The subject, a loft-like space under construction, places the site in a context of a contemporary city—and perhaps the making or display of art. So do the framing symmetrical, crossed staircases and the perspective grid of insulating ceiling panels. The icy colors lend to both the appearance of reflective glass, and a brushy foreground seems about the engulf the already entropic interior. Work like this echo the Romantic sublime, itself perhaps another allusion in Eisler's "Rapt," but without the icebergs.
Ghost story
After all that comedy, artifice, and embrace of danger, has a more shocking artist mellowed out? As one enters Nan Goldin's gallery, one easily think so. Instead of sex, drugs, and life on the edge, one encounters sunsets, an elderly couple still celebrating their lives, and railway tracks reaching to their vanishing point through a quiet, open landscape. Instead of an intense, day-by-day scrutiny of herself and her friends, one has medium-to-large photographs that seem to share anything but a story. And then one enters a darkened room, for the slide show from which they derive, and everything changes.
Goldin's family pictures often look bereft apart from their history, but what a history. The artist, born in 1953, began what she has called her diary long before her breakthrough during the years of downtown art and the AIDS crisis, with her Ballad of Sexual Dependency, which the Whitney Museum compares in its summer 2006 exhibition to Edward Hopper in his portraits of displacement. Even her subjects' solitary poses relate to their vulnerability. That includes their vulnerability to self-inflicted trauma, both emotional and physical, and to the viewer. The Whitney called its 1997 retrospective "I'll Be Your Mirror." The claim sounds presumptuous, but it takes on poignancy if one accepts one's right of refusal.
Even in the photographs, something feels scary. Faced with their title, "Chasing the Ghost," one can hardly avoid associations of sunsets or eightieth birthdays with closeness to death. The parallel tracks appear more ominous, too, and rightly so. Goldin's sister lay down in front of a train there, and the slide show follows her from birth to suicide. As another disturbance, Goldin them supplements the narrative of a life with her parent's coming to a reconciliation, while the artist spirals into the habits one has come to know, love, and fear. Her appearance throughout as a disembodied voice-over, as well as her role on just one side of the camera during her parent's late happiness, adds a further hint of absence—past and future.
The slides open with yet another story—of the dead woman's namesake, Saint Barbara, as seen largely though Northern Renaissance painting. Locked by her father in a tower to preserve her virginity, the saint found deliverance in a still stricter Christian purity, plus martyrdom. The real Barbara's parents come off as even less sympathetic than the mythic ones. They responded to a precocious but tormented girl with punishment and estrangement, let her shuttle through years of useless or damaging care, and in their closest approximation to empathy and generosity smuggled razor blades into a mental home. Goldin clearly has had plenty of reasons to distrust authority. It makes her work's position between rebellion and self-annihilation more intelligible.
Even more than such photographers as Leigh Ledare and Donna Ferrato, or the former's lively video of his mother, has always had a special sympathy for the dark longings of childhood translated into the language of a very exposed, very adult body. No wonder a show on that theme some years ago, "Visions of Childhood" at Snug Harbor, or "Into Me / Out of Me" on body art this year have included an artist with such adult subject matter. She also has more of an affinity than I remembered for multimedia. The Ballad of Sexual Dependency, too, ran as a slide show. Here the medium's clumsiness—its place between video and photography—emphasizes the fragmentation in both her subject and her narrative.
Confession always approaches self-justification, turning its purported mirror onto the soul into an accusation against others. Goldin's "mirror" comes with plenty of that. Her work necessarily risks sentimentality, then, and that, too, brings her newfound sunsets closer to the rest of her career. The slide show runs very much the same risk. It starts with all but a claim to sainthood for one woman, and it ends by the artist's co-opting that woman's life for herself. Maybe all that wallowing explains why I shied away from the last photos, derived from the slide show's final section as less focused and disturbing than her best-known, smaller-format work.
Maybe Goldin always wallows way too much to hold up an uninflected mirror. Diane Arbus could make that claim, even when her subjects relate far less obviously to ordinary New York lives, or Mary Ellen Mark in New Orleans. Still, I had to like the show's combination of grit and formal structure, self-revelation and repeated disturbance of its continuity. The segment leading up suicide packs an especial wallop. If the show's mellowness makes that approachable for me, all the better.

Bill Henson ran at Robert Miller through June 3, 2006, Hanna Liden at Rivington Arms through May 14, Jocelyn Hobbie at Bellwether through May 6, Nathalie Djurberg at Zach Feuer through May 27, Judith Eisler at Cohan and Leslie through March 25, "The Trace of a Trace of a Trace" at Perry Rubenstein through April 15, and Nan Goldin at Matthew Marks through April 22, 2006.