Memories Are Made of Death
John Haber
in New York City
Nan Goldin and Mark Leckey
Memories are made of this. The song comes near the end of The Ballad of Sexual Dependency, by Nan Goldin—perhaps the last place one looks for nostalgia. So why do its words sound so true?
Goldin makes no effort to mask her traces, and not even her hints of martyrdom can cushion two wrenching exhibitions. One offers a fresh look at the slide show that made her name—and made sex, drugs, and rock 'n' roll a fitting subject for art. It still carries disturbing memories, no doubt especially for her. In a signature shot, the artist clutches a pillow while a man sits with his back to her on the edge of the bed. The other exhibition hints at relief, but only by rooting her work in a family suicide. Begin, though, with her breakthrough work, even before chasing after ghosts.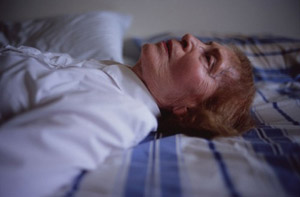 After all that embrace of danger, has a shocking artist mellowed out? From the photos in "Chasing the Ghost," one can easily think so. Instead of life on the edge, one encounters sunsets and an elderly couple still celebrating their lives. Instead of closed rooms in the darkest hours of the night, railway tracks reach their vanishing point in a quiet, open landscape. Instead of an intense, day-by-day scrutiny of herself and friends, the photographs seem to share anything but a story—and then one enters a darkened room, for the slide show from which they derive, and everything changes. As a postscript, a younger artist in Mark Leckey glances at the ghosts and sees only a good party.
That old dependency
Nan Goldin's Ballad has entered the collective memory of the AIDS crisis and East Village art. It recalls land lines and phone booths, dance clubs and dangerous city streets. Seemingly everyone is smoking. It has lingered on the very edge of the present since its origins in 1979, through performances in Berlin, London, and New York of the 1980s to today. A screening at the Museum of Modern Art opens with posters and stills from its nearly forty-five minutes. They merge for me with a cold winter when I caught it in Chelsea in 2001, because these are now my memories, too.
I had seen the slides before when the Whitney remembered "The American Century"—and could see them in my mind again when Anne Collier turned sunsets in Afghanistan and Iraq into a slide show, too, for a war that refuses to fade into night. I could see another connection to the present in an exhibition on the fashion for body art, "Into Me / Out of Me," which included her as well. Of course, memory is notoriously deceptive, and Postmodernism was teaching everyone back then that narratives are constructed. Seeing the work again, I found that it no longer matched my memories either. This was a time of crisis, but a collective one. This was a time, too, of excess but also of pleasure, and many of its moments are celebrations.
One of its first shots is in fact an older couple, presumably her parents, and their wedding photo appears close to the end. Memories are made of this, but this in turn is made of memories—first and foremost hers. The work has also evolved along with her, and the credits identify the print as the fifth of ten, each unique. Its nearly seven hundred photos could pass for a family album from a very extended family, lingering for those precious seconds before one turns the page. "Ghosts" spells out her family connections, another show her Scopophilia. She is not documenting a crisis but rather living it.
That sense of lived experience has much to do with why the slides hold up, when shows like "New York 1993" at the New Museum have been stuck in the past. I remembered one long testimony to abjection, but a life requires more than that, and Goldin gives it a shape. Sure enough, music is part of that melancholy shape, segueing from opera to cabaret to the Velvet Underground without even waiting for a song to end. The work's title is itself a song, from The Threepenny Opera. So much, though, for Brechtian detachment. She is out to catch people not in the act, but rather face to face.
As the song goes, "In women he meets deep authority. In them he feels his old dependency." After opening with mature couples, Goldin moves to young women, smiling or reflective. In time they acquire children, and then children cavort alone, only to grow into men. The men start to gather as if on their way to a confrontation or a party (another obsessed with death, Andy Warhol, among them), and then women join them for birthdays or for booze. Drugs enter the picture, hard drugs, and then at last a terrifying intimacy. In Goldin's extended climax, couples cling for affection or for sex.
Like Danny Lyon, Sally Mann, or Paul Mpagi Sepuya, she is penetrating closed spaces and closed circles, to discover loved ones and friends. She is also sinking further and further into night. In that feverish sequence near the end, even a small distance can seem unbridgeable. The work ends with tombstones, a hilly road to nowhere, and an open casket for a funeral. Many that passed through are survivors, although only Goldin can say who. They will have a lot to forget.
Ghost story
Goldin's family pictures may look bereft apart from their history, but what a history. The artist, born in 1953, began what she has called her diary long before The Ballad of Sexual Dependency. And her subjects always betray their vulnerability. That includes their vulnerability to self-inflicted trauma—and to the viewer. The Whitney called its 1997 retrospective for Goldin "I'll Be Your Mirror," and the museum's summer 2006 exhibition compares her to Edward Hopper in his portraits of displacement. The claims sound presumptuous, but they take on added poignancy in light of her ghosts.
Even in photographs, something about "Chasing the Ghost" feels scary. Faced with the title, one can hardly avoid associations of sunsets or eightieth birthdays with closeness to death. The parallel tracks in some photos appear ominous, too, and rightly so. Goldin's sister lay down in front of a train there, and the slides follows her from birth to suicide. As another disturbance, Goldin supplements the narrative with her parents coming to a reconciliation, while the artist spirals into dependencies. Her appearance throughout as a disembodied voice-over adds a further hint of absence and loss.
"Ghosts" opens with the dead woman's namesake, Saint Barbara, as seen largely though Northern Renaissance painting. Locked by her father in a tower to preserve her virginity, the saint found deliverance in a still stricter Christian purity, before martyrdom. The real Barbara's parents come off as even less sympathetic than the mythic ones. They respond to a precocious but tormented child with punishment and estrangement. They shuttle her through years of useless or damaging care and, in their closest approximation to empathy, smuggle razor blades into a mental home. They make Goldin's rebellion and self-annihilation more intelligible.
Like Donna Ferrato or Leigh Ledare in his video of his mother, Goldin has a special sympathy for the dark longings of childhood. No wonder a show on "Visions of Childhood" included her. Like Nathalie Djurberg and Judith Eisler, though, she translates those longings into a very exposed, very adult body. Here again her best work is the slide show, with the photographs barely more than its artifacts. The medium's clumsiness, between video and photography, emphasizes the fragmentation in both her subjects and her narrative. Djurberg aims for much the same in claymation.
Confession always approaches self-justification, turning its purported mirror onto the soul into an accusation against others. Goldin's "mirror" comes with plenty of that. Her work risks sentimentality, defiantly so. "Ghosts" starts with all but a claim to sainthood for one woman, and it ends by co-opting that woman's life for the artist. Photos derived from the slide show's final section are notably less focused and disturbing than her earlier smaller-format work. One can even enjoy the sunsets.
Maybe Goldin always wallows a bit too much to be your mirror. Diane Arbus or Mary Ellen Mark can claim a startling objectivity, even when their subjects relate far less obviously to ordinary New York lives. Still, Goldin combines grit and formal structure like no one else. She manages self-revelation while disturbing the continuity of the self. The segment leading up to suicide packs an especial wallop. If a growing mellowness makes that approachable, all the better.
Smart things and dumb artists
Mark Leckey sure has one smart refrigerator. It even dresses smart, in a black exterior that puts my own kitchen to shame. Not that I can swear to its taste in interior design. GreenScreenRefrigeratorAction stands by itself against walls and floor painted a sickly green—matching in color a dummy hazmat squad member and coolant container just around the corner. Although marketed as a smart appliance around 2010, it also has a little trouble with speech, beyond a dull monotone intelligible only thanks to a facing LED screen. "See we assemble," it pleads, and "here here here we exist."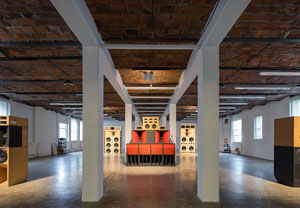 That we may include Leckey, who is out to find the secret desires of humans, animals, and machines. He is a bit late coming to the Internet of things, though, with "Containers and Their Drivers," his MoMA PS1 retrospective. He has been too busy partying, first in Liverpool and then in London's Soho. Nan Goldin spent the late twentieth century mourning lovers and lost lives. Leckey fills two floors with little to show for those years beyond souvenirs of the club scene—and with no one visible but pop culture stand-ins for himself. They attest that he assembles and exists.
More precisely, he curates—or, as he prefers to say, aggregates. Born in 1964, the Brit had his breakthrough with Fiorucci Made Me Hardcore in 1999. If you do not recognize the Italian fashion label or know hardcore from rave when it comes to music, tough. And he is still reliving that passage to what must pass as maturity. A room of tall speakers emits its own sad rumbles, as Sound System. A chrome snare drum on video, as Pearl Vision, gives him one last shot at the inner life of things.
Leckey belongs to the generation of Young British Artists like Chris Ofili and Damien Hirst, with the same desperate need to take center stage and to provoke. And he sees life, like Mike Kelley and other bad boy artists, as a sinister cartoon. A video turns from a statuette of a black cat that Egypt might once have worshipped to an entire history of cartoon cats, starting with Krazy Kat. A giant balloon of Felix the Cat sits slightly deflated in a corner. It could be resting up for the Thanksgiving Day parade. He calls another aggregate The Universal Addressability of Dumb Things.
Leckey has never had the notoriety of either Kelly or the YBA—and neither would trust what MoMA calls "his romantic search for authentic experience." He is, though, savvy enough to know the limits of his self-created image. His Dream English Kid 1964–1999 AD 2015 contains what might pass for his childhood haunts and homes, but with appropriated objects and "found memories." He displays posters of practically every exhibit he has ever had. He borrows back what he can, in order to restage past installations, and relies on 3D printers to recreate the rest. As curators, Peter Eleey and Stuart Comer (with Jocelyn Miller and Oliver Shultz), have little to do but give him room and get out of his way.
Maybe it takes a savvy artist to appreciate dumb things. Then again, maybe it takes a really dumb artist to appreciate smart things. Leckey is not incapable of references to art history, including figures traced in white after André Masson and a forest backdrop after Piero di Cosimo in the Renaissance. Yet his most totemic sculpture has floppy breasts that are more his style. Besides, anyone seeking the inner life of a frig should beware. It might contain only stale leftovers.

Nan Goldin ran at The Museum of Modern Art through February 12, 2017, and at Matthew Marks through April 22, 2006. Mark Leckey ran at MoMA PS1 through March 5, 2017