Ring Out the Old
John Haber
in New York City
The Met's Nineteenth Century
The Muriel Kallis Steinberg Newman Collection
The Met has new galleries for nineteenth-century art. In fact, it has moved the very boundaries of the nineteenth century. But has the past crept forward, or has Modernism suddenly slipped back?
Meanwhile, a new bequest beefs up substantially its holdings from the mid-twentieth century, and photography departs to its own quarters to give them more space, too. With all this, has the museum added space for a more critical look at the past, or merely moved the goal posts?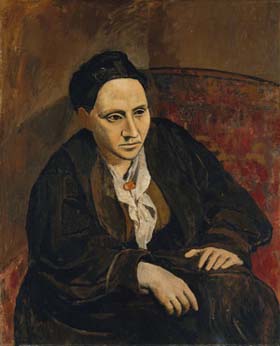 Art history as a maze
I discovered the new boundaries the hard way. Deciding on the stairs but confounded by other renovations, I detoured through the modern wing. They led to a doorway that had never existed before—and through it to Picasso and Matisse. The room holds blue harlequins, but also a 1918 portrait of Matisse's daughter and Picasso's 1923 Woman in White. Her neoclassical solidity hides a gap of twenty years, along with Cubism's ephemeral architecture. Picasso's portrait of Gertrude Stein from 1906 hangs between women from his rose period, and this time only a year or two hides perhaps the most startling break of all.
I had always taken special pleasure in that portrait. Yes, the Met really does have a great collection of modern art. Here it invites connections forward, but it mostly looks back. In its warm context, one might never know the anxiety that gave it birth. One might never know that Pablo Picasso had been grappling with African art, Paul Cézanne, and Henri Matisse. One might never know, too, that in frustration he finally painted out Stein's face and gave her a mask.
From here, a textbook history might proceed backward to Cézanne, and the Met has nearly two rooms for him, including such key late work as The Cardplayers and Rocks at Fontainebleau. However, one has to circulate a bit to find them, as in a maze. In the new galleries, not every wall has an opening. Besides, two other rooms lie closer. One direction leads to a broad swatch of Post-Impressionism, including Georges Seurat near Vincent van Gogh. The other route takes one instead to a relatively arcane set of painters from just after 1900, in nations from Italy to Russia— and one hardly knows whether to call them early modernists or academics.
Nor is this the last one sees of Modernism, not by any means. Two rooms away Matisse and Georges Braque frame a wall of Paul Gauguin. Tahitian nudes hang next to Matisse's 1927 Odalisque, and a still life from Gauguin's years in Arles hangs next to Braque's Studio from as late as 1936. Perhaps the Met is thinking in terms of style and something approaching psychic currents, as the male eye sees a woman's body or the ideal space of his own art. The museum's primary means, though, is subject matter. However, subject matter here corresponds to traditional genres going back well before the nineteenth century.
When the Met first opened these galleries in 1980, it already challenged the century's modernity. Postmodernism was hot, and the rooms presented a kind of brighter, cleaned-up version of the galleries for European painting. Michael Graves had combined decorative touches with modern architecture in much the same way. It also made one enter through an ostentatious display of academic art in the corridor outside. One could take it as historical context or a sign of what the better-known artists overcame. One could also take it as an act of revisionism, like that of Robert Rosenblum, a historian who reveled in forgotten artists and the Romantic sublime.
It definitely rubbed one's nose in painting that Modernism hoped would go away, and the reopened galleries still place Auguste Rodin sculpture in that setting, too, since enhanced as "Rodin at the Met." Inside, however, painting and sculpture still hung fairly chronologically, grouped by artist or school. One could study a single personality in depth and follow a train of thought toward 1900. Once the modern wing opened, it then stood apart past a brighter, starker corridor—with photography and a gift shop. Now photography has moved elsewhere, and the barriers are breaking down. Now the Met questions old definitions not by facing them off against new ones, but by mingling old and new.
Learning to get along
Old and new have plenty of chance to mingle. Breaking walls has added rooms, while removing other doorways has created more continuous wall space. Some small galleries near the start of the century have the dense hanging of study rooms. All this adds some eight thousand square feet of gallery space. It puts more of the collection than ever on display, including a room mostly for Germany and northern Europe, as well as the migration from the twentieth century.
Edgar Degas has rooms to himself as a kind of alcove in the maze, but only because Degas pastels require low light. More often, the thematic arrangement dominates, and so does the strong backward glance. Hunt by Gustave Courbet shares a room with Rosa Bonheur's Horse Fair. In the process, it becomes less about confronting brute objects, including dead ones, and more about animal painting—as well as about France's love of public display. Edouard Manet has to get along with his bête noire, Thomas Couture. Hung catty-corner from Couture's Soap Bubbles, his spooky and defiant Dead Christ takes on the flavor of another adolescent dream.
In some of the first glimpses of modernity, Camille Corot and others reduced Italian cityscapes to planes of light. Here they share those study rooms, in several rows, as testimony to an artist's old mandatory trip to Italy. As a notable addition, the Met has recreated a period room of around 1910, with carved wood and painted wisteria. One could connect it to Water Lilies by Claude Monet—or to a past long before Modernism's all-over surfaces and white museum cubes.
Finding so many juxtapositions takes more than revisionism and a reliance on subject matter. It takes care and thought. So does the darkening of the wall paint and more prominent cornices as one approaches 1800, in accord with older practices. At times, the odd gatherings bring out something new and important in the work as well. Next to Manet's Civil War battleship, Monet's terrace at Honfleur looks less idyllic, for one notices smoke from ships in the distance. The confluence of middle-class leisure and fashion, flowers, a new analysis of color and light, and the brute fact of the industrial age stands as much for modernity as on Seurat's Grande Jatte.
To the extent that the galleries work, they work because of a great collection—probably the best collection of nineteenth-century French art outside Paris—and because much does not change. They also work because of an artist like Manet's love-hate relationship with the Salon and the past. They fail when one needs to see beyond that relationship, to focus on an artist or even the hate. Impressionism gets difficult to see or to characterize, and Manet loses the shock he recovered not long ago at the Modern, in a show about his Execution of Maximilian. John Constable and other Romantics get all but swallowed up between the Pre-Raphaelites and J.-A.-D. Ingres. The Degas rooms look cloudy where they should look intimate, and the saga becomes almost incoherent once Matisse, Picasso, Pierre Bonnard, and Chaim Soutine enter.
By seeing everything through the lens of the past, the Met has the virtue of making one see artists torn by tradition and traditions falling apart. It also has the problem of then seeing everything through the lens of fine art. An older, formalist history insisted on one kind of closer analysis. So did postmodernists, with critical attention to social and economic motives, gender exclusions, and other cold facts. Oddly, in worrying so much about theme, the Met worries hardly at all about who gets represented and who gets to represent. In shifting or eradicating barriers, it seems to beg everyone just to get along.
Calling collect
Muriel Kallis Steinberg Newman had a perfectly simple request. "Will you please come get the collection? I don't want the responsibility anymore." Naturally the Met is happy to take over, and it is exhibiting her gift of postwar American art before integrating it with the permanent collection in the new American wing.
Newman promised the donation twenty years ago, and one can understand why she might want it to happen in her lifetime. Hey, someone this feisty takes art personally. She could hardly pass up the pleasure of seeing it enter a museum.
Her choice of words says something else as well: she marks collecting as not an ego trip but a responsibility—or as Heidegger might have put it, caring. That makes sense simply in practical terms. Just as a house (or a computer) requires constant attention, so does art. A curator dealing with every day with storage, display, lighting, temperature, humidity, and restoration is sure to agree.
Newman's association of art with responsibility also recalls how one speaks about friends and family, and that, too, has a point: people often relate to art as to a person. One can see why W. J. T. Mitchell called his last book What Do Paintings Want?
The metaphor makes particular sense for the early 1950s. Art then seemed not only to represent the world or to reflect back the viewer's desires: it also expressed some pretty huge personalities and took on a titanic life of its own. Newman lives in Chicago and studied at the Art Institute, but she bought from artists that she and her second husband knew from their New York hangouts. Does she sound a bit too dependent on a man's world after all? She had a brief second fling as a collector with a third marriage, in the early 1960s.
Her sense of responsibility shows, too, in her willingness to see the work integrated with Met's permanent collection. She must know how art thrives on other art. She must know, too, how people just plain skip or overlook wings built to assuage a donor's ego—and how those who care to find those wings despise the donor for it. A wing of one's own belongs in a hospital. I cannot help noticing that the names of Jack and Belle Linksy hang over the door to both some regrettable rooms at the Met and an entrance to Beth Israel.
Calling on the carpet
Newman has lent before to exhibitions, no doubt out of the same sense of care, and one may recognize old friends. In Attic, by Willem de Kooning, an abstraction may or may not hold three sexually active women in a profoundly jarring powwow. Yet it definitely has dark glimmers of color and newsprint between the overlapping white panes. A silvery, intricate drip painting represents Jackson Pollock almost as well, too. Franz Kline's calligraphy lets loose for black curves that threaten to undermine the angular image of Nijinksy. The tan and blue between the black plinths and loose white ground elevate Elegy for the Spanish Republic by Robert Motherwell from piety to something truly memorable.
With her second go-round as a collector, Newman does not seem to have her finger on the pulse as much. By then, art was deciding whether to keep believing in Clement Greenberg, and perhaps so was she. Still, some of the lesser lights in Abstract Expressionism make an interesting history lesson. Who is that woman who might have escaped from de Kooning, nasty yellows intact, in hope of a little dignity? Actually, Jack Tworkov was painting a Greek goddess.
The Met need not offer Newman a gallery, but photography has spoken up at last. The museum will still use the walls outside the modern wing for something in addition to a gift shop—but no longer for photographs from the permanent collection.
No, the museum has not occupied even more of Central Park. One enters off the busy corridor between the grand stairs and Impressionism, across from the exhibitions of prints and drawings. One could imagine photography trying to decide whether to call itself fine art or science for a new century. Thus far, the Met has opted a little too firmly for art.
The first thing one notices is the carpeting. The second is how quickly the carpeting comes to an end—in one long room divided by a freestanding wall. The gallery will not offer a sufficient home to special exhibitions, although I suppose they can take place directly across the way. But there it is, and the first selections focus on elegant records of process art akin to abstraction and on the big, blustery German style one had better admire—and perhaps even does. Félix Gonzáles-Torres's footprints turned to swirls in the sand show how elegant even transience, humor, and violence can appear. So does Charles Ray bound to a tree branch in silhouette against a white sky, and so does Gordon Matta-Clark with his roof cuts.
In the second half, Thomas Struth embeds a Renaissance altarpiece in a swirl of attention. There, too, Andreas Gursky reminds one that he did not always present interiors as staging grounds for a party rally. These initial selections may seem too conservative for their own good, almost like the new wing that they have escaped. At they literally leave room for more to come.

The Muriel Kallis Steinberg Newman collection ran at The Metropolitan Museum of Art through February 3, 2008. The Joyce and Robert Menschel Hall for Modern Photography opened in September 2007. The galleries for nineteenth- and early twentieth-century painting and sculpture, including renovation of the Andre Meyer Galleries and the Henry J. Heinz II Galleries, opened in December.