So Many Masks
John Haber
in New York City
Amedeo Modigliani and Auguste Rodin
Who would not have wanted to be there at the Louvre on an afternoon in 1910, with Amedeo Modigliani and Anna Akhmatova? Modigliani, an Italian as fluent in French as in the very latest literature and art, had brought his favorite model, a young Russian poet. And they came to a citadel of western culture to look at Egyptian art.
Modigliani arrived in Paris in 1906, determined to modernize himself and to expand his world. He had to set aside painting for the most part, merely to keep up with everyone he met and everything he saw. Besides, he was too ill and too proud to do the dirty work of seeking commissions. For the Jewish Museum, he was nonetheless at a creative peak,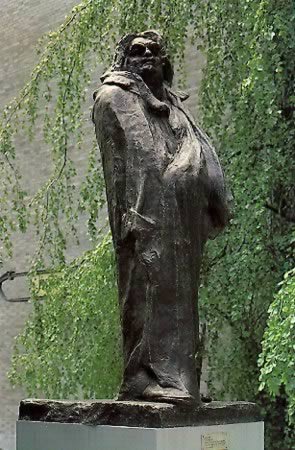 on his way to a renewal as painter and sculptor in limestone. It focuses on his drawings before World War I as "Modigliani Unmasked." It might just as well say that he had too many guises and too many masks.
Speaking of the birth of modern sculpture, Auguste Rodin is the great artist that you pass on the way somewhere else. His sculpture punctuates the south corridor at the Met, on the way to the Impressionists to one side and Modernism straight ahead. You pass Rodin on the way to Modernism just in looking at that. He opened the way to an art not of appearances, but of unstable masses and unsettling feelings. Yet he loved Gothic cathedrals, moral fables, and half-remembered myths, with the sheer theater that modern critics as late as the 1960s took as a term of abuse. Now "Rodin at the Met," a modest show on the centennial of his death, brings still more of his work out of storage, but as an invitation to linger.
So much for racial purity
Few artists were as cosmopolitan as Amedeo Modigliani. Born in 1884 to an Italian father and French mother, he begged her to take him to see the Italian masters, and she did. The child of Sephardic Jews, he admired Friedrich Nietzsche, who wrote that God is dead. He survived pleurisy, typhoid, and the collapse of his father's business. Ever after, he determined to see the world before he died, and he came to the right place. He found Paris in turmoil.
Modernism was then not quite a movement but very much a community. He found a studio in Montmartre, in a building that Max Jacob, a poet, called Le Batteau-Lavoir (or the boat-laundry)—along, it must have seemed, with everyone who mattered. It held Jacob and Gertrude Stein, but also Pablo Picasso, Georges Braque, and Henri Matisse. Other painters were pouring into the community, including Gino Severini from Italy and Juan Gris from Spain. Jacob Epstein helped turn Modigliani's attention to Greek antiquities and to sculpture. They planned a shared studio as a temple to beauty.
It was a rough-and-tumble temple and a rough-and-tumble beauty. He struggled, the museum notes, with poverty and tuberculosis, which cost him his life at age thirty-five. It does not note that he made the odds far worse with drinking. He went wild one night, his daughter recalled, and set fire to the work of others. After a brief return to Italy, he found another studio but continued a life on the edge. Besides, he had to know suffering, too, as a Jew in France.
The country had gone through the Dreyfus affair, anti-Zionist laws, and demands for "racial purity." Stubborn as ever, Modigliani responded by declaring himself Jewish. The Jewish Museum naturally looks to that for a clue to the artist behind the masks. It sets him in the company of Marc Chagall, Chaim Soutine, and Jules Pascin. Another Jew, Jacques Lipchitz, prepared his death mask. Claims for a Jewish identity may sit badly with that trip to the Louvre, but it takes both to understand what it meant to be cosmopolitan. And the museum finds another clue in a patron, Paul Alexandre.
Museums have their biases, including the need to celebrate collectors as contributors. (Think time and time again of the Guggenheim.) Still, it has earned this one, despite its its earlier Modigliani retrospective with an eye to Biblical subjects in 2004. It exhibits a full third of the more than four hundred drawings in Alexandre's collection. They provide a compact retrospective, punctuated by sculpture and concluding with a dozen paintings from after the war. Modigliani actually returned to painting during the war, but they do the job.
"At the Louvre," Akhmatova wrote, "he showed me the Egyptian collection and told me there was no point in my looking at anything else." Perhaps, but his eye went everywhere. The curator, Mason Klein, includes examples from across centuries, with an implied challenge to pick out his work. Klein also prefers themes to chronology. After early work, a room follows Modigliani to Montmartre's night life, and then come competing global cultures before the return to painting. He died too young to have evolved all that much anyway, but one can still piece out his growth and eclecticism.
The individual and the enigma
The earliest sketches, from Venice, use watercolors to flatten figures, and early portraits have a feathery brush. Those sketches have the broad areas of color of Henri de Toulouse-Lautrec or Picasso's blue period. The brushwork recalls Paul Cézanne, and so does the later pose of a woman with crossed arms. In no time, though, Modigliani is out to pare the inessential away. Edgar Degas might have delighted in following a model to the Louvre, to show her looking at pictures while leaning fashionably on an umbrella. Not this artist.
Drawings have two key subjects, faces and nudes. Both start with bare outlines in blue or black crayon, with squiggles now and then as shadows, a collar, or a base. The outlines and long noses insist on line, and so does tracing to reinforce an edge in place of modeling in three dimensions. The nudes, often bending over or face down, add a sense of motion. (Freudians may enjoy a photograph of Akhmatova, although clothed, on a coach.) Both series leave the person behind a mask.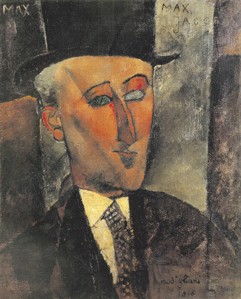 When Modigliani looks at another culture, he always finds another mask—whether at the Commedia dell'Arte in the present or in Egypt, West Africa, Tibet, and Thailand in the distant past. Ancient Greece supplies the idea of a caryatid, or kneeling figure supporting a column. Yet the caryatids here quote practically anything that Modigliani saw. Even the change from Greece's kneeling women to a mix of genders attests to ambiguity and eclecticism. Where Picasso looked to African art for "the primitive," he goes out of his way to deny a single human essence. Even if he found one, it would lie behind the mask.
One could argue instead that he mixes and matches out of a Jungian belief in universals. Yet he took to Nietzsche, the author of Twilight of the Idols, and he offers little to worship. He also embraces change. His sculpture has hints of ruins where the museums he loved had only boasts of perfection. The show comes alive in three walls just for faces and long noses, and then the drawings come alive in sculpture, with an obvious debt to Constantin Brancusi. Together, they add up to an art of theme and variations. What looks static at first will not sit still.
Sometimes paired sketches have two views of a single figure—one more poised, the other in a world apart. They place his subject between the individual and the enigma. So do drawings of a woman in riding gear. Modigliani identifies her as an Amazon, but an Amazon for high society in the present. By then, he is going through any number of sitters, including lovers. Yet they, too, remain masked.
While he came to think of himself as a sculptor, the postwar portraits come as a delightful payoff. They are flatter than his early paintings, but also more painterly. The same person may look, to quote the museum, youthful or moody—and the same painting can look polished or unfinished. A smear of color enlivens the bridge of a nose. The green of an eye can suggest a jewel or the character behind the mask. The tension of near abstract brushwork, figure painting, and archetype looks ahead to art today.
The gates to modernity
Born in 1840 (the same year as Claude Monet), Auguste Rodin shocked contemporaries with the naturalism of his early work, like the carefully modeled male nude of The Age of Bronze, and his head of Honoré de Balzac takes care for the novelist's wrinkled brow and pug nose. Yet a local man sat for the portrait, and the nude awakens onto an age. Rodin wrote that "character is the intense truth of any natural spectacle, beautiful or ugly." Yet his characters are types, and for him beauty or ugliness is fate. His nudes come in two varieties, young and old—and an old courtesan is just one more emblem of sin and despair in a monumental sculpture, The Gates of Hell. Titles identify others as merely The Tempest and, most famously, The Thinker.
Much of his modernity consists in the collision between frankness and inarticulate depths. The thinker is very much the artist, but his art is about not reason, but fragmentation and feeling. His monument to Balzac nearly hides the man in the physical presence of his cloak. His carvings put their subject on an equal footing with their heavily beaten pedestal. The Hand of God, holding inchoate human life, identifies godhood with artistry. Yet it also comports with an art that enlarged hands and feet as an expression of inner pain or physical entrapment.
Rodin evolves from classicism and polished portraiture to the calm of a bather. In between lie the twisted, deformed, and sexually charged major works. Yet he looked to Michelangelo as a model for the agonies of Adam and Eve after the fall, and anyway he defies simple dating. Often he modeled a work in the 1870s, in terra cotta or marble, only to add multiple bronze casts as much as thirty years later. That multiplicity, too, is part of his modernity. Rosalind E. Krauss took it for a critique of the "originality of the avant-garde."
Here, too, Rodin is always a work in progress—including progress toward the museum known as the Met. It commissioned casts from him in 1910 and gave him its first gallery for a living artist. He donated more works to the Met soon after. He had already influenced modern art in New York. Edward Steichen photographed Balzac at all hours of the night and convinced Alfred Stieglitz to give Rodin drawings a show. And then there is his corridor in the Met today.
In truth that corridor is always an embarrassment. It showcases academic art before a first glimpse of something else. For the occasion, the paintings hew more closely to Rodin's influences and friends. They include the allegories of Pierre Puvis de Chavannes and Gustave Moreau—whom Rodin did not like but who marks a similar transition from Symbolism to Modernism. A nude by Pierre-Auguste Renoir accompanies one by Rodin, and the Seine for Claude Monet accompanies his bather. Together, they make the older art more relevant, but also leave Rodin more firmly in transition from the past.
No one is more of an embarrassment than Jules Bastien-Lepage. Yet sure enough his Joan of Arc has the raised hands of Rodin's agonized creations, and her flatness points to Rodin's frontality, even in sculpture fully in the round. Her patriotism also parallels Rodin's colossal Burghers of Calais (the tale of men who gave their lives to lift an English siege) in the European sculpture court a floor below—a bit of tawdry postmodern architecture on the way from the south wing to the Met's center. It, too, is on the way somewhere else. Still, try to stay long enough to watch passing detail spill out into myth. As Rodin boasted, "Even the most insignificant head is the dwelling-place of life."

"Modigliani Unmasked" ran at the Jewish Museum and Auguste Rodin at The Metropolitan Museum of Art, both through February 4, 2018. A related review looks at Modigliani, religion, and myth.