Layers of New York
John Haber
in New York City
Architecture from Sarah Sze to Zaha Hadid
Architecture did not come to a halt with the heyday of Modernism, but exactly where did it end up? Sarah Sze, known for her spiraling geometries, also remembers the good old days, but as if to bury them for good. She embeds the corner of an apartment building in a busy corner of Fifth Avenue, near Central Park.
Meanwhile, Caroline McCarthy could almost fool you into thinking you had escaped Sze's cacophony, only to bring you back to the grimy streets of Brooklyn. To bring the story into the present, Zaha Hadid carries on Postmodern architecture's epic fragmentation. Yet she ends up in curvaceous 1950s after all.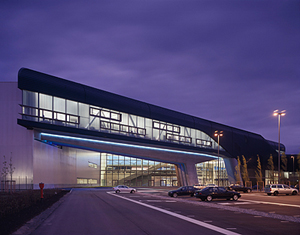 Architecture does not exactly have winners, since buildings and styles necessarily coexist in the big city. That makes a comparison of strategies more interesting. It leaves their fits and starts toward Modernism, Postmodernism, and the future more treacherous as well.
Utopian streetscapes
All this comes the summer after the long-awaited, $106 million renovation of the Morgan Library. Where Renzo Piano, as with the Whitney in the Meatpacking District, plays the modernist in an enclave from the modern world, Sarah Sze could pass for the ultimate postmodern architect even before her Deteriorating Garden. Like Julie Mehretu and Terry Winters before his Knotted Graphics, she spins lines and planes in all directions, at once manufacturing structures, outlining space, and watching them shatter. Like Andrea Zittel, she takes an idea to the point of obsession, on a scale of form that utterly precludes function. Like Phoebe Washburn crossed with Robert Smithson, she obsessively recycles industrial parts and urban images, somewhere between environmentalism and entropy. Even more akin to celebrity architecture these days, her sculpture never once results in an actual site—until now.
For one summer, the corner of an apartment building appears embedded in the plaza entrance to Central Park, at Fifth Avenue and 60th Street. The pyramid suggests a monument, while the fragment suggests a ruin swallowed up by the earth. The corner view picks up Sze's fascination with spreading perspective lines. Through a window, to an indeterminate depth, the small, black interior holds a random assortment of trash, primarily drinking cups. Perhaps they hold the drips from her tubular Drinking Point of Water at the 2004 Biennial. That, too, occupied a position between rising and falling, tower and subbasement—in the Whitney's sunken, inaccessible sculpture court.
Corner Plot sounds impressive and allusive, but only up to a point. It echoes the gray-brick apartments diagonally across the street and perhaps even 9/11, and it will remain in place through the month of that sad fifth anniversary. One can think of it as an iceberg waiting for something or someone to founder. In person, however, it seems oddly small and tidy. More curiously still, it seems more detached from its surroundings than may first appear. No wonder people enjoy peering into it.
That actual gray brick across the street comes clad at ground level in expensive stone. The sculpture reminds me instead of my own cheesy postwar, red-brick high rise, while the interior has no particular associations. Unlike in her freewheeling gallery corner pieces, things fall where they will, and that is that. Once I got over looking for a major statement, however, I enjoyed the piece more. I can now see even her finer art as embracing mass, gravity, and failure.
Caroline McCarthy gives closer attention to her surroundings, and she, too, sees the city and its architecture as a shattered Eden. Her drawings supply meticulous streetscapes. Like Sze, she has a strong attraction to fragmentary vistas and discarded objects. However, McCarthy's show comes with a twist: rather than a heap of trash, her Brooklyn looks positively idyllic. See what all those galleries are missing by abandoning the Williamsburg action for Chelsea?
Pencil and watercolor give metal and plastic junk a curious sleekness. Her precise line also leaves lots of white space, helping to suggest open landscape. I mistook it at first for New England. She calls the show "Grand Detour," a reference to a once-mandatory European "grand tour." The gallery sells souvenirs, an ironic and, no doubt, profitable updating of eighteenth-century manners. Like a wealthy young man long ago, I got a quick sentimental education in the real world.
The visionary and the realist
If Sze plays architect, the Met recently forced Santiago Calatrava into the mold of a high modern sculptor, undermining his strengths as an architect and engineer. Zaha Hadid comes off first and foremost as an artist, apart from a politics of architecture, and she has the thorny personality to match. A London-based architect born in Iraq, she offers a challenge for those of anyone still learning how to bridge the gap between design proposals and what they portend. Does she herself even know?
Hadid fills the Guggenheim's ramp top to bottom—and not with architectural drawings and models alone. She gives quite as much space to paintings, and they are not the small renderings that one might expect from a design studio. The colorful canvases draw heavily on Suprematism, Russian Constructivism, and, to a lesser extent, Bauhaus or de Stijl. One could easily take her as simply an abstract painter, if not a hugely original one. She could also pass for a science-fiction illustrator.
The work's significance turns on its place between architecture and urban planning on a titanic scale. Yet it leaves open how much she cares about—or recognizes—a site's context and use. A painting may multiply views of the same structure, skewing perspective within each single view. The proposed building often assumes a relatively minor position within a larger, shifting panorama, but one that leaves its origins in an actual city far behind.
That paradox, like her style, links her closely to Modern architecture, its utopian aspirations and the International Style. Like Frank Lloyd Wright with his cantilevers, she loves staggered, parallel planes. She has even designed a car with three wheels, as if in homage to Buckminster Fuller and his Dymaxion Car. Yet Fuller's first prototype literally rolled over and died, and Wright, too, often disdained his clients, even apart from the contradictions of Wright in the city. The Guggenheim places severe restrictions on how art like Hadid's own gets displayed. The often cramped nooks and crannies of her installation along the museum ramp make an unfortunate impression of her ability to accommodate others, too.
Meanwhile, it is not easy for a building show to enter museum, and the Guggenheim supplies few photographs of anything she has completed. Hadid has moved only in the last decade or so from assault on convention to success as an architect. Videos make a better case for her BMW plant, completed in 2005 in Leipzig. Even then, their origins as promotional materials grated on me. I became aware yet again of just whose demands are running the show.
On video, however, the spacious efficiency of her automobile plant took me by pleasant surprise. She uses her repetitive geometry to create and disperse rather than restrict space. Where painting makes her seem more interested in preserving urban spaces for the imagination, the auto assembly line acknowledges that someone or something may yet intrude. Her design for an Olympic Village may not bring her work to New York City by 2012, but it promises a further beneficial give and take. After all, nothing shatters real public spaces more than a public.
Half the battle
With Hadid, the visionary battles the realist every step of the way, and urban residents of the near future will just have to wait and see who wins. One can, however, see how realizing her buildings has begun to color her practice. She has now seen her ideas take shape as objects. Unlike designers of similarly blocklike prefabricated homes, she has known the collaboration that a site demands. Perhaps for these reasons, her unit structures have become larger, and her disrupted logic has given way to uninterrupted curves. Heck, even museum architects as imperious as Jacques Herzog and Pierre de Meuron let people have fun sometimes.
That does not mean a happy resolution, and the battle still matters more than a viewer's victory. Her recent biomorphic furniture, in collaboration with Kenny Schachter, looks right out of a fashion that I was just learning to forget. I thought that department store had closed. As she moves between style and substance, everyday habits of use barely navigate the perimeter. Along with the others under review, she brings out the unstable relationship between past, present, and future in any architecture these days. Call it modernist, postmodernist, retro, or the future, but do not call it altogether a victory.
Sorting out the contestants is not getting any easier, in an age of star architects that Ada Louise Huxtable deplored. Piano sees Modernism as capable at once of creating its own world and bowing to its context. He sees a continuity from the present-day New York streets to a premodern enclave for a wealthy connoisseur. He is asking a great deal of a style that others have dismissed as already a thing of the past. I give him enormous credit that he makes a more than halfway convincing case.
Sze, McCarthy, and many others describe a modernist utopia shattering in all directions, in a continuous process of making and unmaking. Hadid brings that generous fantasy and harsh critique to life. In fact, one can easily forget that she is building anything at all.
Piano gets almost anything built these days, while Hadid seems to defy anyone to accept a project. One has the reputation of a safe choice for the present, one the aura of an architect of the moment. One ends up surprisingly futuristic, one curiously retro. In between lie two women artists. One only pretends to build and one only pretends to escape from what really does take shape. At the very same time, Norman Foster has just finished his first tower here, Frank Gehry is putting the skin on his, and Richard Rogers, a sometime collaborator with Piano, is angling for midtown west.
New Yorkers are watching a battle in progress for who will rebuild after 9/11. All four have had a chance to turn my expectations upside down, and they suggest how hard it has become to label anything these days as modern, postmodern, or contemporary. This once, I give Piano the edge, because he believes so passionately in what his label can cover. I only wish I believed as passionately myself.

Sarah Sze's "Corner Plot" ran in Central Park's Doris C. Freedman Plaza through October 2006, Caroline McCarthy at Parker's Box through June 18, and Zaha Hadid at The Solomon R. Guggenheim Museum through October 25. A related review gives more space to Sara Sze.