Between People
John Haber
in New York City
This Place, Shimon Attie, and John Akomfrah
Is it Palestine or Judea and Samaria, a homeland or a war zone? Can you even speak of it aloud?
It looks little at first like the site of conflict, passions, and communities. It has no obvious heroes or villains among its empty theaters and unsmiling faces. It seems to have little time for what one might call everyday life. For the Brooklyn Museum, it is simply "This Place," but it looks nothing like Eastern Parkway or a museum. It looks nothing, too, like the darkened theater of Shimon Attie, broken by pretend movie marquees and imposing settlements. Yet it is also a place of barriers—physical and legal, sectarian and emotional. John Akomfrah has filmed them as well, in the tide of races and peoples fleeing for Europe.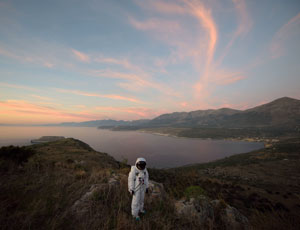 Dis place
The contributors to "This Place" want not just to name it, but to commemorate it and its people. As curators, Charlotte Cotton and Cora Michael see shared themes of "family, identity, home, and landscape and the environment." For a war zone, it sounds downright livable. For Frédéric Brenner, in fact, it could be the site of a rebirth—for two peoples and the arts. In inviting himself and others to spend months there at a time, he had in mind a Farm Security Administration for the twenty-first century and the Middle East. They responded with some six hundred photographs.
They include Stephen Shore, who has worked here before, among shifting settlements and an ancient monastery. They include Gilles Peress, who has tracked conflict from Africa to Europe, using the grid of oversized contact sheets to add figurative divisions to actual checkpoints. Yet they also include Thomas Struth and Jeff Wall, known not for politics but artifice. Wall opens the show with olive pickers bundled in sleep. His photograph could almost depict New York and its homeless. Maybe one should pronounce the show's title with a Brooklyn accent, as "displace."
Naturally it is one of his large light boxes, and the twelve photographers pretty much do what they usually do. They risk seeing only what they expect to see, but then they do not see only what you may expect to see. Simply in taking their familiar approaches to the Middle East, they enact displacement. Of course, it is a long way from the New Deal to the occupied territories and a fiercely conservative Israeli government. No one here has the commanding presence of families in the Dust Bowl for Walker Evans, because no one could. Yet the show, like all good political art, gives concrete expression to ideology and experience.
Each photographer gets a wall apart. Once again, this is contested, fragmented territory. And their subjects divide roughly between massively empty spaces and close-ups of people. Struth, for one, heads right for architecture, including an ornate theater and a brutally modernist city hall. Brenner, too, finds imposing excuses for public spaces in work from 2009 to 2012, such as a hotel and an airport. A balding beach-goer resembles an aging Pablo Picasso on the Riviera.
For the most part, they prefer the facts on the ground to the experiments of early Soviet photography or the Bauhaus. Fazal Sheikh adopts the most unusual light and perspective—with aerial views of desert blooms and Bedouin villages, some now abandoned, identified precisely by latitude and longitude. Jungjin Lee adds a mapping on top of unnamed roads, twisted trees, truck beds, and rubble. Josef Koudelka just lets the wall dividing Israel from the West Bank unfold on its own, across successive sheets and frames in video, as an arc that not even Richard Serra could match. Martin Kollar sticks to Israel, for what he calls his Field Trip. It looks more like a succession of military outposts and body shops.
Kollar also adopts portraiture, for sitters burdened with neck braces—and, he says, with "daily foreboding." Nick Waplington depicts Jewish settlers on the West Bank, as families isolated from their very environment. Wendy Ewald goes for quantity, with selfies by others and little glee. Rosalind Fox Solomon focuses on diversity as a marker of displacement, much as in her Portraits in the Time of AIDS, but here with commuters and African immigrants. Brenner himself comes closest to plain sympathy, with portraits spanning generations. Yet even the youngest here may never see a new deal.
Whose land and whose lord?
If the West Bank were a multiplex, it might play only horror films—but not for Shimon Attie. His Middle East contains competing narratives, filled with grandiose claims, frustrated beginnings, and nothing approaching an ending. Finders, Keepers would run up against A Problem in Logic, Striking Gold against Unlike Euphoria. Wild and Urgent might be just a more hysterical title for Part of the Plan. Yet the greatest terror might lie in the land and the hearts of its peoples. And there, too, emotions and reason alike might find themselves at an impasse.
A realist might expect instead a war movie or a family saga, but there, too, Attie finds few thrills, little warmth, and unexpected comedy. He inserts paired light boxes bearing text into photographs of Israel and Palestine, angling from the foreground into depth,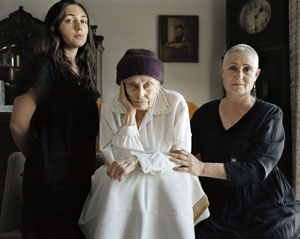 begging for someone to put their words together to find meaning. Do light boxes suggest something more like a setting for the photographs themselves, like the extravagant dramas of Jeff Wall, Ed Ruscha, R. Luke DuBois, or Heinz Mack? These look much like movie marquees from a time before digital crawl screens, only closer to the ground, as if dropped there by yet another party staking a claim. They demand that one read the photos in their light, but the photos refuse to comply. So, for that matter, does the region.
The term hints, too, at another irony. Light boxes often signal staged photography, as with Wall, or a tawdry but sophisticated culture, like Hollywood for Ruscha. And sure enough, Attie defies belief, just as different parties in the region would not trust each other. The signs look imposed on a finished product, as in Photoshop. In a night scene, circles of light dapple the picture plane with artifice and color. Yet the marquees entered the landscape the hard way, and they ran up against a stubborn reality.
Attie is not among the documentary photographers of "This Place," and his idea of life in the Middle East has little in common with their sense of a daily passage or a voyage home. Where other Middle Eastern art captures shifting borders, boundaries here look set in crumbling stone. The earth is scarred by walls, settlements, and the night. The gold dome of a mosque shines above a concrete barrier that separates a town from the viewer, while stone towers abandoned in the 1948 war rise up almost to the level of a newer settlement on a hill. And who can say who has the last word?
The question arises more pointedly still in a street scene, daring one to find a point of intimacy or entry. A mosque and a synagogue stand to either side. Do they hold out the possibility of coexistence, or are they facing each other down? A Different Possession, reads another marquee, but different from what and belonging to whom? Land Lord reads yet another, but whose land and whose lord? With no one visible in these bleak landscapes, it does not follow that no one is at war.
Americans should recognize the impasses of others further away. This same gallery has a strong commitment to African American artists, including a concurrent show of Radcliffe Bailey at his best. Attie, though, is not photographing hopelessness, not when the night has its own beauty—and not when his irony carries humor along with defiance. Its heavy hand also suggests a kind of relief in theater. The very sheen of the photographs and their uniform dimensions are a kind of theater as well, much like light boxes. Come back to the land after others have torn his theater down.
Migrants and extraterrestrials
When John Akomfrah looks at the earth, he might seem to have found another planet, but at least he has a realistic view of space aliens. He also has a heartfelt view of crises in Europe. In the movies, extrterrestrials tend to arrive with one of two missions—to cuddle up to children or to take over the world. Surely, though, they would want to look around first, and it would be slow going, just as for an astronaut on the moon. They might find themselves bewildered at what people have made of their heritage and their home. They might find themselves isolated and lost, and so, too, in Akomfrah's films might you.
The Airport features a space traveler, along with assorted earthly explorers in search of a local habitation and a name. Its three screens even throw in a monkey at some point. The astronaut has the burden of an ordinary space suit and helmet, so one can never know for certain what he feels or what he sees (even assuming that he is the right pronoun). It is slow going for everyone, though, just as for some fashionably dressed adults striding eternally forward down an empty highway. An older man in a tuxedo, the most enduring protagonist, moves more slowly still. He wants only to locate his memories among the ruins.
Plainly the ruins must be of an airport, just as for Naeem Mohaiemen, but they could just as well be of a parking garage, a war zone, or an entire civilization. And Akomfrah may have them all in mind, as taking-off points for a long journey, although he shot the film in an airport that once served Athens. The civilization, then, is Greece, which is seeking to recover its footing, too. One can see each of the actors as the artist's alter ego as well. He must see himself in the older man's overpowering dignity, black skin, and weary eyes, although Akomfrah's hair is not yet touched with white. Born in Ghana (like Lynette Yiadom-Boakye and El Anatsui) and raised from the age of four in London, he must see Greece as at once a foreign country and a cultural inheritance.
Of course, it is up against debt and the European Union, much like England after Brexit. And a second film tackles another European crisis, refugees. Auto da Fé broadens its perspective, from Jews fleeing Brazil in the 1650s to Africa and the Middle East today. It does not directly address Akomfrah's childhood pilgrimage or the Spanish Inquisition that supplies the work's title, but you can fill in the blanks. Now and then the video identifies the scene, but it might as well be showing a single catastrophe. As they sing in Candide, the Leonard Bernstein musical, "What a day, what a day for an auto da fé."
Akomfrah responds quickly to events, all the more so in that the videos aired in England a good six months ago. His first film, from 1986, documented the Handsworth riots of only the year before. If that reference sounds as puzzling to an American as to, well, an extraterrestrial, the London gallery will introduce many a viewer to the artist, on just its second show in Chelsea. I have not seen his Vertigo Sea, another account of ocean crossings and epic struggles, which earned due praise at the 2015 Venice Biennale. I had not heard either of the Black Audio Film Collective of the 1980s, which he helped found, although Akomfrah has taught extensively in Canada and the United States—including close by at Princeton and New York University. No wonder everything seems at once strange and familiar, as memories tend to do.
Akomfrah responds quickly, then, but he remembers the long term and the plight of others as well. That has its drawbacks, in that events blend smoothly into others, with a slow-motion chill that owes much to Stanley Kubrick. For all their dignity, people may even seem immune to suffering—although I gather that the account of the slave trade in Vertigo Sea is more biting. Each migrant, however at sea, touches earth with a family and a place to call its own. By the same token, though, he can awake anyone's empathy, as the spectacle casts its spell. Take off that space helmet, and you, too, might be able to breathe.

"This Place" ran at The Brooklyn Museum through June 5, 2016, Shimon Attie at Jack Shainman through June 4, Radcliffe Bailey at Shainman through June 11, and John Akomfrah at Lisson through August 12. A related review looks at additional photography of the Middle East.