The Status of Art
John Haber
in New York City
Anthony van Dyck: Portraits
For once, the Frick Collection attempts a blockbuster. Anthony van Dyck would not have had it any other way.
The most precious of small museums, the Frick manages some two dozen paintings—on top of prints, oil sketches, and drawings. They take van Dyck from a dashing self-portrait at, at most, a remarkable fifteen years of age to a portrait of Europe's leading art dealer clowning around with bagpipes in 1641, the year of his death barely into his forties. If this was the art world, I want to be a part of it.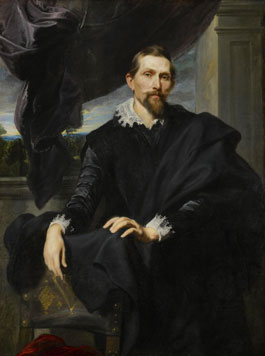 .
van Dyck's portraits take him from Antwerp to Italy, where the Baroque had only just begun almost exactly the year of his birth. They show him building on the Flemish community in Genoa, a thriving port city, and triumphing as England's court painter for a decade. They move easily among the exemplars of wealth, royalty, diplomacy, and religion. For van Dyck as for England, those were in fact inseparable, with almost any man in more than one role. They show him defining himself as an artist by creating an image for others. Yet they build after all on four portraits in the Frick, starting with those of another artist and his wife.
The very image of spontaneity
That artist is Frans Snyders, best known for scenes featuring animals, dead or alive. This is not the steady accumulation of paint and foretaste of death in Dutch still life. No, Flemish art was far more assertive, in its aggressive brushwork and slick surfaces. So is Snyders in his portrait, with his hair, beard, and eyes equally alive, and one would hardly know that he is an artist. With one hand poised tautly on his lap and the other by his side, continuing the drama of a curtain tied to hang down directly above, he and his wife might just be boasting of their independent means. And so they were, for the portrait came on the occasion of their acquiring a country home.
Portraiture was like that for Anthony van Dyck, as an image of society unconcerned for mere detail—and an image of art concerned for everything. Signs of status appear casually, like a laurel or the sheer quality of dress. England's queen might be on a family outing, but she stands on a platform as on a stage, and that seeming child with a pet monkey on his back is a dwarf. The painter breaks through in 1623, with a cardinal in electric red, overlaid with a lighter fabric that could pass equally for gold or white. More often, though, color appears as a carefully chosen accent, not least in a person's cheeks. Snyders, like van Dyck himself in a commanding self-portrait at twenty-one, dresses in black.
He reveals little of himself, too. He paints his wife and, most likely, his mistress in almost the same pose and same blue dress shot through with white. Even their faces look much alike—and not only because of his taste in women. Yet they reveal how he thought and worked. He left the portrait of his mistress unfinished, and the drawings show how he began. He planned obsessively, but he also planned for frequent rethinking, and he left faces to work themselves out on canvas, as a focal point and the very image of spontaneity.
Like society, he thinks first of a pose, often played off against a standing column, and then of surfaces. On paper, he sticks mostly to black chalk, sometimes with highlights in white or, more rarely, red. They work out a pose, including the articulation of hands, with faces left to separate sheets or a blur. The Frick also includes Jacob Jordaens, the Flemish painter, and Peter Lely in England—both more reliant on washes and both more concerned for finish. In Antwerp, van Dyck assisted Peter Paul Rubens, and both also tackle the same theologian, a Jesuit who served in China. van Dyck has nothing of the older artist's insight into a brooding, grasping personality still capable of wisdom, but that leaves plenty of space for the theater.
Sometimes he takes next to oil on paper, in grisaille (or monochrome), to work things out further. Only then come canvas and the face—with background color or landscape last, if at all. Still, he works fast every step of the way, with a shadow or cloud almost like a halo. This is not Brian Wilson in his room gorging on Oreos instead of making music, for all their shared obsessiveness. A sitter spoke, half bemused and half complaining, of enduring sessions over six days. I bet they were short sessions.
The curators, the Met's Stijn Alsteens and Adam Eaker, call the show "The Anatomy of Portraiture"—but anatomy is the least of its concerns, along with narrative. Even a Holy Family looks more like a family portrait than a vision. That teen self-portrait has a greater impasto, while a still earlier portrait draws on Tintoretto, the Venetian Mannerist with loose brushwork, sober faces, and ghostly light. All that quickly vanishes, as van Dyck does everything to hide his traces. While the cardinal's robe is a tour de force of red upon red, one cannot pin down a single fold. Still the painter is not done, and he converts selected portraits into a compendium of stiffer prints, the Iconographie.
Like Frans Hals in the Netherlands or Diego Velázquez in Spain, van Dyck set the standard for the Baroque portrait, but without their penetration and reserve. Maybe he never does let his flowing hair down, no more than John Singer Sargent nearly four hundred years later. Yet he looks ahead to Sargent among friends, in drawings that set aside the aristocracy for such fellow artists as Adriaen Brouwer, Orazio Gentileschi, and Pieter Bruegel the Younger. A luxuriant but vulnerable red-haired woman even approaches Jo the Irish Girl by James McNeill Whistler in 1866. For once, the most class-conscious of artists allows his sitter to cut class.

Portraits by Anthony van Dyck ran at The Frick Collection through June 5, 2016.