In Search of a History
John Haber
in New York City
Carrie Mae Weems
Some artists depict African American history. Carrie Mae Weems seeks out what history overlooks.
It shows in series after series. There she was, early in the 1990s photographing Africa, Slave Coast, and before that Sea Islands off the coast of Georgia and South Carolina—where the descendants of slaves, the Gullah people, still hold on to their linguistic and cultural heritage. There she was again after 2000, for her Louisiana Project, Dreaming in Cuba, and simply Roaming. At least once, she did not have to represent history, for it came to her, from a museum collection. She did not even have to create the spare texts that overlay each one, for most of them, too, spoke directly from the past. All she had to do was to select the prints, tint each of them a blood red, and bring her testimony.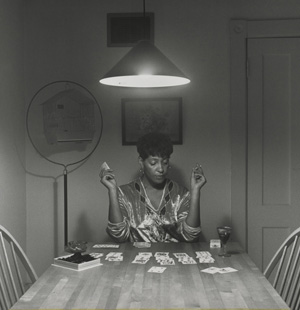 From There I Saw What Happened and I Cried. The two halves of that title overlay two prints that frame the series of more than thirty—and the only two in black and white. They show a woman, with an African headdress, bare breasts, and lips compressed as if to whisper that very message. Weems has reversed one in the pair, so that they face each other, and this time the words are clearly her own. In a sense, she has never had to search all that far, for she is always present. Sometimes she may not look far enough beyond herself wherever she goes, but more often than not her testimony is unforgettable.
Why not say what happened?
Yet why not say what happened? The words are a white man's, but Weems might well have taken them to heart. "Pray for the grace of accuracy," Robert Lowell continues, "to give / each figure in the photograph / its living name." The poem admires the truth and imagination in a painting by Jan Vermeer, even as he feels his own craft "heightened from life, / yet paralyzed by fact." Weems would probably take that as a compliment. Harvard threatened to sue her for copyright infringement of its daguerreotypes—and later bought the work.
Are her series, in Lowell's anxious words, "lurid, rapid, garish, grouped"? Fine. For her, so is history, especially black history as seen through white eyes. The Getty Museum, which commissioned this particular piece in 1995, had displayed the archival materials for its own history lesson. Louis Agassiz, the Swiss-born scientist who taught at Harvard, toured the South with a photographer in 1850. It was to be a taxonomy of slaves, and it was to support a theory of racial inferiority.
Which of the words are his, and which are hers? She has pillaged the white other, but to find both the voices of the dead and her own. Black hands stretched wide to touch others are "playmates to the patriarch." Black men and women are the "spitting image of evil," but they "marched and marched and marched." She addresses them as if they were at once still present and yet also past. "You were whipped," and "you became Uncle Tom" and "a playmate to the patriarch," but you survived "a mighty voyage" and labored "by the sweat your brow for self, for family, for others."
Has she reduced them to stereotypes, even as heroes, in what Umar Rashid would call the Kingdom of Harlem? Yes, but the stereotypes belong to others, only starting with Agassiz. The "playmate" has her legs spread and her hand in her crotch. She all but quotes Gustave Courbet, who painted a woman's genitals in 1866 as The Origin of the World. She also appropriates his shock to the establishment, his male gaze, and his reduction of a woman to the primitive—but now for a black woman's pleasure. All this in black and blood red.
Weems engages the viewer as well, not least by photograph in series that one must experience one by one, in real time. One shows the sheet music for "God Bless the Child," without the words, and I heard a woman sight-singing. You can begin or end the journey with "and I cried," and you may come close to tears. In her best work, Weems thrives on the tensions between past and present, objectivity and sentiment, absent voices and her sometimes overbearing presence. At her worst, she demands a hagiography in black and white. And yet one still remembers the sadness, self-doubt, and unreliable narrators, including herself.
The retrospective is the first for a black woman at the Guggenheim—well after the Whitney has exhibited Kara Walker, the Drawing Center Deborah Grant, and the Brooklyn Museum Mickalene Thomas, LaToya Ruby Frazier, Caitlin Cherry, and Wangechi Mutu in little more than a year. It is also left to the tower galleries, at half the size of its start at the Frist Center for the Visual Arts in Nashville, curated by Kathryn Delmez with the Guggenheim's Jennifer Blessing and Susan Thompson. Still, it would look far worse in the rotunda, where the bays would break up a series and enforce irrelevant pairings. The upward slant of the floors keeping one at a safe distance would bar one from reading the text at all, and the Frank Lloyd Wright architecture would, as usual, drown them out. Besides, the show holds one hundred and twenty objects as it is, and the Studio Museum in Harlem extends it with the entirety of a recent series including images of the South, in strikingly large prints as well. One could hardly ask for more.
Lonely responsibilities
Weems might not ask for more, but she sure speaks her mind. The opening wall text welcomes her "responsibility as an artist to beautify the mess of a messy world, to heal the sick and feed the helpless; to shout bravely from the rooftops and storm barricaded doors and voice the specifics of our historical moment." She somehow left out reversing global warming, bringing about universal peace, and curing the common cold. Perhaps she stays confident because she started close to home. She received a camera as a gift at age twenty-one, in 1974, and she studied at all the right places—first Cal Arts and then UCSD. She began these series with Family Pictures and Friends, completed in 1984.
That means her family, an extended one. They work, they tough it out, they rally for justice, they smile, and they hug. One young man gives a white friend a ride on his motorcycle. Weems meant the series as a reply to Senator Daniel Patrick Moynihan's politics of disarray in urban families, which she was not alone in seeing as blaming racism and poverty on the victims. The work already displays her fondness for people, frank narratives, black and white, text, and saintliness. The black guy on a bike turned down a scholarship to Columbia because New York would leave family and friends behind. She also has begun to combine sharp images with long exposures that can turn a light bulb into a radiant blur.
A light much like it glows at the center of her breakthrough, from 1990, and it, too, begins at home. Kitchen Table Series stars herself, and it begins and ends with her alone. She appears behind a table, with cigarettes, a drink, and an empty chair. An overhead lamp casts a harsh light and surrounding shadows, so that one never does make out the one other constant in a picture on the wall. In her ornate light dress, she could be a fortune teller, with the vanity mirror before her a crystal ball. The toughness, the prophecy, and the human failings go together, to make this still her finest work. In the end, it leaves her again behind the table with a deck of cards, not for tarot but solitaire—and a birdcage hangs empty, for the bird has flown.
Here text interrupts rather than overlays the images, like the framed pages of a novel, suggesting but withholding a fixed connection. It also comes off as overwritten but in a voice that one can hear as hers. She receives visitors, starting with a Malcolm X poster and "a solid man who enjoyed a fight with a brave woman." She has a child, and little girls drift through as translucent whites in those long exposures. Yet "the fight just gets tougher, and "something had to give." Plus the loving was worth it," but "like maybe a black man just wasn't her kind."
The loneliness, too, is a boast, and it already hints at a penchant for mythmaking. It took her the year before to a series of American Icons—of protests, civil defiance, and "a mother on a journey to reclaim herself." Here and in Ain't Jokin' from 1988, she mixes pride, stereotypes, vulnerability, and darkness, like the silhouette of a tap dancer or the shadow of a woman on a swing. Something complicated did break through over the kitchen table, at least for a while. It also allowed her to leave her family in search of others. Still, the hagiography has already begun.
Not that history ever stands fully apart from folklore, especially on a trip to Africa. Weems photographs a vegetable field as the garden of Eden and a ladder leaning mud huts as a "stairway to heaven," where "heaven lies at the feet of women." This is an account of humanity out of Africa and out of women. In her travels to the slave coasts, she descends the ladder head first—from heaven to a church, a shake shack, and a graveyard. Still, she describes an uncanny bravery and nobility born out of suffering, in men who "refused slavery," "joined hands," and "drowned."
Endangered species
If anything, the Harvard appropriation radicalized her that much further. She really does have no qualms about dreaming in Cuba, admire it or no. Yet there, too, she finds a fallen paradise, with former slave quarters and cane fields. Here and in a trip to the "new South," she again juxtaposes past and present. The layers of history have room for tombs, mansions, an ad for Bud Lite, and herself. She drifts through the scene on video, in the flowing white housedress of a slave, as if herself a ghost.
Appropriation also has her thinking not just about politics, but also about the politics of art. It was a time of gender politics and appropriation, the time of the "Pictures generation," Sherrie Levine, and Cindy Sherman. At the kitchen table, she could already play a part not necessarily identical with herself. Now she can consider the role-play in art and others.
Black models strut their stuff on the fashion runway, while Weems reinvents Olympia in 1997, as Not Manet's Type. This is still the tough nude looking at you, kid, but the black servant holding flowers for Edouard Manet has become the sex object herself. Weems also adopts more defiant text and a one-sided art history. "Picasso only used me & Duchamp never even considered me." Willem de Kooning and Diego Rivera sound as bad or worse. Weems has stopped hedging her bets on the future, and the apologies are over.
She confronts art implicitly when she arranges more tinted photographs in a color grid, in 2010, but she has already been roaming. The rambles take her by more than one actual museum, including the Louvre pyramid—but also to preserved row houses, Rome's ancient city, and a film studio built for Mussolini and used by Federico Fellini. Weems again drifts past in slow motion seen from behind, this time in black, for the ghosts of Modernism have darkened and, facing the Guggenheim Bilbao from across the water or the steps of the Met as white girls rush past, oblivious, have suffered exclusion as well. The accompanying video looks like a lost episode from Twilight Zone, with soothing or eerie music to match. Be scared, she wants you to know, and be prepared to live with her certainties. In video from 2008 with her narration, she takes responsibility for Constructing History.
Radcliffe Bailey, too, evokes the slave trade and communities of fugitive slaves. Hands, coral, a dead crocodile, and maps on dark canvas trace their routes, while glass shards look like crystals from the sea. One can almost forgive him the schlock realism of a sculpted W. E. B. Du Bois posed as The Thinker after Auguste Rodin. Why is the croc legal if stuffed animals from Robert Rauschenberg no longer are? Perhaps modern art is the real endangered species. Sometimes even a complex, heartfelt, and iconic art could use a shot of ambiguity of wit.
The civil rights marches of 1964, Weems announces, "changed everything," and everything seems to have changed for her as well. She takes more and more pride in haunting others rather than letting others know what is haunting her. There is still continuity with her earlier work. Even in Constructing History, silhouettes grope in the light, and "no viable answer seems to be forthcoming." And not many photographers so much as ask the questions. Maybe she will once again face front, with a drink in hand, in search of herself and history.

"Carrie Mae Weems: Three Decades of Photography and Video" ran at The Solomon R. Guggenheim Museum through May 14, 2014, and at the Studio Museum in Harlem through June 29, Radcliffe Bailey at Jack Shainman through February 15.