Social Networking
John Haber
in New York City
Julie Mehretu and Elliott Hundley
For someone who works on such an ambitious scale, Julie Mehretu is charmingly self-effacing. But then any number of people could hide behind work like this. She merges abstraction and representation into a dense weave. One could call it painting as social networking, and she is hardly alone.
Elliott Hundley, for one, throws in Greek myths and personal hubris. Mehretu suggests that history can get along pretty well after all without mythmaking.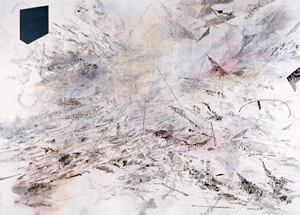 Gray scale
Any one of the paintings in "Grey Area" would fit with postwar American art, and Julie Mehretu has five of them. Her contribution to "Remote Viewing" at the Whitney in 2005 helped define its mapping of imagined worlds. If Terry Winters and other painters who negotiate space gave the show an ancestry, she gave it a centerpiece. Her eighty-foot mural for Goldman Sachs spans the lobby, not to mention a former parking lot covering Hudson River landfill. Around the back, Franz Ackermann uses more walls and larger fields of color, but with the casual glee of an amusement park ride. Mehretu is writing history.
Of course, there is more to scale than size. Clement Greenberg or Barnett Newman, for whom "the sublime is now," explained art's scale in relation to the viewer. And Mehretu combines density, which pulls one in, with a design that pushes out but stops short of the edges, detaching the painting from the wall. She calls one painting at the Guggenheim Atlantic Wall, as if to say one had better stand back. Another measure has to do with subject, which for her spans architecture, urban planning, and the imagination. Her time in Berlin inspired "Grey Area," and the one more or less representational work outlines a monumental building or two in perspective.
Another notion of scale inheres in a public commission. Goldman Sachs employees reportedly do not find Ackermann's rear lobby dignified enough, which leaves unanswered what they think of their firm's behavior. Mehretu's mural might itself be too big to fail. Last comes time scale. Bank buildings and the like float across the lobby wall, and the painting's very nexus alludes to the origins of modern finance. Just as important, Mehretu's working methods give a canvas its own history.
One can think of her as taking Jackson Pollock and cleaning up the impulse. She begins with something very much like line drawing. After working over it more freely, she may add laminated cutouts for hard edges, irregular geometries, and more recently calligraphic traces. Often she covers each layer with a transparent medium before proceeding, but not without afterthoughts of paint and drawing on top. She seems to abhor symmetry or even strong diagonals, lest the work stand still. One can see every step in the process, and one can see every one as in continued motion.
All this speaks of both pleasure and ambition, not a bad formula for success. Within a decade she has appeared among emerging artists at the Studio Museum and in a Whitney Biennial. Jeffrey Deitch himself advised Goldman Sachs on its purchase, on his way from hot dealer to museum director. Deutsche Bank sponsors the series that includes "Grey Area." Come to think of it, Mehretu seems to have found a career in finance. She has said that she did not worry terribly about having worked for America's most hated financial institution, which unveiled its new headquarters along with is dirty laundry, and given the timing neither would I.
At the same time, events have given the mural an impressive new life. One can see its design as rash, impulsive, all-encompassing, joyous, and sinister. One can see the buildings flying apart or about to crash. As one can imagine, the firm has something of a fortress mentality, so I can only imagine the full impact up close. Still, windows run its length in Battery Park City. Along with an outdoor mural by Amy Wilson that came down prematurely a few blocks away, it gives new meaning to aborted dreams of a cultural center at Ground Zero.
The mess of history
Mehretu's shrugging off either regrets or scolding says a lot about her, too. For all her energy, she really is self-effacing. She does not insist on the triumph of abstraction or history painting, just as most of "Grey Area" is abstract and none of it grandly symmetric. Closure is just not going to happen. As the title says, it is about gray areas, although she manages to explore them mostly in splashes of black. Each canvas makes its own choices, between representation and abstraction, painting and drawing, and color. The muted color in two of them brings them closest of all to gray.
They do not fit easily into anyone's history. If anyone deserves the label African American, she does, but with her own perspective on black and shades of gray. Born in Ethiopia, she grew up in Minnesota, studied at RISD, and took junior year abroad in Senegal. She also has a white female significant other, Jessica Rankin, who shared the stage in a show of "Global Feminisms." Rankin incorporates text and allusions to craft into her own fluid, layered designs and wide-open abstraction. Mehretu has less overt interest in identity of any sort—black or white, male or female, gay or straight.
Messy wall drawings have become somewhere between a tic and a trend, as with Elliott Hundley. Hundley, though, acts out both Greek tragedy and his own desires, while Mehretu refuses mythmaking. She avoids Winters's organic form in favor of architecture. She shares her scale, gray tones, huge weave, and spaces between two and three dimensions with Gary Simmons, but without his insistent blackness and personal memories. When Shinique Smith used the basement of the Studio Museum for her own mural, it had Mehretu's intricate spurts of life, but also hints of graffiti. Mehretu looks past the caverns of New York.
That does not make her entirely evasive. After Modernism, the myths are gone, but history and institutions remain. Identity is fluid, but also persistent. Mehretu lives in the bustle of New York but spells the confusion "grey." She also spells it out with honesty and precision, down to the clarity of her drawing. She used many assistants at Goldman Sachs with no obvious sacrifice in vision.
She can pay a price for her honesty, in being everywhere and nowhere. I had to see "Grey Area" several times up close to cherish the variations. I also had trouble remembering a single image. The room may work best as a series without a sequence, just as the process separates the layers and then throws on more of what lay below. Memories dissolve and reappear, like that of 9/11, and she used a photograph of the fallen towers as another source.
She calls one painting Believer's Palace, after Saddam Hussein's palace—alluding to at least two more shattered illusions, his and the Iraq war. Berliner Plätze looks the ghostliest of all. At her best, though, the explosion is still taking place, like the splashes of white in Middle Grey, on top of a wash that flows downward without touching bottom. Goldman Sachs, thankfully, is stuck with something vast, colorful, and totally out of control. This is neither the nightmare of global capitalism nor its triumph. With luck, after another market failure or two, outsiders will get to look inside.
What's Hecuba to him?
If Euripides were alive today, he could have written the screenplay for Animal House. He already imagined the ultimate toga party, in The Bacchae, with a rather different set of Greeks. This time Dionysius, the god of wine, would bring beer—and a mass-market brand at that. Instead of women tearing a boy-king to pieces, guys would be in pursuit of a good lay. Instead of a horrifying madness, they could have a little rest and relaxation, at the cost of maybe puking on the dean.
Chelsea already looks like one long frat party, between its weekend crowds, bad girls on display, and way too many male artists with trashy installations. True, cheap white wine still pours at openings, but one can snag a PBR most Thursdays with a little patience. Heck, Jasper Johns himself has sculpted beer cans, and just this year El Anatsui has used caps from liquor bottles for his ritual curtain. Elliott Hundley plays to exactly that action. Ambitious in scale, his work combines paint, photography, ragged sculpture, and some serious myth-making—with the artist at its center. Come to think of it, the paint even looks a little like puke.
Oh, but c'mon and have another. Hundley has drawn before on Euripides, for the theme of a sacrifice in Hecuba—or make that Hekube. (Collectors in LA are serious about their Greeks.) With Agave of the Bacchae, he again takes mania in stride. If he presents a coherent narrative, I sure could not find one. Still, he manages a greater modesty, a greater exuberance, and a greater unity.
From his past work I like to remember not the shredded overkill, like a messy dorm room, but a face much like his own, behind a hazy curtain of off-white paint. He again starts with a portrait, but with the clumsy features of Socrates, a satyr, or an older and more experienced version of the artist. He bears flowers as a greeting, to defer at last to women, or to appease an angry god. It almost works at that. If you want a serious exploration of all-encompassing madness in an age of global banking, there is always Mehretu. Hundley is at his most frenzied in meditation and his most idyllic when he parties.
The meditation comes in one of two harsh yellow-red canvases, one a desolate plain (the tragedy's setting) and one with tortured images of Euripides himself, looking oddly like the Dalai Lama. It shows Hundley's interest in paint, but also the strains of narrative. This work tries really, really hard. I imagine his wondering at the limits of holiness and harmony, but the expressionism would mean little without the facing works. Neither, for that matter, would the spare but decrepit sculptures of metal and drinking straws, like a token gesture toward the artist's reputation. They need the other murals, in true mixed media, with crisper outlines and the coolness of a forest scene.
Photographs give them their painterly precision, dozens of them, each affixed to canvas by a long pin. I mistook them for appropriation, like the ads pasted here and there, but Hundley has photographed friends, men and women, and cropped them to their bodies. Wildly active paintings are all over the place these days, with the showy networks of video games and computer models. Besides Mehretu, Ackermann, or Winters on a grander scale, the style has recently extended to Sarah Sze, Lisa Corinne Davis, Sean Hope, Dawn Clements, and plenty more. All, though, embrace pleasure more than madness. This is not Agave in The Bacchae, killing her son with her bare hands, mistaking him in her madness for a lion. At heart, Hundley prefers a summer weekend and a gentle dance, and so, for better or worse, does contemporary art.

Julie Mehretu's "Grey Area" ran at The Solomon R. Guggenheim Museum through October 6, 2010, Elliott Hundley at Andrea Rosen through May 1. The Goldman Sachs headquarters opened in January. Portions of this review first appeared in Artillery magazine.