Remotely Abstract
John Haber
in New York City
Remote Viewing: Invented Worlds
Abstract Gallery-Going: Simon Aldridge,
Ingrid Calame, Pat Steir, and Ernst Haas
Worried that Six-Feet Under is nearing the end of its cable run? I have the perfect sequel, based on a funeral industry devoted entirely to abstract art. It may sound silly to declaim yet again the death of abstraction, although no more silly than to look to it for the cutting edge. Yet both these dogmas continue to plague the debate, just when real abstract artists are demonstrating less purity of media and of motives than ever.
At the Whitney, "Remote Viewing: Invented Worlds in Recent Painting and Drawing" proposes yet another present and future for abstract art. Thanks especially to Julie Mehretu and some stunning installation views, it looks less to flatness, color charts, or even painting and drawing at all in a traditional sense than to museum walls. Meanwhile, gallery exhibitions by Simon Aldridge, Ingrid Calame, Pat Steir, Valerie Jaudon, Jean-Paul Riopelle, and Ernst Haas revive a wealth of contrasting abstract traditions. They encompass not just such old inspirations as landscape, formal invention, decoration, and illustration, but also a range of media from Mylar to color photography.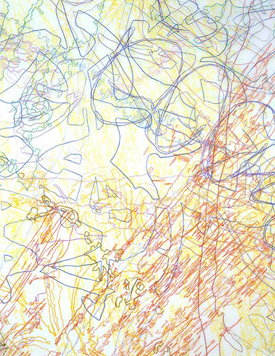 Remote control
"Invented Worlds" may sound like yet more of what I like to call the New Surrealism—the hyperactive imagery so common in painting now, as at "Greater New York." Worse, it could mean nothing at all: surely any art amounts to an invented world. If the exhibition subtitle's reference to traditional media does not clinch its utter irrelevance, you probably made up your mind long ago anyway about Terry Winters in his biomorphic abstraction, Carroll Dunham with his square heads, and the younger artists who have channeled them. Well, surprise, for the Whitney's summer group show has a focus all its own and, continuing a pattern in the last Biennial, some of the most creative use yet of the museum's flexible display space.
Actually, the curators wisely shied away from calling it "Recent Abstract Painting." Who would wish to speak for abstraction now? Who can? However, Elisabeth Sussman and her colleagues present an unusually coherent view of abstract art, as about not edges but their overflowing. If this insists after all on the overly guilt-free pleasures of all those oversized group shows, that, too, is a claim about contemporary art worth examining in a context of abstraction. Sussman already deserves credit for the best show in town, Diane Arbus at the Met. She also developed a retrospective of Eva Hesse that skipped from San Francisco to London when, shamefully, the Whitney canceled its New York appearance.
The show allows just eight artists to fill an entire floor, one to a gallery. All just plain doodle, like Dunham. All incorporate drawing into painting in ways that, as for Winters, evoke imagined architecture or organic form. As if to underscore the connections, Winters owns a work in the show by Franz Ackerman, and Ackerman sneaks in the only recognizable portrait, like a comic substitute for Dunham's heads. And all suggest that drawing has spun out beyond the limits of paper or canvas. Like Ackerman as well, Ati Maier, Matthew Ritchie, and Julie Mehretu all cross the line between abstraction and installation.
That odd title, "Remote Viewing," incorporates an obscure, silly reference to government studies of extrasensory perception, and it makes me want to pick up the remote and change the channel. However, only the two remaining and, to my mind, dullest artists consistently approach representation. Steve DiBenedetto combines clotted paint with swirling landscape, while Alexander Ross appears to have an unreasonable admiration for bell peppers. With others, the drawn and painted line grows lighter, tenser, and longer. It projects into three dimensions. It arcs from traditional art objects onto and across walls, in a way that truly does encourage remote viewing.
Ritchie's room centers around a large, black sculpture, not unlike a jungle gym. One can consider it a magnet for the surrounding, discrete two-dimensional works. Ackerman hangs that portrait off-center, like the remnant of an imaginary museum, amid a tracery of black-and-white. Mehretu's large works restrict themselves to paper and to the wall, with suggestions of perspective grids. However, she blurs one's conceptions of painting and drawing in two dimensions, using pencil alone for the wall and incorporating lamination into the rest. Her fantastically detailed works recall computer architecture run amok, not unlike the three-dimensional fantasies of Sarah Sze or the still more provocative modular landscapes of new media.
All this may still sound simply fanciful and self-indulgent, and much of the time it is. Only Mehretu, I suspect, is really remaking 1990s' clichés about the institution as art and art as installation. I give the exhibition itself a good deal of the credit for making the mess cohere. It helps by pruning Dunham down to abstraction and Winters down to his most strongly colored, germ-like shapes. It helps by clustering smaller drawings, such that the show progressively opens out from studies to paintings to installations. It helps, too, with broad sightlines from room to room, so that the exhibition as a whole resembles painting, drawing, and installation.
For once, artists so often known for a static vision look more colorful and alive. It could serve as a paradigm for other installation artists that cross image, object, and even life. I recommend following the show's own lead, letting abstraction deal with limits in its own way. One can immerse oneself in each artist, ignoring the open sightlines as best one can, until remote viewing takes on an imperative all its own.
Illegible canyons
I could imagine a fuller, denser show, using Mehretu's singular breadth as a jumping-off point to explore other media. I could imagine chasing the boundaries that the show itself excludes, when it downplays the imagery of its own artists. How, for example, do Mehretu's maps and border crossings, already the exhibition's core, also relate to her identity as an American artist of African heritage? (I first encountered her in "Freestyle," and the Studio Museum in Harlem has another survey of emerging black artists, "Frequency," later this year. Shinique Smith there has also mixed installation, graffiti, and questions of identity.) Maybe the answer will take following the landscape of abstraction into other territory entirely.
Not all invented worlds border on cyberspace or the mystical. Simon Aldridge and Ingrid Calame both create illegible landscapes that leave the viewer suspended exactly nowhere. With both, however, that nowhere provides a very real sense of place.
They use entirely different means to get there, and one could too hastily dismiss both as derivative. Aldrich traffics in photorealism that looks blurry on first sight and dissolves entirely as one gets close, as with James White. In his careful imitation of a medium unable to deliver the resemblance that supplies its aura of truth, he must sound like a retread of Gerhard Richter. The exaggeration of photorealism's coming undone up close, as in the portraits of Chuck Close, may sound still more like conceptual art as well.
Ingrid Calame traces thick, winding lines of colored pencil, often inspired by or traced from found markings, on huge sheets of mylar. In her reliance on pencil to create a flat pattern with rules that one cannot begin to comprehend, she may sound like Sol LeWitt. Such a fantastic topographic mapping has its conceptual side, too, as in digital art by John Klima, Christina McPhee, and others that manipulates seismic or satellite data. One wants the colors to stand for something, but of course they never do. I looked equally in vain for the stains, supposedly the materials of actual western landscapes, that Calame claims to incorporate.
Actually, the echoes are flattering to all parties involved. They are also only a first stage in taking it all in. Like Richter, Aldrich really does pay homage to traditional realism. The technique that coheres best from afar, the greenery, and the hints of human presence recall an Impressionist's weekend outings. The vague buildings, perhaps factories or office parks, bow to the documentary side of American realism. Calame trades LeWitt's literalism for the subjectivity of all-over abstraction. The Mylar even suggests the old-fashioned transparency of oil painting.
Still, one never does locate oneself in a place, whether the place of the workaday world or the here and now of an abstract painting. They seem close enough, but they keep vanishing, and one gets to float above the scene. Perhaps that distance most evokes the numbing social reality of surburbia or the vistas of a real canyon after all.
Her long black veil
Perhaps no one takes abstraction to the edge of a canyon as showily as Pat Steir. Whatever I have thought about her work, I had to admire the image—with all its connection to intellectual and painterly traditions from the Romantic landscape to Abstract Expressionism. Sometimes I find her gently rippling surfaces too pretty for their own good, like the early "Abstract Impressionism" of Philip Guston. Sometimes I find the image of a waterfall and even her command of scale too quick a reach for the sublime.
Sometimes, like any signature, it seems to tell me too much about what to expect in the future. Perhaps it seems to tell the artist too much as well, as often happens when a painter achieves maturity.
And then the image reminds me not to sound so unfair. She developed her waterfalls not as a watered-down Abstract Expressionism, but in order to reconsider the viability of abstraction. Like others, she was willing to allow formalism to compete with imagery and even decoration. It warned one against interpreting the appearance of water or decorative fabric as feminine while also asserting the place of a woman in shaping the vocabulary of abstraction. Perhaps it helped that one could recall echoes of nature in such older, indisputably rigorous artists as Lee Krasner. Steir recalls canyons and waterfalls in the Hudson River School, too, in case one had not read enough theses about the American Sublime.
Her images add something else as well. By suggesting a veil flowing over the surface, they make explicit the canvas as itself a soft, flat fabric. Like an old-school formalist, they identify the shallow depth of the image with the support as much as the paint, while the allusion to fabric adds the possibility of pulling back the canvas to reveal a still greater depth. One can imagine Morris Louis in his Veils working the same way, although he makes his mixed colors literally merge with the fabric. Like others of her time, she layers her image on top, as artifice doubling surface.
One new horizontal painting, as remarkable for its size as for its beauty, places a Louis-like veil across most of its surface. Others add metallic paint into her more typical vertical format. Either way, she is pushing at notions of grandeur and permanence, at the risk of complacency. Either way, too, she is detaching the image even further from its ground, while embracing decoration more than ever. The acid metal colors also risk the yuck factor, and I had to admire that kind of risk-taking.
Still, I felt a lot better when the formula still allowed me some surprises. I liked that the horizontal painting becomes asymmetric at its left and right edges. I liked a nearly black painting, with a curlicue of blackness on top of that, restoring that fabric of paint as a tactile and not just visually formal substance. The first invites one to engage the work as an old-fashioned mural, walking from left to right across it in order to watch the image and the room unfold. The second invites one to look at black again and see more.
Decoration, illustration, and all that
As it happens, along with Steir, Chelsea was showing two other abstract artists from the recent past often derided as decorative and illustrative, and one even willingly fades to black. Their very caution, however, further bolsters the case for abstract drawing that looks beyond the painted image.
Valerie Jaudon, once a star of "new image" painting, still creates symmetric images resembling Gothic tracery, but with plenty of white. I can think of her as a point of transition, in introducing decoration to color-field abstraction but without Pop or pomposity. Once one steps back from her latest paintings, as traces of the palette knife disappear, Jaudon's "new images" can look awfully smooth, however. I wonder if the creaminess of the paint—or of the conception—will grow or fade further on fresh encounters with her earlier work.
Both more heralded and more dismissed, Jean-Paul Riopelle now receives a gallery retrospective, with ample space for the 1950s and 1960s. And here the resemblance to decorative art arises from quite a contrary process. The works do not apply the received imagery of the Romanesque to abstraction. Rather, they rely on the palette knife to pack the arbitrary constructs of Abstract Expressionism into smaller, thicker surfaces. The transparency of oil paint and the liberal use of black seems to freeze the painterly impulse into lead and glass.
I had to admire the very possibility of lushness without an attempt to overpower viewers. Of course, I also had trouble not imagining an imagined prerecorded lecture from Clement Greenberg on the prissiness of French postwar abstraction. Riopelle's dense constructions have little interest in either line or surface. They cannot offer the clarity of late Modernism or its impulsiveness. Paradoxically, they also are not going to suggest the clarity of decorative art—or its own potential to burst the limits of painting as fine art. I could imagine Greenberg finding new matter in the Whitney's impurity, but not Riopelle.
Mostly, I enjoyed the ironies of dismissing Riopelle at all. A Canadian whose significant other, Joan Mitchell, extended American abstraction, he gets to stand equally well for the French or for American "second-generation Abstract Expressionism." How like Canadians, to be mistaken for others. Then, too, he has the irony of playing second fiddle to Mitchell, who herself long had to bear with dismissals of her art as decorative, illustrative, or feminine. For one last twist, Mitchell discovered her most violent art and greatest range of color, texture, and composition soon after settling down with Riopelle in a Paris suburb.
Of course, I might enjoy the ironies more if his posh gallery setting did not automatically make such grand claims. As if further to rescue Greenberg from the dustbin of postmodern criticism, Robert Miller followed up a month later with yet another French abstract artist. Pierre Soulages builds his layers of black even more carefully, but at the risk of resembling floor samples of plastic kitchen supplies. It makes me thankful for Riopelle's small, thick pieces that really could have been taken down from an upper window. It makes me grateful to end with an abstract artist who, literally, worked with a window onto nature—the lens and color photography.
Photography's competence
Late Modernism had two lessons for photography, and unfortunately they disagreed completely. Remember a photograph—a flat, rectangular object employing chemicals to represent the world? Surely it could aspire to the same formal rigor as a painting, and in fact it did. Berenice Abbott could see in architecture the darkness of its shadows, and Walker Evans could pin a woman's Yankee bone structure against the wood frames of a house. How, then, could one complain if others were pushing further, toward abstraction?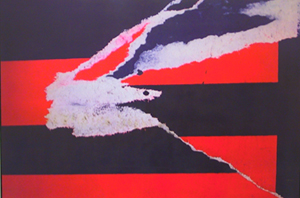 On the other hand, as Greenberg put it, formalism demanded that each medium seek its "unique and proper area of competence." How then could photography, which some feel can never overcome faith in its representation, settle for painting? By the 1990s, Postmodernism called abstraction dead, and appropriation propelled photography into mainstream galleries. A distrust of abstract photography could only deepen. Why should a photograph, of all things, take its dignity and artistry from the very aura it had dispelled?
Bruce Silverstein keeps refreshing the history of photography and teaching me names I hardly knew, and somehow the gallery does so again. Its first installment of work by Ernst Haas recreates a 1962 exhibition at the Museum of Modern Art. It shows Haas in the decade's slippery space between representation and abstraction or photography and trompe l'oeil, and it shows that not as excessive refinement, but as lively experiments in a new medium, color photography, like Paul Outerbridge and even before William Eggleston. If I understand correctly, the Modern gambled on its first show of color photography, and that same year Barnett Newman was about to set aside his "area of competence," abstract painting, to make the sculpture that now graces the atrium of the remodeled Modern. So much for the purity of modern art history. Could "Remote Viewing," overflowing boundaries in both media and imagery, indeed have the last word?
Faced with the novelty of color photography and the chance to make it a reality, Haas plainly fell in love with color all over again. Just as plainly, he returned to Modernism for its most impure impulse, collage. A large, irregular field of red could have come from Robert Motherwell, but Abstract Expressionist drawings rarely have the same depth on a scale this small. Impurity comes with Haas's subjects, too. I could make out two crushed soda cans, enough to wonder where and how they arose. I enjoyed just as much my inability firmly to decipher much else.
Haas seems ready to play around with any dogma, whether it identifies photography with documentation, formalism, or something in between. He took several stop-action photographs of athletes, as still more shattered fragments of nature and color. If I felt surprise at how far that took him from abstraction, I felt an even greater shiver at how remote they seem from Eadweard Muybridge. Anyone looking for a scientific analysis of motion had better look elsewhere. I liked the abstractions better, but either way, I had to forget the pretense of solving the riddles of art and nature.
The exhibition helped me understand why one sees more abstract prints again now, now that photography is again in play as an experimental medium. Digital techniques, the appropriation of reproductions, the severance of the photographic subject from any necessary space outside studio props—all these make it hard to recognize photography, reality, or abstraction. What goes around, comes around. Someone may well be appropriating this show now and already clicking the remote.

"Remote Viewing: Invented Worlds in Recent Painting and Drawing" ran at The Whitney Museum of American Art through October 9, 2005, Simon Aldridge at Cohan and Leslie through April 30, Ingrid Calame at James Cohan through April 30, Pat Steir at Cheim & Read through May 7, Valerie Jaudon at Von Lintel through April 30, Jean-Paul Riopelle at Robert Miller through May 1, and Ernst Haas in two parts at Bruce Silverstein through June 11.