Heading North
John Haber
in New York City
The South, African American Art, and Civil Rights
If a museum had to celebrate a moment in African American art, it might pick one of two. Most likely, it already has. Exhibition after exhibition has done the same.
Make that an extended moment. One came in World War II, when Jacob Lawrence painted his Migration Series. He took three years to depict the passage north of African Americans, a passage that took decades, but was it a tale of displacement and loss or of community and common hopes? Surely both, with figures in rows as if on a forced march. Lawrence's War Series again teases out the promise of freedom. His colors are warm but airless, but his struggling humanity and the light on the horizon reiterate a pledge that remains unfulfilled to this day.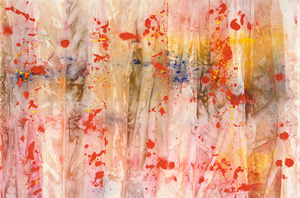 The other extended moment came later, when Romare Bearden took the pulse of Harlem. He had served in the war, before Truman integrated the military, but he found new beginnings in the Civil Rights movement. Increasingly, too, he captured the vitality of the street. And he, too, described a mythic voyage as a homecoming. He painted the journey of Ulysses, and MoMA called a 1971 exhibition of his prints "A Graphic Odyssey." He also turned to collage to place that odyssey more fully in the present.
"When the Stars Begin to Fall: Imagination and the American South" has in mind a third moment. It is what the others left behind, in the rural South, but also the present moment, of outsider art moving toward the inside. The results may have less to say than they should about either one. They go light on both politics and history. They do, though, make a contemporary case for a hybrid. Meanwhile "Witness: Art and Civil Rights in the Sixties" returns to Bearden's times, but it is not just about blackness. Maybe it papers over real and lasting divisions, but you decide.
Old odysseys and private myths
Romare Bearden began his career in the rural South, and the migrants of Jacob Lawrence are driven by the past: as one title has it, After a Lynching the Migration Quickened. Now the Studio Museum asks what they could not forget. "When the Stars Begin to Fall" includes work from as early as the 1960s, although it leans to younger stars. It has hardly a trace of southern scenery, southern society, or southern history. It stakes a claim for the South in the African American imagination all the same.
Its very theme is contemporary. The show includes folk art, at a time when self-taught art and outsider art have new champions, including an artist who never left Alabama, Ronald Lockett. The theme is also easy: round up the usual suspects and give them room to play. Even with only thirty-five artists, most with a single work, it spills up onto the balcony and feels larger still, as well as unfocused. One could spend a visit puzzling over why much of the work is there—and why other histories are not.
The theme itself has a history that goes unstated. Horace Pippin, who died in 1946, was a self-taught artist who admired Modernism and folk art alike. At the end of the century, Eugene J. Martin in Louisiana was as at home with Cubism and Surrealism as with popular culture. For the Studio Museum, that hybrid holds the key to the present. Too often, it hints only obliquely at African American experience—starting with the show's title, a spiritual that became a hit for white folkies. Yet it should provoke others to reconstruct the past.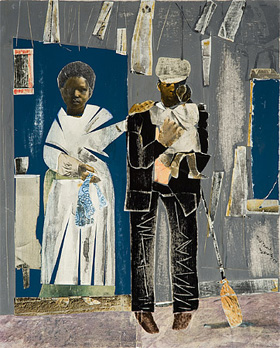 The curator, Thomas J. Lax, is into mythmaking, and many artists come with their own private myths. Right by the entrance, a white arm by Trenton Doyle Hancock punches through the wall. Hancock appeared at the Studio Museum only the month before, among black performance art, and here he goes again with his battles between the Mounds and the Vegans. Kerry James Marshall has a better-known myth in mind, with a nude Frankenstein and his bride, but not a particularly southern one. Still, Hancock's arm holds what looks like a bucket of something pink, and Marshall's bestial creations target a white stereotype of black people. This work may look bloodless, but there will be blood.
Others find the beast not down south at all, but rather in the capitals of Western culture. Deborah Grant takes Henry Johnson, an artist who died in 1970, from South Carolina to the National Academy of Design in New York and then to Paris, as The Birth of a Genius in the Midnight Sun. Theaster Gates's character sings "Amazing Grace" on the streets of Harlem, while Courtesy the Artists, a collective, videotapes the willing as they interpret a song in the dark. David Hammons evokes the South with cheap wine and chicken wings, but nothing that he could not have purchased down the street. Kevin Beasley never so much as leaves the museum, amplifying the ambient silence into a roar. For them all, the outsider is everywhere and nowhere.
For some, the outsider is present even in abstraction. For Marie "Big Mama" Roseman, a seamstress is a source of pure color, while Xaviera Simmons translates her "travels" into a lyrical black and white. For McArthur Binion, oil stick, crayon, and memories of Mississippi come together in "landscape and light." Thornton Dial layers black paper onto canvas, while Stacy Lynn Waddell burns gold leaf onto canvas, as The Secret Life of Plants. Is it a southern life and a southern secret? Maybe, but the New York School included Norman Lewis and Beauford Delauney all along.
The outsider and the primitive
Some confront the politics of memory and identity more directly. Rudy Shepherd heads for the Superdome, where the displacement after Hurricane Katrina stretched out seemingly forever. Carrie Mae Weems photographs graveyards nested among trees and littered by hubcaps, while Kara Walker pursues Possible Beginnings, or the Creation of African-America. Her plantation stereotypes have earned her criticism, the kind that has made her respond with Christ's Entry into Journalism. What would one say if she were Jewish? Yet surely someone has to confront those images of the old South, along with the actual histories of rape and victimization that they paper over, and no one else here comes close to trying. Besides, if she were Jewish, one would know instantly her irony.
And no one else does come close to trying, for the show's central image of the South is not of the beaten down, but of the forgotten and of the visionary. Benny Andrews introduces it as early as 1967, in pencil allegories of trees with legs, surrounded by vibrant color circles. Henry Ray Clark locates it in Texas with a three-headed mandala, On Our Planet Name Yahoo We Are Called Destiny Childs We Sing and Dance to We Do Know One Thing for Sure We Will Never Separate Are Be Apart. (On our planet, I guess, words spill out from the sounds inside our heads.) Georgia and Henry Speller pair her "Grecian" dancers with his folk drawings of a Tennessee riverboat. Jacolby Satterwhite is another sophisticate who knows madness at first hand, in his mother's schizophrenia.
For others, outsider art means a style or a medium. For Minnie Evans and Frank Albert Jones in colored pencil, it means dreams of Christianity, botany, and the devil's architecture. For many more, it means scrap wood and found objects. They include rural foundations for Beverly Buchanan and Lonnie Holley, Joe Minter's "African village in America," James "Son" Thomas's skull of human hair and rocks for teeth, Bessie Harvey's book of Revelations, and John Outterbridge's headless and limbless effigy. J. B. Murray hints at it in cryptic loops on blood-stained paper. Noah Purifoy has built his own "desert art museum" in California to commemorate it.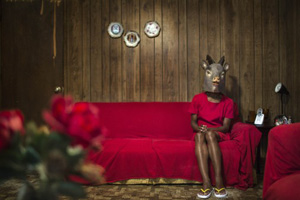 It can also belong plainly to the present moment, in a South that has modernized without eradicating poverty and racism. Lauren Kelley finds her outsider still stuck in a Texas penitentiary. Geo Wyeth may be thinking of his great-great-great-grandfather, but his video amounts to the drive-by shooting of a modern brick home. Ralph Lemon invents his own comic alter egos, posed with animal heads in suburban interiors. Rodney McMillian takes a walk in the woods for Nat Turner, compressing day to night into six minutes. Yet this is still McMillian's terror and his search for peace, in real time.
Histories of African American art keep coming back to both odysseys, Lawrence's and Bearden's. MoMA exhibited The Migration Series in 1995, and the Whitney has given focus rooms in its permanent collection to Lawrence as well. Just in 2012, the Met exhibited Bearden's The Block, meaning a block in Harlem. That same year, the Studio Museum invited contemporary artists to riff on him, for "The Bearden Project," and Kerry James Marshall had begun earlier still. Even before the Whitney's "Blues for Smoke," Bearden inspired an art of improvisation.
Histories are also finding connections to Africa, replacing Modernism's appropriation of "the primitive." The Brooklyn Museum has given retrospectives to El Anatsui and Wangechi Mutu, and it insists on its commitment to Brooklyn artists. This time, though, Studio Museum risks falling back on outsider styles as its own primitive, just when black art is demanding attention as an American mainstream. Maybe this history seems so lacking in particulars in the hope of forgetting and healing. Dial in Birmingham could be speaking for others when he calls his paintings Two Souls Set Free and When I Lay My Burden Down. Still, someone else will have to reimagine the American South.
Artists cared
The lesson of "Witness" is simple enough: people cared. The less simple and more interesting part is how many people cared, both black and white, and how many ways they expressed their caring. The exhibition honors the fiftieth anniversary of the 1964 Civil Rights Act, but it takes its title from a painting by Benny Andrews, of a black woman who has seen it all. She stands by a window, wrists crossed quietly at her waist, but up close her wide eyes look positively beaten down. She is not the last one sees of conventional realism, in a show that also includes Norman Rockwell and Jack Levine. Yet she comes surprisingly close.
The Brooklyn Museum is into caring. It does, after all, also have space for Ai Weiwei (a retrospective), Swoon (who responds to Hurricane Sandy with a canoe and a goddess or two), still more of Judy Chicago (her garish early work) on top of The Dinner Party, and a messy lobby display of cross-cultural connections. And it packs "Witness" close and full. It has alcoves for such upbeat themes as "Global Sisterhood" and "Community," although the work itself hardly touches on the everyday. Artists here have No Time for Jivin', as John Outterbridge puts it—that NO descending to the floor in big red letters. The times, as witnessed here, were not sitting still.
Martin Luther King, Jr., for one, was marching. A young Bob Dylan, before distancing himself from his reputation as a protest singer, strummed guitar for the Student Nonviolent Coordinating Committee. Touchstones of the decade's hopes or not, though, they make fewer appearances than blood stains and Malcolm X. And such photographers as Gordon Parks and Danny Lyon make fewer than Pop Art and, yes, abstraction. Philip Guston had already abandoned "pure painting," for the Klan patrolling City Limits. Others, though, were finding that a connection between art and civil rights just would not go away whatever they did.
Naturally it would not for black abstraction. Jack Whitten sees race in foil peeling back from newsprint, Norman Lewis in the mere crossing of black on white, and Sam Gilliam in canvas spattered blood red. Yet white artists, too, found blackness in geometry alone, like Leon Polk Smith with Black Anthem and Frank Stella with Malcolm's Bouquet. Does Melvin Edwards forge shackled in welded iron? Yes, but Mark di Suvero had his own Freedom Now. Here Minimalism and Pop Art in their plainness were fraternal twins.
Robert Indiana took as text the sites of racial violence. One may not so easily remember American Negro lurking amid the white pleasures of James Rosenquist, Black Bathroom from Jim Dine, a poster for the Congress of Racial Equality by Robert Rauschenberg, or It Takes 2 (meaning black and white) from Edward Kienholz. One may not remember a black Pop Art at all. Yet Faith Ringgold was there with blackened or bleeding American flags, Joe Overstreet with New Jemima holding a machine gun, Betye Saar with Aunt Jemima assemblages of her own, and Jae Jarrell with an Urban Walk Suit for the Coalition of Black Revolutionary Artists (COBRA). Barbara Chase-Riboud makes it hard to say whether one is dealing with Pop Art or abstraction, in a stele sculpted as if draped in black fabric. So does Elizabeth Catlett, a sculptor influenced by African art who also made prints celebrating laborers and women.
Not everyone cared. A mean-looking George Wallace does not, in a photo by Richard Avedon, and I cannot even swear for Avedon. Rockwell's New Kids in the Neighborhood made the cover of Look magazine, but only after the Saturday Evening Post no longer supplied a welcome. Andy Warhol may have civil rights in mind with his Birmingham Race Riots—or just further evidence of a violent America. With a kitsch role model from Barkley L. Hendricks, the struggle for civil rights may even seem a thing of the past. David Hammons remembers, though, with his oily black hands pressed to the glass of college admissions, and please do not shut the door on your way out.

"When the Stars Begin to Fall: Imagination and the American South" ran at Studio Museum in Harlem through June 29, 2014, "Witness: Art and Civil Rights in the Sixties" at The Brooklyn Museum through July 6.