A Spiral of Blackness
John Haber
in New York City
Spiral and Radcliffe Bailey
Evidence of Accumulation and Lyle Ashton Harris
"Spiral" formed in 1963, because the March on Washington demanded a response. Not that it demanded propaganda, although the group had its share of political art. It had the faces of black America, in Merton D. Simpson's Angry Young Man and Reginald Gammon's Freedom Now. When Norman Lewis called a painting Bonfire, one can imagine the fires raging.
One might also imagine wrong. The burning of the South Bronx lay well in the future, and Lewis sustained the explosion of postwar abstraction. Think of Mark Rothko's saturated canvas, but centered. Others, like Alvin Hollingsworth, bring strong but muted colors. Charles Alston's Black and White belongs not only to the streets of the 1960s. When these faces and streets press insistently forward, they press within the shallow space of early Modernism.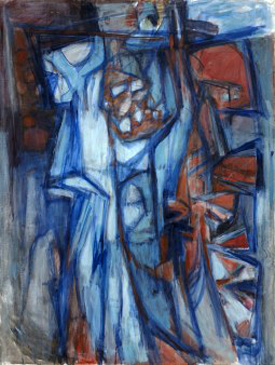 "Spiral" held possibilities that an older America hardly imagined. Romare Bearden had shifted to collage by then, and in black and white he trades nostalgia for clarity. His Conjure Woman or Hale Woodruff's Africa and the Bull conjures up strong spirits, with roots in Africa as well as the inner city. Emma Amos's flattened colors and outlines, also influenced by collage, put young black women front and center. Still, the African American collective drew on the events of August 1963 less for a theme than for strength. It also felt the demand not so much to assert an identity as to figure out what that meant—for artists from their twenties into their sixties.
For a moment at least, the center had moved south from Harlem—and not to the deep South. The group met for a couple more years, but on Christopher Street in the West Village. A small show at the Studio Museum in Harlem, in conjunction with the Birmingham Museum, is more of a testament than a tribute anyway. Most of the work, from the permanent collection, hangs unlabeled and Salon style. Much is weak or conservative. Still, it suggests that the center of African American art was spiraling outward.
Not a bad lesson to draw from some younger artists this year as well. Radcliffe Bailey grew up around here, and his references include avant-garde jazz. He has echoes of the slave trade, but not as documentation so much as a soulful whisper. Two in "Evidence of Accumulation," the Studio Museum's artists in residence, also cite music, but white classical music along with African American tears. Portrait photography by Lyle Ashton Harris runs to white cultural icons along with a Harlem politician and himself. It shows them from the back as well as the front, with the very notion of confrontation still a work in progress.
Space is the place
Radcliffe Bailey is a gifted storyteller, especially when one cannot quite pin down a narrative. What was the exquisite fortress in the borrowed image in Echo, and why does real paint seem to cascade down from it onto a real and ponderously large seashell on the floor? Whose face is silhouetted against the sky beneath tenements at night? Who is pointing or orating, who wears that academic gown, and what dignity or indignity did they bear? Does the old cruise ship in another found print carry hints of pleasure, exile, or the slave trade? Or, like the thick metal bars tilted across so many of his works, is it a window onto an ever-wider world?
All his work spills out across space and time. As Sun Ra put it, Space Is the Place, and indeed Norman Lewis could not get enough of jazz himself. In fact, a slightly enlarged and embellished version of that notoriously anarchic jazz album forms the center of a room-sized solar system—just eight disks held together by more celestial imagery and more bent metal frames. I guess Pluto really has lost status, like so much of African American life. It is also held together by jazz rhythms tenser than those of Romare Bearden and "The Bearden Project," a feeling for the materials, a sense of humor, and an understanding of when to let go of one's heroes and one's fantasies. It is still storytelling, too, and black history.
The gallery suggests reading the show's largest work in sequence, bottom to top (and Hale Woodruff also created history paintings). I might instead start physically and visually closer, a little above the floor. Cerebral Caverns assembles a cabinet of wonders or of antique, racist science, filled with identical apelike or Neanderthal heads. They face one another, two to a case like a specimen and its shadow, in the second-to-last row. Below they whisper, and above first they gather in a mob and at last, reduced and isolated at the center, turn outward. Where juxtapositions, from Synthetic Cubism to Robert Rauschenberg and friends, often mean sudden breaks, Bailey's build to the point of breaking out.
Breaking out will nonetheless be tough going, and other artists are struggling along with him. In a recent sketch by Kara Walker, more heads rest impaled on poles, as trophies of art, anthropology, or imperialism. The title of Bailey's show, "Outer Spaceways," could well sound like two kinds of fantasy—science fiction or a big box store. And neither is exactly liberating. The monograph to accompany his exhibition at the High Museum, in Atlanta, is called Memory as Medicine, and the gallery speaks of his "searching for that which heals." Still, one may have now and again to bear bitter medicine. For one thing, the museum show is skipping New York.
The Atlanta-based artist has that missed stop in common with Thornton Dial. Both are black and Southern, both work in collage and assemblage, both use a variety of forms and media that seem consistent only in retrospect, and both tell good stories about fine art and cultural roots. Bailey appeared in NeoHooDoo, a group show on the theme of ritual. Their museum shows elsewhere and gallery shows here have overlapped. However, they differ by more than a generation. And the younger man, born in 1968 (but no, in New Jersey), is thoroughly urban.
It shows in the window frames and the art as jazz—including the oldest collage trick in the book, musical scores. It may show most of all in that tenement scene at night, carpeted with fire escapes in velvet and glitter. EW SN has bright hints of stars in the sky, apartments at night, and an open door onto the blue and white of a cloudy day. On the dark side, its blue lines and black squares anchor it in the network of a city. They and the title also suggest another kind of grid, in the sophistication of postwar American art. Healing may come slowly, but riffing comes right away.
Works in progress
Why bother with open studios or Brooklyn art walks? Is it to catch the next big thing—the thing that will alter the game, starting with your mind? Perhaps, but one also goes to see artists and art alike as works in progress. Sure enough, the Studio Museum in Harlem shows its three artists in residence as "Evidence of Accumulation." That refers to the physical accumulation of objects, with histories of their own. And when the evidence does not quite add up, it accumulates alternatives still shaking themselves out.
Paul Mpagi Sepuya installs a snapshot of a work in progress, and then he throws in some snapshots. He transfers his studio into the gallery, bit by bit over the course of the exhibitions, while documenting the change in photographs—which further map the studio onto the gallery walls. In one photo a man in sneakers indeed covers his head and most of his body in black, like a kinky combination of the torture at Abu Ghraib, shariah, and cross-dressing. Other portraits, casual or naked, fixate on young men or on himself. I cannot say for sure how the project will sustain itself or end. The cloth on the floor may stand for the tools of the trade, a respite from work, or a shroud.
For Kamau Amu Patton, The Aberrant Form in the Infinite Field of Possible Outcomes Is Insistent. That title belongs to a tall makeshift antenna propped amid broken glass. One could mistake it for part of a group show, including a calligraphic drawing, a digital sea, and shades of black on black. Is it a work in progress or work long since abandoned to the elements, and is it handmade or high tech? Lightfield looks like a vertical composition by Ad Reinhardt, but it consists of blackened square mirrors. One can see it as object or abstraction, self-reflection or self-effacement.
It is also clearly a puzzle, like the odd assortment of wires, rods, and electronics weaving under and over paper just off the floor. Does it do something? Whether ignorant, cagey, or joking, a guard answered simply yes. In practice, it drives 5000 K, a low throbbing out of Iannis Xenakis or Karlheinz Stockhausen, emerging from a small speaker across the room. It is "measuring the intensity of the 5000 Kelvin light levels in this space." That temperature marks the boundary between warm and cool colors—and the site of one more border crossing.
Simone Leigh's work looks more polished and coherent, but she, too, is trying things out. She works in clay with "atmospheric firings," which she says allows colors and textures to find their own way. The ceramics, suspended by strings, range in surface from smooth to mottled blue. They make me think of everything from sheep and flowers to seed cases and clenched teeth. They happen to represent cowrie shells, famously used in West Africa as money or ornament. African American history also defines a jug bearing a threatening lock and dried tobacco leaves.
If Patton's marks make me think of "Scratch," the title for artists in residence a few years back, Leigh makes me think of more recent versions, in "Usable Pasts," "Everything, Everyday," and "Tenses." The Studio Museum has given space to emerging artists for more than a decade. That began before the fixation on celebrity, youth, and "generationals" grew numbing—not to mention mostly a matter of money. Maybe Leigh's themes feel a bit recycled, and one last work, a collaboration with Liz Magic Laser, is a bit apart. The video is as seductive as a women in a black dress (Alicia Hall Moran, an opera singer), who pours out her feelings in something between tears, confession, and song. As the camera pulls back, a private chamber gives way to an ornate chandelier and tiered seating, at once intimacy and theater.
Flip side
When Lyle Ashton Harris calls his photographs "Self/Portrait," he offers alternatives. I headed straight for the portraits. How could I resist Shirin Neshat, the hypnotic video artist whom I have "friended" but never met, or Cindy Sherman as just plain Cindy Sherman herself? How could I resist learning that Harris knows both Tony Kushner, the playwright, and Robert Storr, the powerful critic and curator, especially when each comes across as one of the guys? Somehow he is equally at home with Al Sharpton in Harlem, with a figure of gay night life known only as Mystery, and with a man in Ghana, where Harris puts in part of the year. Others, however, will look first for the self, to find out who this Bronx-born photographer really is.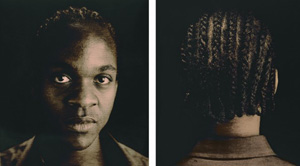 A slash is all about alternatives, but also about that really. With a slight change in punctuation, one has the two sides of a self-portrait, and they may not always get along. A self-portrait promises the self, the person behind the camera, with nowhere to hide. Yet it also promises a portrait, that person's point of view and creation. One can see them as flip sides, just as records once had an A side and a B side. One can see them as front and back.
Harris does just that. The photographs come in pairs, face front and the back of the sitter's head. Often as not, in a small show at the Studio Museum, the pairs stare each other down from facing walls. The frontal poses look a bit like mug shots, shoulder length and closely cropped—with little room for smiles, frowns, context, or self-expression. And this for sitters who have a way of posturing as well as posing. X-ray technicians, as it happens, often take shots from both sides. That makes it harder for bare bones to resist scrutiny.
Which side is more artful, more personal, or more revealing? One associates faces with individuality and personality, but people sure put time into their hair. Andrei Diakov, a young man fashionably in need of a shave, keeps the nape of his neck modestly neat. A black woman's curls frame a face close to tears but explode from behind, as in self-assertion or joy. The large-format Polaroids cast shadows on paper, captured in what I imagine is rephotography. Their sepia tones and thick borders give them the aura of old photographs.
One can look for clues to the whole question of identity, only starting with African American identity. Mug shots are part of life on the street with a police presence. Harris calls the unusual and obsolete medium "chocolate Polaroids." It is identity, though, without special pleading. It does not aim for confrontation or manipulation as in Larry Clark, Catherine Opie, or Zwelethu Mthethwa. One is likely to remember most a texture or detail, like reflections on single hairs. Harris says that he liked Mystery for the man's scar.
If this is identity, it is also community. And that community includes black and white, gay and straight, uptown and downtown, family and friends, and Africa and America. The photographer looks pretty much at home anywhere in that spectrum, with his wide eyes and changing hair styles. Even his gender often takes a second look. Does identity as community sound like another dogma of Postmodernism, identity as creation? Between creation and self-creation, there is always that slash.

"Spiral: Perspectives on an African-American Collective," "Evidence of Accumulation," and Lyle Ashton Harris ran at the Studio Museum in Harlem through October 23, 2011. Radcliffe Bailey ran at Jack Shainman through May 21.