Emerging from the Dead
John Haber
in New York City
Greater New York 2015 at MoMA PS1
Unorthodox at the Jewish Museum
What happens when the Museum of Modern Art takes over New York's most prominent show of emerging artists? They start to emerge from the dead.
"Greater New York 2015" looks back not just to a passing generation, but to a darker and stormier city. It evokes the AIDS crisis, East Village art, and the founding of the nonprofit that gave it life, the former P.S. 1 in Long Island City. It also raises questions—and not one of them is who will be the next hot artist. It asks instead how the city and the arts have changed. Intentionally or not, it asks about the very purpose of that eerie hybrid of corporatism and alternative space, MoMA PS1. For all its pleasures and all its memories, it and a parallel show of Unorthodox at the Jewish Museum ask whether anyone still needs a show like this at all.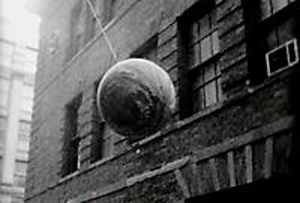 Feeding the nostalgia
When "Greater New York" first appeared in 2000, it was (hold your breath) a very . . . big . . . thing. It had to be, when emerging meant not just marketable to big money in art, but a challenge. P.S. 1 Contemporary Art Center had been about that kind of challenge all along, from its birth in a former schoolhouse thanks to Alanna Heiss. Yet that show already marked a change—its acquisition by the Museum of Modern Art. No wonder "Greater New York 2005" earned a reply from Fia Backström, an installation she calls Lesser New York. By bitter coincidence, "Greater New York 2010" was also the institution's first show as MoMA PS1.
Well, surprise: the fourth edition is still a very big thing, overwhelmingly so. With four hundred works and more than one hundred fifty artists, it dares anyone to take it all in. Many a Whitney Biennial amounts by comparison to small potatoes. And that may be the first sign that something is amiss. Is this still the right way to catch up on art or to assess its promise?
As a matter of fact, no, and the curators would be the first to say so. A "robust commercial art market" and a "voracious real estate market," they argue, demand a change. The time has come to confront the pressures on both older and emerging artists more directly. Peter Eleey, Douglas Crimp, Thomas J. Lax, and Mia Locks select at least ten dead artists and dozens more over fifty. You can count artists under thirty on the fingers of one hand. The era of "the show's traditional focus on youth" is over.
Why exactly? One reason is a "burgeoning interest in artists who may have been overlooked in the art histories of their time." The film program takes on an especial poignancy with the passing of Chantal Akerman, whose work is all about memory, this very fall. Another reason is the aim of "examining points of connection and tension between our desire for the new and nostalgia for that which it displaces." But hold on a second. Surely that means feeding the market's need for neglected "old masters."
Surely, too, it means feeding the nostalgia. One can feel it in an emphasis on conceptual art—not surprising, given Crimp's early advocacy of critical theory and the "Pictures generation." Here painting is not dead (or even the "zombie abstraction" that MoMA knows so well) but it all but comes to an end with Sue Williams. One can feel nostalgia, too, for the nonprofit itself. The show includes Lesser New York and, on every floor, a photo of "cut pieces" in the institution's walls by Gordon Matta-Clark, taken at the opening of P.S. 1 in 1976. Coincidence or not, the two-story gallery off the basement runs the stark film by James Nares of taking a wrecking ball to Tribeca from the same year.
Maybe most of all, one feels nostalgia for a vanishing New York. "Greater New York" opens slyly with luscious text paintings by Gregory Edwards, spelling out the city's name. It then heads into the past, for abandoned streets and that wrecking ball. Here Roy Colmer is still documenting doors from Manhattan neighborhoods, again in 1975 and 1976. Here graffiti has run rampant, and Henry Flynt is catching up with Samo's every tag in 1979. Here, too, art and the city are facing fateful political divisions, starting with gender and AIDS.
Who needs you?
The parallels between past and present are telling, now that dealers are asking where they can afford after Chelsea—and artists are asking where they can afford at all. Needle exchanges are again in the news, and presidential candidates are speaking to gay rights. MoMA is still under fire for under-representing women, and to its credit "Greater New York" has quite a number, plus Charles Atlas cross-dressing. Still, the parallels only accentuate the nostalgia. Does it help address affordable housing to look back to when Tribeca was crumbling? Does it help for Glenn Ligon to make text paintings an exercise in looking back, to everywhere he has lived?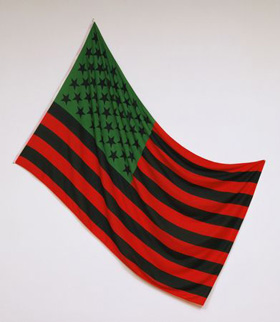 Does it help address gender today to recall Howardena Pindell in 1981, in powder and polymer—or Mary Beth Edelson way back in 1973, photographing herself as Woman Rising? And why so much about the 1980s and AIDS now, rather than in a separate, historically focused exhibition? Here Donald Moffett still equates the color blue with the crisis, Alvin Baltrop still cruises the West Side piers, Fierce Pussy is still forming its collective after ACT UP, and Rosalind Fox Solomon has photographed just one thing, Portraits in the Time of AIDS. Jimmy DeSana, who died in 1990, is still encountering East Village art. Every one of these inclusions has its poignancy and nobility. And every one seems mired in the past.
"Greater New York" deals best with past and present when it makes the parallels explicit, through pairings across generations. Robert Bordo, between Pop Art and Minimalism, faces a grid of cryptic signs in Sadie Benning. The Pattern and Decoration painting of Robert Kushner faces Greg Parma Smith's "Pop Art for a new age." A room for cartoons and kitsch reaches from Peter Saul to William Villalongo, Ajay Kurian, and Jamian Juliano-Villani. Where would art today be without them? (Yes, in a nicer place.)
Keeping with the theme of gender, the show has three different fashion collections, all from used scraps. It can also count on younger artists to insist after all on real estate. Hints of architecture in abstractions by Barry Le Va from the 1980s or his Cleaved Wall from 1970 look stronger near global shantytowns by Amy Brener, sculpted high-rises by Nick Ralph, and New York souvenirs from Liene Bosquê. On the other hand, a huge room for sculpture of the human body is downright leveling. It runs from the cartoon realism of John Ahearn and Red Grooms to the primitivism of Lutz Bacher and Ugo Rondinone, the self-exposure of Huma Bhabha and Kiki Smith, the human punching bags and Native American craft of Jeffrey Gibson, and way too much more. Nudes for Tony Matelli could be standing on their heads just to stand out from the crowd.
Still, almost none of the works at all swamped or cramped. The curators can take credit for a monster exhibition's best installation yet. Often it uses a single room or corridor to allow an artist's work in series to unfold in full. Scott Burton gets a mini-retrospective of his massive, rigid, Minimalism-inspired sculpture. On the other hand, any of these could function as a show to itself, and most are in the past. And once again that puts the need for "Greater New York" on the spot.
Every Whitney Biennial wants to sum up the state of the art—but what, then, can this show hope to add? The New Museum triennial now has its say, too, and the Studio Museum has its surveys of emerging artists, specifically African American, in "Fore," "Freestyle," "Frequency," and "Flow." The American flag outside "Greater New York," by David Hammons and in black nationalist colors, has hung outside the Studio Museum for longer. Add in the never-ending run of art fairs, and this looks like one more cog in a financially well-oiled machine. Memories are essential, but nostalgia is not a selling point. Maybe it is time to put the wrecking ball to MoMA's fumbling with contemporary art.
Beyond belief
It takes chutzpah to call a sweeping exhibition "Unorthodox"—especially at the Jewish Museum. Not only is it open on the Sabbath, but now it invites more than fifty artists, few of whom have faith in anything but unbridled sensation. Then, too, surely the art scene by now will absorb any unorthodoxy. It positively celebrates the outsider, along with the next big thing. Can some two hundred works from five continents stand outside the norm? Has yet another museum succumbed to the pressure to stage its biennial or triennial?
In fact, it comes closest to "Greater New York," only with a Fifth Avenue mansion in place of a red-brick schoolhouse. Like the latest incarnation at MoMA PS1, it singles out gender, identity, and mortality. Right on the way in, Valeska Gert cries like a baby on one monitor and mimes death on the other. (Hold that pose!) Like that show, too, it expands its focus to include few emerging artists and several already dead. Gert, from Germany, was then nearing eighty, and she died in 1969.
Where "Greater New York 2015" seems caught in a time warp, in the darkest days of the city, "Unorthodox" offers a decent picture of trends today. Does that make it still more orthodox? It depends on what you mean by trendy. I recognized few names, although I had seen Zachary Harris on the Lower East Side just days before, with his decorative patterns embedded in cryptic traditions. Yet art as sign language and as bodily traces is rife. So is art across continents, amid global politics and global markets.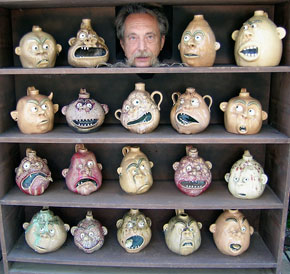 The Jewish Museum makes no effort to single out Jewish themes or even Jewish artists. Where its recent "Repetition and Difference" showed contemporary art alongside ritual objects, now artists are on their own, apart from each other. Xanti (short for Alexander) Schawinsky sketched his robotic warriors in the face of the Nazis, but they blend in with ritual or cartoon figures by Abu Bakarr Mansaray from Sierra Leone, Hajime Sorayama from Japan, Nick Payne from Canada, and Clayton Bailey from the United States. And as they suggest, here the unorthodox means the outsider, at a time when folk art or outsider art has entered the mainstream. It appears in the style of science fiction or a graphic novel. It appears, too, in craft materials.
Ceramics are everywhere nowadays, as here with Bailey, bowls by Hylton Nel, defiant hand gestures by Jeffry Mitchell, and most notably Alice Mackler—whose playful figures seem in the process of melting down. So are fabric and tapestry, as here with hanging sleeves lifted by hiding hands from Jirí Kovanda, vegetable dyes on cotton from Nadira Husain, blankets and horsehair from Olga de Amaral, needle and thread from Tony Cox, and an empty black dress from Mrinalini Mukherjee. So is the stretcher sharing front and center with the painting, here covered with pulped canvas by Amikam Torem and pierced with branches by Michael Buthe. And the graphic impulse is everywhere. It describes everyday emptiness for Birgit Megerle, Marie-Louise Ekman, and Brian DeGraw. It takes the shape of an apocalypse for Leang Seckon, Philip Smith, and Jeni Spota. Bunny Rogers hints at a personal apocalypse posed as Joan of Arc, Masatoshi Naito in a print laughing out of the darkness, and Július Koller (he swears) attacked by a UFO.
Here unorthodoxy is torn between the mundane and extremity, as two sides of the overlooked. Both appear in a makeshift alarm high on a wall by Erna Rosenstein, who survived wartime in Austria-Hungary and then Warsaw. The show's most familiar name, William T. Vollmann, has taken his fictional characters to the extreme. In art he creates doubles—and, he says, female doubles of himself. As curators, Jens Hoffmann, Daniel S. Palmer, and Kelly Taxter deserve credit for a hanging in which artists and provocations bring out the best in one another. Do they end up, though, with an overly packed and overly trendy show on the margins?
The paradox comes out in wall text on such themes as the gaze, the canon, conventions, mythologies, and secrets. Stop me if you have heard that "theory" before. To their credit, though, they leave the text short, more like found poetry than argument, and do not use it to divide the show into sections. They also make up for lack of older genres and concrete social engagement with video—such as a slide show of elusive objects by Dineo Seshee Bopape, a cartoon Walpurgis Night by Mariem Bennani, and an angry sermon against racism and Tommy Hartung. "When," he asks, "did I become a human being?" Maybe when the avant-garde gave way to orthodoxy.

"Greater New York 2015" ran at MoMA PS1 through March 7, 2016, "Unorthodox" at the Jewish Museum through March 27.