A Museum's Visions
John Haber
in New York City
Visionaries: Creating a Modern Guggenheim
Maurizio Cattelan: The Gold Toilet
The Guggenheim Museum has every right to speak of visionaries. It built its collection on early Modernism, and it has a wing for Wassily Kandinsky alone.
Its building, too, is the work of a visionary. It might have descended on a city block from above, and it attracts crowds who would otherwise feel more at home with Hollywood special effects than with modern art or Manhattan. It even looks like a UFO. For a time, though, the artists and architect must share credit with others.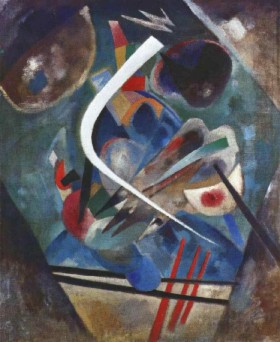 With "Visionaries: Creating a Modern Guggenheim," the museum pays tribute to its founders—and itself. Even if you know the collection by heart, you will encounter an unfamiliar vision.
The show opens with Kandinsky and abstraction in the twentieth century, but successive levels then pick up the small circle that helped Solomon R. Guggenheim build the collection and take it public. By introducing one collector at a time, it presents a short history of modern art as well. Despite itself, the museum also calls attention to its limits. The exhibition comes to an abrupt end with the opening of that six-story spiral on Fifth Avenue and the birth of Abstract Expressionist New York. Could their vision belong to a now distant past? Maybe not by accident, it also comes just a few months after the Guggenheim positions itself in today's global art market, with a gold toilet by Maurizio Cattelan.
Before Wright
The Guggenheim is no ordinary museum, quite apart from its round peg in the urban grid's square holes. The Whitney has moved, in no small part to display its growing collection—while MoMA has grown, slighting its collection on behalf of flash and real estate. The Guggenheim, in contrast, still depends on its quirky origins and architecture. The ramp puts temporary exhibitions at a disadvantage, while the permanent collection has to settle for two modest tower galleries. One displays the Justin K. Thannhauser collection of art from Camille Pissarro to early Picasso. The other limits itself to Wassily Kandinsky and inventing abstraction.
With "Visionaries," looking gets a little easier, although the focus has hardly changed. The Guggenheim has congratulated itself before, with exhibitions centering on its first director, Hilla Rebay, and the Guggenheim's architect, Frank Lloyd Wright. Now they become just two points in a complicated time line. Just keeping track of the museum's precursors, locations, and changing names takes some doing. It is also worth the effort. The show becomes the story of half a dozen individuals and an expanding vision of modern art.
It starts, though, on familiar ground, with Kandinsky at his grandest and most lyrical. His abstraction holds the ramp off the rotunda and the adjacent High Gallery. For a moment, the museum looks like a pretty decent place to view art. That will change, but Kandinsky will reappear more than once as a touchstone. Wall text throughout mostly sticks to the work, too. This is about visionaries, but first and foremost their vision.
With the second tier, the ground shifts to the collectors, but more or less chronologically by art. First comes Thannhauser, the son of a Munich art dealer, who opened a New York gallery after World War II. His collection of Pre-Impressionism expands out of the tower gallery and onto the ramp. Regular museum-goers may move quickly, because of its familiarity and conservatism, but it does have such highlights as Woman with Parakeet by Pierre-Auguste Renoir, the Impressionist who knew how to use black, and Man with Crossed Arms by Paul Cézanne. Thannhauser bequeathed them to the museum in 1963. That makes him the very last point in the time line, so next step back.
The third tier introduces Guggenheim, in company of Rebay. She came to him as an artist in 1929, and she immersed him at age sixty-eight in modern art. This tier takes the plunge into Cubism, before turning to color with Pierre Bonnard, Robert Delauney, and Marc Chagall. It has the early years of the Blue Rider, before abstraction, with Kandinsky and Franz Marc. Rebay is still displaying out of an apartment in the Plaza Hotel, but the Guggenheim Foundation started in 1937. It opened to the public two later as the Museum of Non-Objective Painting, before taking its present name in 1952.
The fourth tier boasts of its opening, just two blocks east of the Museum of Modern Art, with the "Art of Tomorrow." It shows the consolidation of Modernism from Cubism and Futurism to a broader School of Paris. Piet Mondrian is approaching abstraction through the tick marks that first represent piers. Delauney has moved on from his Eiffel Tower to his still more dizzying concentric circles. Rebay wrote to Wright in 1943, in search of a "museum-temple" for modern art, but it took thirteen years to break ground and three more to reach completion. Still, this is beginning to look like a museum.
Passing the baton
Done? Not quite, for fifth tier claims two less obvious ancestors. The curator, Megan Fontanella, gives credit to Karl Nierendorf, who opened a gallery in Germany with his brother and then one in New York. The Guggenheim took hold of his estate in 1948. This tier also features Katherine S. Dreier, who started Société Anonyme with Marcel Duchamp in 1920—meant not as a gallery, they boasted, but as the first museum of modern art. At last, a museum has darker visions.
This tier has the German Expressionism of Ernst Ludwig Kirchner, the biomorphic traces of Andre Masson and Joan Miró, the sculpture of Constantin Brancusi in stone and László Moholy-Nagy in Plexiglas, and the cryptic edges of Paul Klee. It follows Mondrian to maturity. It also breaks out of Europe at last—with Alexander Calder, Josef Albers, and early Adolph Gottlieb. Do not, though, let the spectacle fool you: the bulk of Dreier's holdings by far went to Yale.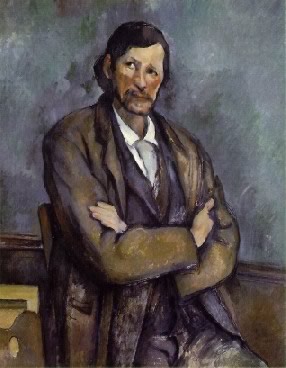 That leaves one last name—and another Guggenheim. Solomon's niece opened Art of This Century in midtown in 1942 and the Peggy Guggenheim Collection in Venice in 1951. She brought Kandinsky to London after World War II, collecting his hard-edged late work, and fought with Rebay. ("Visionaries" does not complicate its time line with her departure.) Venice also supplies the show's few loans and wildest visions. Its final tier includes Kazimir Malevich and Suprematism, Men in the City by Fernand Léger, Duchamp's Sad Young Man on a Train, Woman with Her Throat Cut by Alberto Giacometti, and the Surrealism of Max Ernst, Paul Delvaux, and Yves Tanguy.
The show also ends with a hint of how much it has left out. Peggy Guggenheim saw herself as "serving the future rather than recording the present." This museum comes off as part of the past. It quits just when Wright transforms it into a Teflon tourist attraction. It quits, too, before the collection grows all that much out of Europe and into the present. One could hardly imagine its fresh encounters with North African, Latin American, Chinese art, and so many others.
Even with six floors, "Visionaries" has few unexpected visions. Its surprises often run to women, but as modest discoveries—even with abstraction by Claire Falkenstein, Irene Rice Pereira, Maria Helena Vieira da Silva, and Alice Trumbell Mason. It has film in Oskar Fischinger's hand-painted cels from 1947, but between floors, as if it could not quite fit. Other selections underscore the museum's limits. René Magritte paints with none of his verbal and conceptual facility. Joseph Cornell, Robert Motherwell, and Jackson Pollock appear at the very end, as if passing the baton to MoMA, the Whitney, and America.
Does that leave the story just incomplete—or is a museum dedicated to the new no longer able to spread the news? One need not decide, for the show ends with a sparkling turning point. Pollock's 1947 Alchemy, on loan from Venice, has the impasto of his Surrealist phase and the all-over impulse of his drip paintings. Newly cleaned, its colors gleam amid the thick black oil. For all the points in the show's time line, it has no floor for Solomon R. Guggenheim alone. As Pollock attests, he could defer to competing visions.
All that glitters
Quick: what is the difference between a museum and a public toilet? The lines are shorter for the toilet—or at least it seems that way these days, even for women. Art has become a public spectacle as never before since Renaissance Italy. Now Maurizio Cattelan would like to made amends, with a solid gold toilet at the Guggenheim, as America. Talk about flush.
He came to the right place. No museum is a more reliable tourist attraction, with its spiraling Frank Lloyd Wright architecture. Since its expansion in 1992 under Thomas Krens, with the addition of a slab-like tower, people even compare it to a toilet and tank. And Cattelan has been here before, along with his love of excess. His 2011 retrospective suspended every work of art that he had ever made from the rotunda's ceiling, as Him—including soccer scores in marble. Once again, he leaves the Guggenheim's ramp empty, but not untouched.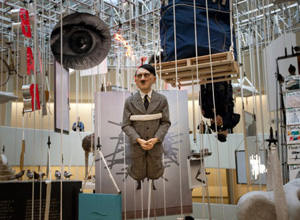 Cattelan promised to make that retrospective a literal end-all and be-all, by giving up art. And maybe he has, but he cannot give up calling attention to himself. Even in the midst of an election as reality TV, he has managed to trump Trump. Contrary to word of mouth, Trump Tower and Donald Trump's private jet have their shiny fixtures, but only gold plated and none of them a toilet. Cattelan has trumped a short history of modern and postmodern art as well. Marcel Duchamp had his urinal, as Fountain, and Sherrie Levine cast its likeness in 1991, but only in bronze.
Impressed? Not more than Cattelan himself—or the Guggenheim. He "offers a wink to the excesses of the art market," the museum observes, "but also evokes the American dream of opportunity for all." He is even "reminding us of the inescapable physical realities of our shared humanity." Well, sure. Just wait till you have to line up to use this toilet.
That already suggests a problem with a toilet as site-specific art. Either it goes unremarked, as one of many along the ramp, or its location becomes obvious from the hour wait outside. In either case, you may never see it—never, that is, apart from its real home, the media. It also takes up a restroom in a museum notoriously short of them. At least Wright was ahead of his time, in 1959, with unisex facilities. Worse still, it comes way too late in the game.
It comes just as art as luxury good has become old news. It comes well after with the populism of "relational esthetics," which invited viewers to take something with them, for free—like candy from Félix Gonzáles-Torres. Here they may instead leave something behind. It comes after Duchamp, who showed that anything or nothing can be art, and Levine, who appropriated Fountain for feminism. America merely takes it back for a male with a big ego. If Trump is elected or sufficiently shamed, Cattelan can always take his place on TV.

"Visionaries: Creating a Modern Guggenheim" ran at The Solomon R. Guggenheim Museum through September 6, 2017. Maurizio Cattelan took over a restroom through September 15.