A History of Art History
John Haber
in New York City
The Power of Prints and Pierre-Jean Mariette
Henri de Toulouse-Lautrec: Posters and Prints
When a museum celebrates itself, it is celebrating its past. And when the Met celebrates its curators as tastemakers, it can hardly help calling attention to how tastes have changed. It does so again with works from its holdings, in "The Power of Prints."
Why now, other than as a pat on the back? The show looks back to the creation of a department of prints exactly one hundred years ago and to the department's growth under its first two directors. When you consider how aggressively it grew under the first and that the second lived until 1980, you have much of the history of a world-class collection. If the works on display more often than not look familiar, they are. And indeed MoMA recently featured posters by Toulouse-Lautrec, an artist and medium here as well—and again to celebrate a collection. Meanwhile the Morgan Library gives its view of the making of both a collection and art history, with Pierre-Jean Mariette more than three hundred years before.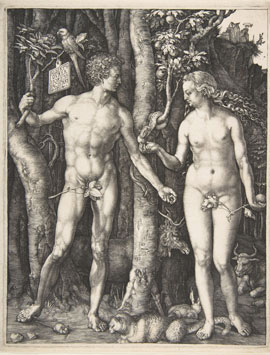 Henri de Toulouse-Lautrec was born to aristocrats, but he passed his nights in Montmartre, the dark side of the belle époque. Call him the aristocrat of the underworld. It was the Paris of Eugène Atget, and Atget's photos to set the scene for him at the Modern. It was the city of café-concerts, theaters, prostitutes, and circuses as well for the artist on paper, much as for Matisse. There private impulses acted out in public, and public affairs sought the hush of privacy. And few were half as showy or as intimate as Lautrec.
"The whole gamut"
Simply having a separate prints department is one sign of changing tastes, toward scholarship and professionalism. And yet there both men had at least one foot in the past. William M. Ivins gave up a successful career as not an art historian but a lawyer, and A. Hyatt Mayor, the assistant who succeeded him in 1932, had worked as not just a critic and teacher, but also an actor. Yet they were eager for change as well. The department was born of necessity, after the gift in 1916 of some thirty-five hundred works by, delightfully, a paper manufacturer. And the first thing Ivins did was to subject it to criticism.
The donor, Harris Brisbane Dick, had reasonably progressive tastes, including a fondness for James McNeill Whistler. If you recognize Whistler's Nocturne, you can thank him. Yet Ivins saw the era as too wrapped up in "art for art's sake," and he demanded a greater social awareness. It shows in a bedroom scene by John Sloan, Night Shadows from above by Edward Hopper, a speakeasy corner from Martin Lewis, or a view of the Tombs, that infamous prison, by Reginald Marsh. The desire for a social history shows in the director's pursuit of Francisco de Goya as well, including much of Disasters of War and most of the nearly three hundred Goya prints in the Met today. Goya's Garroted Man from around 1780 still sends a chill, the tangle of lines defining the man's anguished face and the means of his death set off by the pool of light before him.
Ivins sought, he wrote, "the whole gamut of human life and endeavor, from the most ephemeral of courtesies to the loftiest pictorial presentation of man's spiritual aspirations." The search led him to Renaissance books of learning, from architecture to botany, with woodcuts by the likes of Albrecht Dürer and Hans Holbein. Does talk of loftiness, spirituality, and mere courtesy sound a bit old-fashioned after all? Ivins added some estheticism of his own. He turned to a friend for ten prints by Mary Cassatt, including a woman reading a letter influenced by Japanese art. They go well with a print of Cassatt at the Louvre by an only slightly different Edgar Degas from Degas the collector, a portrait by Paul-César Helleu of his wife in the same museum, and The White Kimono by Childe Hassam.
Troubled by the association of women with works of art? Once again, times have changed. And estheticism also appears in the department's view of the Renaissance. It acquired a slew of mythological scenes designed around interlocking men in action. They appear in a Bacchanal by Andrea Mantegna, Battle of the Nude Men by Antonio Pollaiuolo, and engravings by Lucas van Leyden—plus more than a few artists that textbooks have forgotten. The same tastes may govern Mayor's attention to lithographs as well. They appealed to him as popular culture, but also as the refinement of Pierre Bonnard and Toulouse-Lautrec at the Moulin Rouge.
The curator, Freyda Spira, points to an interest in the artistic process, too, befitting a museum collection itself in the making. Wall labels quote Mayor on how Goya burnished the plate before printing his Seated Giant and how Dürer modeled his Adam and Eve with a "powdering of dots and flicks." And no artist has so often rethought his work as Rembrandt. His Three Trees employs drypoint, etching, and engraving to capture a passing storm—in what Simon Schama has called "esthetic metamorphosis." Ivins also managed to acquire three of four states of Rembrandt's overwhelming Christ Crucified Between the Two Thieves. In their course, darkness gives way to light and back again to darkness, while figures enter the foreground and vanish as mysteriously as they came.
Cut-and-paste history
If the Met's first two curators of prints aimed for more than a high-minded amateur, with the connoisseur as both lover and scholar, the Morgan Library locates the emergence of today's standards in just that. Still, "Pierre-Jean Mariette and the Art of Collecting Drawings" has to see art history as more art than history. Mariette, a collector who dazzled contemporaries with his skill as a restorer, took care to document the provenance of works on paper, with the goal an accurate accounting. Yet he left his mark all the same. He made copies of works before putting both original and copy on the market, altered drawings to a mostly uniform size against blue mounts, and stamped them with his initials.
Simply restoring drawings meant to him what the Morgan tactfully calls unorthodox. Does a young woman on the ground in front of a chair, by Parmigianino from around 1525, seem the height of modesty? Does she anticipate the domestic realism attributed to Cristofano Allori a full hundred years later? Mariette assembled the composition from fragments, including the near empty foreground. He also divided sheets so that he could display their front and back as unique works of art. His collection quickly dispersed at auction upon his death in 1774, but it had been in pieces before.
Mariette had his era's love of mythic figures in motion—from nudes on the ground and in the sky by Guercino to a cherub using his foot to stretch a bow, quite possibly by Giorgione. Yet the two dozen samples at hand affirm changing tastes. He collected near contemporaries, such as Sebastiano Ricci. He obtained some fifty drawings by Parmigianino, back when Mannerism had fallen out of favor, and he traced a new naturalism in the Baroque. Salvator Rosa's Prodigal Son from around 1650 gains poignancy from the turmoil in the landscape behind him, while trees and rocks become stand-alone subjects for Annibale Carracci and Claude Mellan.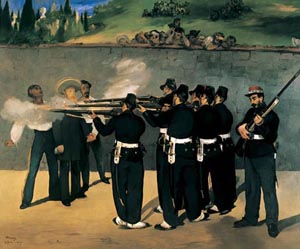 Whatever their motives, all three collectors pursued them in earnest, and none so earnestly as A. Hyatt Mayor at the Met. Where Mariette amassed over nine thousand sheets, Mayor bought more than sixteen thousand engravings, woodcuts, and mezzotints from the prince of Liechtenstein alone. Another donation numbered thirty thousand. But then, who is counting? Mayor also piled up cards meant as inserts with baked goods, of movie stars, sports cars, and warships. He collected postcards from the 1933 Chicago World's Fair.
Was he interested more in modernity as an ideal than in modern life? After Sloan in 1905 and Marsh in 1929, the harsh realities of the city never once appear. Neither does world war or the Depression. Brute indifference to suffering rears its most ugly head in The Execution of Maximilian, printed by Edouard Manet in 1868, two years after his painting on the same theme. The executioners fire from so close that they bury death in their smoke, while a soldier reloading pays no attention at all. Alienation begins here.
Otherwise, Modernism hardly appears, but then at the time that would have been contemporary art, of limited concern to the Met. Tastes have changed, and now it is history. The museum has patted itself on the back more than I care to say, as on its four hundredth anniversary and in wrapping up "The Philippe de Montebello Years," but now it does more to illuminate that history. "The Power of Prints" begins long ago, but its interest in process and multiples anticipates later tastes as well. Modernism and Postmodernism keep unnerving the distinction between "the unfinished print" and the finished work of art—or between reproductions and the real thing. Once more, scholarship supplies a history of art history.
The Aristocrat of Montmartre
The combination of showy and intimate makes Henri de Toulouse-Lautrec a natural for prints and posters, and MoMA displays more than one hundred from its own holdings—between a quarter and a third of his output. (Just imagine what it could do if it cared as much for the display of its permanent collection as for atriums and blockbusters.) Lautrec stuck to lithographs, not just for posters, but for private viewing and personal experiment as well. Lithos are literally splashy, as a greasy plate repels ink. He could let ink flow to capture the sweep of cabaret owner's cape and Loie Fuller's silken dance. He could spatter it with a toothbrush, like the black underside of Georges Seurat, his Circus Sideshow, and Pointillism.
Of course, he was also a painter, leaving behind more than twice as many oils as prints before his death in 1901, at age thirty-six. His paintings boast of more than even his bold silhouettes and fluid Impressionist line. MoMA includes one of his finest, La Goulue, of a can-can dancer. Its textures approach pastel for Degas, who shared such subjects as mirrors, dancers, jockeys, and desire without prurience. The intensity of its colors falls short of Vincent van Gogh, but Lautrec exhibited with him and painted his portrait. van Gogh also coined the term japonaiserie for their shared Japanese influence.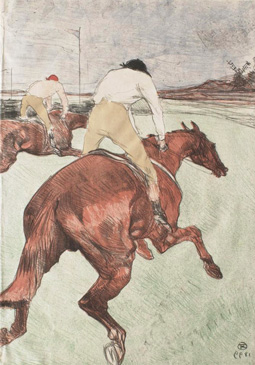 Practically the entire show dates from just five years, starting in 1891. It almost has to hang by theme, since so much happened in so little time. One can see the unfolding spectacle in his posters, for such legendary venues as the Moulin Rouge and Moulin de la Galette, but also the development of his painterly technique in his smaller prints. The light on a woman's face looks grisly beneath the shadow crossing her eyes. Parallel lines disrupt surfaces, railings cut into depth, and secondary actors return. These characters hold onto their secrets, even in public.
Lautrec gave their secrets a public face with row upon row of dancers, using black or acid color to pick out stockings, neck cloths, and feathery hats. He acknowledges the spectacle with prominent lettering, including Confetti. He gives it a horrifying humanity with a hanged man who could just as easily be a puppet in a puppet show. He underscores it time and again by watching people watching, like a woman with opera glasses, a conductor's hands peeking up from the orchestra pit, or men desiring. Men here are at best comic support for his women, unless viewed like them in silhouette from the rear.
Lautrec did not have an obviously aristocratic bearing. At four foot eleven, on stunted legs and a cane, he suffered from inbreeding, alcoholism, and probably syphilis. Yet he made himself very much at home. The curator, Sarah Suzuki, estimates that he saw a single operetta starlet twenty-seven times in 1895 alone. He would treat a club as his living room if it had decent enough food and drink, and he could play the chef or bartender himself. Prints allowed him to become a part of the scene as well as its observer—creating posters, program notes, and the covers for sheet music for others to call their own.
He was very much a part of another scene, too, a budding Modernism. He illustrated Ubu Roi, Alfred Jarry's shocker of a play, and he greatly influenced Pablo Picasso, especially Picasso's blue period. The Lumière brothers later captured Fuller's dance, too, on film each frame hand-colored. More than them all, though, Lautrec comes alive in that awkward space between intimacy and theater. Elles, twelve prints of prostitutes in their weary down-time, includes a woman pouring water for laundry, but also one frankly spreading her legs. Professionally, she called herself Mlle. Cha-U-Kao—and she played the clown.

"The Power of Prints" ran at The Metropolitan Museum of Art through May 22, 2016, "Pierre-Jean Mariette and the Art of Collecting Drawings" at The Morgan Library through May 1. Henri de Toulouse-Lautrec posters and prints ran at The Museum of Modern Art through March 22, 2015.