Block Busting
John Haber
in New York City
The Nasher Sculpture Collection
Warhol Polaroids and the Nasher Museum
Imagine sculpture in New York's Guggenheim Museum, including more than 100 works spanning an entire century. One might as well show fine etchings in the middle of Yankee Stadium.
It takes imagination to picture enough room at the museum to circulate freely and to look patiently. And somehow, Carmen Giminez has pulled it off. Working as curator with just a single private collection, he and the Guggenheim have created a history of modern sculpture. They have also raised treacherous questions about the role of a private collection and a museum in the public eye. With the Nasher sculpture collection, the museum is looking to its future by sucking up.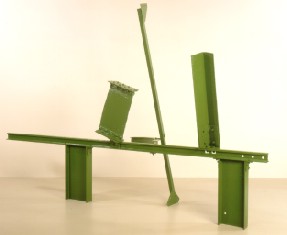 As a postscript, more than a decade later I visit a museum devoted to the Nashers—and this time permanently. The Nasher Museum, on the Duke University campus, again raises the nasty problem of how public institutions depend on and feed into private acquisitions. As it happens, there I see a traveling exhibition of perhaps the old master of complicity, Andy Warhol and his Polaroids. "Big Shots: Andy Warhol Polaroids" shows him reveling in the spontaneity of a medium that, as of 2001, is only a memory.
Is modern sculpture modern?
Ready to slot it all into the narrow halls and tilted alcoves of Frank Lloyd Wright? How about precarious heavy metal sheets by Richard Serra, or even the more comforting mass of Henri Matisse?
Freestanding works of art deserve a good, long look from all sides. Modernism distrusts a fixed displays anyway. It teaches a renewed suspicion of art standing up front to be respected, like an altarpiece or a drill sergeant. Viewers, in turn, deserve ever-changing perspectives in an ordinary, human space.
Minimalism and installations have made the suspicions more serious than ever. "Drawing someone into art" has gone far beyond just another metaphor. Works physically take over a room or blend into the sky. They become gardens and sources of light. They allow place for anything but polite examination. Art today has all but made modern sculpture itself a forgotten notion.
It even gave me a handy excuse once with a friend of mine, who works in open metal. I explained, quite truthfully, that I have a hard time with "sculpture sculpture"—you know, art that is not actually an installation or Minimalism's theater. In every traditional sense, the collection of Raymond and Patsy Nasher is sculpture.
Yet this exhibition succeeds, and its secret is quiet juxtapositions. By quiet, I mean that the curator does nothing outrageous. The exhibition remains chronological if one does not look too close. The Nasher family's choices as just as quietly traditional. As one ascends the ramp, a century of modern sculpture unfolds.
It begins in the small garden outside, with one of the quiet breaks in chronology. The three works span different decades, all after World War II. Alan Kirili might well have set up a chessboard for the game rules of another world. Inside, too, key artists recur out of sequence. David Smith and Alberto Giacometti, in particular, act as grace notes and gently renewed perspectives.
Grace notes
Giacometti commands the whole first-floor alcove for his most familiar works. Upstairs, I liked even more a work of his that I had forgotten. Called No More Play, it resembles a tiny marble hybrid of a sports field, a battlefield, and a graveyard.
Mostly, however, juxtapositions are quiet indeed. From Paul Gauguin at the very turn of the century, the show moves in proper sequence through big shots like Henri Matisse. It reaches a couple of Minimalist works before giving out. There are even two bows to art after installation, Serra himself and Magdelena Abakanovich.
I noticed the show's soft voice in the pairings most of all. More are all but obvious, or at least as much as ever. Naum Gabo and Antoine Pevsner stretch similarly curved lines across their sculpture's heavier frames. One has only still to ask whether they both see their curves as interior space, mathematical construction, or high-tech materials.
Smith and Julio Gonzales have also turned up before side by side. Most of the time, Gonzales gets to play the role of missing link. He stands between Pablo Picasso's first discovery of the plain welded surface and Smith's Abstract Expressionism. And then one usually moves on.
Compared to Gonzales, Smith often comes off as the real thing. At last, broad-shouldered Americans knew industrial processes. At the Guggenheim, however, one gets to ask which of the two lay inside a sculptural tradition, and the answer is not easy.
Pairings like these enrich traditional associations. They made me consider whether their similarities stood for influence, contrast, or evolution.
Juxtapositions and art history
The juxtapositions are no small matter. They do more than allow a good eye to put those alcoves to elegant use. They also help one overlook the natural gaps in a private collection, and they put the pressure on art in Detroit and the Detroit Institute of Arts to put money first to shame. The Nashers appear to have only a mild tolerance for anti-art, based on this selection of about a third of what they own.
I saw little Dada, Constructivism, Surrealism (unless I count Giacometti), the raunchiest of Robert Rauschenberg, Minimalism, or video cameras and after. Constantin Brancusi is sculptural, but forget about a context that looks beyond his elegance. Forget about questioning the museum's role in reducing other cultures to abstraction. Forget about an older view of sculpture, one that placed art's spirituality within the comings and goings of ordinary people.
Then, too, only the Museum of Modern Art could ever fill all the gaps. A retrospective of modern sculpture would ultimately need those early Picassos. At least the Nashers know to go just as lightly on the Picasso's later years, when garbage had less literal connotations than scrap metal.
Overall, the collection has the strength to allow fairly representative selections, and that is saying a lot. It even contains models of early drafts rather than nth castings, as well as more than one work by most artists. In that way, they can acquire a character of their own. I had dismissed Medardo Rossi before as sentimental. Now, next to the generalized forms of Henri Matisse, I learned to appreciate his portraiture. One sees individuals, not sex or art.
And the Nashers have enough to allow entertaining asides. A Willem de Kooning bronze woman sits next to an equally lumpy Claes Oldenburg in loose plaster. Or how about George Segal not far from that Abakanovich? In both, men and women are reduced to anonymity by a society and an unnamed history.
Abakanovich comes off with an almost unearthly dignity, perhaps because her sincerity meshes better with the Nashers' sense of history than other recent artists. In her room of headless standing figures, I had to notice how she retained a coarse fabric texturing. It suggests a care for the material of mere garments, while it also reflects on her means of working with plaster. And I was startled to notice that the figures had no backs.
Juxtapositions and the art institution
Abakanovich has made their emptiness more shocking than the headless forms. Her bodies without faces or gestures have a specificity and yet lack of familiarity beyond anything I imagined.
Of course, part of a curator's skill is simply to make art look good in a museum. The Nashers, too, talk of how much their prefer sculpture on site, to be seen from ever-changing points of view. In this case, it helps to know how to make use of the few side rooms. At the very end, with his own room, Tony Smith, had a wonderful, atypical work. The Ten Elements sit on the floor at funny angles, and anyone can wander amid them.
Segal's bronze horde of weary commuters provided entirely another sort of juxtaposition with the museum. I found them surrounded tightly by an official museum tour group. It was quite a treat. I wanted us all to leave for work right away.
There was still another kind of juxtaposition at work, however. It went beyond museum upon sculpture—or work upon work. It is about art and the museum in society. The show is a paean to private collectors and public displays. Collectors and museums can, no doubt, pat themselves on the back with a show after a gift, like that of the Wagner collecton to the Whitney. This, though, is suspiciously about money as much as art.
The walls bears obsequious labels on the importance of funding, perhaps a portent of the onrush of private and corporate collections to come. The labels brag of the Nasher's match of collecting to real-estate development. I could almost hear the will benefitting the museum being notarized.
Walking up Wright's ramp, I could see every one of the thrilling juxtapositions that went into Modernism, treated safely as the past. The show was about history, but also about private tastes and public institutions, wealth and individual rebellion. It is about why a private collector gets a museum to itself in New York, and who benefits. Piecing out what all these mean to one another is the next step. It is a step beyond what the show, perhaps even the Guggenheim, can dare to offer.
Jackie and Other Wealthy Families
Perhaps no painter relied as much on photography as Andy Warhol without taking a picture. Not every Warhol silkscreen adapts a photograph. Think of the Brillo box. Even after Rauschenberg's combine paintings, Andy Warhol never even slips in a print or takes up collage. But photos ripple through his silkscreens, only starting with icons like Jackie and the Birmingham race riots—and then through their appearance in magazines and newspapers. They channel prints through a medium designed to make more of them.
Only guess what? Andy Warhol did take up photography, after 1970. The Nasher Museum of Art has two-hundred fifty of them. It even has the Big Shot model that he used long after Polaroid discontinued it in 1973. He liked its quality, assuming one can use quality and instant photography in the same sentence. He must surely have liked, too, the ugly, klutzy big box. A nineteenth-century camera might have stumbled into the present.
He would hardly have minded that they look like amateur productions. No doubt he took up Polaroids for just that reason. His subjects preen without ever looking posed or even interesting. One can hardly tell friends just hanging out from celebrities, as with everything else about Warhol's circle by then. He lavished tons of attention on the Nashers themselves, although they look perhaps the least glamorous of all. He also used them as the basis for a few late silkscreens, also on display, paired with their origins.
He would hardly have minded either that they look artificial. He picked a film that introduces color distortions not unlike his paintings, and he prepped his sitters first with white makeup and lip gloss. He also shoots them in series of half a dozen or so, with the illusion of quick snapshots, to the point that one forgets how slowly Polaroids emerged one by one from the camera. And yet they do look amateurish and artificial. Like the handful of paintings, they take it easy. The raw edge of the amateur and of artifice, as in three of Warhol's early movies also in the show, has given way to an aging artist's formulas.
The Nasher Museum has a simple but novel design, with rectangular galleries radiating out from an airy lobby. It also has some second-rate art, especially in its European paintings. However, it does shine in sculpture, as in fragments of the Renaissance in Germany and a stone relief from twelfth-century France. The four apostles who once gazed upward, rapt in a miracle, have a spatial twist that now seems ahead of its time. With the erosion of stone, the faces and pose have has also acquired a strangely expressionist distortion.
Just off the lobby, Petah Coyne combines symmetry and expressionism, too. The enormous figure of tumbling black flowers could be child or a bride ravaged by men, by myth, or by time. Oldenburg himself is at his cleanest and slyest. The framed trapezoid looks like Minimalism, and the vertical sticking up for it could quote a Serra prop piece. And oh, it is soft sculpture—a Good Humor bar with a bite missing. As with Warhol's records of a generation, the early 1960s were sometimes onto something.

"A Century of Sculpture: The Nasher Collection" ran at The Solomon R. Guggenheim Museum through June 1, 1997, "Big Shots: Andy Warhol Polaroids" at the Nasher Museum of Art through February 21, 2010.