No Release
John Haber
in New York City
Gordon Parks
Gordon Parks took his self-portrait the hard way. He frames the shot tightly, with the large-format camera on his shoulder and a hand reaching over it to take the picture. No shutter-release cable for him.
The camera, he wrote, was his weapon, and he would not spare himself the weight. Not that he needs to attend to its balance or, for that matter, to the observer. He looks slightly away from both, to concentrate on the task at hand. He has prepared himself well, right down to his hair brushed back, his fine mustache, and the light reflecting off his dark skin. "For I am you," he also wrote, "staring back from a mirror of poverty and despair, of revolt and freedom." Now he stares back three times over, with his countenance, his equipment, and the lens.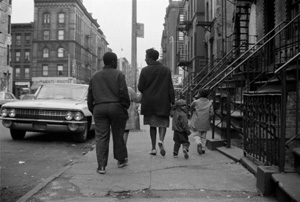 The photo introduces work from 1942 to 1978 as "I Am You." Parks had already turned his weapon against racism and poverty on behalf of the New Deal, and he became known again for documenting the civil-rights movement. At the time of the self-portrait, though, he was working for Ebony and Vogue, and his work in fashion was neither a distraction nor an accident. When he stares, he is concerned for both the camera and the pose. He brings much the same assurance in later years to "Segregation Story" and "A Harlem Family." When it comes to conflict and race, has America moved on?
An activist with style
The you of "I Am You," African Americans, got the picture. When he directed Shaft in 1971, they embraced it and the merchandise it spawned. Critics wrote it off as blaxploitation, but its hero did everything with confidence and style. In photography, too, Parks was directing and with much the same values. Fashion shoots look like wedding portraits on Park Avenue, just as Shaft sets its macho stereotypes against a backdrop of Harlem streets. Portraiture veers easily into fiction.
Ingrid Bergman occupies a tenuous middle ground with three darker women behind her, as if she had broken away from a cult. Alberto Giacometti poses with his gaunt, slightly comic sculptures as if one of them. Park even stages a fashion shoot. A white woman photographer, splay-foot but attractive, faces forward and leans into her camera, framed by an alleyway. She would, though, be seeing not just her model, but Parks as well. The inscription on Hunter College behind her could be speaking of him, too, beginning "We Are . . . Different."
The confluence of fashion, portraiture, and self-expression puts Parks in the company of Richard Avedon and Irving Penn—much as his work for the New Deal puts him in the company of Dorothea Rockburne and Walker Evans. He avoids, though, Avedon's celebrity aura and pretence of frankness. He avoids, too, Penn's perfection even when the models are cigarette butts. Rather, he is telling stories about politics and art, with style. He also takes to color early, like William Eggleston or Stephen Shore, but again staged for the camera. He sees landscapes through red and green filters.
Ever the director, he attends to the backdrop and the frame. Helen Frankenthaler sprawls on her studio floor, dwarfed by her paintings. Langston Hughes holds up a hand to the center of a picture frame—presumably his writing hand. Parks also makes use of subordinate actors, much as with Bergman. A little girl slumped on a chair in shallow focus can barely tolerate the photograph, but two others pose eagerly, in front of a fancy car. Martin Luther King, Jr., stands between two compatriots as well, because leadership for him can only bring out the dream in others.
Such groupings can become gatherings on the way to a mass movement—even before Parks turns to sweeping views of the March on Washington in 1963. Nuns move in a triangle, with the momentum of an arrow, and men display their aspirations through their hats and shoulders seen from above. Others come together through just bare shoes at the sidewalk's edge. Harlem sewer pipes pile high. They transcend whatever filth lies in their future, for they, too, are you. Parks sees individuals in context of a movement and a movement through individuals, all the more so in the show's continuation, with the civil rights era and his most memorable images.
He learns to dignify his subjects without glamorizing them, although his Rosa Parks will look eternally young. That can mean blacks submerged in shadow—or popping out of a manhole as Emerging and Invisible Man. More often, though, it means children at play or adults at work, like a cleaning woman wielding her mop and broom or Stokely Carmichael at his desk from behind. It means families in their Sunday best at a "coloreds only" drinking fountain or, more poignantly still, the caretaker of a white child as the only black person in a doctor's waiting room. It means black faces behind white mannequins, or children behind barbed wire. Those images, though, also belong to the photographer's segregation and Harlem stories, so turn there next.
Behind barbed wire
For once, blacks and white find themselves on the same side of a barrier. Children peer through a barbed-wire fence in Alabama like a deer for Ronald Lockett, their backs to a dirty, weathered wood-frame house. The sole white boy grasps the harsh metal with both hands, while the black at center holds out a six shooter in a restless gesture. From his upturned face and outstretched arm, he could almost be reeling from a gunshot himself. The third boy peeks out shyly from behind a bush and tantalizingly broad gaps in the fence, his pistol and wide eyes aimed directly at the viewer. For Parks in 1956, people can reach out, but the barriers remain.
They may be legal or emotional barriers. Even in that one photo, neither black child shares his companion's innocent confidence and broad grin. And even when blacks and whites occupy the same physical space, the distance between them seems insurmountable. In a Georgia airline terminal, a black nurse holds a blond infant just one seat away from a well-dressed white woman, who looks right past them in singular disdain. A black lays her hand on the shoulder of her little girl, much like a white girl opening her arms to another before her, but the blacks are only window shopping, and the cold, sallow flesh before them belongs to mannequins. Reflections in the store window both multiply and dash hopes of reconciliation.
"Segregation Story" gathers twenty-six photos from that year, only that one with a genuinely shared space. Parks was in Mobile and Shady Grove, working for Life magazine. Born in 1912, he had been a day laborer,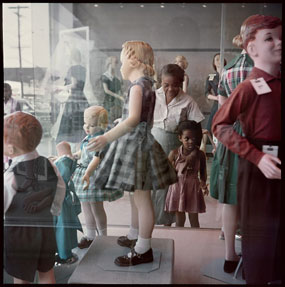 brothel pianist, and railway porter before taking up the camera, nurturing his outrage and identification with his subjects. Yet he conveys barriers through the very distance between them and him. Black girls look through still another fence, this time away from the camera. The interior of a barber shop, framed by black walls to either side, seems impossibly far away.
Parks gives pride of place to three families, but his original title, "The Portraits: Open and Hidden," conveys just how elusive connections can be. The photos make clear the obstacles in prejudice and law with the simplest of means, through signs like Colored Entrance and Lots for Colored. Blacks walk past the words White Only as if inured to it by now. Hidden obstacles matter, too, all the more so as they are inextricable from day-to-day life and dignity. A farm worker in overalls looks warily ahead, his eyes in shadow. A schoolroom rests empty, its desks scattered as if by a natural disaster.
Life was always accessible, and Parks had joined as a writer and staff photographer in 1948. The series is no less thoughtful and relevant for that. A girl standing in a doorway, a majestic tree, an elderly couple on their prized settee, and railroad tracks receding to infinity—each anchors the composition, much as they anchored homes and lives. A front porch holds the center of another photo, like the sill of a window onto its occupants. Others take their ease in front of a convenience store, to either side of the door. The symmetry brings out yet another barrier in the roadway.
The work's message is familiar enough from Danny Lyon a few years later or from social media and art today: black lives matter. Subjects have intellectual and emotional resources to spare, if only barely. A blackboard attests to everyday promises and disappointments—chalk faces, a sum that (correctly) adds to one hundred, and a kind of found poetry: you can steal my love. A bare-chested young man looks down as if reading, and kids on a bed behind him really are, but his lap holds not a book but a shotgun, and no one here can know when the explosion of race in America will begin.
Harlem family values
To get to know a Harlem family, ask what the family is doing. They are cleaning, striving, reading, studying, and then reading some more. They are hugging each other—and, in the case of a little boy, what I could swear was a white doll. They are walking together on somber, disheveled streets and gathering around the oven for warmth. At least once, a girl is crying. From their faces alone, they are loving but lost.
"A Harlem Family" maps uneasily onto "social issues" today, but how could it not? Harlem in 1967 was not exactly the place to be—at least not without cost. It was well after the Harlem Renaissance, although Romare Bearden was still evoking its rhythms in collage, and artists are again recovering those living memories as theirs own. It was well before gentrification, although the Studio Museum opened nearby soon after. It was between the optimism of the great marches and the winners' gesture of black power at the 1968 summer Olympics. Parks himself may be best known for cashing in on blackness with Shaft, well before his death in 2006, but there was more to him than that and more to Harlem.
Those on the right will still expect race to be invisible, or they will excuse racism as a fair and equal assessment of individual and "family values." We on the left will insist on a politics of identity—with pride, with irony, or with both. Parks did neither, and one can imagine that neither was then so comfortable an option. Neither goes with this Harlem family's stacks of books (like Mathematics in Daily Use), the rain-swept windows, or the sleeping child. Neither goes so well either with clothes stuffed in the sink or the sole decoration, an image of Jesus. One can project fear or anger onto the father's face, pressed up against the window behind a parted curtain, but the photo anticipates and rejects either one.
Parks has his reasons for rejecting the racial politics of others. People like to reproduce his woman holding a mop and broom, posed in front of an American flag, as his American Gothic. Mostly, though, dress-up and parody were not his style. Even in that one image, he is closer to the icons of poverty and persistence in Let Us Now Praise Famous Men. Like Walker Evans, he combines documentary photography and monumental portraiture. Like Evans, too, he was again on assignment from Life, where most of "A Harlem Family" appeared in March 1968.
For Evans, realism melts effortlessly into testimony. For Parks, the two extremes weigh on him, as competing forms of the conventional. He had photographed Harlem families before, for the Farm Security Administration in the 1940s, and his return was a conscious decision. As an African American photographer, his work for Life and Vogue represents a breakthrough, although it often confined him to portraiture, sports, and fashion. The very virtues and vulnerability of the Fontenelle family, one could argue, say less about reality than about their time. Even for their time, they can seem too simple compared to the tensions, alienation, and sheer weirdness in Diane Arbus and Garry Winogrand.
For all that, these images persist. The curators, Thelma Golden and Lauren Haynes of the Studio Museum, see a "searing portrait of poverty," but it is still about a family. Parks sets testimony aside to compose with blackness, like the father's face pressed to the window. When he looks down on a glowing intersection at night, one can almost miss that the neon glow arises from liquor stores. Say what you will about politics or sentiment. It still hurts looking out onto a tenement wall in the rain.

I Am You" ran at Jack Shainman in two parts, through February 10 and March 24, 2018. "Segregation Story" ran at Salon 94 Freeman through December 20, 2015, and "A Harlem Family" at the Studio Museum in Harlem through March 10, 2013. The review of "Segregation Story" first appeared in a slightly different form in New York Photo Review.