The Real New York
John Haber
in New York City
Marc Yankus, Thomas Roma, and Paul Anthony Smith
And here I thought I knew New York. And here I thought I knew photography.
Photography is supposed to insist on just that—on remembering what people tend to forget or what they too often overlook. For Marc Yankus, it is a city of buildings that I only thought I knew. For Thomas Roma, it is a city of shadows and plenty of room on the subways. And hey, for him it is also Brooklyn, and Paul Anthony Smith heads there to delight in his Jamaican heritage. Smith also merges it with Puerto Rico, paint, and abstraction. So which New York needs touching up or just a fresh eye, and which is the real New York?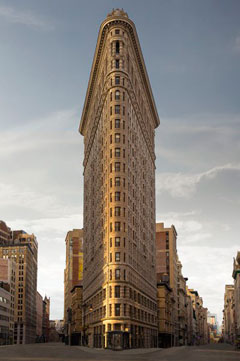 The public face of buildings
Marc Yankus calls his show "The Secret Lives of Buildings," but he could just as well say their most public face. If buildings did have inner lives (apart from interior design), one can only imagine them thinking: yes, this is how I want people to see me. They have never looked so self-assured, in all their volume and detail. They have never stood so fully apart from the street. By the same token, they have never looked so strange.
The photos stick to the public face of buildings in the trivial sense of their façades. They betray not the least sign of life behind their windows. Yankus does not care much for the International Style of glass and steel anyway, much less the ceiling to floor windows of luxury condos going up today. The Empire State Building does make the cut, but not, say, the Lever House or Seagram Building. Yet this is the public face of the city as well, with its wide avenues and most beloved architecture. New Yorkers will have the pleasure of recognition, one building at a time, and will want to name them all.
And that is where the strangeness kicks in. One can spot an old favorite in the Dorilton apartments, paired around a central arch. One can assign a native style to the many New York neighborhoods—from the Upper West Side's Beaux-Arts stone or the Federal charm of Greenwich Village to Soho's cast-iron intricacy or Bushwick's bleached brick and vacant lots in Brooklyn. But what about the jagged rhythms of a block with four staggered masses? And what about a slim building plainly from the Ladies Mile historic district, but with a street to either side? Where can one see that?
One cannot, because Yankus has quadrupled one structure and isolated the other. One can tell with a little work, if only because the sidewalks to either side of the lone building are mirror images. A similar doubling produces looming towers out of a futuristic city. Photographs may also spin a seemingly normal point of view into a diorama, like a building seen head-on at street level but bending away above. Other manipulations account for the dearth of passer-bys, apart from a man at the base of the Flatiron Building. He becomes a privileged viewer, much like the camera.
The photographs do not break with the known so much as enhance it, with the help of Photoshop's little secrets. New York already has its majestic islands at the intersection of two avenues, like the prow of the Flatiron Building. It has other buildings with iconic corner views as well, like the Ansonia, the former residential hotel. That classic appears, too, although without competition from Amsterdam Avenue and Broadway. Even the futurism belongs to an early twentieth-century city, while the Empire State Building has the painterly look of an old postcard. For Yankus, nostalgia gets along just fine with invention and familiarity with strangeness.
In effect, the series looks at what lies right in front of one, but with fresh eyes—not a bad definition, at that, for art. One may picture the Flatiron Building as a dark hulk in a dark corner of the city or a glistening white following restoration in 2005. Yankus bathes it instead in a warm sunlight. Then again, maybe one should think of studio lighting. If buildings can stand apart and at their best, so do people in studio portraits, set apart from their ordinary surroundings and often retouched. They, too, put on their most public face.
The shadows of Brooklyn
Remember Plato's cave? In The Republic, Plato likens humanity to cave dwellers, unable to look out into the light. They see instead only shadows on the walls cast by the world outside. It takes the eyes of a philosopher to adjust to daylight—and the mind of a philosopher to know substance from shadow. Thomas Roma prefers the shadows. With "Plato's Dogs," he uses them to evoke man's (or woman's) best friends in flight or at play, and he hardly minds if one mistakes them for the real thing.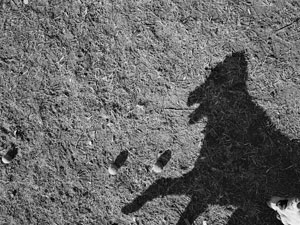 Roma could be a product of social media, where dog pictures go down way too easily, except that he largely dispenses with the dog. He is absolutely a product of Brooklyn, which has come well out of the shadows. The series took him to a dog run in Dyker Heights, where he trained his camera on the ground. His large prints, all in black and white, add the textures of footprints, soil, and debris to the jagged silhouettes for off-kilter motion studies. It takes a moment to realize that one is looking down—and that the occasional double, paws touching paws, is the actual animal seen from above. If the living thing is the shadow of a shadow, what does that say about a photograph of them both?
No wonder Plato, the most artful of philosophers, distrusted art. Roma borrows from the Internet age in another way as well, using a long pole to keep his own shadow out of the picture. He turns the resource of selfies against itself. He also returns to south Brooklyn more than a decade after "Higher Ground," in which he photographed its elevated subways. There he focused not on the subway cars as with Duane Michals, but on their riders, like Danny Lyon before him—at once within the cave and out of doors. They lie casually awake or asleep in couples, in families, or alone.
Both series, for all their merits, may look too comforting for their own good. I could only think of how nice I had it in the 1990s, when one could still find a seat or even a whole bench to oneself on the subway. A third series turns Roma's easygoing compositions to more penetrating effect. "The Waters of Our Time" goes back as early as the 1970s for his family, home, and neighbors. It offers the urban tourism of Robert Frank or Lee Friedlander, but without their programmatic impulse, the older New York of Herman Leonard but without the jazz rhythms, and the concern for the overlooked of Diane Arbus or Garry Winogrand, but without the voyeurism. It contrasts with Miles Aldridge in a back room, whose Polaroids apply the slickness of fashion photography to portraits of desire after Surrealism.
Still, Brooklyn was stranger then, and so was he. Roma already has his spare shadows, including branches lying across the picture plane, and a few dogs as well. He looks down, too, for a man half under a car to finish the job at hand. A girl dressed as a bridesmaid holds a basketball, but more often the oddness appears not in the characters but the point of view. So, too, does his sense of home. A young woman seated by a window, not quite in profile and lit from behind, conveys his love.
A third room has century-old photos of Ellis Island. Augustus Sherman, the chief clerk, encouraged immigrants to dress the part of their homeland, but to celebrate America's diversity. They look like extras from a costume drama—and not always at ease in their role. A four-legged creature might know better. Plato also called a dog a natural philosopher, because it "distinguishes the face of a friend and of an enemy only by the criterion of knowing and not knowing." I guess surfaces and shadows are not so misleading after all.
Barriers and ecotourism
How could anything so dreamy have become a symbol of imperialism and militarism? Vieques, off the coast of Puerto Rico, quite literally made an easy target. The United States used it for bombing practice until fourteen years of protests, starting in 1999, ended with the navy's withdrawal. Visitors and natives, though, know it for something else again. Its secluded beaches are perfect for snorkeling or ecotourism, in what is now a national wildlife refuge. Microorganisms in its pristine waters give rise to the name Bioluminescent Bay.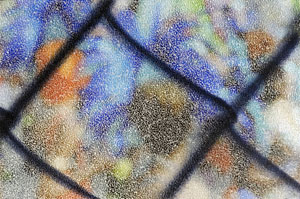 Paul Anthony Smith captures the luminescence and seclusion, in seven tall photographs. Some show the island's palm trees, clear skies, and blue-green waters. Others took him to Brooklyn on Labor Day, for the annual West Indian Day Parade. It appears less as the "Procession" of the show's title than as erotic dancers and rapt faces. Still others superpose the two. Yet Smith means them to stand as well for barriers and confrontation.
Each work has its own overlay, only starting with photos of chain-link fences. Smith also belongs with painters and photographers bridging media. Spattered paint takes the shape of cinder blocks, in places pricked or scraped away—what he prefers to call picotage. Smaller works close in on the fencing, for a double X. They also blur the underlying image, approaching a collage of bright color. Here the white spatters cover the entire surface.
Cultures meet and merge—and not just in Puerto Rico and Brooklyn. The patterning produces shards of white and clear colors, much like painting from Cubism to Minimalism. The dots of paint and scraping have a tactile quality as well, as in paintings by Allison Schulnik at the same gallery. Born in Jamaica and raised in Miami, Smith embodies a cross of cultures all by himself, like Toyin Ojih Odutola between Nigeria and the United States. Titles add to the sense of a celebration, with quotes from jazz classics by John Coltrane and Miles Davis. Maybe by coincidence, they date from the height of abstraction in America.
Still, the artist has in mind a confrontation. The images appear behind walls and fences—or as walls and fences. Picotage takes an act of violence to their surfaces. Smith recalls the Battle of Jericho, when the walls came a tumbling down. (Now there is a trumpet not even Miles can match.) He would have heard the Bible story in church as a child, much like the people in his photos.
He also has in mind the legacy of conflict and colonization in Biblical lands today. Maybe, but that can make him something of an ecotourist himself. It can diminish the reality in actual photographs from the Middle East. When the Brooklyn Museum called a show "But a Storm Is Blowing from Paradise," it was not thinking of hurricanes interrupting tourist season in the Caribbean. Just as important, it can diminish the pleasures of his settings and his work. In their clarity and lightness, his walls have outlasted Jericho.

Marc Yankus ran at ClampArt through November 26, 2016, Thomas Roma, Miles Aldridge, and Augustus Sherman at Steven Kasher through December 23. Paul Anthony Smith ran at ZieherSmith through February 4, 2017.