Portrait of the Artist
John Haber
in New York City
Shunk-Kender, Holly Zausner, and Duane Michals
"The artist, like the God of the creation, remains within or behind or beyond or above his handiwork, invisible, refined out of existence, indifferent, paring his fingernails." James Joyce's conception of art is central to Modernism. The artist must stay out, and the rest of us, as T. S. Eliot wrote, must not waste time searching out his intention. What happens, then, when photography takes as its subject the artist?
The duo who went by the name Shunk-Kender kept themselves out of their work—to the point that few today will know them. They also helped create some of the biggest egos in art, but their staged photos of Yves Klein and others depend on their collaboration. Holly Zausner claims both sides of the camera for herself and a city without a community. Last, Duane Michals treats artists and friends as celebrities, while imposing a story in his own handwriting.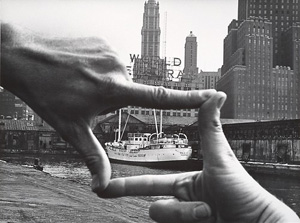 But then Joyce's quote does come from Portrait of the Artist based on his childhood, his hero in Stephen has a fragile but inescapable ego, and he compares himself to a god.
Ego boosters
Even an egotist needs to work with others. Well before big markets and celebrity artists, Yves Klein designated his ultramarine International Klein Blue, but he contributed no more to its manufacture than the idea—and that was before he took a big leap. With his Saut dans le Vide (or "leap into the void"), he played at Superman, arms outstretched in midair while a cyclist continues his daily commute down the street, oblivious to the whole thing. But then a whole team had to catch him before he hit the pavement. Besides, someone had to construct the photomontage to hide them. If anyone was working without a net, it was the photographer.
Make that two photographers, Harry Shunk and János Kender, and that day in 1960 marked the start of their collaboration. With "Art on Camera," the Museum of Modern Art hopes to give credit where credit is due. As it turns out, they went on to work with others as well. Shunk, from Germany, and Kender, from Hungary, worked as Shunk-Kender, first in Paris and then in New York. To believe the curator, Lucy Gallun, they may well have helped to mold the artistic identity of more than two dozen others. Who knew?
I had never heard of the pair, but then collaborations and the avant-garde are messy things. One could just as well credit for Klein for creating them. Then, too, the one-room exhibition boils down to just two other projects. In 1968, the photographers assisted Yayoi Kusama in performance. She had nudes join her on the steps of the stock exchange, in the first true "occupy Wall Street." Then they covered one another with polka dots, much like her room in a clapboard house in Chelsea just this year.
Along with Kusama, Shunk-Kender were connecting the dots between "happenings" and art. They were also defining her gesture as political, rather than an overgrown child's birthday party. They did so by juxtaposing the two scenes, in the sobriety of black and white. The same devices go into a more extended project from 1971, conceived and organized by Willoughby Sharp, in which twenty-seven artists in their turn took over a pier in lower Manhattan. Here the emphasis lies on performance's ties to Minimalism and conceptual art. Together, the three projects draw on six hundred photos from the Shunk-Kender Foundation that have entered MoMA's permanent collection.
Museums usually credit each image to the more familiar artist, who may well hold the copyright, adding only "photograph by Shunk-Kender," but who came up with what? Mario Merz, for one, allowed the photographers free rein, although in images of him and his work. They do so progressively, in stills arranged like contact sheets, so that his signature dome structure is just be coming to be. Yet the arrangement also suggests a collage—and so an independent work. Other photos, perhaps, belong more obviously to the performer, but there, too, Shunk-Kender have their say. Pier 18 could be a staged textbook of that decade's art.
John Baldessari, ever the conceptualist, frames the pier with his fingers, while Richard Serra, Dan Graham, Vito Acconci in performance art, and Keith Sonnier give it geometric form with their arrangements of materials and "negative spaces." A comedian at heart, William Wegman uses it as a bowling alley, while Jan Dibbets, known for a memorial to a French astronomer, adds it to his "progression of the future." Mel Bochner measures the river, while Gordon Matta-Clark dredges it. In truth, celebrity artists nowadays need whole factories of collaborators to keep up with the market, and critics tie themselves in knots to treat a fishtank of basketballs by Jeff Koons as an original engineering feat. But then Shunk, who died in 2006, and Kender, who died in 2009, are no longer around to document it.
Arresting images
Holly Zausner makes arresting images, and indeed she takes things slowly herself. She hovers above her worktable, rearranging small photos over and over, as if unable to decide where they belong. She stands dead still in Times Square, her back to the camera, while people bustle past. She walks ever so deliberately through an empty New York, dressed as always in black, each step echoing on the soundtrack. Perhaps she cannot freeze others, but she can eliminate them from her art, and so she does after Times Square. One may never see those familiar streets and landmarks without human traffic again.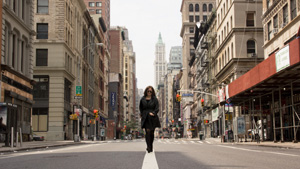 She calls the video Unsettled Matter, and plenty remains unresolved. Where is she heading, face front along a median strip? What is in those photos on her worktable, and what is she seeking in them? What is she doing in a harness anyway at arm's length above them? What happens to her or to them when she lands? As the scene loops between her studio and her travels, has she recovered without injury, or has her slow journey come to a crashing end?
Still, much seems quite settled. She sure does, arms swaying by her side. She is taking possession—including possession of what for most viewers will be their most cherished memories. She takes over Film Forum for a showing of L'Avventura, the 1960 film by Michelangelo Antonioni all about a slow pace and a looming mystery. She takes over the Great Hall of the Met, Grand Central Station, Chinatown, Broadway north of the Woolworth Building, and more. One can overlook a great deal in exchange for the game of identifying them, although only the film within a film hints at a playful sense of humor.
One might still have qualms about the weight that Zausner assumes. No wonder she crashes in her studio. The gallery insists that she works in real time, and the artist confirms it, but you may find yourself alternately skeptical and marveling. Do people melt into tracks of light, even tourists and commuters—and even under her gaze. Can her stride acquire that firmness and those production values on its own? And somehow they do.
They also get one thinking. This is not simply a love letter to New York or a documentary—but then what is it? What connects its two parts, the studio and the streets? Is this the life of the city or the alternative reality of a dream, like painting and film itself for Salvador Dalí? What happens when an experimental film claims those lavish locations entirely for itself? Thankfully, the Mayor's Office of Film and Television took care of things, in a city truly supportive of the arts.
Clearly something is happening beyond mere self-dramatizing, even something meaningful. Zausner's video and the stills derived from it are attention grabbers. One may not accept her impassive ownership of the city and the media as a feminist statement, but one will remember a woman's presence all the same. One will remember something else, too—a vibrant city as a non-community, in transit and belonging to no one, not to its residents and not even to her. She focuses on sites for commuting and for tourism, and her one truly intimate environment, the Strand, traffics in used books. Here New York's oldest and most personal memories are still unsettled matter.
From portraits to stories
For Duane Michals, every picture tells a story. The Carnegie Museum of Art calls its retrospective "The Storyteller," for all its strength in portraiture. His camera is never at home apart from people, and his subjects are never alone apart from an idea. He spells it out, too, in his endearingly clumsy handwriting—often in block capitals, in the broad margins of his black-and-white prints. Sometimes he indulges as well in overlays of color, applied by hand, that obliterate or enhance hands and faces. The device recalls Cubism, but just as much the sheer possibilities of the medium.
Born in 1932, Michals had his last New York retrospective way back in 1970, at MoMA, and the one in Pittsburgh takes him to his roots in steel country. New Yorkers will have to settle for a visit to Chelsea.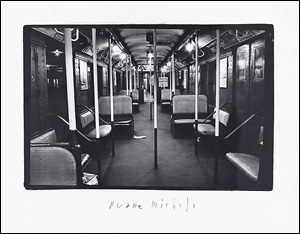 There a large selection of photos, all from hitherto unprinted negatives, plays up one side of the equation, as "The Portraitist." It cannot help telling stories all the same. Are those stories more simplistic than one willingly remembers? Where a show the year before had him prowling the subways and the city, like Danny Lyon, Gordon Parks, or Thomas Roma, here he seems content to sit still.
The problem starts with the marginalia. "Jeremy Irons bares his soles," meaning the soles of his feet, and Liv Ullmann is "deeply feminine." Johnny Cash, hand raised warily over his mouth, "was hotter than a pepper sprout." Paul Taylor, the choreographer, is "dancing cheek to cheek"—or rather lying cheek to cheek with his beagle. "Just when you've been Leibovitzed there is no going back." They lie between one-liners and advertising slogans, but then Annie Leibovitz, the photographer for Rolling Stone covers, knows something about PR herself.
Like her, Michals has done his share of commercial photography, for Esquire, Mademoiselle, and Vogue. He was good at it, too. It enters in brooding images of Dustin Hoffman and Martin Scorcese. It influences takes on artists as well, including Balthus, Charles Burchfield, Andy Warhol, René Magritte with his bowler hat, an aging Marcel Duchamp, or a young Jasper Johns. Those who (wrongly, I think) write off Magritte for his Surrealist one-liners will see only the obvious. They could well be right.
Celebrity portraiture colors even the artful and frequent overprinting, as with Cash surrounded by Michals behind the camera. A redoubled Philip Roth on the occasion of his best-seller, Portnoy's Complaint, highlights the dark and light sides of his protagonist, but also the features of a star. Multiples of Barbra Streisand play up her gestures and her jewelry. Sentiment enters for Michals even in his most personal and haunting stories. "Jack," hands raised above his head, "died of AIDS. He cried himself to sleep alone."
They are haunting and personal all the same, like a photograph of his mother after his father died. Honesty matters, as with John Cheever in a cast. Gay themes are muted but real. Michals worked for fashion magazines, but he displays little concern for fashion. He even mocks fashion by posing like Cindy Sherman in a wig. His borders may recall Richard Avedon, but he has none of Avedon's striving for iconicity. In his busiest years, he did not even maintain a portrait studio.
Which stories are conventional, and which are honest? Maybe all are both. Eugène Ionesco bares his chest, as an act of exposure, but also like Pablo Picasso showing off at the beach. With Death Comes to the Old Lady, not in Chelsea, the title is a cheap pun on an old Willa Cather novel—but the old lady sits dispassionately face forward, and her death is real. Like Robert Mapplethorpe, Michals links portraiture and testimony, although he is rarely startling or confrontational. "This photograph," he writes, "is my proof." He is once again punning, and once again he means it.

"Shunk-Kender: Art on Camera" ran at The Museum of Modern Art through October 4, 2015, the latest polka-dot house by Yayoi Kusama at David Zwirner through June 13, Holly Zausner at Postmasters through May 31, and Duane Michals at the Carnegie Museum of Art through June 2 and at D. C. Moore through March 21. A related review looks at Duane Michals and others in an empty New York.