Museum Mile
John Haber
in New York City
Frank Lloyd Wright at 150: Unpacking the Archive
Never Built New York and Wright, Harlem, and Public Housing
The architect of a mile-high building sought to rein in skyscrapers. He found the loss of light and open space soul deadening. He hated congestion and unchecked growth—but he never, ever shied away from contradictions.
Frank Lloyd Wright contained multitudes. He designed more than a thousand buildings in the course of seventy years, roughly half of them built. He left hundreds of thousands of drawings and other records along the way. Five years after their acquisition, the Museum of Modern Art and Columbia University are still sorting them out for Wright at 150.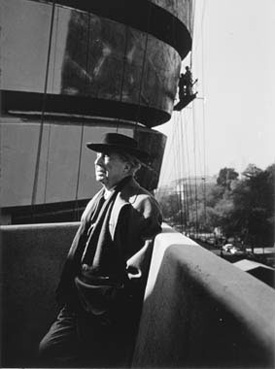 "Unpacking the Archive," with a follow-up on Wright and public housing at Columbia, will have you doing the same. With some four hundred objects at MoMA alone, it can feel congested and unchecked, but it dares anyone to tease out the multiplicity.
Even great architects have to get things built. If there is one lesson in the hundreds of unbuilt projects in the archives, it is this. Then again, some things should never come to be. "Never Built New York" at the Queens Museum presents an imagined city and a torrent of ideas. I felt its pleasures and its regrets, but also one huge sigh of relief. Wright preferred open space, too.
Multitudes of architecture
"Do I contradict myself? Very well, I contradict myself. I contain multitudes." Wright was no Walt Whitman, but he was distinctly American. It shows in his egotism and optimism, even in the face of the Great Depression. It shows in his salesmanship, which lay behind his drawings and press events.
It shows in his embrace of both urban and rural America. Wright also designed his ideal farm, with a "farm to market" system to back it up. His most famous building, apart from the Solomon R. Guggenheim Museum in New York, embraced both as well. Fallingwater nestles a private home over a waterfall, all within reach of Pittsburgh's steel country. He had a fondness for native plants and Native American culture, and he incorporated both into his designs. An exhibition this large and disordered approaches free verse.
There is a lot to unpack, and the lead curators, Barry Bergdoll and Jennifer Gray, are delighted to tick it off. Fifty-five thousand drawings in the archives? (Check.) Three hundred thousand sheets of correspondence, well over a hundred thousand photographs, nearly three thousand manuscripts, and any number of films and models? (Check, check, check, and check again.) One can spend a long time amid the generous selection and wall text, dip in and out, or give up and turn away.
The show already follows a Frank Lloyd Wright retrospective at the Guggenheim in 2009, plus "Frank Lloyd Wright and the City" at MoMA in 2014 (and my earlier reviews will fill out the story). If that, too, sounds like overkill, it has its advantages. It can avoid the Guggenheim's focus on itself, and it can point more firmly than last time to Wright as an architect rather than urban planner. Yet it can also add to the confusion. It brings separate scholarly curators to each of twelve sections, arranged by theme. If one does not already know Wright's achievement from past shows, one may not learn about it here.
The sections run roughly chronologically, but only roughly. They mention Wright's studies under Louis Sullivan, the Prairie School, his founding a studio practice in 1893, and his setting up shop in Wisconsin on the family estate at Taliesin, but only halfway through. Fallingwater appears just once, in an additional central room for highlights. A time line appears outside on the way in—but a time line of the archive, culminating in this very show. I would have used that central room for a true orientation, tracking Wright's life, his career from Oak Park in Chicago to Taliesin West in Arizona, and his major projects. Fortunately, the show also marks MoMA's rededication to its past, with enlarged galleries atop its classic Bauhaus staircase.
Fortunately, too, the themes help pin down the contradictions. Were they even real? Maybe Wright just changed his mind, between his Skyscraper Regulation Project for Chicago in 1926 and Mile-High Illinois thirty years later. Yet he proposed a high-rise for Manhattan back in 1927, next to St. Mark's Church in-the-Bowery, and that never got built either. Both towers had the same foundation at that, a "taproot" set deep into the ground as an anchor for cantilevered floors. To add to the seeming contradictions, the idea of a taproot borrows from botany.
Unchecked by whom?
The contradictions keep coming, including the show's very first and last sections. Tokyo's Imperial Hotel, planned in 1913 and completed in 1923, draws on Japanese woodblock prints and pagodas. And then the Guggenheim Museum, planned in 1943 and completed in 1959, descends on Manhattan as if from outer space. (It even looks a bit like the Starship Enterprise.) Besides, the hotel also has an inspiration in ancient Mesopotamia, and the ecology for Wright's homes in the American Southwest include Asian along with desert species. So much for native forms and tradition.
Wright planned to incorporate tepees and totem poles into the Nakoma Country Club near Madison, Wisconsin, in 1923, but guess who belongs to country clubs? He designed a school for African American children in 1923, and MoMA illustrates it with a history of progressive education and a print by Jacob Lawrence about the Great Migration. Yet Wright intended it as a model for the rural South, and he believed in segregated schools and innate racial differences. He planned his prefab "Little Farms" as sustainable, but the curators compare them Soviet five-year plans under Stalin. He despised television as "chewing gum for eyes," but he supposedly said so to Ed Sullivan, and he appeared on "What's My Line." Surely to his delight, the panel recognized him.
For every contradiction, though, one can see eclecticism, much as with Ettore Sottsass, a designer he influenced. An auto showroom would have had its window boxes for a variety of plants as well—to complement what a 1901 lecture had called "The Art and Craft of the Machine." For every contradiction, too, one can see continuities. Circles in Wright's designs go back well before the Guggenheim, to stained glass in 1912. The pillars of the Johnson Wax building in the 1930s mushroom outward at the top, and the Gordon Strong Automobile Objective and Planetarium from the 1920s, meant for Sugarloaf Mountain, stacks circles as well. Most of all, for every contradiction, one can also see a determined and unsettling vision.
When it comes down to it, one of the greatest of urban planners hated cities. He saw the grid as opposed to nature. He meant the Guggenheim, across from Central Park, to disrupt Fifth Avenue. His Chicago regulations would have set skyscrapers as a ring around downtown, with a raised platform to isolate people and grass at their center, above a parking garage. His mile-high tower would not have cast a shadow on its neighbors, because it would have had none. His love of cars and distaste for street life found their sad fulfillment in the highways and housing projects of New York City under Robert Moses.
Wright was fine with unchecked growth, so long as that meant unchecked by anyone but him. He oversaw every detail and every ornament, and he saw them as intrinsic to the larger design as well as product lines in themselves. He designed concrete blocks for DIY "Usonian housing," so that his vision could flourish in the hands of others as well. Even his love of drawing aided in self-promotion. He leaned toward perspective drawings that anyone could appreciate, and he and his studio turned them out fast. Mile High Illinois would have had at least seven floors for TV studios, and I bet he would have sat for more interviews.
The contradictions may never quite go away, but they are also nurturing. Wright was never the dictatorial capitalist out of Ayn Rand—not when he cared so much for people, design, and nature. "Unpacking the Archives" leaves a delight in textiles and table settings as well as buildings. It leaves the beauty of his drawings for their fine lines and soft orange, blue, and green. A large model for the Guggenheim, just as well crafted, will make you want to restore its cream color and to obliterate the toilet tank for tower galleries, added in 1992. It will, at least, until you return to Wright's building and try to find a decent place for art.
Be careful what you wish for
Almost any architect you can name had a shot at New York City and a share in its disappointments. And almost every urban landmark became the target for a makeover, even Central Park. Frank Gehry finally made it into town with his bulging IAC headquarter in Chelsea and twisting tower near the Brooklyn Bridge, but not with a Guggenheim Museum by the East River—and Diller Scofidio + Renfro with the High Line, but not Eyebeam, the arts nonprofit, in the shape of an ascending folded ribbon. Michael Graves had his postmodern moment in the sun, but not with an annex to the Whitney Museum (today the Met Breuer). Marcel Breuer himself proposed a sports center in Queens. Left to their devices, I. M. Pei would have plopped a "hyperboloid" down on Grand Central Station and Wright a party-colored fantasy on Ellis Island.
Real estate being what it is, Manhattan gets most of the attention in "Never Built New York," although Norman Bel Geddes had a plan to keep the Dodgers in Brooklyn. If the outer boroughs fare poorly, public transit fares worse—unless you count bridges to New Jersey, a gondola by Sergio Calatrava, and yet another soul-crushing highway or two from Robert Moses. Luxury is the word of the day, although Isamu Noguchi and Louis I. Kahn designed a playground, and Buckminster Fuller hoped for apartments in Harlem. Why would they have resembled nuclear power plants? Why, for that matter, would anyone want to cover Manhattan with a glass dome? I hesitate to say, but futurism for Fuller has a mind of its own.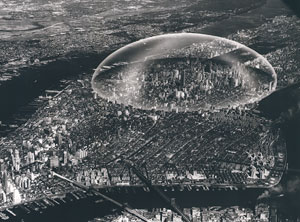 The curators, Sam Lubell and Greg Goldin, are not saying either. And the exhibition design by Christian Wassmann makes things more puzzling still. A room follows plans north from the foot of Manhattan, but with only a handout to determine which is which. I promise that you will fail. The same handout applies to forty models in white, inserted into the great scale model of New York left over (and occasionally updated) from the 1964 World's Fair. They literally shine.
The largest section sticks to plans for Flushing Meadow, including a glass entrance for the Queens Museum itself. Wallace K. Harrison proposed to place the United Nations there, and SHoP architects thought up a sports complex as recently as 2013. Still, almost everything here amounts to pavilions for the fair, which would have vanished in a few months even had they come about. One unbuilt pavilion, by Eliot Noyes, becomes the show's centerpiece, recreated as a "bouncy-castle"—or, in plain English, an inflatable gray balloon. Why? For all the unbuilt city, the museum wants to be the star of the show.
Maybe Queens gets the last word for good reason: modern architecture had mixed feelings about urban density. Moses wanted to recreate New York as automobile country, with his expressways and housing projects utterly apart from the grid. And Frank Lloyd Wright wanted to make it over as the image of America. Queens never once mentions Wright's towers—or his Broadacre City. First presented in 1932, it would have spanned four square miles, with everything from farm units to a factory. Fortunately the new Wallach Gallery of Columbia University tackles "Frank Lloyd Wright, Harlem, and Modern Housing."
After a model of Broadacre City, it follows Wright out of the city, to prefabs that communities resisted and often lacked the skills to build. It weaves these together with Harlem housing, which it sees as an alternative to Wright's failure to serve African Americans. Its fifty years of projects dispel all sorts of myths. If you think of Moses as the sole villain, they begin with "slum clearance" in the New Deal—and if you think of cookie-cutter projects for the poor, they eventually tried to learn from Jane Jacobs by adding shops and cultural centers, as well as integrating affordable and private housing. Yet the show's parts hang only loosely together, and the projects end up dismaying alike. As in Queens, be careful what you wish for.

"Frank Lloyd Wright at 150: Unpacking the Archive" ran at The Museum of Modern Art through October 1, 2017, "Frank Lloyd Wright, Harlem, and Modern Housing" at the Wallach Art Gallery through December 17. "Never Built New York" ran at the Queens Museum through February 18, 2018. Related reviews look at Frank Lloyd Wright more fully, through a 2009 retrospective and his urban planning.