Ramping Up Modernism
John Haber
in New York City
Frank Lloyd Wright and the Guggenheim
If you are headed for the Guggenheim this weekend, I have two bits of advice for you. Get some rest, and definitely use the bathroom before you go.
The museum's architect anticipated your visit. Frank Lloyd Wright wanted to construct not just a building, but every moment of your experience. He did not, however, want to make it easy.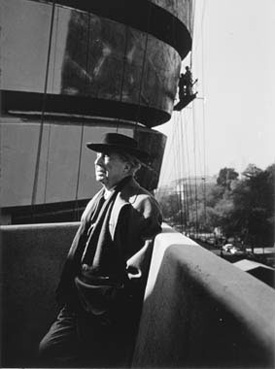 Nor does his retrospective. It does not single out a few key achievements and influential shifts in style. It offers little biography or conventional history. It does not try for an encyclopedic view of Wright's ninety-one years and four hundred completed projects. The curators, Thomas Krens and David van der Leer, estimate that he designed over a thousand. With help from the Frank Lloyd Wright Foundation, they display drawings and models for sixty-four.
They are out to define a legacy, that of a visionary—or even a madman. This schemer never settles for a building when he can remake the entire landscape. He always demands more of his clients, and often he fails to get it. As the Guggenheim sees it, Wright's genius goes well beyond his celebrated buildings from early in the twentieth century. It lies as much or more in grand, unrealized schemes. Most of all, the museum insists, it lies in one finished building from 1959, the Solomon R. Guggenheim Museum.
The Wright stuff
The museum has a right to boast. The show celebrates the building's fiftieth anniversary—and the fiftieth anniversary of Wright's death. Hilla Rebay, Solomon R. Guggenheim's artistic advisor, wrote the architect for help in 1943, well before she had found a site. The project occupied Frank Lloyd Wright for the last sixteen years of his life, but particularly the last three. He died just six months before the opening. Not that he ever waited for the validation of others.
How many buildings still draw crowds and start arguments after fifty years? The Guggenheim has survived cracked floors and a cracked exterior that required restoration. It survived a 1992 expansion by Gwathmey Siegel & Associates, which added tower galleries that Wright never imagined, in an adjacent skyscraper. And people do line up, regardless of the exhibition. Not many shows about architecture attract tourists, but on most days the lines extend outside. Wright might have used Teflon rather than concrete.
"Frank Lloyd Wright: From Within Outward" will not settle the arguments. It uses a tower gallery for Wright's early work, but also for an overview. That alone admits the limits of the ramp, which gently expands as it spirals upward. Wright's curved walls, it effectively says, do not allow proper space for a slide show of his work. One could not stand back far enough anyway to see it—any more than to see many a large painting properly—without falling to one's death in the rotunda. The ramp makes deviating from lock-step chronology hard in the first place, and Wright insisted on that alarming sense of control.
A decorative curtain by Wright blocks off the tall gallery just off the ground floor. Maybe that space, too, has its limits. Two hundred drawings, in watercolor and soft pencil, occupy tables along the ramp. The curved bays and raised floors nearest the walls, they seem to say, would not suit them. One could not get close enough to appreciate the exquisite soft reds and yellows. Instead, one has to navigate the ramp, the tables, numerous scale models, some added partitions, and the crowds.
One had better rest up before running the obstacle course. Wright's galleries have no space for benches to contemplate art. While waiting downstairs, visitors grab seats along the tiny fountain, with their back to it. Other shows have used the fountain playfully, as with a drowned Pinocchio a few months ago, but it seems comical to call it a reflecting pool. As for the single-occupancy toilets between floors, definitely expect a wait. For once, men have to put up with the same inconvenience as women.
The arguments will go on, because the Guggenheim caps an epic career, just as the curves of the TWA terminal came to completion with the death of Eero Saarinen. Wright makes a modern masterpiece, but with the attention to detail of the nineteenth-century crafts movement. He aligns form with function, but only by controlling every function. He nurtures the play of mass, space, and natural light from above, without letting sunlight anywhere near the art. He confronts the big city, which he hated, with a building that bars views of the street and refuses to conform to the grid. In the process, he creates perhaps the best-loved structure on Museum Mile.
From the prairie to the stars
If Frank Lloyd Wright was ambivalent about Modernism, like Ettore Sottsass in design to come, he preceded it and almost outlasted it. Born in 1867, he barely missed the Civil War, and he changed his middle name from Lincoln. His origins in Wisconsin also reflect nineteenth-century America: he, too, looks inward and to the west. One can almost outline his career in terms of the stages of his home. He called it Taliesin, after a Welsh bard, but he designed it for the landscape and for himself.
The first Taliesin, in Wisconsin, had three incarnations, because of fire. It started out in 1911, at the end of Wright's first creative burst. This period includes Unity Temple, designed in 1905 for Oak Park, and the Larkin Company Administration Building in Buffalo, completed in 1906 and demolished for a parking lot in 1950. It includes his greatest concentration of residences, in Chicago—including the Robie House, finished in 1910 on the South Side. He still very much shows the influence of his mentor, Louis Sullivan. Along with Sullivan, he is defining the Prairie School.
He is also revising it. Sullivan introduced America to Modernism and the skyscraper. Wright, in contrast, already fears the uniformity of cities. He builds low, with low, sloped roofs. He staggers bedrooms along an ell, with their backs to the façade, parking, and a front lawn. He conceives even Chicago as a suburb, with the emphasis on enclosure and an acre of green.
He moves only slowly away from decoration, such as lattices and descending wood lamps, much like Pierre Chareau before him, and he attends to every detail. He often plans built-in fixtures, later using the infrastructure to retain and recycle heat. It sounds very contemporary, like green housing, and it applies prefabricated units to very distinct designs. Yet Wright avoids Modernism's repetition and symmetry. He also subordinates function to architecture and the landscape. The Guggenheim calls the show "From Within Outward," but form never never develops simply from function and from within.
A model at the Guggenheim shows the growth of Taliesin, using projection from above. The curators do not update Wright's practices for today's computer-assisted design. They have, however, commissioned most of the models. These show his increasing ambition, as each version sprawls further across the Wisconsin plains. Each includes a greater variety of structures, with a view to house and estate as a community. Wright uses building to remake the land in the name of saving it.
For his most striking escape from the city, he proposed the Gordon Strong Automobile Objective and Planetarium in 1925. Strong wanted a scenic overlook on Sugarloaf Mountain. A road was to spiral up to its objective, in the sense of destination—a huge planetarium dome. Think of it as an early version of the Guggenheim's ramp and skylight, but for cars. It also shows the visionary who again demands unity with nature, but on his own terms. One ascends to the Maryland skies, only to see a simulation of the stars.
Unreal cities
In the 1930s, Wright has a second creative burst and a fresh encounter with Modernism. Now not even the United States can live up to his ambitions. He declares a more utopian ideal, Usonia, short for the United States of North America. Usonian houses include the Jacobs House, back in Madison. The decade also includes his second home, Taliesin West in Scottsdale, Arizona, in 1937. Best of all, it ends with the Kaufmann home, Fallingwater, designed in 1936 and completed in 1939—and recently an inspiration in painting to Stefan Kürten.
Fallingwater marks a radical break, but not so obviously in the direction of the Guggenheim. Instead of confronting its surroundings, it incorporates them: it builds over a waterfall. Instead of a reinforced concrete bunker, it stresses windows and the view. Instead of a spiral or dome, it consists of cantilevered rectangles. It breaks up mass much like the flying rectangles in Russian Constructivism or de Stijl—or even a minimalist glass house, or Pavilion, from Dan Graham.
Yet the Guggenheim's expanding bowl similarly carries cantilevered masses to an extreme. And Fallingwater, too, needed structural renovation to get over its cracks. Besides, it repudiates cities as never before. Wright had already looked forward to the Guggenheim, with the round forms for Gordon Strong. He had used concrete early, although not as early as Le Corbusier. Now with Fallingwater, not far from industrial Pittsburgh, he reinvents nature.
For the rest of his life, his assault on urbanism gets more and more direct. In 1936, he designs a headquarters for Johnson Wax, in Wisconsin, as a complete complex. He introduces a research tower at one end, so that lower buildings can stretch out at the other. This asymmetry develops into crazier and more ambitious schemes for entire communities—first called Broadacre City and, later, the Living City. Proposed skyscrapers reach preposterous heights, with the paradoxical goal of overcoming urban density. Asked to design an opera house for Baghdad at the end of his life, he offers to remake that city, too.
For all that, Wright shows more awareness of Europe. Broadacre City has plenty in common with Le Corbusier's Garden City on stilts. In the 1920s, Rudolph Schindler and Richard Neutra from Austria both studied with Wright before moving to Southern California, and Fallingwater shares their crisp, airy geometry. The Johnson Wax Headquarters even has mushroom-shaped pillars. Could it echo the florid style of their teacher in Vienna, Adolf Loos? Either way, it leaked.
Wright still tells clients what to do. The research tower for Johnson Wax lacked the open spaces of a workable laboratory, resisted upgrade to fire code, and closed. Not that the Guggenheim will tell you so. It never stops for discrete styles, periods, and influences. Its march toward grander and grander visions spares no time for real-world problems. Then again, neither does Wright.
Failure or visionary?
With Wright, a vision always takes precedence over day-to-day life. No wonder he left such memorable houses of worship—the Unity Temple, a Unitarian Society, a Greek Orthodox church, and Beth Sholom Synagogue. The last of these, designed in 1954, again defies geometric logic: in cross-section, a triangle crosses a hexagon. In Unity Temple, pews face a common center rather than the pulpit. Wright cannot tolerate an approach to God through any authority but his.
That egomania can make him seem as remote as so much of Modernism's history. Utopias have become dystopias. Garden cities have led to too many housing projects and not just the High Line. A hatred of urbanism has led to automobile culture and suburban sprawl. The 1957 plan for Baghdad came not long after America imposed another kind of top-down design, with the coup that installed the shah. Do not even mention more recent attempts to remake Iraq.
Yet Wright also seems newly relevant. In his lifetime, his arrogance made most sense to Ayn Rand, who notoriously turned him into her hero in The Fountainhead. Never mind that the free market often turned its back on his work. Now, though, celebrity artists and architects are the norm. Thomas Krens is still pursuing a Guggenheim in Dubai, with Frank Gehry. One of Wright's twisting, tapering skyscraper fantasies has an eerie resemblance to Daniel Libeskind's Freedom Tower.
The show's climax, with the Guggenheim, has its benefits, too. One sees an early domed model for the museum just beneath the actual twelve-sided skylight, and they both look more luminous together. One sees again, too, the museum without the 1992 addition, a flat tower widely derided then as the toilet tank next to the bowl. Wright's original looks so much freer. It looks better still now, with access to the whole spiraling ramp and full light from above. At the same time, he looks prescient for early sketches with an adjacent apartment tower.
The show also raises timely questions about the Guggenheim. Besides its fiftieth anniversary on Fifth Avenue, it is also celebrating its first without Krens as director. He hangs on, though, in shows like this one. He also shares the job of curator with van der Leer, a new assistant curator of architecture and design. The museum is poised between past and future. Will it break away from so many grand, empty exhibitions—even this one?
Mostly, though, Wright seems all too relevant. The show makes him a visionary, and not in the sense of a titanic failure. Instead, it makes him a designer of gallery installations that mix science fiction, urban sociology, spare parts, and sheer ego. That describes pretty much any Whitney Biennial or New Museum "Generational." At least Wright permitted a slim window onto nature and its terra-cotta reds. Now if only the tower addition had included more bathrooms.

"Frank Lloyd Wright: From Within Outward" ran at The Solomon R. Guggenheim Museum through August 23, 2009. I am indebted for background and emphases to Richard Ingersoll and Spiro Kostof, World Architecture (Oxford University Press, 2013). Related reviews looks at Frank Lloyd Wright and the city and the Wright archives.