Abstraction as Recitation
John Haber
in New York City
Jennifer Bartlett, Brice Marden, and Suzan Frecon
In music a recitative lies between speaking and singing. If that sounds like a good metaphor for art, Jennifer Bartlett takes it as a title for her most sweeping painting in quite some time. It is also a kind of safe harbor in the past.
A recitative allows an opera to be "sung through" without bringing the action or dialogue to a halt for an aria. It allows moments of comedy amid grander displays of emotion. It allows characters to address one another or the audience, rather than heaven and earth. Yet it also displays the tension between music and drama that led to Mozart's rapid-fire overlapping voices and, ultimately, Wagner's dream of a total work of art. In a sense, Modernism is all about the fulfillment and utter collapse of that dream. And Bartlett's best work is all about another day, savoring the waking fragments of the dream, and wondering what comes next.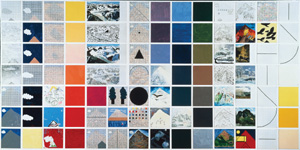 She makes entering a room into an immersion in just that moment. Her best-known work covers the walls with a grid of nearly a thousand identical plates. In 1976, when formalism seemed to have defined painting once and for all and when Minimalism put the very possibility of painting in doubt, she managed to take on both claims—and then some. Rhapsody built from the search for a common language, and it cherished the languages of art it knew. Yet its grid within grids spins out into new elements, most notably a house as a child might imagine it, and then into black. As one looks from left to right, the possibility of seeing painting as a time line becomes impossible.
Now, at seventy, she tempts one again with reductive logic. Recitative again covers three walls with enamel on baked steel, and the gallery even uses its fourth wall for a display case of her past catalogs. This, it seems to say, is the definitive Jennifer Bartlett. Now, almost by definition, the definitive Jennifer Bartlett is never definitive. Along with Brice Marden and Claire Seidl, she asks what painting in the present can still add. And along with Suzan Frecon and JJ Peet, like dozens of others in galleries and open studios, she asks whether painting in 2011 can be not just tasteful and formulaic but ambiguous or even fun. The answer is by no means clear, but maybe that is the point.
Scaling abstraction
With Recitative, Jennifer Bartlett returns to her roots, and that does not mean a garden. Thirty-five years ago, she took the measure of art—or maybe three measures. Rhapsody works from the scale of a gallery, the scale of the small plates that lined its walls, and the scale of a brush mark, which in effect defined the grid within a plate. When it took on MOMA's atrium five years ago, it supplied another missing element as well, a bridge between the museum's history and contemporary art. More recently, Bartlett has painted a garden, as if in tribute no longer to minimalism, but to Joan Mitchell or late Monet. Or maybe the successful artist has simply moved out of the house that, in Rhapsody, vies with abstraction.
Recitative keeps the scales but throws away the house. Its title may well suggest a musician running scales or a schoolchild doing recitation. And it is a virtuoso performance, but completely abstract and within the styles around her when she began. Naturally she quotes herself, starting with the medium of enamel on baked steel. The plates have first the small grids and then single fields of color. They again settle at last into black and white.
In Rhapsody, Minimalism and color-field painting are implicit in the form. Now they are explicit in quotes from others as well, like what another show calls "Geometric Days," and these others were finding their own ways past a minimal logic. The first wall ends with the firm curves of late Marden. The second wall opens with the surprise of drip painting, before diagonals out of Frank Stella and cross-hatching out of Jasper Johns. The work ends with white plates tilted like the folded canvas of Dorothea Rockburne. The grid that allowed so much virtuosity has broken down entirely, but it offers a ground for something more—spare, fluid black curves.
Bartlett breaks the grid almost from the beginning. Where Rhapsody has nearly a thousand plates, Recitative has fewer than four hundred. It fills a posh Chelsea gallery larger than Paula Cooper's Soho space back in 1976, but the columns vary in height. Like a bar chart, it could well take abstraction through those lean years when people called painting dead. The physically open spaces also insist on an open-ended future. Still, the final loose curves have the sense of an ending, as Rhapsody does not, and that ending lies in the past.
Maybe that explains why Rhapsody is exciting, whereas Recitative is just deeply satisfying. It is not giving painting a way to survive, but taking well-earned pleasure in its survival. It is not so much looking around as looking back. Maybe that explains, too, why one can see signs of the 1970s all over the place right now. Some painting out there is pleasant enough, if derivative, and much more is just plain boring. Some, though, shares Bartlett's enigma of past reflection and present satisfaction.
I thought of her with the colorful radial geometries on the wall recently from Odili Donald Odita or, less daringly, Yves Oppenheim. Jeremy Gilbert-Rolfe returns to his own practice from decades ago of large canvas, strict grids, asymmetry, and fields of white, but with small brushwork that makes me think of Bartlett's encyclopedia. Many others have embraced her space between abstraction and bare signs of the real. It seems an odd time to complain about a dearth of attention to traditional media, but artists do it constantly. The real question is what they have to add. Perhaps there is nothing new under the sun, but at least the garden in sunshine is more colorful than ever.
Something to add
At seventy-two, not every artist has something to add. Brice Marden does—and not just seven new canvases, a dozen large works on paper, and a room of older drawings. He also adds gray, in a border to either side. But addition was always a vital part of his painting. Curves and ground weave and trace over one another, sometimes fading out at their own edges, in degrees of brightness, opacity, color, and shadow. Each painting's date, the entire range of years since Marden's 2006 retrospective, also makes clear how painstakingly it grew. However, its stopping short of the edge is something new.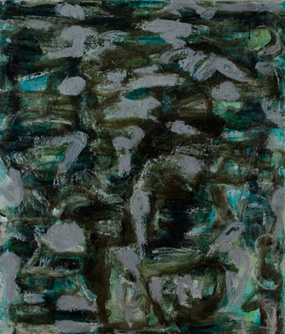 For the catalog, Jeffrey Weiss describes the addition in formal terms, as "a complex play of color and value in pictorial space." For me, the gray acts more as the paradox of a neutral point of reference in an indefinite space. And Marden's underpainting recedes more than ever before. The strips also represent a margin, identifying the central field with a page and its characters that much more with calligraphy. A trip East helped inspire his transition in the 1970s from nearly monochrome compositions to long, gentle lines an inch thick, with their echoes of Asian art. Marden has traveled again since his retrospective, and he calls the new series "Letters." In an age of globalization, one could call it his letters to the world.
One can see the verticals, too, as in quiet dialogue with his own earlier paintings. In fact, for a time his work had fields at top or bottom. Now in gray, the additions are literally self-effacing (not to mention a little boring). They are also figuratively so, refusing the "all-over painting" of Jackson Pollock. Meanwhile, by still extending to the top and bottom of the canvas, the increasingly muted central swirls refuse self-expression in the western tradition of a framed, signed image. They are a majestic signature all the same.
For some time, gestural abstraction has promised a sure route to academic drivel, especially on an easel scale. Wallace Whitney gets away with it by making a real virtue of drivel—or even taking it literally. He combines broad strokes out of Willem de Kooning with watery colors closer to Arshile Gorky, like expressionist sign painting. Roger White replaces de Kooning's or Gorky's echoes of human flesh with the clothing to cover it. What look like flat, floating shapes out of early Ad Reinhardt derive from shirts and rags. Today even an apparent return to esthetic purity embraces signs of the times.
Claire Seidl comes closer in form to Marden himself. She works in layers not always easy to order or to tell apart. The topmost often approach calligraphy, in thin marks that sometimes break up entirely. Up close their textures, from liquid to dry, contrast with the denser painting below. From further back the entire composition may resemble brickwork or water. One could take the reds or greens for substance, shadow, or reflections.
Seidl's photographs from a few years ago work much the same way. In time, the dark interiors settled into people and furniture. The paintings use color freely, but with the same sense of darkness. The deeper the pictorial space, the closer it comes to shadow or surface. For all I know, it might have swallowed up her whole family again. That could give new meaning to the term second-generation Abstract Expressionist.
Finding the words
In the gallery, one could dismiss Suzan Frecon as dated and tasteful. I know I did. Large but not too large, her major paintings consist of two wood panels, stacked vertically and each of the same scale. Ovals swell rather than burst outward from the central and lower horizontal, in muted primaries as if seen by night. I thought of Adolph Gottlieb, chastened by Minimalism. And then I found myself in her West 39th Street studio one evening, thanks to the Elizabeth Foundation for the Arts.
Its studio program grants its artists space for two years, with open studios in mid-October. More than a few artists stood out, in many media, both there and in open studios that same weekend in Chelsea. Frecon's studio work is smaller but positively demands attention. Gold, in a wide vertical band, may add a final layer both visually and materially apart. It makes the underlying oil colors that much richer and more private, bringing the painting closer as well. Formalism may have some life in it after all.
What had changed? Certainly the gallery's white box matters, and at David Zwirner painting can hardly help looking stranded and polite—even when, like Lisa Yuskavage, it bends over backward to shock. Perhaps, too, the smaller work was just better. I mostly find open-studio weekends a total drag. Still, amid a market in need of established names and rising stars, EFA and Chelsea have a welcome mix of emerging artists, newly established ones, and older ones like Marjorie Welish who fortunately keep plugging away. I apologize that I shall not single out more by name—but I could never fairly review all the studios out there, and you will not have had the chance to see them.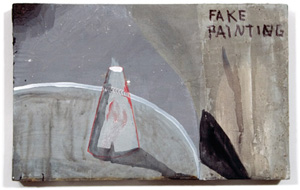 Or perhaps it is getting harder to make great painting, because it is getting harder to make great art. After the "originality of the avant-garde," it is harder even to speak of "greatness" without the quotes. There are still plenty of wonderful artists and exhibitions, but art's expanding field more easily swallows them all. Where Clement Greenberg once asked a medium to be true to itself, now impurity is the point. Not that a cable or clutter of hyperactive installations has chased away the handmade. After way too many art fairs, group shows, and studios, I often wish it had.
Sure, follow the money, but trashing the gallery is already old news. Critics pounced on Dan Colen at Gagosian and the old porno photos of Jeff Koons, because it is now entirely safe to do so. Do I really have to review those shows? No, this is my site, and I do not. Painting was never dead after all. The only trick is that it has come back as much more than painting.
I hesitate to write about a show when I simply cannot find the words. Maybe painting as opposed to conceptual art and mixed media makes it that much harder. For one last example, JJ Peet's still life, like a metronome's ornery shadow and a camera shooting or absorbing light, has the pleasure of Morandi after a night of binge drinking. I just did not feel that I had enough grasp of his painting in context of his past videos and assemblages. I admired Julia Goldman's "Swimmers," in washes and thicker areas that echo breaking the surface—but I kept worrying that I had not said enough. Wait and see what art demands new words next.

Jennifer Bartlett ran at Pace through February 26, 2011, Yves Oppenheim at Perry Rubenstein through February 12, and Jeremy Gilbert-Rolfe at Alexander Gray through February 12. Odili Donald Odita ran at Jack Shainman through December 23, 2010, Brice Marden at Matthew Marks through December 23, Wallace Whitney at Horton through November 13, Roger White at Rachel Uffner through December 19, Claire Seidl at Lesley Heller through December 19, Suzan Frecon at David Zwirner through October 30, JJ Peet at On Stellar Rays through October 24, and Julia Goldman at Museum 52 through October 14.