Going Through the Roof
John Haber
in New York City
Claire Seidl, Thomas Lendvai, and David Ersser
Christoph Morlinghaus and Susan Leopold
Laura Newman hovers between genres, not unlike her subject—the restless gaze of a New Yorker, peering over rooftops at night. Claire Seidl hovers more restlessly yet, between family photos and abstract art and between moments in time. Are they embracing gallery spaces as architecture or looking past it into imagined futures?
Thomas Lendvai and David Ersser do both. They use their own woodwork to bridge the white cube and the A-frame, while Christoph Morlinghaus photographs architecture as a hymn to absent dimensions. He makes me want to make up for the absence by seeing buildings this alive in person. Last, Susan Leopold and the artists in "No Woman, No Cry" treat domestic interiors as dollhouses too restless not to change. Raise high the roof beam, carpenters.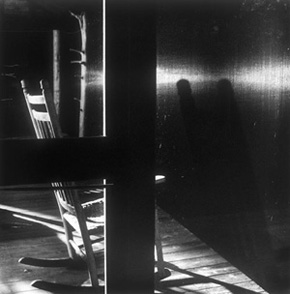 Friendly spirits
Maybe no one else has quite the combination of painter, sculptor, architect, and voyeur in Cordy Ryman. His paintings have a way of climbing into the corners of a room, even when brightly colored stretchers lay behind, stacked roughly on the floor. Laura Newman, though, does paint, with geometries that evoke night views onto distant buildings. Other materials often underlie her paint, giving tar beach an almost natural texture. Bright blues substitute for the night sky, crossed by paint-streaked lines and trapezoids that take on patterns of their own.
They look like abstractions at first, and they avoid the curves of water towers or the jazzy lettering of Stuart Davis and Stuart Davis drawings. Yet they do not altogether dismiss urban rhythms. Nor does Elizabeth Peyton, who might have moved from the celebrity circuit to a park bench on the Upper West Side.
Claire Seidl, also a painter, has her own architectural imaginings. Her photographs of a rural home have the strangeness of photograms, with intense light sources that produce shadows alternately brooding and crisp. I thought of other personal landscapes in black-and-white, by Eileen Brady Nelson. Seidl, though, accumulates human detail. Sunlight through the imperfections in worn windows traces a rainy night. Spheres of light hover as in the staged spirit world of nineteenth-century photography.
Those spheres turn out to be older family members and friends seated at dinner. The more one looks, the more they take on recognizable shapes and personalities. The artist says that they enjoyed recognizing themselves in her art. The coalescing blobs let ordinary viewers join, too, in the humor and animation. Heightening the realism, the course of a meal necessarily constrains and defines the long exposure. This is not metaphysics, but a party.
Seidl's photographs do not always play tricks. The most abstract do not rely on long exposures, not even when they hint at multiple time scales and multiple points of view. None involve special processing later. The grayest emphasize layered rectangles of windows and wood frame. Once abstraction both incorporated and rebelled against the idea of a picture as a window onto nature. Here one's gaze enters the encroaching darkness.
At the dinner table, the multiplicity becomes particularly explicit. One has the shot, the original scene, the gap between generations observing and observed, and the deep history of New England, as preserved in the aging wood of the ceiling. The five years of work in the show, the endurance of a photograph, and the viewer's commitment all have scales of their own. The elderly move that much closer still to a longer view, perhaps the eternity of those glowing spheres. In another photograph, an empty chair faces the brightest glow of all, seemingly apart from the light source. There light must have reflected off something in the night sky, but even the artist had to wonder at its reality.
The last lath
Chelsea has no shortage of windows and timbered ceilings, along with drywall and steel steps. For a moment, though, the white cube gives way to some old-fashioned woodwork. One gallery has extended its summer group show, "The Lath Picture Show." Elsewhere Thomas Lendvai seems to have brought his summer time-share back to the city. His blond wood slats span one room and protrude into the next, just above eye level, as if the rafters had descended and thrust right through the walls.
Lendvai calls his A-frame memories Between Pain and Boredom. He avoids them both. He also proves that spare art can fill a gallery. Chelsea is still poised between car washes and condos, not to mention several hundred galleries. And much of the art represents a changing Middle America to a select audience that can afford the coasts. All this turmoil may explain the renewed interest in Gordon Matta-Clark and his "building cuts"—or "The Building Show" a few months before.
David Ersser supplies not just another paean to wood, but the tools to make it possible. He has crafted an entire workshop in balsa wood. His finely sanded, unstained surfaces have the rawness and polish of their title, Nothing but Heavy Duty. A wooden power saw slices across a broad wood sheet, its wooden electrical cables wind smoothly along the floor, and the whole rests behind, naturally enough, a wooden partition. They convey an impressive illusion, heightened by the cheap material associated with toy airplanes. Sawdust adds to the comic self-reference.
Wood here speaks to more than Chelsea. Ersser recalls a time when craft mattered, to artists and as a way a life. With its echoes of rural America, it does not seem too much of a stretch to speak of spiritual values. At the same time, his work is a modern act of self-construction. In the same gallery's main space, Christoph Morlinghaus pursues the same themes, through actual modern architecture. He calls his photographs "Form/Faith," as if unsure whether to alternate or equate the two.
Morlinghaus, who also does commercial photography, finds beauty in Modernism's form and empty spaces. Like Andreas Gursky and Willa Nasatir, he clearly wants more, in a tribute to the recent past and a heightened spiritualism. Earlier, he photographed the TWA terminal at JFK airport by Eero Saarinen. Then abandoned, it may yet become active. Ironically, Williamsburg art is now on the reverse course.
The newer photographs capture church interiors, all by well-known architects, Saarinen included. Where before Morlinghaus gave ample space to TWA the terminal's walls and interior, here he frames his shots more closely, so that walls and, especially, ceilings press against the picture's edge. Where the terminal's beauty depended, too, on muted artificial light, cast shadows, and austerity, here he plays up sunlight passing through colored glass. Where the terminal came by its lack of human traffic naturally, here churchgoers are conspicuous by their absence. The buildings look larger than life but also abstracted from life. Modernism, he seems to say, would have liked it that way.
Other voices, other rooms
They look like dollhouses, a friend said, and so they did—except that not one of them contains a doll, and, I think, they never will. They barely could, for few hold more than a single room, if that, although they all offer glimpses into other spaces, from rooms beyond to a world outside. Besides, they hang on the wall, lit from the gallery and from within, like art. It was my second visit, and I should have known by then what to call them, but Susan Leopold had me guessing from the first. The gallery kept the lights down, to make them the brightest spots in the room. It also had me approaching art a little more slowly than usual, and as I did the images before my eyes seemed to change.
I took them at first for paintings, with a meticulous realism and the natural glow of oils. Their small, uniform scale comports with the conventions for fine-tuned cityscapes—not the boisterous domestic interiors of Dutch painting in the age of Rembrandt, but ordinary street corners for Ed Ruscha or Rackstraw Downes.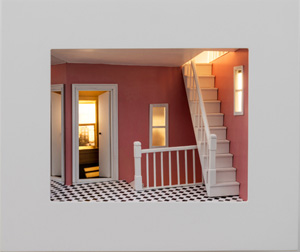 Like Downes, Leopold adopts a corner point of view, so that perspective directs one's eye to either side. Like Amy Bennett or Seidl in painting and photography, she also uses windows to hold out the idea of other lives that one will never see. As I approached, though, a part of the scene seemed to disappear, while another part opened up before my eyes. For another moment, I mistook things for videos.
Make that something more old-fashioned, for Leopold sets them in something like light boxes. The interiors, with walls almost close enough to touch, promise old-fashioned comforts as well. So does their workmanship, for up close she plainly constructs them in three dimensions, like dollhouses after all, but with the addition of photographs and mirrors. Yet she imagines them in perspective in two dimensions, so that the eye fools one into seeing a greater depth. The scenes seem to change because the perspective conforms to views to either side. They move because viewers move—or simply turn their heads.
They function as dioramas, but in miniature. One can overlook the distortions that entails, in part from a misplaced nostalgia—and in part because they cut off access to their spaces with abrupt endings and the dizzying projection of winding stairs. Windows reveal little more than the blur of bright lights. They leave one at once at home and outside, like voyeurs onto one's own life. Leopold calls the show "Beyond Silence," and one can decide whether beyond functions as an intensifier, for a still greater silence, or a promise of other sounds. As Truman Capote titled his memories of isolation and of home, they belong to "other voices, other rooms."
Leopold's windows hint at living close to others, as in a city, while the craft and style of her interiors could belong to suburban or rural life. So might the tiny antique sets of "No Woman, No Cry," but achingly close to life. Not that Anne Mourier includes dolls in her miniatures, but they invoke life in their very emptiness and cruel confinement. The confinement extends from thick wooden frames, like Leopold's but in a darker wood, to their imagery—of locks, bedpans, and a woman's hard labor. Shovels, stairs, flat irons, and pile upon pile of folded fabric attest to ceaseless labor. Mourier sets out the bedpans in a seemingly endless row, connected only by the empty bed before them, and the irons in a long train connected by dark orange traces, burnt into the wood but hanging down like chains or like garments still in need of pressing.
They come not without pride in their handmade constraints, like dresses and corsets for Holly Laws, set in bell jars as if for a man's scrutiny. They spread as if flowing. Carmen Lozar bases her fussier glass figurines on the clothing and accessories of famous couples, like Diego Rivera and Frieda Kahlo. Their unseen women seem to mourn, though, even amid their hopes. Mourier's incomplete circle of chairs, small in size but ever so large relative to its components, suggests a church's overwhelming authority—and a space too vast for anyone to breach. As in a city today, try to fit a community into a box, and you never know who you will fail to see.

Laura Newman and Claire Seidl ran at Lesley Heller through October 27, 2007, "The Lath Picture Show" at Friedrich Petzel through September 22, Thomas Lendvai at Winkleman through October 6, and David Ersser and Christoph Morlinghaus at Roebling Hall through October 6. Susan Leopold ran at Elizabeth Harris through March 28, 2015, and "No Woman, No Cry" at Muriel Guépin through May 3.