Whatever You Like
John Haber
in New York City
The 2016 New York Art Fairs I
So what should you see at the New York art fairs? Whatever you like.
Every year, critics trot out their lists—the top ten, the don't miss. And every year I refuse. No, not because I have a better idea of criticism, one that makes me ask instead what the art I value or, for that matter, the spectacle of art fairs is all about. And no, not because I am tempted to forget not just listicles, but the whole thing. Any year now, I shall refuse to write a postmortem to March. And, any year now, I shall have the courage not to attend at all, and maybe so will you.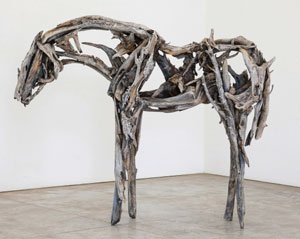 But for now I mean something else. All those competing artists, exhibitors, and fairs carry a promise: you can have your every desire and, yes, whatever you like. That is, after all, the message of the market. "Your debutante just knows what you need," as Dylan sang, "but I know what you want." Just bear in mind the quotes around you, and you might start to enjoy the fairs.
In a second part of this review I follow them elsewhere in March and into May. Since Flux has moved from a Harlem landmark to the hills of Marcus Garvey Park, with a few dozen more artists and another part of town, allow me to take it up later instead, with summer sculpture in the parks. Is it even a fair, and does its largely white cast owe anything to its community? Consider its message something else again: New York is always a fair and always a global community, with more than you can even locate, much less choose. Then again, that was my conclusion already, right?
No winners
I found it harder than ever to pick winners this March and May, but easier to enjoy looking. I could see why some dealers thrill to the opportunities in hopping from city to city and fair to fair. One said right out that he no longer cares about having a gallery in New York. Collectors are not looking at his location, he explained. They are looking for art. Perhaps, although costly art fairs still put a huge burden on struggling dealers, and art and money are still a treacherous combination.
For 2016, though, things seem more and more to be shaking out. The hierarchy of fairs seems clearer than ever, along with the purposes and audiences of each. Once again, then, let me offer an opinionated tour—starting with the one every visitor to New York feels obliged to see, the Armory Show. With its two piers for "modern" and "contemporary," hundreds of galleries, and who knows how many artists, it really does make little sense to pick winners. Here a Brooklyn pioneer forced to the Lower East Side can share a pier with a Chelsea and Upper East Side stalwart, where even Frank Stella is just one artist among many. Here, too, even the Bruce High Quality Foundation, created to parody fairs and markets, is welcome.
Is that leveling everything beyond recognition or elevating everything beyond criticism? That, too, is a capsule of the market, with Frieze and more still to come in May. One can see the sameness in the recurrence of artists across booths, like Kehinde Wiley with a Brussels dealer as well as Sean Kelly in Manhattan—or indeed the of Stella. Featured booths also have their disappointments. A "projects" section brings some downtown galleries into the action, but the "focus" section, introduced in 2015, does not offer much of a focus. Its single-artist booths have something to do with Africa this time out, but not a whole lot. I preferred the furniture designs for the aisles, by Bade Stageberg Cox, in contrasting woods and ingenious geometries.
The "modern" pier falls even flatter. Last year I could ask what of Modernism's breakthroughs is still for sale. This year brings fewer surprises—and more patent efforts to claim even younger artists for the dignity of art history. (Let me not name names, out of common dignity.) A Spanish gallery, Mayoral, places Joan Miró in his studio, but that means little more than easels for props and art for sale. Tokyo's Whitestone Gallery presents an entire movement, Gutai, although one that museums and galleries know cold.
The fair's narrowness comes more into focus. Work for sale, at a healthy price, translates into mostly painting, with sculpture little more than tchotchkes. Political and conceptual art are rare, lest they question the fair's or the collector's very existence, but then so is folk art, even as outsider art has entered the mainstream. Even photography is hard to find, beyond a tenant farmer's wife by Walker Evans. There must exist enough prints of it to fill the Dust Bowl. Maybe one cannot have it all after all.
One might well take the other fairs as direct responses. Just what, each asks, does the Armory Show leave out, starting with the ordinary experience of art? A weekend in the galleries or open studios is not like this at all—and not just because it is less hurried. Of course, artists can simply refuse to play, and a group took over a room in Chelsea as the "anti-fair for independent artists." But then they may not have a fair or a point at all. Consider, then, the alternatives.
Between wealth and DIY
The ADAA Art Show presents an obvious challenge to the Armory Show, including taking back the Park Avenue Armory. It also has the bigger show's air of class and privilege, but with more time to look at art—and some missing pieces. Serious sculpture? Skeletal horses by Deborah Butterfield at Danese Corey, from torn and dried branches, have never looked more parched and wind-swept. Outsider art? Bob Thompson at Donald Morris and Bill Traylor with Betty Cunningham take folk idioms and African American art alike into the mainstream.
Conceptual art and photography? Carolee Schneemann with P.P.O.W. and Gillian Wearing with Tanya Bonakdar return to both in feminism and performance. Galleries largely devoted to photography appear, too, in Pace McGill and Howard Greenberg, while Fraenkel hopes to claim not just Robert Frank, Robert Adams, and Lee Friedlander but even Diane Arbus for road pictures by setting them beside Edward Hopper. Cutting edge? Let us not go that far. This all-American cast is still blissfully sleepy.
Indeed, one could pass the entire week with little in the way of the last thirty years. For all the painting, one has almost nothing of its current eclecticism. One might have a taste, though, in perhaps the most direct challenge to the Armory Show, just a pier away. Volta began with an insistence on single-artist booths, as closer to that missing experience of art. Oddly enough, as the idea has spread, this fair has loosened up a bit. After a few years of glitz, it has also recovered an international cast and a degree of dignity.
Right on the way in, Beta Pictoris pairs abstraction by Manuel Caeiro and Leslie Smith III. The first uses candy stripes like road barriers to penetrate space, the second fields of color somewhere between Robert Motherwell and Donald Sultan. Less successfully, a section breaks further with the rules, for a curated show of body art on pink carpeting. Still, booths put artist names in larger type than the gallery, with much of their original impetus intact. As for eclecticism, one might compare Joan Waltemath at Hionas with Justine Frischmann at George Lawson. Both overlay a sense of architecture with a mediating mist. Waltemath bases her paintings on geometric abstraction, while Frischmann begins with architectural photography, in screen prints bonded to aluminum.
Volta challenges the Armory Show but partners with it, too, sharing VIP lists, and therein lies an interesting quandary. Who can still stand out, in what approaches a single giant fair for Minor Modern Masters? Not Scope, parked right across the street, which has taken on the dregs as others have found their niche. Not Spring Break either, up in the grand Farley Post Office behind Penn Station. In its second year, curators include some excellent artists and the partner in one fine Chelsea gallery—while adding bad painting, worse video, and better lighting to those attic rooms piled with used clothing and furniture. The result is the worst open studios ever.
One can search instead for outliers. Zürcher gallery again dubs itself Salon Zürcher for the occasion, with guests from Europe and New York, but only one local "brick and mortar" gallery. It has appealing sweeps of color, too, in paintings by Marina Adams, Lizzie Scottand, and Marc van Cauwenbergh. Still, firmer challenges depend on the middle ground between the excesses of wealth and DIY. One approach seeks that middle ground in galleries. Yet another sticks to specific media—but you will have to read the second part of this review to find out.

These New York art fairs ran mostly March 10–13, 2016, and (for some in the second part of this review) May 5–7. Related reviews report on past years, the AIPAD Photography Show, and a panel discussion of "Art Fairs: An Irresistible Force?" And do not forget the 2017 art fairs coming up.