The Art of Struggle
John Haber
in New York City
Harry Bertschmann, Older Artists, and Cynicism
On a first Sunday in January, The New York Times rang in the new year with an older artist. Maybe youth is wasted on the young, but Harry Bertschmann is still a spirited outsider. The headline called him "The Struggling Artist at Eighty-Six."
Many a struggling artist could take heart. In a game where the big money bets on the young or familiar, someone else is clamoring to be heard, and the art world is listening. Although the profile has a tin ear, there may yet be grounds for hope. The good news is that the system is already recovering older artists, far more diverse, and far less rigged than you may think. The bad news is that these changes, too, are tied up in careerism and cash. Could the good news outweigh the bad?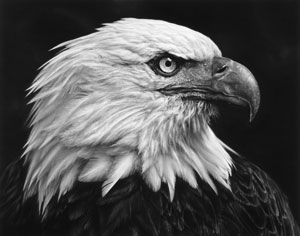 Money, it goes without saying, empowers art. It has built palaces, churches, and museums. It enables an unprecedented number of artists and galleries competing for attention today. All well and good, but it is not always such a pretty picture. That can make anyone lose heart, but cynicism is disabling all the same. It also misses the actual dynamics of the struggle.
Youth is wasted
That Times profile sure sounds promising—and a parable of everything right and wrong with art today. It describes an artist with the guts to keep working, and that work may yet pay off. He knew Mark Rothko and Franz Kline, at the very heart of Abstract Expressionist New York. He had the support of Henry Geldzahler, the curator who brought contemporary art to the Met and befriended David Hockney and Michael Hurson as well. If Bertschmann never quite made it, says The Times, put it down to his distaste for glad-handling and for drinks at the Cedar Bar. Yet he and a dealer are now feeling each other out.
Listen again, though, and something sounds off. The profile appeared in the Metropolitan section, style pages with little input from the paper's powerful critics. It tells a good human-interest story, with gorgeous views from the artist's studio by the South Street Seaport to boot. It seems unaware that Bertschmann is younger than some leading Minimalists and Pop artists, with a studio not far from where Agnes Martin and James Rosenquist had theirs. He may have been a bit underage to do much drinking with Willem de Kooning. He might have suffered as an artist without connections—or a derivative artist who clung to a style past its prime.
The article makes it impossible to know, although its photos of his work behind him in the studio are all over the map. Could they describe the development of a determined artist or rather a lack of one? I very much hope that he gets his major exhibition, both for his sake and so that I can see for myself. If so, the profile will have played a role, but it is less a new perspective than a sign of something larger. Others, too, are recovering older artists, and some worthy dealers dedicate themselves to just that. The Times may be behind the curve after all.
Not so long ago, the obsession with youth seemed everywhere—and understandable. Who would not want to discover the next Jean-Michel Basquiat before he burns out on drugs and fame? (Youth is often wasted in more ways than one.) The obsession drives repeated shows of emerging artists like "Greater New York" at MoMA PS1, the series from "Freestyle" to "Fictions" at the Studio Museum in Harlem, and the "Generational" every three years at the New Museum. The first triennial even sported the title "Younger than Jesus," and god was not in the details. While bigger names go for record prices, shows like these promise to elevate newcomers to their ranks.
Then again, who would not rather discover another Michelangelo or Leonardo da Vinci? When curators attributed a painting to Michelangelo at age twelve, it boosted attendance. When a third-rate Renaissance painting picked up an attribution to Leonardo last year, it sold at auction for millions, and you can see why. Budding museum-goers and collectors may know little more than names. Demoting a painting can make a curator's career as well. No wonder the Met has brought its clout to the Northern Renaissance, the Mérode Altarpiece, and Petrus Christus.
By the same token, who would not want to discover the next Jackson Pollock? An overlooked older artist can pay off for a dealer, too. Here the artist's generation already comes with a healthy price tag. Recovery also plays to justified demands on behalf of women artists, African American artists, Latin American artists, LGBT artists, and others from around the world. Besides, the American population is aging. Surely some of the most sought-after readers saw themselves in that Sunday New York Times.
More than one American Modernism
These are heartening changes, and museums are getting on board. Just this last year saw "Women in Abstraction" at MoMA and "Black Radical Women" from the past in Brooklyn. It picked up an artist as mature as Carmen Herrera, born in 1915. A retreat from youth can have its down side. The last "Greater New York" turned into a rehash of the AIDS crisis. Yet there, too, diversity was at stake.
Not that artists are finding things easy, young or old. Just among friends, I can mention two disheartening stories of artists past seventy. At a party, I admired a colorful dome by a sculptor who has had a Soho loft since the neighborhood felt like a community. He only wishes that he could find someone willing to take it off his hands. Painting by another has a second home at the Union Square Cafe, now a couple of blocks up Park Avenue South. The move could serve as a metaphor for her many forced changes in galleries, studios, and art.
The market is competitive, discouraging, and arbitrary. If The Times has made a beginning, so many others, too, have stories to tell, and some galleries make a point of telling them. The stories may not always convince me, no more than the profile. Yet qualms are worth noting as well. Alternative histories should not devolve into unquestioned celebration. That would just reinforce the power of the market.
Often I never get around to describing a show for lack of urgency, but that need not mean lack of interest. Again, take just two examples—this time both older women. A fine Chelsea gallery devotes itself to "second-generation" color-field painters.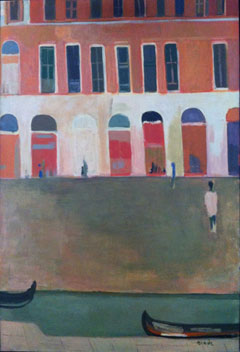 As with Bertschmann, that amounts to artists who largely missed the boat. Now it has Ann Purcell around 1980, thinking hard about how to stay modern. Meanwhile an established gallery and newcomer to the Lower East Side has Janice Biala in much the same years but with a spare realism.
Purcell at age forty may not have been having a midlife crisis, but the movement sure was. Her solution was to structure a painting around its canvas. Collaged strips play against other colors, often just off the vertical. Biala, who styled herself as just her last name, was past eighty. She could look back to an affair with Ford Maddox Ford and to close ties to the New York school, including her brother, Jack Tworkov. She connects those generations of Modernism with interiors, exteriors, shifting vantage points, and sudden leaps in scale.
Neither artist may escape the charge of throwing colors around partly bare canvas, but both also make a point of subjectivity. Purcell works against the grid without quite insisting on it. Biala's brushwork may settle into an equestrian portrait after Diego Velázquez, a black cat, her studio, or a canal in Venice. It may take on natural light akin to that of Fairfield Porter or fall flat. Is either artist the real history of American painting—or its future? No, but anyone writing history now is struggling.
The art of losing
Money talks, and what it says about art may be a lie. It places contemporary art amid what Jerry Saltz has called the battle for Babylon. It piles on art fairs, art advisors, blockbusters, and museum expansions. It busts museum budgets and drives galleries to extinction. And it weighs most on the midlevel dealers that do most to establish and to renew contemporary art. Art's future would look very different without them.
Yet even that overlooks a further cost, a pervasive cynicism. Something like it has taken its toll on American politics—breeding a sense that both parties have sold out to corporate or international interests. When it comes to artists, you can hear much the same anxiety day in and day out. They hear the clamor, and it starts to feel rigged against them. Take just two examples from social media in the dark waning days of the last year. As Elizabeth Bishop wrote, "The art of losing isn't hard to master," but they lost it.
One Facebook post asked why critics cannot muster the courage or honesty of negative reviews, and readers rushed to agree. Another artist and teacher commented on my review of Robert Longo in the company of Sergei Eisenstein and Francisco de Goya by asking how the Brooklyn Museum had sunk to the level of MoMA, with its shows of Bjork and worse. I tried to explain that I seek to explain rather than to judge, positively or negatively. No one can linger over the worst among the dozens of openings each and every week, and no one who cares about expanding a reader's horizons should. I can only do my best to make the case for good artists and for what critics can bring. At the same time, I do speak out against much touted artists and exhibitions, and I invite you to see whether my judgments hold up now.
I was missing something all the same, and I mean the cynicism. It turns disagreements into betrayal, and it comes through loud and clear in the case of Longo. A long-time artist rather than celebrity, he is of little use in pandering to the public. Besides, he in charcoal, like Goya in a printer's acid, can draw. While "theory" has gone out of fashion at storied art magazines, in favor of good news, that does not mean critics have lowered their standards to keep their paycheck (in the unlikely event that they have one). If anything, careerism leads to hostile reviews of art stars, because controversy sells, much as it did for a critic like Robert Hughes.
I take for granted that politicians believe what they say, even when they are wrong, although the party of Donald J. Trump has sorely tested that assumption. I take for granted, too, that critics are sincere about what they like. The usual suspects, like critics for The Times and The New Yorker, are also pretty clear about what they dislike. Why, then, assume that something has gone horribly wrong? The answer lies in the cynicism and resentment—or what Nietzsche might have called ressentiment. Anyone who has struggled for years can fall into it, including me. When others do better, it follows, someone is not up to the job of taking them down.
There really is an art of losing, the kind that keeps artists rebounding, questioning, and pushing the boundaries. And losing faith in others can mean losing faith in art. The balance is trickier than ever, now that art has moved closer to the mainstream, in that strange nether world between mass entertainment and the avant-garde, but also more essential. As a friend puts it, the market celebrates celebrity, mediocrity, and youth, but that does not excuse bitterness. At some point, you have to look inward with all your ambition and your doubts, even as you have to keep going. It might be the first step in recovering belief in yourself.

The New York Times profile ran January 18, 2018. Ann Purcell ran at Berry Campbell through February 3, Janice Biala at Tibor de Nagy through February 11.