The Pressure Is On
John Haber
in New York City
The 2017 New York Art Fairs I
What can you find at the art fairs? Whatever you want—perhaps even that endangered species the dealer.
Already a few years ago, celebration of the New York art fairs mixed with concern for the pressure they put on galleries. It costs real money to compete for attention, in weeks that practically require a short attention span. Last year a panel asked whether galleries might just as well pack it in, and many have. Does one need to pay the rent on a "brick and mortar" gallery if one can just as well work behind the scenes—and in public at the fairs.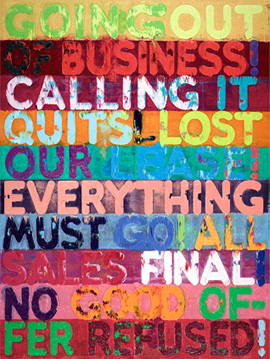 That alone makes the 2017 art fairs less superfluous for New Yorkers up on the galleries (and a second part of this report carries the story into May). At least they would like you to think so.
Brace yourself
And the pressure is on. The Armory Show has added so many features that one can barely find one's way. NADA has moved up to join the action, while Pulse has packed up entirely. Many galleries shell out for more than one fair at that. And yes, you can catch lost and lamented dealers, although only a handful—and I can name a survivor who relied on the fairs for his sole presence in New York but has now given up. Thankfully, though, you can still find plenty when it comes to art.
You can find what you want at the ADAA Art Show, if only you aim high. Seeking a new history of Abstract Expressionism? Jackson Pollock, at Washburn, faces off with the woman he betrayed—with late work by Lee Krasner at Paul Kasmin that trades her usual structure and complexity for bursts of color. Norman Lewis at Michael Rosenfeld and early ink drawings by Arshile Gorky at Hauser & Wirth provide pointed alternatives to both. Looking for other strong women? If you are male, Betty Tompkins at P.P.O.W. and Joyce Pensato at Petzel are once again in your face. Tompkins also takes a break from her female private parts to paint Man's Best Friend, and she does not mean a woman.
George Inness shows the mistier side of the Hudson River School at Thomas Colville, while Chris Ofili at David Zwirner tries his level best to stay relevant without the imagery or the poop. Bill Jensen turns to black, at Cheim & Read, and Sarah Crowner to silhouettes like clothespins, at Casey Kaplan. Alabaster blocks by Ettore Spaletti, at Marian Goodman, meet rag blocks by Michelle Stuart, at Leslie Tonkonow. Olafur Eliasson aspires to grandeur in a large white block mostly eaten away, at Tanya Bonakdar—but then real grandeur comes the roster of names around him. One can find something else at least as welcome, too, in the quiet of the Park Avenue Armory. I could only brace myself for the Armory Show.
Salon Zurcher, too, serves as a warm-up exercise for those scared by the sheer volume of fairs to come. One can treat it as a test of one's prejudices at that. The Nolita gallery invites half a dozen exhibitors, not one this year from Manhattan. Sure enough, Paris is up front but within late Modernism's mainstream, Belgium sports an elegant return to the past, China brings glitter and cartoons, Oslo with its altered paintings and photos has an impenetrable reserve, and Provincetown is quiet but knowing. Barbara Cohen from its AMP Gallery adds painterly traces to murky photographs of interiors, as the outlines of dumpsters. She speaks to openness and containment—and to art and architecture.
Still not ready? Consider the intimacy of works on paper, on a pier past the Lower East Side, but do not expect to hold art in your hand. Right by the entrance, Art on Paper is out to make an impact, with paper towers by Tahiti Peterson, a scribe's inner chamber of yellowed pages by Pablo Lehmann, a living room of gray felt tumbling out the fireplace by Timothy Paul Myers, and a wall of electrifying blue above the bar by Valerie Hammond. Video by Peter Sarkisian inserts him into his books, where he, too, looks helpless. The busy displays err on the side of sophistication, size, and fame as well. I feel guilty singling out overlays of acrylic and text by Mike Smalley at Grande Contemporary, industrial piping in white paper by Wataru Ito at ex-chamber museum, the blackboard equations of "Concinnitas" at Nancy Hoffman, the meeting of bedrooms and industry by Everett Kane at Black & White, or the cyanotype traces of Ellen Steinberg at LOOC Art. Rashaad Newsome at Tamarind extends lithographic traces into real and imagined spaces with colored thread and silver leaf shadows.
Back at the center of the action, the Armory Show is determined to reinvent itself. It has done so before, in moving to the piers west of midtown, but this time it starts over at every turn. It can feel like the latest operating system that has users scrambling to find the start button. You can still find most anything you like, though, because everything these days is up for sale. I need not tell you which artists are perennial market favorites. They probably hang just past the champagne bar.
Armory 2.0
Like the latest software, the fair means to stay contemporary. It responds to the trend toward single-artist booths with Insights, which promise a closer look at the twentieth century. It responds to the global present with Focus, a curated section of just nine artists. It responds to the trend toward big work with Platform Projects, sculpture scattered throughout like a massive treasure hunt. It responds, too, to competition from younger fairs with Presents, for first-time exhibitors at an introductory rate. It even has Armory Interactive, for those who just cannot look up from their cell phone or computer.
As with software, too, features may add more flash than substance. Insights permits not just solo acts, but also two-person and themed booths—like "Trajectory of Dreams," a quote from André Breton, at Mayoral of Barcelona. Focus is forgettable. Platform Projects play all too obviously to the crowds, like the sculpted blobs by Yayoi Kusama or Lego towers by Douglas Coupland. Presents counts any gallery less than ten years old as emerging, and even half off is not cheap. Visitors seem more interested in charging their cell phones or computers than in using them for Interactive.
Still, starting over can be fun, like the next round in a video game. The division between one pier for modern and one for contemporary art is officially gone, but it still mostly holds, and guess who has been promoted to modern master this year? How about moose heads and landscape photos by Dennis Oppenheim at Montasio of Milan or fluid abstractions by Carrie Moyer at Marlborough?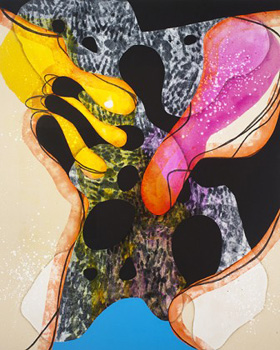 (The gallery still has room for her and Robert Kushner on the other pier.) Discarding the rule has its surprises as well, like Florine Stettheimer at Jeffrey Deitch alongside living artists—a near reprise of his booth at the first Armory Show, in 1995. Her cathedrals of art and fashionable society look wilder than ever.
Besides, flash can be fun, too. Kathy Butterly joins the fashion for coarse ceramics at Tibor de Nagy, with a touch of nail polish. Levi van Velum makes an environment of darkness, including a black cube that one can enter for a moment of silence and a table to display black stones, again at Montasio. A fragile boat packed with upturned legs by Abigail DeVille speaks to the refugee crisis, as a Platform Project. Among the first-time dealers, Nicelle Beauchene displays suggestive black marks on elusive brushwork by Ryan Nord Kitchen, while Lyles & King has photographs by Ethan Greenbaum as the central point in what might be the challenge of collage, painting, or sculpture. Wherever you land, though, you can always move elsewhere on fair week for more.
Volta began as a challenge to what an art fair could be, but what happens when its challenge succeeds? It still calls on exhibitors to show a single artist, so that a fair can be about not just sales, but also art. It reflects what emerging and midlevel dealers do best—nurture careers and artists. Now, though, even the classier fairs have their focus booths. Can Volta still offer an alternative? What can keep it from looking like just another day in the galleries, only cheesier?
Volta cut back on the cheese in moving to the pier south of the Armory Show, but the challenge keeps getting harder. Even attempts to stay current can dilute its impact. This year's fair includes a group show curated by Wendy Vogel, "Your Body Is a Battleground," along with the single artists. One dealer displays two artists as well. Still, one can seek depths in a dark but ebullient paper mural by Sandeep Muherjee at Chimento, a wall of bird carvings as unnatural habitat by Manuela Viera Gallo at Y, old luggage as the site of strange growth by Kathleen Vance at Rockelmann &, or weathered screen prints merging into abstractions by Levan Mindiashvili at Lodge. Robert Henry takes the solo show a step further, by pairing its layered, cut, and knotted paper by Liz Jaff with a show of her ink silhouettes and drips back at the gallery—as two views of a woman's contours, craft, and surrender to chance.
Cool kids
Spring Break is finally cleaning up its act. For such an upstart, the fair sure has an eye for real estate. Perhaps it is in the wrong business. Now it has moved from the confining grandeur of the Farley Post Office behind Penn Station to the Conde Nast building. It settles for the anonymity of an office building and the tourist clutter of Times Square, with a long elevator ride at that. Yet the work gains from keeping up with its surroundings.
Right off the elevators, one can detect a new professionalism. One floor opens with dismembered buckyballs by Michael Zelehoski and a skeletal horse that Deborah Butterfield might have left out to die, by Wendy Klepper. The other opens with a constellation of scrap wood overhead and warnings of monsters and fuckers on the wall, by Gregg Haberny. Within, Spring Break plays to a warren of small offices and a conference center with floor cushions and playground colors. It has also dispensed with pile after pile of worn clothing, like a homeless shelter after the lights have gone off and the homeless have gone to die. For once, a Chelsea gallery joins the independent curators, and they appear to be curating.
It even has painting and sculpture. Actually, it has too much of everything, with a hundred exhibitors—and ever so many more artists. Labels are scarce, so excuse me if my reporting lets you and me both down. I do not know who left the massive table of flashing sound and light as Knotted Gate or the scarred remains of torched buildings as Broken Homes. I know a room with robots, the kind that change direction when they run into something, only as THEM. Still, with robots more often used for house cleaning than for potted plants, the fair is already cleaning up.
A sign for "Immersion Room" could well describe almost everything here, with real and sculpted people as couch potatoes and cooks. Jason Peters multiplies his twisted and tubular Japanese lantern with mirrors for a dark, disorienting, and powerful presence. Kenny Rivera continues his painting on the floor, with BravinLee, not unlike Sarah Cain. Even on canvas, Srigon Chowdhury brings together abstraction and illusion, with solitary souls that find their way through curtains out of Ken Currie. RHW Enterprises toils away at an alternative to the entirety of fair week. Its women in white suits seem to be crafting decorative art with a diligence that larger commercial ventures can only envy.
In no time the Independent has established itself as the cool kid with an upscale lifestyle, even more so since its move to Tribeca. This year should cement its reputation. A more domestic cast includes more downtown galleries along with others from Chelsea and Europe—plus one from Bushwick and Elizabeth Dee, its founder, now in Harlem. And it has the contents to match. What other fair dares one to find value in conceptual art, such as Travel Posters by Barbara Bloom, at David Lewis? Amid global collectors, her "English Spoken" takes on new meaning.
Painting tends toward big and beautiful, but without empty excess. That includes Ted Stamm at Karma, David Diao at Bureau, Sue Tompkins at the Modern Institute, Loïc Raguénès at Clearing, Katherine Bradford at Canada, Despina Stokou at Derek Eller, and Tatiana Trouvé at Galerie Perrotin. Others combine the formal and conceptual, as in crosses by Anne Doran at Invisible-Exports, like Robert Mangold refashioned from advertising. Red telephones set in white sculpture recall not just the land lines and Minimalism that millennials have abandoned, by Zak Kitnick at Clearing, but World War II bunkers clinging to communication with the outside world. African American women, too, have a place, with blurry screen captures of athletes by Howardena Pindell at Garth Greenan and shacks in scrap wood and oil pastels by Beverly Buchanan at Andrew Edlin. They supply a chastening reminder of what a week of white male preening leaves out—but you will have to read the second part of this review to know more.

These New York art fairs ran mostly March 2–5, 2017. The conclusion of this two-part review carries the fairs into May. Related reviews report on past years, this year's AIPAD Photography Show, and a panel discussion of "Art Fairs: An Irresistible Force?"