Sexual Politics
John Haber
in New York City
Carolee Schneemann
Carolee Schneemann insists that she just wants to die a painter, but her death looks much more vivid in performance. Besides, that way it can have time for politics and sex.
Highlights in Chelsea already make the point, even before MoMA PS1 and a fuller retrospective. It took eight nude dancers to make a spectacle of themselves along with sausages, wet paint, and raw chickens, as Meat Joy in 1964. After that breakthrough performance, did Schneemann find herself increasingly on her own? No doubt, but that does not preclude a context of lovers, wars, and sexual politics. She is after more than shocks, although she gets them. She is also out to show why she has every right to get physical.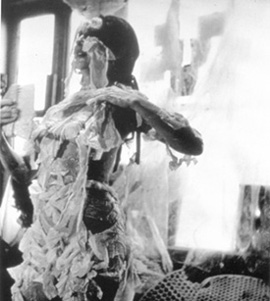 Dying a painter
"I'm a painter," Schneemann insisted in 1993. "I'm still a painter and I will die a painter." Her gallery offers plenty of evidence, but little of it painting. Monitors show the performance artist in action—and I do not mean action painting. A mop swings up and down, bashing an old TV on the floor. The paintings themselves, starting in 1957 and barely lasting into the 1960s, have their ups and downs, too.
Rather, the best evidence of all comes about midway through, in a confession, as much a part of her past as the imprint of her old typewriter. Schneemann wanted to paint even as a child, she explains, and she discovered that she could be an artist thanks to Paul Cézanne. She even designed a book cover for him—but for him as a woman. She always imagined the painter that way. After all, his name does end with Anne. None of her art looks much like his anyway.
It does look like Modernism, but Modernism in search of sex. Right by the gallery door, two paintings from 1960 have the colliding all-over washes of Arshile Gorky—but am I imagining lips in one? Others owe more to Willem de Kooning or even Jack Tworkov, with brighter colors, thicker outlines, and obvious male and female nudity. She could easily have become another forgettable retread of Abstract Expressionism, when she discovers Robert Rauschenberg and combine painting. She piles up slats of wood and reddish-brown smears of paint, like a formalist struggling with her own geometry. The assemblages get deeper and less coherent, and they start to move.
Besides the mop, a bowl lined with paint and fur spins around. It echoes Meret Oppenheim and Surrealism, but art and sex are more fun the second time around. The transformation of a fur-lined teacup also looks ahead to Schneemann's latest photos and video, as a stereotypical older woman cuddling her cat. Is this still painting, darling? The artist best known for pulling a feminist tract from her vagina in 1975 always has more tricks up her. . . . Um, never mind.
Something clicks at last in another well-known performance, from 1967, covering herself with feathers. She could be smearing herself with paint—or preparing to smear a canvas with her own body, like Ana Mendieta, much as Mika Rottenberg later inflicts ever so much on others. It really does make the case for performance as an extension of painting. In this version of action painting, the action takes over a woman's life. And that has its anxious side, like the darker paint and the mop's insistence on bashing the home rather than cleaning house. In another video, her body swings limply, immersed in darkness.
Maybe she did a painter—or at least dye a painter. Only she came back to life, at least for a while, as a performance artist. That childhood confession looks spontaneous, personal, devoted to art, centered around herself, and insistent on her gender. It is also funny and very much a performance. In "Painting, What It Became," this artist can become anything she wants. Maybe, she would argue, even a painter.
More consuming
"Living is much more consuming than I ever thought it would be." The quote comes from dozens on colored cards, culled from diaries and advice from friends, as Schneemann sought to work out her feelings toward the men in her life. At MoMA PS1, one can see her whole career as an unfolding diary or performance. It acquires its edge from the collision between the frankness and privacy of one and the artifice and publicity of the other. Which will win out? To answer would be like looking back and asking which of the men.
The quote (attributed to "Susan") says much about Schneemann, too. She wants to convey it all, from birth to death, with plenty of nudity and sex along the way. If she is shocking, she is open to surprises, too, just as in that line. She is also both consuming and consumed, just as in sex, while spilling herself out as art. In her most famous act, she extracts a feminist tract from her vagina. She has something to say, especially to those who would reduce her to that body part, and she contains multitudes.
Her sixty years of work can be funny, exhilarating, surprising, dogmatic, self-involved, or infuriating. Less than ten years ago, her gallery pulled off those highlights. It insisted on her origins as a painter, very much in line with Abstract Expressionism—thick, colorful, and all over. Even then, she had none of the softer color fields of Joan Mitchell and Helen Frankenthaler, because she was looking not outward, toward landscape and a woman's art, but to the enclosed space around herself. The show asked how she turned from painting to performance, with her body as a canvas. Now her retrospective asks much the same with its title, "Kinetic Painting."
Has it anything to add? If nothing else, it is larger, spilling over two half floors of the former schoolhouse. It starts, it announces, with her later work—to prove, no doubt, that she is more than her vagina. In practice, the first floor focuses on the 1970s and 1980s, as a kind of orientation. The second floor then fills in the gaps. It has two whole rooms for painting, one with her beginnings and the other (coming first) with brighter canvases often turned forty-five degrees and a shelf for unspooled audiotape. She is still painting but looking for a way out.
The first floor, too, opens with a painting, but one has to look past it to a darker room and film. Fuses from 1967 catches her in the sex act with her long-time lover, James Tenney—as seen, she claims, by her cat, Kitch. Its point of view is close, twisting, and unnerving, much like the act. It also intercuts with Schneemann on the beach, running through the water's edge, and with the raw marks of scratched and exposed film. It already states the parameters of dark and light, earnest and funny, confessional and cinematic, alone and fused. Everything follows from there.
Tenney, a composer who conducted sonic experiments at Bell Labs, introduced her to Stan Brakhage and avant-garde film, so one can see his marks there, too. Also around 1965, she met up with Claes Oldenburg, the Judson Dance Company, and Yvonne Rainer, for another push toward performance. From there, one has a choice. One can turn right to Schneemann's dilemma of the 1970s after James. (She ended up with Anthony McCall, the artist who draws with projected light.) Or one can turn left—and, tellingly, from sex to death.
The body at war
A wall there has prints of tombstones, memorials intact but the names scratched out. It also has books in tribute to those who meant so much to Schneemann as an artist and often friend, such as Charlotte Moorman and John Cage. Ropes that might serve for a hanging descend from the ceiling to tight circles on the floor. Motors keep them turning, slowly, as Mortal Coils. She has still not shuffled off this mortal coil, but she will have a lot of shuffling to do in that long diary as performance. After all, she calls an early painting Kitch's Dream—and a video collage Kitch's Last Meal.
Not everything is quite so poignant, but then not everything is about Kitch or kitsch. Besides sheer quantity, the show also provide context. As curators, Sabine Breitwieser of the Museum der Moderne Salzburg, Branden W. Joseph of Columbia University, and MoMA's Erica Papernik-Shimizu with Oliver Shultz break with chronology. They also do not proceed by theme, although wall text tries to assign one to most rooms. Still, Schneemann keeps returning to the body and politics. Her feminism insists on both.
One may have to look hard to find her, lean and upright, with the scroll, but it belongs to a room for "Tracking Her Body." One might have to look hard, too, for her breakthrough in Meat Joy or another remembered performance, slathering herself with white stuff, like tarring and feathering without the tar. It turns out, though, to be only one of her efforts to paper herself over. And they include Viet-Flakes from 1965, in which the scraps report on atrocities in Vietnam. It is hard to keep track of which concern is foremost, sex or death. That, though, is the point.
The sensual body carried her from painting to performance, just as one may have thought. She took a crayon to paper while suspended upside-down in a harness, as Up to and Including Her Limits. So, if less literally, did war. From Dust returns to the look of painting and collage, including rags, dust, and a circuit board. It rests with charts and video dedicated to Lebanon in the 1980s, after what she terms the Israeli invasion. A mop hanging over a TV set suggests what it might take to clean up. In Devour from 2004, two projections and four floor monitors provide a crazy collage of more soldiers and more sex.
Much else is not half as clear, which is saying a lot, much as for Cathy Wilkes upstairs. Something fiery is going on in video while seven sets of flanges turn and turn again. The catalogs of her body openings return again and again as well. Schneemann would be happy to explain, for she has also delivered lectures as performance art. Still, her diaries will never put concrete individuals at risk like those of Sophie Calle, and her most personal acts will never have a history. She is always, proudly, skin deep.
One remembers the scroll and the body collage for good reason: she was, for once or twice, direct and clear. The rest, though, still add up to a running theater and a life. It views itself through past performances, with an entire room of monitors like a video forest. It has its joys and, in 1963, its Thirty-Six Transformative Actions. It has the humor of text from the 1980s, in which her vulva reads Jacques Lacan, Mastera and Johnson, and more "theory"—only to find itself reduced to forces and physiology beyond her control. It wants ever so much to be all-consuming, and often enough it is.

Carolee Schneemann ran at P.P.O.W. through March 28, 2009, and at MoMA PS1 through March 11, 2018. Related reviews look again at Carolee Schneemann and at later artists who brought feminism and new media to the pitch of hysteria.