Tear Down That Wall
John Haber
in New York City
Ostalgie, Eastern Europe, and Gustav Metzger
Is there an art of Eastern Europe? For "Ostalgie," it still lies behind the Berlin Wall.
It is hard to imagine nostalgia for the Berlin Wall, and even now it is difficult to forget. Of the nearly sixty artists at the New Museum, only two may be too young to remember the joy and release when it fell in 1989—or when the Soviet Union dissolved two years later. All but four are over thirty-five. They blend all too easily together, like a single journal or hand-held camera with no idea where to look. They make a poor case for nostalgia on the one hand or artistic rebirth on the other. They also make a memorable, if not always convincing, introduction to an unfamiliar side of contemporary Europe.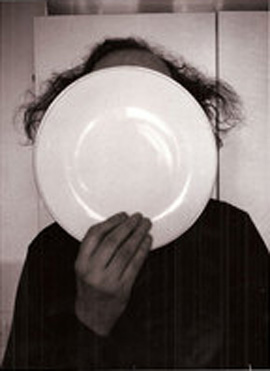 Actually, two of the artists are too old to remember, for they died before 1989. Born in the nineteenth century, Hermann Glöckner tried to keep Modernism alive with tabletop abstract sculpture, like the scraps of Russian Constructivism. Anna Zemánková in today's Czech Republic dealt with old age in pastel, like flora from a gentler time, before the revolution had turned on its makers. With its hybrid of east and nostalgia, "Ostalgie" is more or less ironic anyway, like everything else these days. The nostalgia, though, is real—and it is for anything but the Warsaw Pact. It looks back to a time when artistic or political protest was, necessarily, improvised, and it looks back to youth snuffed out almost before it began.
It comes as a recovery of history in another way as well. "Ostalgie" follows another artist's images of Europe at the New Museum. Gustav Metzger knows all too well the greater horror before the Cold War. The memories followed him to London, where his art still seeks to express anger and the documentary record. As a fitting lead-in to the group show and a vital connection, it could explain how the later stifling of humanity and art came to be. Yet Metzger is so determined to shock that he appropriates, taking some of the most horrific and memorable images of a century and hiding them behind tarps and steel.
The beginning of the end . . .
I remember Berlin soon after the wall was gone, when the character of each "sector" lingered on, especially in the stark emptiness of the east. One took a subway to the Old Masters, still in the quieter community of Dahlem to the south, and one walked the streets in search of memories. Now the museum has relocated, and the city, everyone says, is the place to be. At least it is one geographic center in a global art world. Back then the airport bus left me on my own in the capitalist bustle of Kantstraße. Now I could head for galleries familiar from New York, in yet another international art fair I wish I could forget.
Few artists truly miss the Soviet bloc, no more than Anri Sala, and they are the cultural imperialists. Tacita Dean films the Palace of the Republic (or East German parliament) in 2004, soon before its destruction, with the static nighttime beauty that Andy Warhol brought to the Empire State Building. Simon Starling comes still closer to the bloated debris of contemporary installations, with a Fiat driven to the site of an automobile factory in Poland and fashioned into a Polish flag. Susan Philipsz sings "The Internationale" in her disembodied soprano, while a fourth Brit inspired the entire show. Phil Collins interviews East Germans who did have something to lose, as party functionaries. Most others, though, lost much more, and they lost it long ago.
Glöckner aside, they have few connections with modern art of east or west. Edward Krasinki's mirrors and blue Scotch tape will have to do, although André Cadere's 1971 stacked wood anticipates Cordy Ryman. Pavel Pepperstein drew on his parents' admiration for Kazimir Malevich for his Black Cube, an imaginary monument in acrylic. Yet Ilya and Emily Kabakov with their notable collision of abstraction and conceptual art are absent, along with goodness knows how many fashionable Germans. So is the art of Diane Samuels and Chantal Akerman, of destroyed synagogues. So are the Jews who fled, like David Goldblatt, Lee Krasner, or the family of Nicole Eisenman in generations before, or the youth culture taking their place.
The survivors have little interest in painting, apart from Sergey Zarva's Neo-Expressionist faces over Soviet-era magazine covers. Even then, the emphasis is on torment more than on making sense of it. Parodies of official propaganda dominate works on paper, with Vyacheslav Akhunov, Anatoly Brusilovsky, and Alexander Lobanov. In the sole oil on canvas, by Erik Bulatov, language art meets Soviet Realism. Most often, though, the medium is photography or video. It is documentary, but a documentary without events, because events lay in the past or the future.
Overt political action seems far away, literally so for Jonas Mekas watching the collapse of the USSR after emigrating to Brooklyn. In Romania, Irinia Botea settles for "auditions" for a revolution—a real revolution reenacted by those who came too late. When Deimantas Narkevicius tapes an actual demonstration, it looks like a happening from the 1960s with the wrong flag. When Julius Koller mixes a party congress, a pretend UFO sighting, and faces hidden by a plate or a birdcage, he calls it an "anti-happening." Lenin's face greets one off the third-floor elevator like a Facebook profile, thanks to Anatoly Osmolovsky. He is young, thoughtful, surprisingly pudgy, casually dressed, and clean shaven.
Here the personal is still the political, because no other avenue for politics was left open. The politics of memory runs through much of postwar European art, as with Artur Zmijewski, Paweł Althamer, Sigmar Polke, and Joseph Beuys. And Beuys indeed influenced Evgeny Antufiev, who turns Soviet-era talismans into shamans. Miroslaw Balka and Thomas Schutte supply black popes and medicine men out of Magdalena Abakanowicz. Also in sculpture, Andro Wekua models the architecture of Soviet Georgia. Its empty ruins speak to ethnic cleansing.
. . . And the end of history
Collins personalizes history right on camera. A woman, grown fat amid East German scarcity, tells of reading and marrying a black against family wishes. "I said what I thought," she said, because party membership liberated her from tradition. "The GDR was my homeland. It still is." The artist plainly sees nostalgia as more than excuses.
So do the curators, Massimilano Gioni with Jarrett Gregory. They describe a Europe haunted by the bitter promise of consumer society along with the failed promise of Communism, although not Alina Szapocznikow, much as Olga Chernysheva's video March has elements of both Soviet and western pageantry. They start things right off with an object lesson, a time line of the Cold War by Cheto Delat? (The Russian artist collective translates as Lenin's manifesto for taking action rather than waiting for the inevitable march of history, What Is to Be Done?) It charts not good and evil, but a rise and fall—with dates along the way for de-Stalinization and for western aggression. Yet few of the artists filling the museum's five floors remember things quite that way.
Dmitri Prigov makes Glasnost and Perestroika a kind of Dada poetry, but also blots on freedom. He scrawls across book pages, with messages like And I Gave My Heart to Comprehending Wisdom and to Comprehending Folly and Stupidity. Vladimir Arkhipov recalls scrounging radio parts to listen to Voice of America, but his DIY artifacts have the same threatening nails as a flat iron by Man Ray. Consumer products appear exactly once, in popcorn bags as a fake terrorist weapon. David Ter-Oganyan calls it This Is Not a Bomb, but one can picture the explosion—at least in a microwave. Either way, the explosion lies in the distant past or the future.
When the artists do look back, they seek freedom between the lines of a brutal society. Several use photograph to rescue the people in them from collectivization—from Michael Schmidt in Berlin to Helga Paris and Boris Mikhailov in factory towns. Tibor Hajas blends hippies, men in suits, and the Hungarian working class into a pretend fashion show. Nikolay Bakharev, Andris Grïnbergs, and Evgenij Kozlov even turn the their subjects into erotica. Victor Alimpiev comes still closer to an erotic dance with My Breath, a video of two naked women singing into one another's ears. But breathing in, their song goes, is terrifying.
They live from day to day, in what Viktor Pivoravov calls The Daily Regime of a Lonely Man. Their confessions have the awkward tedium of a diary, like Jirí Kovanda's neatly labeled photographs or Hamlet Hovsepian's videos of himself in 1975, scratching an itch and yawning. They have the amateur look of film-club footage, assembled into themes of Love, Labor, and Longing by Neil Cummings and Marysia Lewandowska. They have a diary's inability to speak to others, like Sanja Ivekovic's hands and faces meeting across a glass or a screen. They have absences, like a son's requiem for his father by Jaan Tomik or a photo album by Aneta Grzeszykowska with herself removed. Mladen Stilinovic covers a dictionary—over peevish, pentameter, persist, and perfunctory—with pain.
When I look back on 1989, I remember art history. I remember the thrill—and I think of Russia's gangster capitalism now or the trap between East and West in the 2012 New Museum Triennial coming up. I think of looking past "the end of history," to the costs of terror and globalization, and past nostalgia itself, to the reality that it constructs and hides. For once, though, the New Museum enlightens rather than panders. For once, too, it breaks with a fixation on generationals and Gen Y. These art objects look crude, and their message is crude, but the artists need it that way.
Living history
Gustav Metzger calls his show "Historic Photographs," but do not expect a documentary record. He is so determined not to forget the past that he drags it screaming and kicking into the present—and I mean screaming and kicking. Rioters in London, in just one of his blown-up archival photos, clamor behind an actual car wreck in bright red, dented metal. For Metzger, however, the silence is deafening. Children seized in the Warsaw ghetto mutely raise their hands behind rubble on the museum floor. Hitler Youth, the New Museum swears, are silenced by thick sheets of steel that hides them completely from view.
For the artist, the barriers mimic processes of silencing and forgetting. They also oblige the viewer, he hopes, to act and to remember. Coming off the elevator, one faces the death camps from behind metal bars, as if coming off a box car. One can pull aside a bamboo curtain to see Vietnamese children fleeing a napalm blast. That yellow curtain on the floor covers Jews in the Anschluss, forced to scrub the streets of Vienna clean of their contamination with a toothbrush. One may crawl under it to experience the image and the moment for oneself.
Or maybe not. One evening the curtain lay untouched. If anyone had parted it, its yellow blanket might have meant not a Star of David under the Nazis, but creature comforts. Or it might have demanded not abasement, but self-abasement—or even a game of hide-and-seek. The spareness of installation art only underscores the present environment, in the New Museum's exaggerated white cubes. The impenetrable concrete and steel also blot out some of the scariest images in history.
Art depends on the power of images, and art fears and enacts their numbing repetition. The conflicting impulses drive every museum visit, and the modern and postmodern ideas of "defamiliarization" and "deconstruction" mean to take them down a notch. Andy Warhol and Gerhard Richter understood both sides of the equation. Warhol feels the appeal of Brillo boxes or Jackie long after cynicism has tarnished them, but he churns them out as a Pop Artist just the same. Warhol's electric chair or Richter's dead terrorists are at once scary, familiar, and a blur. Things are simpler for Metzger, for whom repetition has triumphed long ago.
And that leaves an unbalanced equation and a memory hole. Each work's title includes a precise place and date—to give "each figure in the photograph," as Robert Lowell wrote, "his living name." If there are silences, the works cry out, it is because the present is eager to pass over them in silence. Yet they look like nothing so much as pretend Abstract Expressionism by David Hammons, stuck behind used furniture or with its face to the wall. Metzger seems deaf to the thought that someone like Hammons might intend a sly assault on iconic memories. He also seems blind to the impact that every one of these images still has on its own and at its own scale.
Many distrust any political art or any hint of political correctness, as I do not. Not that art about serious subjects gets a pass. I have criticized art on the concentration camps by Zmijewski. I hate to criticize this work all the same, and I hate to deny what this means to an artist who lost his parents in the Holocaust and fled to England in 1939. Metzger is a very serious person, the kind who staged a three-year conceptual work of not making art—and who, at age eighty-five, is having his first American solo show. Yet photographs need more than serious people to find their living name.

"Ostalgie" ran at the New Museum through September 25, 2011, Gustav Metzger through July 3.