Appropriation as Theft
John Haber
in New York City
James Franco, Urs Fischer, and The Real Estate Show
The Unknown Hopper and Shelley Reed
For a long time now, artists have wanted to get serious about American culture. Now with James Franco, a cultural icon wants to get serious about art, but he calls way too much attention to himself.
Has appropriation become merely the privilege of rich white males? With his pop-up shows, Urs Fischer adds unintended irony to efforts to defy gentrification. Nearby galleries offer tributes to the "The Real Estate Show" and the Lower East Side of thirty years past. Was appropriation back then a strategy for outsiders? For John Shipp and Shelley Reed, it was the name of the game all along. Their anxiety of influence points to traditions of artistic training and practice.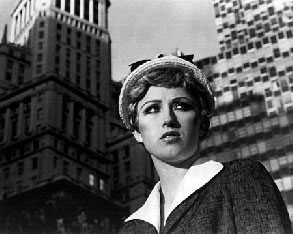 Untitled drag queen
With her Untitled Film Stills, Cindy Sherman made herself into a classic sex symbol, but without the Hollywood sex. She disappeared into one role after another, and she showed how art and film noir convention could collude to fashion sex appeal from the trappings of innocence and repression—and from the beauty and implicit dangers of dark shadows, startling camera angles, the open road, and the American city. She has (as an exhibition title put it) been "fashioning fiction" ever since. Now a genuine sex symbol restages Sherman. James Franco has modeled for a line of men's fragrance for Gucci, and Salon named him the "Sexiest Man Living" in 2009. For his New Film Stills, Franco adopts her poses. Opening-night crowds lined up down the block for a glimpse of him in person that never came.
Is he daring or dutiful? Franco, who deserves credit for having played gay men, brings out Sherman's tart assault on the manufacture of gender by posing in drag, in that same clothing from the 1940s for the working girl next door. He hopes to add to the conceptual trickery of an artist taking on TV and the movies, as a TV and film star taking on fine art. Yet he comes perilously close to a comfortable one-liner, the kind of project expected of a brainy kid for his BFA. He has also managed to generate more outrage than the entire "Pictures generation" and then some. Here he was, the angry story circulated online and off, just another powerful male appropriating a woman's sexuality.
Would Sherman, though, have claimed in the first place to have taken back the frank expression of sexuality for women, rather than underlining its artifice and undermining its assumptions? (She she did her best to shrug off the whole affair, although she wondered aloud how the exhibition ever found its way to Pace.) And no question but Franco is serious in trying to break out of his assigned part. He may want to forget having tried to revive Planet of the Apes, but he has published short stories and produced, written, and directed for the screen. He has studied writing, filmmaking, and fine art at prestigious schools and is completing his PhD in English at Yale. He wrote Frank Bidart for permission to adapt a poem and found a mentor and a friend, and in turn the poet writes an effusive (and slightly embarrassing) catalog essay for the new show.
Seriousness, though, has its limits, especially when the subject is the social construction of the serious. It says something that, in concurrently taking to the stage, he has chosen that staple of preteen reading lists, Of Mice and Man. Here, too, he may find himself not so much a hero or villain, but instead heavy-handed and out of his league. Someone coming to Pace without catching up on the controversy in advance will surely smile in recognition at the show's title. An innocent eye might even identify a couple of the photos as after Sherman. The marvel is how few—and that points to the real problem when it comes to Franco.
He did his homework with the costumes, and he does a respectable enough job with the poses. Yet the scenes do not match all that well, in part because they never could. Sherman between 1977 and 1980 was revisioning the deep past, and the urban landscape has not stood still for another thirty-five years. Yet somehow she evoked one era while fashioning the reigning fiction of another, while his backdrops seem arbitrary and flat. And that leaves him just a muscular guy posing in front of them. The discrepancy pays a greater tribute to Sherman than he could ever have desired.
It leaves Franco in drag, calling attention to himself rather than to the fiction. It leaves too little new about his "new" film stills as well—and too little of the slippery line between film stills and life. He wants to submit himself utterly to his cross-gendered part while claiming it as his own, because art is like that in its perplexity, including Sherman's. He ends up instead front and center. Either he is not yet a great photographer, or he is too dutiful a trickster. The star of Oz the Great and Powerful once again steps out from behind the curtain and looks wanting, only this time in art.
Pop goes the weasel
Bad enough when they poach artists. Now they are poaching strategies. One of the biggest of the big dealers, Gagosian, has adopted a hallmark of struggling curators and DIY collectives, a pop-up show. Take heart, though, for the artist knows a thing or two about breaking into public spaces. For the 2006 Whitney Biennial, Urs Fischer erected two walls and then knocked right through them. For his, er, breakthrough work the next year, he drilled a pit right into the concrete floor of his West Village gallery—and in 2010, for a midcareer retrospective, he built a partition over an elevator door, daring New Museum visitors to navigate a way in.
Now he takes over not one but two vacant commercial spaces—a former grocery store on the Upper East Side and, symmetry duly noted, a former Chase bank on the Lower East Side (and do not even mention his plans for the Seagram Building coming up). The grocer had already insisted on fruit with the perfection of a still life and prices to match, although The Times, when the store first opened, had duly found an uptown matron to sniff at the very thought. And Chase can readily stand to lose an ATM machine here and there.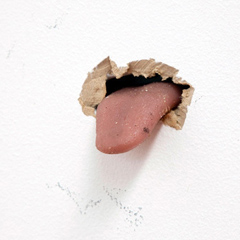 For those toting up ironies, this branch stood right across the street from 123 Delancey, where artists broke into a former factory showroom in late December 1979, in a protest against narrowing opportunities in a notoriously expensive city. Less than twenty-four hours after the public opening, which took place on New Year's Day, the city had closed shop and seized the work. Thankfully, a compromise led not just to another temporary space, but to the birth of an eponym for community values, ABC No Rio.
Now that very gallery joins with others to revive "The Real-Estate Show." The tribute includes full-cap text by Jenny Holzer and scrawls by Mike Glier, not to mention working heat and plumbing. It includes protest after protest against unscrupulous landlords and living conditions, hung from floor to ceiling. And yet it, too, cannot escape the ironies—or its own saintliness. Artists in 1980 could not have dreamed of rents today, on a Lower East Side packed with bars and restaurants. Nor could they imagine the role of art in its changes.
Gagosian is hardly the first high-end dealer to slip down to the Lower East Side, although none can match its empire. Can anyone reel off all of its Manhattan spaces, much less its global ones? And artists do keep moving up the food chain, adding to the pressure on midlevel dealers. Dodge had opened its final show on Rivington Street, called "Thank You." Gagosian, though, is not quite hip enough to be a poacher of emerging artists, and Fischer wallows in the degradation that he creates. Are they slumming or gentrifying?
Downtown, one wants to believe that he left everything just as he found it, from breaks in the wallboard to the clay cat perched high in a closet. Of course, one knows that he did not, which only adds to the game of hunting it all down—and to the triumph of recognizing it. The cast includes the other side of the looking glass, with Alice herself kneeling before one of the larger holes. A boy on a sofa, a leg dangling ever so limply, crosses a Pietà with Balthus. The train set has already broken through quite a different wall, the fireplace in a painting by René Magritte. They may seem site specific, but Fischer enlisted volunteers to make them all before this, for an exhibition in Europe.
The Park Avenue site heads even further toward business as usual, trading the fun and games for sarcasm and the trappings of profundity. This is the artist who stuck out a sculpted tongue at the New Museum on the Bowery. Now a Last Supper preserves the grouping of apostles in threes from Leonardo, but with mice scampering on the table and cold pizza for breakfast. Jesus opens his eyes in horror, as well he should. The battle for art and real estate continues. So much, though, for the spontaneity or urgency of a pop-up.
Redrafting art history
If tradition is any guide, appropriation has an eminently respectable history—in careful studies after older art and nature. Edward Hopper, for one, was always on the move, especially at night, recording his surroundings architectural detail by detail. Drawing became a downright physical act, somewhere between walking and observing. It also was not just preparatory to painting. Rather, painting for Hopper became a process less of perfection than recombination. After so much immersion in particulars, it was also a process of forgetting, so that others could remember.
John R. Shipp blogs about recombination from a different perspective. He describes Hopper and other artists as referring to their past work and, it appears, work that remains to be seen. He finds hidden motifs in a 1932 painting, Room in New York. Could they supply a subtext for the scene's implied drama? In his own drawings, Shipp tries to pare down paintings like Hopper's to their basis in line. The result can look reasonably like early modern New England landscapes, but then he also turns up, literally, the proverbial elephant in the drawing room.
Dubious? If that sounds like a rather schematic art history, Postmodernism has made schemas routine. Now Shelley Reed turns a good two centuries of Western art into her own private Peaceable Kingdom. Reed quotes a single motif, animals, and she combines them into a landscape forty-seven feet long. It becomes a compendium of painting, but also of painting as humanizing nature. If she has omitted people, one still moves across the scene as if one belongs.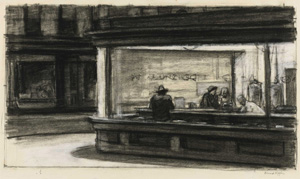 For Reed, a diorama is not unlike an ideal zoo. Here animals live together peaceably and put up with visitors. In real life, no doubt, one creature would have gobbled up another long ago, and more than one leap would have crashed into a tree. Reed smooths over such differences with a lovely grisaille, a shifting but plausible horizon, a respect for realism, and an admission of the fantastic. She is, her title boasts, In Dubious Battle. If this is a class in art history, it also poses a pop quiz.
Are those dogs out of British or American art, and where is George Stubbs? (Oh, yes, that horse.) A huge cow on a separate and even more crowded canvas no doubt belongs to Dutch painting, perhaps Aelbert Cuyp, but what foretaste of something wilder invented that Bengali tiger? Reed is not quoting a single genre, adding to the fantasy. Still life enters the landscape, while a tiled floor becomes part of a stage set, opening on to white. Everything, she suggests, connects to an impulse bridging the Baroque and Romanticism, and that impulse is theater.
Convinced? Maybe not, but someone found a serious way to take it in as a single frame, with a cell phone outside the gallery window. I prefer the immersion of a walk alongside, but either view underscores the nature of a diorama. It is not so much a panorama, as a parlor trick. And I mean that as a real compliment, in a tradition of painting with plenty of room for formal estates, mansions, parlors, and trickery. If anyone can make appropriation more than a clever move in the art market, it will be those who remember the past.

James Franco ran at Pace through May 3, 2014, Urs Fischer in the Gagosian pop-up spaces at 821 Park Avenue through May 8 and at 104 Delancey Street through May 23. Incarnations of "The Real-Estate Show" ran at ABC No Rio through May 8, Cuchifritos through May 18, and James Fuentes through April 27, "Thank You" at Dodge through April 24. Shelley Reed ran at Danese/Corey through November 16, 2013. A related article looks more fully at Urs Fischer and his past acts of destruction. The review of Franco first appeared in a different form in Artillery magazine.