Boom, Destruction, and Austerity
John Haber
in New York City
Kitty Kraus and Urs Fischer
Many people have the feeling that something has gone wrong with contemporary art. They see only conceptual art and theory, when artists have moved on to more impulsive creation—and self-creation. They see only overblown installations, just when galleries and museums are cutting back.
For all that, museums still hype young artists and midcareer retrospectives. With Kitty Kraus and Urs Fischer, that means real disappointments. Each has strong roots in the austerity of late-modern art, including minimal art, Fluxus, and others—and allow me to introduce Fischer with his smashing a gallery just two years before. However, each struggles to fill a museum, and this time the struggle is not part of the show. Put it down to big art in a time strapped for cash, and expect more next time from each artist. Art world fashions and passions aside, I have a feeling they will deliver.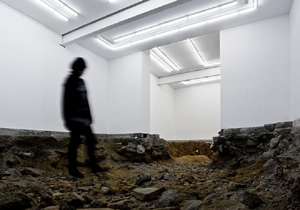 Crying over spilled ink
There has been so much ink spilled over Joseph Beuys that I hate to add any, not even virtual ink. Kitty Kraus does, though, and right on the floor. It makes a notably spare display in a Guggenheim tower gallery.
Kraus admires Beuys and Arte Povera much as Alighiero Boetti did, for their transformation of humble materials. More than they, however, she stresses the act of transformation, linking her to both conceptual and process art. The ink literally spills across the floor. Her installation, part of the museum's "Intervals" series, began as a light bulb within a block of frozen ink. As it melts, it passes from puddle to pattern, leaving the bulb at one end of an irregular stain. One might mistake its black, pierced by white streaks of the floor, for a drawing or a rubber peel.
Beuys liked bulbs, too. In fact, he relied on a fixed stock of materials to create a personal myth. He related his rolled and piled felt, fat, and steel to tales of a German soldier's endurance in World War II. The narrative places the artist's suffering at the center of both the work and of modern history. The unfamiliar look of the thick, heavy materials in a gallery reinforces his aura of a shaman. They keep out the viewer, where they once might have kept out the Russian winter.
As an American and a Jew, I had problems with this history, for all its acknowledgments of the costs of state aggression. The Soviet Union did not invite the Nazis to a winter carnival. Salvador Dalí and second-generation Abstract Expressionism had pretty much spoiled the roles of shaman and suffering artist anyway, even if an avatar like Michael Goldberg went back in reality to the first generation. For all the work's resemblance to Minimalism, Minimalism had all but cast them aside for good. Myth and cryptic narratives had themselves come under suspicion. Yet Beuys gave Minimalism a human edge that proved justly influential.
Kraus keeps her fellow German's worst aspects, his hermeticism and shamanism, and discards the weight and geometry of his materials along with the myth. She also discards the history, apart from the history of a block of ice, but no harm done. A woman born in 1976 has to find it remote. But that does not leave much. I like the thought of defacing the Guggenheim, and I like the thought of a wall drawing shifted to the floor. But it still does not look like much or mean much, and there is no crying over spilled ink.
Of course, other artists since Jackson Pollock have made a mess on the floor—like Jonathan VanDyke, who makes it look as though paint had spilled from completed works of abstract art. He dismantles the art object even while insisting on its "objecthood," in 3D. As for melting, Spencer Finch creates art from a colorful spiral of candles on the floor. Each day of the year, he lights another, with one to grow on. The Brain – is wider than the Sky quotes Emily Dickinson and alludes to her frenetic pace of production. The allusion hardly means much, but at least Finch roots process art in shapes and cycles on the scale of human lives.
At your own risk
Fair is fair. Urs Fischer broke through two walls of the 2006 Whitney Biennial, but he was entitled. He had, after all, had them built first. His gallery floor, however, takes a much bigger hit, and it will not so easily come to an end when the show closes. It also made a good candidate for most dangerous exhibition of 2007.
Not that he has failed to erect a few walls, too, just as he has since piled what might be silvery elephant turds in front of the Seagram Building for summer sculpture. His gallery appears to have shrunk to a narrow space around the front desk. From there one must bend over to pass through another entryway, not unlike the kind to allow pets in and out of the yard—or a child to step through a closet into a private universe. A visit in fact feels very much like playtime, and the interior within the interior has become a connection to the outdoors, right down to West Village soil. It looks, however, more like a construction site. Fischer has drilled right through the floor, leaving a pit littered with its remains, still more of which he may have brought to "Unmonumental" at the New Museum.
A bit of reinforced concrete stands intact around the edge, transformed into a narrow ledge. One can barely circulate it without falling, and the pit runs deeper than one might think. A descent brings the ledge almost to eye level, if you dare—and of course you will. A notice by the desk swears off responsibility for the risks, and while one could put that down to legal necessities or to another kind of theater, I could easily imagine spraining an ankle. I could also imagine settling in for a picnic, give or take the fragments of steel rods protruding here and there.
One can see the debt to both sides of Robert Smithson—earthworks and nonsites that took debris from elsewhere into the gallery. Gordon Matta-Clark made his building cuts long ago, with far less concern for the law, and Chris Burden even knocked through the floor once. One can honestly ask what Fischer adds. For one thing, for better or worse transgression has become repetition and, in the process, a comment on the overwrought art scene and its burgeoning geometries—including architectural installations that trash galleries left and right. This gallery does call itself Gavin Brown's Enterprises, you know, and its URL ends with the extension .biz. One might think of Fischer's stunt at the Whitney in turn as a double-edged tribute to Marcel Breuer and his grand and famous pock-marked ceilings and movable walls.
Fischer's installations have much in common, aside from lessons from devastation for art and commerce years before Hurricane Sandy. They invent boundaries, break down the art institution, invite one inside, and leave one standing amid the created ruins. They play with the geometry of the white cube, starting with the large circular holes nested within the Whitney's rectangles. They eliminate the usual doorway and make it less than obvious whether one should enter, right down to the legal warning. They make one part of a ritual. Candles circled overhead at the Whitney, and these days gallery-going is quite enough of a ritual in itself, thank you.
The floor piece implies public theater in its very title, you. However, it distinguishes itself by a greater immersion in the real, much like the original earthworks. The project involved taking core samples first, to verify that it was not facing solid bedrock. The medieval chandelier out of a Kubrick film is gone, and in its place one gets a reminder of Manhattan's vertical history and the edge of the island only a couple of blocks away. Come global warming, the Hudson may well end up closer still. Perhaps only rising sea levels could constrain Chelsea.
The demand for spectacle
When Fischer dug that pit in his gallery in 2007, one could easily miss something: its foundations lay not just in Greenwich Village bedrock, but in Minimalism and conceptual art as well. He was making a spectacle of himself for an overheated art scene, but something more solid, too.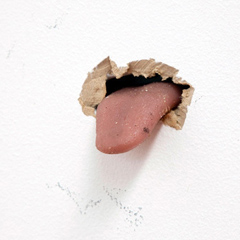 The demand for spectacle had reached the point that I tried to give the movement a name, "trashing Chelsea." He was excavating beneath, but he was still way over the top. Just as when he broke through walls at the Biennial, he was playing the bad boy making art for bad boys with money. Yet climbing in was scary all the same. It gave an exhilarating awareness of one's surroundings and one's place deep within in the art. Like a proper Minimalist, Fischer displayed the gallery alone—and then some.
For his midcareer retrospective, he gets the run of the New Museum, and he struggles to fill it—or even to empty it. Every one of its three floors speaks of excess. And not one bears a trace of either literalism or surprise. This time, his art is everything you wanted in a museum and less. It could be a commentary on the art market, were it not so market conscious. Besides, this is not the time to buy.
Along with the principal theme, each floor tosses in something extra. It might be a bus seat with a birthday cake, a skeleton kicking a cardboard box, a pink lamppost, or a violet soft piano. (Take that, Pop Art!) The artist seems to worry that you will want something more, like props from a Tim Burton movie—which just happen to be on display at MoMA. And well he should.
In fact, the only real challenge is getting in. Just one elevator stops on the second floor, which has no stairway access, all in the interest of crowd control. Not that one should expect crowds. But who knows what the wrong people might do? That means you and, apparently, me.
On the show's first public evening, the elevator opened for a while on the wrong side (the front). It left me face to face with the back of a temporary wall. After all this buildup, was that it? If so, not a bad conceptual artwork. But no, the elevator eventually recovered, and the museum just means to protect Fischer's fifty-odd chrome monoliths from the slightest mar, to the point that a guard made me put away my pen and stop taking notes. Pleading the needs of the press did not help—especially the wrong kind of press.
Conceptual tongue-lashing
One does not often think of metal slabs as vulnerable. Fischer is probably anticipating the market for a proper sheen once the show closes. In fact, a leading collector of his work, Dakis Joannou, will take over the joint for its next show. The New Museum should be ashamed of itself. From an alternative museum devoted to what others excluded, it has become a flashy venue devoted to incestuous relationships. Call its stacked boxes a vicious circle.
Intriguingly, the bad boy has named the current exhibition after Marguerite de Ponty. Stéphane Mallarmé adopted that feminine identity as a fashion writer. Fischer's work here harps on the theme of consumption. In images from food to product lines, he identifies art with a luxury good. The show's signature piece, a tongue, even looks like a Rolling Stones logo.
Like a Stones world tour, the work boasts of its excess. The curator, Massimiliano Gioni, claims that it required "25,000 photographs and over twelve tons of steel." One would hardly know it. Some of the fifty chromes play on their dimensions, with images of British phone booths and skyscrapers. Others stick to product promotion—and still others, like a desktop computer or CD case, do both. Either way, they seem to have taken shape by rote.
Visitors starting instead at the top will first encounter five more shiny totems, but of a more ancient lineage. The rocky shapes recall monuments from Great Britain. Fischer made small clay models, and one can make out hand prints. This will shock only someone who thinks that public sculpture never relies on maquettes, computers, and assistants. Perhaps the manufacture of the giant aluminum lumps would hold more interest if the lumps did. But the show's most elaborate boast comes on the floor in-between, with the emptiest display of all.
At first glance, it holds little more than bare walls the color of Tom Waits's "monkey-shit brown Chevrolet." Actually, Fischer has papered the space with exact images of itself, and the color comes from photography in low lighting. That sounds impressive, except that the illusion of bare walls looks bare of illusion. Photography is not exactly trompe l'oeil painting anyway. (Maybe if he had papered the elevator with the blank opposing wall—and papered that wall with the elevator.) Otherwise, the work at hand consists of a small hole in the wall, and the tongue I mentioned sticks out whenever someone approaches.
A hole invites one to imagine another space entirely—perhaps the space of Fischer's previous work. In practice, enough people gather round that the tongue keeps wagging, and it takes a stretch to call the art interactive. (Well, one can always stick one's tongue out right back.) Is the Swiss artist doing more than sticking his tongue out at art, like a five-year-old dragged to the museum? Fischer has scaled down the bad boy's creative rebellion along with the size of his hole. I hope he and others learn to let art's concepts, spaces, materials, and dangers speak again for themselves, to see once more conceptual arts in the plural.

Kitty Kraus ran at The Solomon R. Guggenheim Museum through January 6, 2010, Urs Fischer at The New Museum of Contemporary Art through February 7 and, before that, at Gavin Brown's Enterprise through December 22, 2007. Jonathan VanDyke ran at Scaramouche through November 1, 2009, and Spencer Finch at Postmasters through November 28. A related review looks at the return of Urs Fischer with two pop-up exhibitions in 2014.