Seeding Modernity
John Haber
in New York City
Roberto Burle Marx and A Japanese Constellation
"It's not the fashion to create 'wow' architecture anymore." You may never walk the length of Rio's Copacabana promenade. You may never experience its four kilometers of mosaics swelling against beachfront housing, sand, and tide.
It is never easy to convey architecture as lived experience. You can, though, lose yourself in the designs of Roberto Burle Marx at the Jewish Museum. You can circulate the walls for clues to chronology, family, religion, and nation. You can circle a single large table for models and plans. You can walk alongside a 1969 mural covering the entire back wall, its fabric textures smoothing and coarsening along its length. And while the quote works quite well for the Brazilian landscape, you can locate its source in another collision of architecture and culture, with "A Japanese Constellation" at the Museum of Modern Art.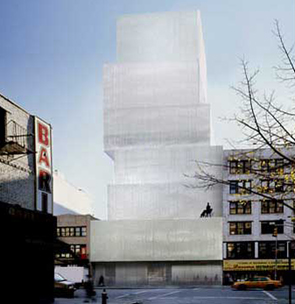 That show's curator, Pedro Gadanho, quotes a city official on the 2015 commission for a new museum in Helsinki. Moreau Kusunoki, a French-Japanese firm, won a competition there with more than seventeen hundred entries from eighty countries. (Wow indeed.) Neither of its directors is on view at MoMA, which traces a wave of Japanese architecture starting just twenty years ago, but they could have been, and the point is clear. Sejima and Nishizawa and Associates (or SANAA), the show argues, has had an outsize influence by turning its back on such "starchitects" as Frank Gehry, with his monumental scale and dazzling surfaces. Unlike Gehry with his epic Guggenheim Museum in Bilbao, it wants to get beneath a building's skin.
Architecture and independence
Roberto Burle Marx comes as something of a footnote to Latin American architecture the year before at MoMA and a prelude to Pierre Chareau at the Jewish Museum soon to come, with its interchange between Europe and the Americas. Much of his work came late, like the beachfront completed in 1970, already in his sixties. He has gone down as simply the gardener, although that reputation sure kept him busy. He designed more than forty gardens in Venezuela alone, enough to maintain a second studio outside Brazil, in Caracas. More than fifty plants take his name. He has less of reputation in the United States and Europe, where he left his share of projects unbuilt, including a beach house in Santa Barbara, headquarters for the Organization of American States in Washington, D.C., public sculpture in Miami, and a public square in newly unified Berlin.
Burle Marx pushed himself and others hard until his death in 1994. (He proposed the California home as early as 1948.) He also pushed hard against both Modernism and nature. He builds their contrast into his designs, but also into his role as a collaborator. Cascading gardens play against a Brutalist slab in Washington. The biomorphic patterns of Copacabana's Avenida Atlântica also set against a six-lane highway.
The architect bridged cultures, while searching for a truly local tradition. Both drives nurture his primary medium, the garden. His German Jewish father moved to Brazil and married a Brazilian Catholic. She and a governess taught the boy gardening, while his father bought him a subscription to Garden Beauty. He drew inspiration from the Quinta da Boa Vista in Rio, patterned in the 1870s after Versailles, but he sought a break with formal gardens. And then he took a break of his own, to Berlin in 1928, at age nineteen.
He passed the year more in museums than Weimar cafés, but he still had to decide what to take home. Vincent van Gogh came as a revelation. Early charcoals show his admiration for Pablo Picasso and Paul Gauguin. Yet early paintings look just as much to Latin America and Magic Realism. His later curves also borrow from Jean Arp and Joan Miró. The more jagged geometry of the 1956 Francisco Pignatari residence, now a public park in Burle Marx's name, may look to Paul Klee.
Back in the Americas, things happened fast. His first commissioned garden, in 1932, led to the job of parks director in Recife. A sketch from 1935 shows his love for the patterns in trees. He collaborated with a team led by Lucio Costa, Brazil's leading architect, and then increasingly with Oscar Niemeyer. Projects toward the growth of an independent nation include the city hall for a town near São Paulo, the Ministry of Education and Health in Rio, and a home for the ambassador to the United States. He contributed to a new capital in Brasilia as well.
Was he an architect or a decorative artist, a modernist or a cultivator? Was he a Latino or a Jew? Burle Marx embraces the tensions. His reminder that architecture is incomplete without design picks up on such modern movements as the Bauhaus. He was a modern in the theater as well, with a stage set for Richard Strauss. As the turn to opera suggests, though, he was not content with the art of museums.
Against the tide
Whatever else, he was a collaborator—above all, on the creation of public space. Even with private spaces, though, he uses nature to evoke a politically charged world. Plantings include native sugarcane, the fruit of local labor. Flamengo Park in Rio adds twelve thousand trees to its stone mosaic in 1961. In a tapestry for the Office of Foreign Affairs in the late 1960s, sections correspond to five native regions. Architects could not have embraced so much without him.
He took care for everything under his command, only starting with promenades and gardens. He takes up other media as well, including jewelry, ceramics, and tapestry. The exhibition includes that he might have called his own, with a tablecloth of his design and even a favorite cookbook. It also labels him, in a subtitle, a "Brazilian Modernist." It sees him as attentive to every detail, much like design in the service of gentrifiers and hipsters today. Yet the claim meant something more subversive then.
Design also brings him back to Judaism, set again within nature. Red Mangrove, a 1963 painting, could depict a tree or a menorah, while ceramic tiling for a synagogue allows for growth almost like plantings. Other projects include a garden residence for the Jewish community and stained glass.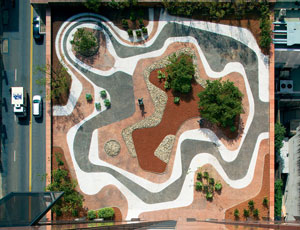 Yet the decorative arts insist on a culture of the Americas, too. The museum cites his influence on pink assemblages by Beatriz Milhazes in the lobby, recreating her work from 1970. They recall carnival in Rio as well.
The curators, Jens Hoffmann and Claudia J. Nahson, weave in others whom he influenced as well. Packed into the already crowded center table, they make everything that much harder to follow. You may not find them all or who did what. They do, though, assert the importance of other media. Jan Araojo contributes designs for a garden and Paloma Basquê for tapestry. Nick Mauss colors ceramics with a fluid glazing.
Burle Marx still has the last word—even in collaboration. He also looks the furthest, to other traditions and to history. The 1979 Clemente Gomas residence includes a Renaissance water garden. The mineral roof garden for Banco Safra in 1983 recalls the Lever Building in New York. So do its stilts out of Le Corbusier, supporting its mass and burying the ground in shadow. Lightness was not this designer's calling card, not even in the garden.
As with the beach in Rio, he is always playing against the tide. A garden sets against the slab of a ministry. A house and garden play against the surrounding triangle. Biomorphic paths appear again within a dominant triangle for the Grand Hotel Pampulha in 1944. Parks have had the illusion of spontaneity at least since Frederick Law Olmsted and the Romantic garden. Burle Marx insists on the illusion.
Wowing architecture
"A Japanese Constellation" sees contemporary Japanese architecture as collaborative, just as with Ryue Nishizawa, who worked with Kazuyo Sejima as a postdoc. It also points to a collaboration between architecture and its environment, just as for Burle Marx. The builders find inspiration in Modernism, but also in nature, and they seek not to impose an experience, but rather to pursue what one contributor, Junya Ishigami, calls "pure possibilities." Many of the buildings stack or juxtapose elements of varied dimensions, rarely running to more than a few stories tall. Some sit by the waterfront, as a bridge from cities and gardens to the water, and many use open or translucent skins to let in the eyes of others and the light. They could be turning Frank Gehry and Gehry's monumentality on its side and inside-out.
Their structures are often in dialogue with Western architecture. They have the utopian visions of Buckminster Fuller, with architecture as space for people, but without the scientism. The oldest contributor and the wave's founder, Toyo Ito, often has curved roofing like Fuller's geodesic domes, but more akin to plants than to mathematics. A woman's dormitory by Sejima has the look of the International Style, but this glass house has transparent columns rather than cantilevers, so that its structure is perfectly clear, in more ways than one. Nishizawa encloses an art museum in a single bulging outline, like the Guggenheim by Frank Lloyd Wright or the TWA Terminal by Eero Saarinen, but breaking Wright's heavy hand and Saarinen's symmetry. Intuition rules, even in high-tech engineering.
Their ideals arose in the wake of collapsing institutions, much as Japan's defeat in World War II led to a renunciation of war. Ito was a child in Seoul during the Japanese occupation, and he has used temporary structures, including pavilions in Bruges and London's Kensington gardens, as a spur to experiment. Sejima, born in 1954, started an independent career just as Japan's "economic miracle" came to an end, obliging her to focus more on cultural and public spaces. Museums abound, much as for Renzo Piano, along with private homes, but offices do not. The show ends with responses to Japan's 2011 earthquake, including a "home-for-all." It, too, represents a collaboration, between Ito and two younger architects, Sou Fujimoto and Akihisa Hirata.
Not that transparency means an end to illusion. Ito had his breakthrough with Sendai Mediatheque, using lighter materials and twisting columns that appear to dissolve over the course of a day or night. Elsewhere vaults vie with verticals, and a fractured grid runs continuously across walls and ceilings. One can no longer know supporting structures from what they support. One hardly knows where an apartment unit ends and another apartment or its terrace begins. Fujimoto's university library in Tokyo unfolds as a single spiraling bookshelf, like a maze with no escape, while Ishigami uses hundreds of steel columns at a time to disrupt the grid.
And then there is the wow, assisted by lightweight materials and, like Gehry after all, computer-assisted design. Outside the exhibition space, a model by Ito for a municipal museum, with a long skin of aluminum scales, looks like a giant insect or sea creature slithering across the pedestal. Another pedestal over, Fujimoto's Primitive Future House resembles a stack of white paper too messy to recycle. The spiral ramps of his waterfront center for Belgrade could be a Robert Moses highway run wild. Ishigami's metallic balloon, designed for a Tokyo art space, appears to float above the ground.
Idealism and ego collide, too, in the experience they create for others. Hirata works from algorithms, but also by contemplating soap bubbles, smoke, and folded paper. The results do not offer much in the way of shelter. SANAA's 21st Century Museum of Contemporary Art in Kanazawa, Japan, allows for a variety of structures and functions within a circular plan, but the stacked boxes of its New Museum in New York City relegate visitors to fire stairs and overwhelm the art. Translucent or absent walls can threaten privacy, like the worst open office, and billowing amphitheaters can become the nightmare of an endless airport. Alternatively, they can become the most personal of futures, with all their own wow.

Roberto Burle Marx and Beatriz Milhazes ran at the Jewish Museum through September 18, 2016, "A Japanese Constellation" at the Museum of Modern Art through July 4.