People in Glass Houses
John Haber
in New York City
Pierre Chareau and The Modern Interior
Before there was a Glass House, there was the Maison de Verre. Pierre Chareau conceived it more than twenty years before Philip Johnson's landmark of modern architecture, in 1928. He set his steel frame and glass façade in Paris, where it stands to this day.
Johnson plunked his steel shed down in Connecticut, exposed on all sides through glass panes. Richard Ingersoll, the critic and historian, has described it as the consummate bachelor's apartment, but be careful of inviting a guest over for the night. The Maison de Verre uses opaque windows to let in sunlight and air, but into a space that few will ever see. They reflect a dazzling light during the day. They glow from within in the evening. A cross-section through three floors, two for a doctor's office and one for living, looks like a single abstract painting.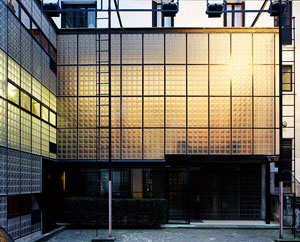 So why is it nowhere near as famous? The Jewish Museum shows Chareau as equally an architect and interior designer, much like Johnson, but with even more care for detail. He appears first for his furniture and then for his collection of modern art. He appears, too, thanks to new media and virtual reality, in an innovative exhibition design by Diller Scofidio + Renfro. Yet he reveals himself only slowly, much as the Maison de Verre lies behind a tight grid of translucent glass. He also appears as part of an avant-garde that could still welcome luxury and privilege, and he left far less than he wished behind.
As a postscript, the Museum of Modern Art may not work terribly well as a space for its collection or indeed for art. It could, though, make a terrific showroom. MoMA supplies a thoroughly mainstream history of "The Modern Interior." And surprise: it looks a lot like high-end commerce today. Chareau's daring and quaintness alike look all the better in its perspective.
Modernism and privilege
It may take a moment to realize just how far ahead of his time Pierre Chareau was. The Villa Savoye was still in progress, thanks to Le Corbusier, and the Bauhaus was still to come. Chareau was also a new urbanist long before environmentalists claimed that label, whereas the Glass House, like Fallingwater by Frank Lloyd Wright, nestles into suburbia and nature. Yet he was not out to transform the city. Maison de Verre, completed in 1932, slips into a courtyard, between confining walls and beneath a fourth floor that he could not touch. Working with Bernard Bijvoet, a Dutch architect, he was building a house for close friends—and a gathering place for artists and intellectuals.
He saw design the old-fashioned way, as a matter of fine craft and even finer materials. Not every exhibition regarding those years throws around words like exquisite, stylish, elegant, rare, and exotic, but the Jewish Museum does, with pleasure. Nor does every modern design collection run to a dressing table, a serving cart, a letter holder, and a smoking table with a satiny white stool. He favored alabaster, mahogany, upholstery, and wrought iron—the last from the hands of Louis Dalbet. The Maison de Verre contained a grand salon, a piano, and tiered bookshelves. The old-world library of teddy bears in "The Keeper," at the New Museum, could practically fit right in.
Still, for all his tastefulness, Chareau committed himself to the future. Born in 1883, he helped found L'Oeil Clair (or "the clear eye") in 1924, to purchase and share modern art—along with Jean Dalsace, the gynecologist who later commissioned the Maison de Verre. He collected Pablo Picasso, George Braque, Jacques Lipchitz, Amedeo Modigliani, Marc Chagall, and Piet Mondrian. The "boutique" for his designer furniture exhibited them as well. He published his portfolio in L'Art International d'Aujourd'hui ("the international art of today") in 1929, alongside Mondrian's design for a library. That same year, he helped Union des Artistes Modernes split off from Société des Artists Décorateurs, seen as just not modern enough.
The exhibition can fairly describe his work in modern terms as well—as functional, clean, and moveable. Chareau had a taste for art deco, but the alabaster tops his lamps with interlocking triangular planes. The Maison de Verre has louvered windows and retractable stairs. It also relies on industrial materials, such as rubber floors. People debate whether Modernism was progressive or just elitist and imposing. Perhaps no other designer was so at home with all three.
Like Le Corbusier, he was sculpting with architecture and light. His broken ceilings, their sconces running along the edge, angled stairwells, and exposed beams lead one from room to room, to preserve both open passage and privacy. For all their elaborate furnishings, rooms are surprisingly open—almost like stage sets. His moving parts, such as shelves that fan out from a low table, never approach modular architecture. Chareau tried his hand at design for the masses, and he failed. But then all along he was more concerned for putting a building's design and inhabitants in charge of space.
The exhibition uses remarkable means to take one into that space. Diller Scofidio + Renfro often place architecture in the service of high culture, as with the Institute of Contemporary Art in Boston. All the same, they design for the public, as with the High Line. The exhibition has four sections, for different aspects of the work and different ways of approaching it. They and the curator, Esther da Costa Meyer of Princeton University, ignore chronology entirely. They do, though, supply a context in virtual reality and Chareau's life.
Turbot and kasha
The first section has platforms and partitions to set off furniture and to guide one from imagined room to room. Projected shadows evoke long-gone presences. The second section has Chareau's art collection and the third his architecture. It consists of a room within a room, which headsets convert into four environments, including a garden and his office. The surrounding walls further reconstruct those environments—with Chareau's pochoir (or stencil) prints, photographs, and floor plans from Kenneth Frampton, the British architect. The last section attempts to experience the Maison de Verre as a whole, though a changing slide show.
Display cases for still more art and documentation break through the divisions between sections. A caryatid by Modigliani uses both sides of one wall for a sculptural niche. The results are dazzling but confusing, and they mean to be. Chareau had a messy history, and he lived to see his own achievement slipping away. The Maison de Verre was not his only success, but most of his other projects survive only in plans and photographs. And his flirtation with mass production was not his only failure.
He also made success from failure. Why metal and glass for the Maison Verre? He had a vision, but he also had the economic constraints of the Great Depression. He had another constraint, too, in that upstairs tenant who refused to move out. With the aid of Bijvoet's architectural training and engineering skills, he had to create and connect three floors without having the fourth collapse on top of them. It was as much a technical feat as an influential design.
What happened next? In a word, war. Chareau was raised a Catholic—and he called his lamps La Religieuse, because they reminded him of a nun. Yet he descended on his mother's side from Sephardic Jews, and he married one. A menu survives from an early meeting of L'Oeil Clair. It served turbot, but also kasha.
The Nazis occupied Paris in June 1940, and Chareau fled soon after to New York. As ever, he started out in the thick of things. He designed a home in East Hampton for Robert Motherwell, the Abstract Expressionist. It pursues his play between industry and craft more than ever. Starting with a ready-made quonset hut, since destroyed, it takes a cylindrical shape interrupted by long windows. Motherwell, in turn, wrote admiringly of Chareau, in collaboration with Harold Rosenberg, the critic.
Soon enough, though, commissions dried up—and so did the hopes of an exhibition at MoMA. His wife, Dolli, stayed two more years in Paris to dispose of whatever possessions she could, before the Nazis took them all. The couple had to sell still more in New York to survive. For Motherwell and Rosenberg, the realm of politics is no more serious than "the act that sets free in contemporary experience forms which that experience has made possible." In other words, art for art's sake endures, but as testimony to the dangerously political present. Chareau's very life had become as fragile as a glass house, and he died in 1950.
The museum as showroom
Imagine MoMA's embrace of Björk as just one step toward merchandising the entire collection. Imagine the atrium as a trade fair, with Kai Althoff upstairs in charge of its warehouse. And now the third floor is itself a furniture showroom, as "How Should We Live?" It shows some of the twentieth century's best-known architects and designers coming together for shared projects and a more widely shared style. It shows coveted names, like Eero Saarinen for his womb chair by or Isamu Noguchi for his cylinder table lamp, more often than rare finds. Yet it also shows architecture and design coming together on behalf of a space for living.
It is not, though, easy to pin down. It is not about individual careers or a fuller history of modern design. You can enter its maze of model rooms and display shelves at any point, and you can leave thinking of it all as a single high-end design center somewhere today. It is not about a movement or a school, like the Bauhaus, although Mies van der Rohe and Marcel Breuer loom large. Half a dozen contributors riff on the former's tube chairs, while Breuer enters modestly enough with a tea cart. With details down to door handles, a food grinder, an old black telephone, a Bakelite radio, and a bedframe, nothing is beneath attention.
For all that, it is also not quite about transforming the modern city, although Le Corbusier brings his influence as well, along with that bedframe. We in the show's title is ambiguous: while these designers are posing questions for modern life, they are often designing homes for themselves or each other.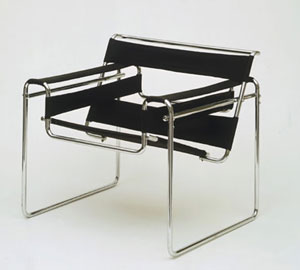 The exhibition takes its title from a poster by Willi Baumeister, bearing a slashing red X—which the curators, Juliet Kinchin with Luke Baker, take to stand for a century at a crossroads. Mostly, though, it has already made its choices, to the point that visitors may feel right at home. You may want to plop down in one of those steel and leather chairs.
And you can, for the show also recreates a 1927 Velvet and Silk Café by Lilly Reich with Mies furniture—with fresh coffee from stylish drip pots and a lovely view of the sculpture garden below. Much else, too, showcases the work of women, often in collaboration. Early on, Eileen Gray furnishes a vacation home for an architect and editor, Jean Badovici, and Grete Schütte-Lihotzky designs a Frankfurt kitchen. During the Depression, Anni Albers (an abstract artist in her own right) provides upholstery and wall coverings for her husband Josef, Aino and Alvar Aalto form their design company, and Marguerita Mergentine remodels an apartment for Frederick Kiesler. Later Charlotte Perriand works with Le Corbusier on student bedrooms at the Maison du Brésil in Paris, and Florence Knoll devises the display space with Herbert Matter for an actual New York showroom. As one last collaboration, Ray and Charles Eames tackle prefab housing in LA, with colorful grids after Piet Mondrian.
They have much in common beyond tube chairs. They prefer plain geometry and bare tables, but with organic forms in art on the wall—including a still life by Arshile Gorky and a tapestry by Jan Arp. They tend, too, toward small apartments even by New York standards, and Philip Johnson works out his thoughts right here in the city. The common elements also suggest common tensions within Modernism, tensions that Ettore Sottsass would explore as well. Would their designs be comfortable or Spartan? In stacking and recombining prototypes, is their vocabulary flexible or a new dogma?
They are asking not just how we should live, but also who are we. The show moves outward, much like the Bauhaus in America—ending in Tokyo and California. Although Gray worked on affordable housing soon after World War I, it also moves from private projects to a way of life for others. What began as a vision was becoming at last dorms and prefab apartments. The show may never figure out whether it describes a distinct style or competing histories. It does, though, look as familiar as a showroom today.

Pierre Chareau ran at the Jewish Museum through March 26, 2017, "How Shall We Live? The Modern Interior" at The Museum of Modern Art through April 23.