Is It Post-Black Yet?
John Haber
in New York City
Fore
When Sadie Barnette looks back on African American identity, she finds it anything but black. Her contribution to "Fore" consists of a boom box, a record player, and some soda cans, all of them the worse for wear—and all of them painted white.
"Fore" challenges just about every association with blackness I can name. The fourth in the occasional shows of emerging artists at the Studio Museum in Harlem, it has ballet lessons, Queen Victoria, abstract art, and more humor than darkness. Identity, including African American identity, still has a way of reasserting itself, even after the fact. This time, though, race seems more about facticity than cultural politics—a matter of personal experience and remembrance. The show projects a quiet optimism, a dream of escape, and a sense of play. With an African American president, not to mention a Kenyan supporter of Islamic terrorists, is it finally time for a change?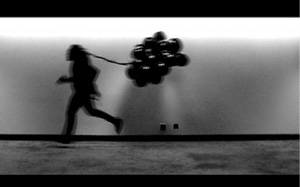 Emerging conversations
When Thelma Golden rolled out the series, in 2001, she spoke of the art as "post-black." It got people talking, loudly, but you know what? The very same shows came to define a generation of African American art. Black Americans probably know the feeling. In the eyes of others, only starting with police on the street, they become black all over again whatever they do. "Fore" shares the museum with "A Harlem Family" by Gordon Parks, for a reminder of what blackness and America's future looked like not so very long ago at all.
So is it "post-black" yet? Freestyle," "Frequency," and "Flow" were all freewheeling and in your face, like the forthcoming "Uptown" at the Wallach Gallery. And signs of their success are everywhere. Right as "Fore" opened, series veterans like Hank Willis Thomas and Mickalene Thomas were reworking, respectively, the 1960s and black fashion magazines in a big way. Among other black artists in the galleries that day, Glenn Ligon was again texting white America in neon, and Gary Simmons was rendering blackness in a ghostly white. Maybe the most post-black art on view was from far older men, Thornton Dial and the late Al Loving.
For them all, black stereotypes will neither withstand scrutiny nor entirely go away. Whites for a while appropriated Sadie Barnette's boom box, like aspects of urban culture before and after, and laws targeting consumption of soft drinks have a wide audience in mind. Music is music, even half a block from the Apollo Theater, and Barnette associates the dirt beneath each object as much with Robert Smithson as the street. She chose obsolete equipment anyway, and we are all post that, right? Still, you instantly understand her choices. And it took an artist to make these objects white.
Is today's post-black, then, always a black tomorrow? Maybe, but it follows that you will just have to wait and see—and who am I, a post-non-black, to speak for others? For now, the museum's Lauren Haynes, Naima J. Keith and Thomas J. Lax as curators have a lot going for them. In an art world always demanding the latest thing, they stick to twenty-nine artists, the oldest born in 1971. Amid noisy and near-constant shows of emerging artists like "Greater New York" at MoMA PS1 and two versions now of "The Generational" at the New Museum, they give artists multiple works—and in some cases a chance to come back during the run for a performance. The artists get to talk to one another, at least on the walls, and real conversations emerge.
One conversation is about abstraction. What does that have to do with African American artists, you may ask? So do they. Harold Mendez offers it in black, but as worn dryer sheets from the laundromat—sheer, torn, and lending their shades of white and gray to a grid on paper. Eric Mack comes closer still to Loving's fabric, but blowing in the breeze of his own box fan. Cullen Washington, Jr., adds a stretcher bar in front and a T-Mobile sign below, inserting his unstretched collage into a shifting urban narrative.
Noah Davis covers his cryptic diptych with gold leaf, but could he be staring out, like the boy in his portrait? Sienna Shields bases her shapes on the documents of gentrifiers and urban planners. Yet a black shadow seems to lie amid the paper and acrylic as in a bed of flowers. Kianja Strobert combines a vocabulary of line and color into her exuberantly overpainted art, where one can find almost anything. Brenna Youngblood is more sparing of gesture, color, and meaning. One bit of text announces its own LIMITS.
Getting past the past
Each is wrestling with the human implications of found and painterly materials. So is Toyin Odultola in stippling black silhouettes with color, Yashua Klos with a woodcut rock garden that never quite takes the shape of a face, or Firelei Báez, less convincingly, with a decorative homage to Caribbean art. So definitely is Taisha Paggett, who tries to draw straight lines right on the wall. At least she claims to try, for the pastel's curves and steep descents suggest not failure, but a loving surrender to the dance. From there, it is only one step to Jacolby Satterwhite's video of himself prancing about in a foil suit. Reifying Desire: Model It sounds like a critique of something for those in the know, and it is, but it is also an excuse for gender-bending, 3D glasses, and just plain showing off.
Zachary Fabri plays the shaman, too, but for those who will never find a cure in his madness. His filmed guerrilla theater takes him through Marcus Garvey Park, in a cloud of red helium balloons in black and white. Eventually, he clips away the dreadlocks that held them in place, and they fly away. Has he let go of a burden, left his mark on the universe, or lost his magic? Just to ask is the first indication of a restlessness beneath the show's brightness and whimsy. When Kevin Beasley stuffs and ties refuse into black plastic and a cast-off sink, like body parts after a hit, it does not look comforting.
Crystal Z. Campbell records what she calls Futures for Failures, in video of the demolition of a St. Louis housing project, and unwanted laughter at a funeral. Jamal Cyrus keeps his sense of humor, with a deep-fried saxophone, but it is sure not making music. Nate Young's sermon is funnier still, in a language of "process" and "discourse," but art-school confinement extends to a pew facing the wall. The most overt self-assertion, a photo "mash-up" of consumerism by Narcisster, seems way too glib, while the most overt politics seems oddly remote. Queen Victoria belongs to Caitlin Cheery, who has a fixation with cartoon lips and toys. Kenyatta A. C. Hinkle's colonial-era photographs of African women works hard indeed to transform their "otherness" into dignity or horror.
The most moving encounters with everyday suffering point to the past. Picket signs by Nikki Pressly quote protests from the 1960s—and not just about civil rights. They hang over a stairwell, like a crumpled chandelier, but also as a site-specific history lesson that one can read from the side before descending. Downstairs, Valerie Piraino's slide show plays within the peeling walls of a now vanished home, and even Satterwhite traces drawings by his mother. Family belongings enter, too, into Abigail DeVille's meaty installation—along with an old TV, an American flag, a busted shopping car, and cigarette butts—and their ambitious layering simulate the very process of history. The curators see a "forthright attitude and confidence" in Jennifer Packer's small, loose portraits—but I could see only slumping, staring, sleeping, inaction, and the hard wooden end of the artist's brush.
An alternative conversation dreams of escape in the present. The men in videos by Steffani Jemison, The Escaped Lunatic and Maniac Chase, run wild, but the inmates are not escaping this asylum any time soon. Akosua Adoma Owusu crosses an African rope bridge, as a kind of personal diaspora, with equal measures of fear and hope in her eyes. As with Fabri's red balloons, even release may mean only dissolution. Jessica Vaughn stacks posters of old neighborhoods and a distant sea. Each of them feels like something lost, and the work itself will disappear as visitors one by one carry it away.
Are these artists black, post-black, or even past the past? So many memories, materials, and colors already feel like a release, and so does the bitter comedy. Art no longer has time, it seems to say, for arguments over pride or despair. Maybe the show is really post-white, in its ambivalence toward identity, culture, and the past (and let us not forget that the most popular use of fore is in golf). On one wall Nicole Miller dances to classical music and for a white ballet teacher, while on the opposite wall a Caribbean dance hall really gets going. You must choose for yourself where to stand and to listen.

"Fore" ran at the Studio Museum in Harlem through March 10, 2013. Related reviews look at other surveys of emerging art in "Freestyle," "Frequency," "Flow," and "Fictions."