Haunting Women
John Haber
in New York City
Marianna Rothen and Barbara Probst
Jordan Kasey and Rita Lundqvist
Images of women keep haunting art, and art keeps haunting images of women. Just ask women artists.
When Marianna Rothen looks at herself on camera, she sees her shadow in paradise—meaning for her the far side of Hollywood. When Barbara Probst calls her work Exposures, she, too, is holding back. And when Jordan Kasey looks in painting, she sees another planet entirely, only very much like this one. Rita Lundqvist sees instead a melancholy landscape, but it could well be her own. Where Rothen and Probst look back to Postmodernism as a given, maybe even a thing of the past, Kasey and Lundqvist can quote Modernism from memory. Feminism may keep changing, but paradise is not coming soon enough.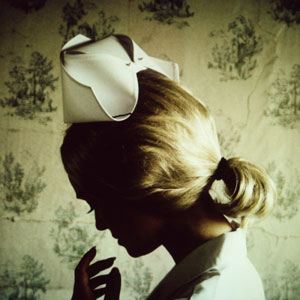 nth-generation feminist
Marianna Rothen is an nth-generation feminist. I would fill in the n, but by now I have lost count. Besides, her work is all about multiplicity. She and her friends pose in photos that dare one to pin them down or to tell them apart. One has seen them, for certain, somewhere before. It might have been in a theater, a video stream, a gallery, or a museum.
If that sounds all too familiar, it should. Her Shadows in Paradise riffs on an industry that depends on both darkness and dreams, the movies. In particular, Rothen explains, she draws on Ingmar Bergman's Persona, Robert Altman's Three Women, and David Lynch's Mulholland Drive. Like them, she stages a woman's dislocation, and the multiples add up. Altman himself, after all, drew for inspiration on Persona, and Lynch was remaking the glamour and melodrama of a Hollywood that had long gone. The psychological truth-telling and avant-garde stylization of Bergman in the 1960s and Altman in the 1970s, in fact, had done a great deal to chase it away.
Rothen moves in territory familiar from the 1980s as well—the "Pictures generation" of Cindy Sherman and Laurie Simmons. Sherman, of course, made her name by posing for Untitled Film Stills. And Simmons posed dolls for what could be a film perpetually in progress. Rothen, too, plays feminine roles, while looking so doll-like at time that I mistook her for a toy. Men, I suppose, do that sort of thing. So did Alfred Hitchcock and film noir.
Her technique, too, produces multiples while simulating a lost original. She works digitally in both color and black and white, before rephotographing prints as Polaroids for their pre-digital sheen—and then she scans them and prints them again. Her characters live in what her previous solo show called a "Pheromone Hotbox." They stare out windows or into mirrors, pose against old-fashioned wallpaper, nurse whiskey, lie dead, or hold a gun, in dated costumes and curls. They favor close-ups, strong contrasts, shallow depth of field, and unsettling camera angles. They play to expectations for an independent woman as vulnerable, desirable, and above all a threat.
Those expectations extended to a woman not often known for her regrets. Rothen also appears in video, on facing screens, as Woman with the Crown. Once again, strong lighting and old hairstyles make her a living doll. She takes on various roles while speaking the same text slightly out of synch, so that it appears to echo itself—generally once with emotion, the other flatly. The text, about a woman as sex object, turns out to quote an interview with Lady Di. Who knew that Diana felt so at a distance from the idol that she had become?
Of course, a fascination with Lady Di also goes back a ways. Is Rothen just late for the party or keeping it going? Is she upping the ante or viewing even feminism through the filter of today's hot fashion magazines? Is the nth degree a repetition or an extreme? Maybe both, but the seductions are real. Then, too, after the 2016 election, working out the generations of feminism matters as well.
Multiple exposures
Barbara Probst calls her photographs Exposures, but what exactly is she exposing? On one level, nothing at all. A woman asleep cannot reveal her dreams—or even where she lies. Sinking past the bottom of her frame, she has no fixed relation to the rooftops in two more photos to either side. And they, too, hide their address somewhere unseen and below, the first both across the street and discomfortingly close, the second literally just letting off steam. The arrangement's very title, Exposure #115, hints at subjects long since multiplied into anonymity.
The façade at left appears unchanged in a series of five prints, to the left of a green shawl curtaining off whatever lies beyond. Then comes a still unfinished tower against the same blank gray sky. The woman, now awake and looking out a window, shows nothing but her back.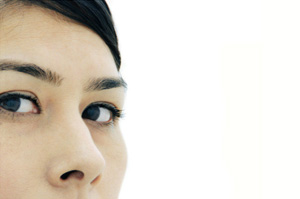 Her face appears again in two rows of six photos each, twice without her eyes and once with little else. That leaves little more than a bottle in green glass, studio equipment, bare walls, and her hands on the back of a chair. Even the equipment seems cut off from its purpose.
Then again, Probst could be exposing her anxiety—or the viewer's. The woman seems calm enough, but her dark hair has swept up from her sleeping face, her eyes look everywhere and nowhere, and her hands have their restless, unsteady grip on the chair. Buildings corner-on allow no entry point or exit, not even in the zigzag of a fire escape, and the steam could be a metaphor for dark thoughts. They could be products of her dreams. One studio device looks both too fancy for a camera and way too dangerous. The entire series has the clinical lighting of a lab experiment or a horror film.
Of course, the lighting also typifies a studio. The woman has a model's beauty, and the curves of her eyes stand up easily to the near abstraction of a tripod's black diagonals against white walls. Her gaze evades and encounters the male gaze, much like the object of Jimmy Stewart's zoom lens in Rear Window. Probst's real subject could be photography's self-exposure, with the sitter and equipment on equal terms. That peculiar device connects multiple cameras for multiple exposures, triggered by a timer. Each work captures a single moment in time.
Still, it is a protracted moment, extending across sleep and wakening, not to mention across three works, three walls, and twenty frames. The rooftops and urban vistas recall another extended series of German photography, the water towers of Bernd and Hilla Becher. The wall grids and the studio's near emptiness relate as well to Minimalism, as with Carl Andre and his invitation to take one's time to explore the space around one. The focus on a medium and its making recall Minimalism, too, as with Frank Stella. Fragmenting a subject across the grid rather than as photo collage sets the series apart from Surrealism on the one hand and digital culture on the other. Anxiety here belongs neither to the present moment nor to the past.
Probst is both clinical and personal, down to the lines and curves echoing from frame to frame, like a woman's body for Hans Breder or Irving Penn. There may be something notably German, too, about the close-ups and crisp edges. As with Gerhard Richter, she is both literal and self-reflexive. Still, the work now belongs to New York, where she spends much of her time. Like the woman at the window, a New Yorker knows how strangely time passes in a familiar but ever-changing landscape, between lonely rooms and crowded streets. In photography as in the city, exposure and reticence both have their place.
A woman's planet
With Trump in office and a solid GOP majority in Congress, humanity is one step closer to destroying the earth, but try not to worry. NASA is already on the lookout for habitable worlds. A Web page ranks the current top twenty candidates, and even then it has forgotten to look on the Lower East Side. With "Exoplanet," Jordan Kasey takes the search for extraterrestrial life to the most obvious place of all, art. As tends to happen in painting, it looks disorienting but strangely familiar. It also looks built to last.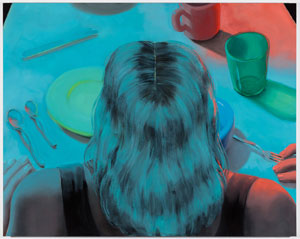 The show's title borrows the term for a planet orbiting a star other than the sun, but Kasey updates Fernand Léger for contemporary Brooklyn. With his late work, Léger already adapts the monumentality of Renaissance art and Neoclassicism to modern life. Like Pablo Picasso around the same time, he was setting aside Cubist fragmentation, give or take cascading walls and shifting breasts. His three women share morning coffee and patterned flooring out of Paris in the twentieth century, but with rounded flesh, nude bodies, unsmiling faces, and an otherworldly detachment. In reviewing his 1998 MoMA retrospective, I spoke of his icy humanism. Kasey just takes things one step further, to people you only thought you knew.
It may help that she is a woman, allowing her to dispense with nudity and to restore a degree of privacy. At the Table returns to the scene of Léger's Three Women (Le Grande Déjeuner), but for a single woman seen only from the rear. Women at poolside or in a backyard at night have their faces cut off by the picture's edge or a head of hair. Still, the table's plates stand empty, and the pool is nowhere to be seen. All appear in harsh colors and a ghostly light. A woman at the piano leans close to the keys in a kind of rapture, but ordinary pleasures seem far away.
They challenge one to engage them or to identify the scene at hand. Before too long, angled planes and dark waves define an open box crossed by shadows, but full lips and eyebrows may never quite cohere into an upside-down pink, gray, and yellow head. Its nose looks like hair, maybe pubic hair, because sensuality is never quite present and never far away. It may also owe something to the style of a graphic novel. Kasey has kept her sense of humor along with her emotional life in the face of global warming. When it comes to another planet, men may or may not be welcome.
Rita Lundqvist brings a simplicity to her women, too. She picks up on Modernism as well, although the later kind associated with formalism. Her compositions run to grays, plain horizontal divisions, and lush brushwork akin to early abstraction by Brice Marden, before he discovered curves and colors for their own sake. They run to squares as well, accentuating their small-m minimalism. The women look anything but at home, though, even on the rare occasion that they share a canvas. The small dimensions heighten their isolation.
They do not come from another planet, but they do come from Sweden, and Lundqvist's grays and isolation may reflect long winters and a northern light. Like Kasey's, her women also bring with them a melancholy comedy. One sinks into the ground as if stuck in Kasey's cardboard box. Others pose against a great deal of ice or just the horizon. Yet they keep their composure, their nuanced expressions, their hidden narratives, and their hopes. Even a Nordic landscape has a flowering tree.

Marianna Rothen ran at Steven Kasher through April 15, 2017, Jordan Kasey at Nicelle Beauchene through March 12, and Rita Lundqvist at Tanya Bonakdar through February 4. Barbara Probst ran at Murray Guy through February 20, 2016.