New Media: Old and New
John Haber
in New York City
Charlotte Moorman and the Origins of Video
Lillian Schwartz, Carolee Schneemann, and Looking Glass
Here you thought that Nam June Paik invented video art. And no doubt he did, but not single-handedly. At the very least, he could rely on Charlotte Moorman. Now New York University's Grey Art Gallery is out to recover her agency, as "A Feast of Astonishments." Carolee Schneemann can look back on her feminism and performance art as recorded in video as well.
The origins of new media make a marvelous but ever-changing story, from Paik and Fluxus to computer art and video games. And its history is still being written—by artists every day. Say what you will, a natural collaborator like Paik would have to approve. But how about pinball machines?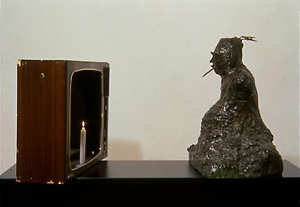 With the L train out of service in another year, will I grow nostalgic for Bushwick? You can probably wax nostalgic right now about another gallery scene, and a show of new media in old containers should help.
New and newer media
Nam June Paik could use a TV as at once a prop in performance or an indelible image, with or without a picture tube. He could make it a cello for Charlotte Moorman, bare-chested, or a focus of meditation for Buddha and couch potatoes. He could make the monitor the scene of chaos or mere pixels of light drawn by a magnetic field, not unlike regular programming. He flirted with interactive art, although Myron Krueger collaborated on virtual reality as early as 1969. As disarming as ever, he simply invited visitors to snap their own photos. When it comes to early video art, anyone could play.
Anyone could play—not only Moorman, of course, but an entire scene embracing John Cage and modern dance. Yet Moorman, a cellist who died in 1991, had a career almost picture perfect for reality TV. The exhibition's very title accords with the self-promotion, overstatement, and mixed metaphors of television today. She played in wild and elegant settings, from the halls of Europe and America to the skies above the Sydney Opera House, held aloft by balloons. She helped bring Yoko Ono to Carnegie Hall and an annual Avant Garde Festival to shifting locations in New York and Cambridge, much like alternative art fairs and pop-ups these days. She performed in Ono's Cut Piece and a score by Ornette Coleman, and she crafted sculpture after her instrument.
Nor is NYU alone. This is a time of revising history in favor of neglected artists, with markets eager to buy in. Just a year ago, the Jewish Museum argued for the place of television in modern art, while Stan VanDerBeek proved to have made video and text art with one foot in the studio and one foot in the research lab. Others have seen Wolf Vostell as an early rival to Paik in Fluxus and Germany. Now another gallery claims a point of origins in Lillian Schwartz. It also fills in a missing piece by extending new media from video to computer art.
Vostell and Schwartz have a fresh relevance today. His grainy collage of found footage and happenings has the eerie look of surveillance cameras now seemingly everywhere. He pursues art to jazz clubs, airports, and supermarkets, one darker than the next. Schwartz's animations and screen captures have the cartoon colors of much contemporary art—and enough failure screens to challenge even Windows. Her equation of coding with abstraction also leads naturally to younger artists, such as Cory Arcangel and Casey Reas. As it happens, Reas is having his best show in years, with sheets of color rivaling his slowly evolving curves in black and white.
They can also seem hopelessly old-fashioned, only starting with their embrace of pixels and the grain. Schwartz's thick soups of color look like forgotten album covers made under the influence of LSD. Together, though, they point to the multiplicity of new media then and now. They bring out the dynamism of a point in time, with Moorman, VanDerBeek, Vostell, and Schwartz all born within a year or two of 1930. (Paik was born in 1932.) They invite one to map out other lineages as well, from fine art to video games.
Other histories would have to include avant-garde film, the more analog the better. Bruce Conner sped up the action to the point of incomprehension, while Andy Warhol, Michael Snow, and Hollis Frampton slowed it down—and younger artists do both. A lineage would have to include early performance pieces, by Bruce Nauman and others, but a fatal shift in trajectory with Bill Viola and Gary Hill as well. They recovered video for a presence in real time and high definition that film could rarely match. They cast aside the box for the image, to capture the enigmas of performance and philosophy. And then comes the thorny issue of gaming.
The comedian as the letter V
Carolee Schneemann calls her retrospective "Kinetic Painting," as still one more act of defiance. Did she smear herself with white feathers—tarred and feathered, but still about to take flight? Did she remove a feminist tract from her vagina, posed naked like Lynda Benglis but without the makeup and penis? She was already defying expectations. Has she entered art's consciousness with just a handful of performances, over and done fifty years ago? She is first and foremost a painter, that show insists, and she is still in motion.
Her retrospective has stops only in Europe, but two Chelsea galleries help make the case. They even call their shows "Exhibit A" and "Exhibit B," as if for a courtroom. This being Schneemann, they are not evidence of innocence. The first gallery already focused on Schneemann as a painter some years back. Now it follows her to the 1990s. The second brings her closer to the dizzying pace of art in the present.
Sure enough, both include painting. "Exhibit B" has small abstractions in a loose, colorful style familiar enough from any number of artists, from Willem de Kooning to Cecily Brown and Cecily Brown drawings long since. "Exhibit A" has clotted brushwork over newsprint that often bears its own feminist or ironic message. Text enters as well as a backdrop to photos of her nude body in motion. The same photos also appear etched in glass panes that fan out to fill a circle. Both the words and the angled panes riff on the letter V.
Wallace Stevens wrote of "The Comedian as the Letter C," because for him poetry had to subordinate itself to comedy and to language. Schneemann plays the comedian as the letter V—as in vertigo, vegetable, and of course vagina.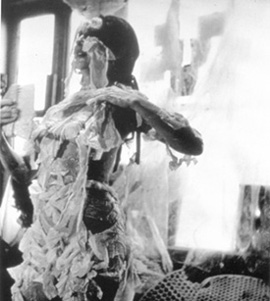 She also picks up speed. The letter series extends on video to Fresh Blood: A Dream Morphology, with close-ups of dried leaves. A second video, Precarious, closes in on a woman's flesh and blood, with a case of breast cancer.
Video becomes installation in "Exhibit B," for what Schneemann calls the "ecstatic normal." I can vouch for the ecstatic, but definitely not the normal. Four floor monitors lead to a wall projection, as images fly from one channel to the next, while other projections shift along their contents, as rotating planes. The lines of monitors and the resulting trapezoids declare a perspective encompassing both nature and the viewer. Images of monkeys in captivity, a bird in flight, a rabbit bobbing its head incessantly, a band on the run, a mob scene, and pixels run amok suggest fragmentation, claustrophobia, and cruelty.
They can also grow heavy handed. For Schneemann, hospitals are abusive, too, with their war on cancer really a war on women. She brings in a Baroque statue of the Virgin to find a parallel in the bubonic plague, seen then as witchery. The entire show reduces all too readily to a tract on animal rights and a know-nothing campaign for alternative medicine. It approaches a mere blur of images as well. In that blur, though, she still stakes out a kinetic painting.
Generation X, Y, and Z
Remember Williamsburg before even Pierogi departed? It meant easy walks through some great experiments, just when Chelsea was still gathering wealth and steam. It meant galleries that soon enough found themselves swallowed up and defeated by that wealth. It meant a good excuse to stop into a bookstore or a bar. Often enough I ended a few blocks east, at Barcade—and I swear it was for the craft beer selection, not the pinball machines. I am just not young enough to wax nostalgic over games.
I might not be young or innocent enough either for ten "volumetric displays" with technology by Looking Glass. The collective has invited eight artists to tinker with its hardware and software, and it offers at least three excuses for nostalgia. For one, each work resembles an old-fashioned arcade game. A small box serving as video display rests atop a clunkier device reaching to the floor. I can imagine dispensing with almost all of it and sticking to the image, but then that would ruin the game.
For another excuse, the collective promises "Memories of the Future." Still in its "first generation" of new media, it should have you asking: how did they do that? Mr. Gif, also a collective, offers digital portraits of young men and women slowly turning to face you and then away. Chelley Sherman offers just a tumbling, muscular white blob, like a paler and more acrobatic Incredible Hulk. Yet they gain in presence from the ghostly digital colors and an uncanny push into 3D.
I should not be young enough, but I had to share in the pleasure of recognition. Mr. G. has a point in sticking to video heads, leaving the base to complete a robot from generations past. One interactive device even reaches back to Etch-a Sketch, with a few updates. A third knob carries the awkward drawing along a third or z axis, right out of the x–y picture plane—and a button saves the results for 3D printing. Samples look like miniatures by Sol LeWitt, as if he, too, were a gamer. Fluid outlines by Matthias Brow, aka Traceloops, recall yet another old toy, Gumby, but with a penis.
That third excuse for nostalgia? This may or may not be art, but at least it is child's play for adults. Jeff Chang's cartoon character manages a factory. Meanwhile the box kicks out orders of sushi onto used CDs. The white Hulk has its adult side, too, with its component blobs as atoms in a plausible macromolecule. (Sherman may not have intended science as art, but she does confess to an interest in astrophysics.)
How do they do it, without stereo glasses? They break an image into ten or more projections, displayed on successive screens. A team member apologized for the flatness of one display, based on a camera looking out from the box in real time, but he looked very much behind me, and I looked every so awkward in the lead. So is it art? I suppose, since it enlists artists, and the bases add a touch of sculpture, as if by a single artist. They may have little more to show for their efforts than the technology and a serious case of the cutes—but maybe the next generation will have you, too, looking back.

Charlotte Moorman ran at Grey Art Gallery through December 10, 2016, Lillian Schwartz at Magenta Plains through October 30, Casey Reas at Bitforms through October 16, Carolee Schneemann at P.P.O.W. and Galerie Lelong through December 3, and Looking Glass at Fridman through August 23. Wolf Vostell ran at Rooster through February 22, 2015. Related reviews look at competing accounts of early video art, including "Inner and Outer Space" and "<Alt> Digital Media," and Carolee Schneemann.