Local Color
John Haber
in New York City
William Eggleston
One could call William Eggleston photography's great chronicler of the American south and leave it at that. At the press preview for his retrospective, he even acted the part. He held attention with few words and without the podium. He looked ever the dapper gentleman, even as Fred McDowell played the blues harp in the background—thanks to his 1974 video, Stranded in Canton. I started to wonder whether old friends would recognize him.
Born to wealth and raised for a time in Memphis and the Mississippi Delta, Eggleston returned again and again to them both, except when he hit the open road. When he showed in New York in 1976, some saw only the crude outsider. He had brought to the Museum of Modern Art a not quite respectable medium, color prints. He had brought, too, it seemed, the quality of a snapshot. The Whitney subtitles the show "The Democratic Camera." Any hick, it seems to say, could do this, no?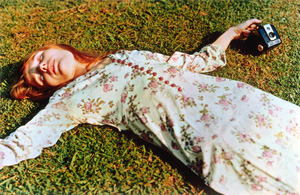 To understand, a northerner like me might start with an exception. It takes Eggleston far from the South. In fact, it takes place far above the earth. It involves symbols of sophistication, especially back when he shot the scene, in the 1960s—air travel, a cocktail, a woman's hand. One could call the photo simply a drink in an airplane, although Eggleston's series title marks it as an airplane to or from Los Alamos. Consider, however, how he does construct a scene, and you may find yourself pulling up a drink, too.
The democratic camera
Like almost all his scenes, it has a clear principal subject—in this instance, a plastic cup filled with a not so sophisticated pink cocktail (although other reports insist it is Coca-Cola). The subject rests below the center of the frame, but not within easy reach of the viewer, at the back corner of the seat tray. The camera angle accentuates both its prominence and its distance. Here Eggleston looks slightly down, perhaps leaning over from the seat behind.
Everywhere around the subject, one starts to notice a more complicated middle ground. One has the tray, with a reflection of the drink in warmer colors and a busy geometry of shadows on the front edge. One has more shadow filling out the space and then the elegant hand of an unseen passenger. Finally, one has a distinct background, with sunshine and clouds outside the open window. It sounds almost like a child's game, of concentric circles to situate himself in the universe. My drink, my airplane, my camera, the world.
Almost all his work has that precise structure of foreground, middle ground, and background—of intense focus and intense life around the edges. Even more so in his latest work, one might have stumbled on something that was there all along. Someone must have left that gun on the table, that axe on the grill, that turkey in such a big spread, or that ratty basketball net in the backyard, but when? These are plain things, caught by the democratic camera. Like alcohol for that matter, they are also things fraught with feelings, often mixed feelings. Those feelings, in turn, point to the background that one sees and to the background that one does not.
The drama takes on more overt psychological overtones when people hog the foreground. A young woman leans over a counter, cash in hand. One sees first her long, blond hair and lovely face, then the window that bars access to her and the viewer. An older woman holds her own, facing front in the center of the sofa. Her long legs, print dress, careful composure, and reserved expression preserve the dignity of the old South, but the sofa also isolates her tiny figure. Others create their own drama, such as an elderly man seated on his bed holding a gun, a young woman lying with her hands crossed just below her belly, or her friend leaning over her as if waiting for the cue to speak.
Eggleston treats photography as a process of selection. Those sudden finds come from shooting plentifully, but choosing his prints ruthlessly. The compositions depend on multiple, premeditated selections. As on the airplane, the subject may come to life from a burst of color in a world prone to black and white. It can depend on sharp edges, slightly off-center framing, an exaggerated point of view, the depth of field, or a physical barrier to vision. A shot from below makes a tricycle a towering shadow, while an out-of-focus garage behind the basketball pole functions as distant stage backdrop.
These devices recall any number of classic twentieth-century photographers, but especially Henri Cartier-Bresson. However, Eggleston turns against the estheticism of Cartier-Bresson's "decisive moment." Instead of a couple kissing in a train station, he selects common objects in familiar settings, and he provides or implies a larger context in a specific society. Instead of a man leaping over a puddle, he prefers a sense almost of permanence—of things that clearly sat there before the camera found them. He has caught them in the act, but not wrested them away. Instead of the decisive moment, he really does seek the democratic camera.
Color's decisive moment
Along with the plain sense of things, Eggleston offended by shooting them in color. The turn to color photography, although well after Paul Outerbridge, also brought him to the attention of John Szarkowski at MoMA, who gave him that small but legendary show. The Whitney's curators, Elisabeth Sussman and Thomas Weski, do not even attempt to recreate it. They organize their show chronologically and by series, but they seem out to escape Szarkowski's shadow. Not long ago, Bruce Silverstein gallery again made an impressive case for the photographer and his use of color. The Whitney has something else in mind with its boast of a retrospective.
Actually Eggleston had been experimenting with color film since the mid-1960s, before Joel Sternfeld and Joel Meyerowitz or Stephen Shore, after an early road trip produced small black-and-white prints. And he continued to work in black and white well into the 1970s. That includes an assignment to Jimmy Carter's home town of Plains, Georgia. It includes portraits from 1973, people again caught but not wrested out of their lives. They pose without engaging or confronting the camera, and their pose and their gaze help again to create that deep background.
These days color floods the galleries, and even inkjet prints pass for archival. It takes a leap of the imagination to feel its shock. It takes imagination, too, to remember MoMA's daring before that in asserting photography as an art. Like sepia tone now, black and white then helped made photography historic, but not just owing to its age. It allowed a painterly control of tonal values. It allowed craft in the darkroom, the kind that might scorn digital manipulation now.
Did color prints look plain crude? Eggleston would have agreed, at least at first. He convinced himself and MoMA otherwise starting in 1974, when he took up dye-transfer prints, not above enhancing or outright altering the colors in the process, and the Los Alamos series assumed its present form. The saturated hues of dye transfer give that turkey its gloss. They create the contrast between the pink cocktail and the pale browns like aged whiskey of its reflection on the plastic tray. They isolate a bare bulb and its nexus of white electrical wiring against the deep red of a ceiling. Naturally, the shadowy red of the walls creates a middle ground and the actual subject, Radio City, an implied background.
Otherwise, he has little interest in the fields of color of his peers in painting. Soon enough, photographers found another claim to art in imitating abstraction, when not staging imaginary cinema. Eggleston is still at his business of isolating a subject while returning it to where he found it. It lets a rooftop sign for peaches and Coca-Cola really pop. It singles out a boy's ruddy complexion at Los Alamos as he rounds up shopping carts, with the urgency of someone recovering parts of an atomic bomb.
It links a girl's red hair and the shadows of her eyes to the brown grass beneath her. It makes her sprawl on the grass—arms thrown wide, teeth apart—something out of a scary movie. And then the amateur camera in her hand makes her the artificer, and her print dress makes color, too, part of her context. The photograph bears Eggleston's customary label, Untitled. As usual, drama has defeated narrative.
Between icons and alienation
One can wait a long time for Eggleston to tell a story or supply a message. Along with the decisive moment, he breaks with another tradition, documentary photography. Along with the fourteen photos on display in 1976, MoMA issued William Eggleston's Guide. The publication title, the Whitney observes, democratizes the Michelin Guide, but it also subverts expectations for the old WPA guides. He has an obvious challenger as a chronicler of the South in art and an obvious influence, Walker Evans, but he refuses the iconicity of Evans's subjects, his "American photographs," and his postcards of America. He refuses, in fact, pretty much every word in the title of Evans's Depression-era work for the Farm Security Administration, Let Us Now Praise Famous Men.
In avoiding the documentary, he keeps a certain distance from people, even in utterly sympathetic close-ups, lest their stories take over. The Plains series looks more like landscape than a study in race relations, and the Carter family never appears. Another assignment sent Eggleston to Graceland, but, he says, "I was never interested in Elvis." He cares enough about music to include Mississippi blues and Bach among the many episodes of Stranded in Canton, and he accepted an invitation from David Byrne to join a film shoot. Once there, though, he did not feel up to photographing. Ever since, has spent less time in Plains and more time with the plain sense of things.
The very plainness of his work can disguise how much it broke with the past. Much the same break was going on all around him as well. The Whitney treats him as one of a kind, but museums do that when they have an exhibition. Others, too, it helps to remember, were independently in search of democratic vistas. Robert Mapplethorpe was taking mere Polaroids, as was Andy Warhol. In Europe, Bernd and Hilla Becher settled on the anonymity of silos and water towers, while Jan Dibbets exhibited his contact prints and Barbara Crane hers.
Increasingly, too, Americans like Diane Arbus were reveling in the weirdness of the everyday. Like Eggleston, Garry Winogrand counted Cartier-Bresson and Evans as his influences while preferring more discomforting encounters. Robert Frank had already set a new standard for photographs of the American road trip, but he, too, was finding pleasure in banality, disorder, and the blues. Frank's documentary of the Stones's 1972 American tour, Cocksucker Blues, looks as if he let anyone grab a camera. And much of the time he did.
Eggleston never loses his sense of foreground and background, of place and social class. In the South, of course, even that means tension. In one photograph, a white man owns the foreground, looking face front and deliberately away from a black man standing stoically behind in the middle ground. Which one has rights to the white car behind them both? Los Alamos and an airplane suggest other kinds of alienation. As titles go, his favored Untitled is alienating enough on its own.
For all that, Eggleston has too great a sense of reality to forget his subject's roots—or his own. He accepts what he sees, he takes deep pleasure in color, and he communicates those feelings to others. Especially in his portraits, he anticipates the more confrontational subcultures in photography today, such as Nan Goldin or Catherine Opie. Still, he would disown them, too, just as he looks backward to Cartier-Bresson and Evans but avoids them. These city types can all visit, find their freak show or decisive moment, and return home. Eggleston will remain, and he has to live with everything that still lurks in the background.

William Eggleston: The Democratic Camera, Photographs and Video, 1961–2008" ran at The Whitney Museum of American Art through January 25, 2009.