Vanishing Signs of Summer
John Haber
in New York City
Summer Sculpture 2006
All year long I look forward to those late summer weekends, with the city still quiet and green, sunlight still lingering—and the parks filled with sculpture. In Empire Fulton-Ferry State Park, where the trees and grass have never looked richer, lots of people obviously feel the same way. Dumbo's forced march to condo culture accelerates just up the block, but the galleries shut this time of year anyway, and one can increasingly forget the implicit scar on that glorious Manhattan skyline across the water.
No wonder the park on an August Sunday fills with sunbathers—and the playground in Brooklyn Bridge Park just to the north with children. For two months in 2006, both parks have saved space once again to "Between the Bridges."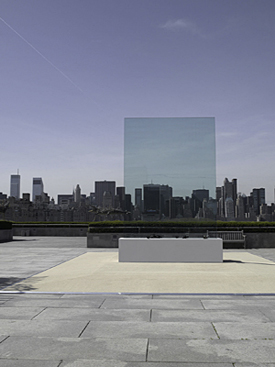 Of course, it is only one of several shows of outdoor sculpture each year, but this time the rest have grown all but invisible. Some have settled for ghostly displays and gentle echoes of summer. Luckily, nestled beneath the span of the Brooklyn Bridge, the park out in Brooklyn can still play with architecture above. It presents one of the best views in New York, and so, often as not, does the art. This once, however, I had to look across at unfulfilled visions of a revitalized city.
Transparency and drift
Can sculpture really become invisible? Outdoor sculpture by Michael Heizer even half hides in the basement courtyard of the Whitney, for its "Full House." City Hall Park sculpture settles on a familiar stabile by Alexander Calder, but just outside the fence, by the subway entrance—although at least that means five fewer than next year. It makes the park less a bit of urban greenery than an extended office plaza for the financial district. Socrates Sculpture Park chooses the theme of parkland for its show, and the resulting work looks almost as scattered and derelict as the Queens waterfront itself. Ursula von Rydingsvard does much better in Madison Square, but she has to compete with large screens for live action from the U.S. Open, and I shall return to her work in context of her gallery exhibition opening in September.
Sarah Sze's sunken building bars physical and, largely, even visual entry. And on the roof of the Met, a work even depends on its invisibility. Cai Guo-Qiang calls his centerpiece Transparent Monument, and it amounts to a large, vertical pane of glass and a dead bird. Sky reflected off glass skyscrapers has famously posed a hazard to pigeons, but the work itself threatens neither human nor beast. Apparently the artist wishes to evoke deaths of another species altogether at actual skyscrapers, the Twin Towers, but one would never know it.
One might never know, too, what to make of Cai's playfulness when he reflects on disaster. When Paul Chan or Deborah Brown can see both a serious and comic element in disaster and hope, does he see anything at all? Also on the roof, he stuffs larger birds with knives and other sharp paraphernalia confiscated at airport security. They pay homage to everything from 9/11 to parade floats in his Eastern homeland. So does a smoky explosion in the sky each summer day at noon. With due respect to Hamlet, this Polonius needs less matter and more art.
Across town, Nancy Rubins, too, has the chance to celebrate the great outdoors. In the past, her airplane parts have all but burst out of their gallery, and I loved the illusion of her pinning them down against their will. Now she has let her art escape outdoors for the summer. Big Pleasure Point in fact adopts a symbol of summer escapes, boat hulls. She could well have pillaged them from Central Park's basin a quarter mile away, perhaps dumping a few tourists into the lake for good measure. Why, then, do they constrain her imagination more than her guy wires ever could before?
For one thing, she, too, all but avoids confronting her site. The sculpture sits at the front of Lincoln Center plaza, along the street line. Maybe the sponsors demanded maximum exposure and minimal disruption to events around the central fountain. Still, the piece cannot help standing out like a monument to the Hamptons. Rubins's past work has reveled in the engineering feat that holds it all in place. Here she takes the easiest route to sticking things together.
The boats fan out from a central, open-frame pillar, like a drunken flower. I begged for associations with the sea, as when Frank Stella invokes the Great White Whale. Yet all I could see was a snazzy monolith, unsure whether to act funny or grand, not quite attaining either one. Perhaps boats without oars cannot help suggesting artistic drift.
Bridge haven
Art in Brooklyn, too, may invite one to head for the waterfront. Fortunately, the 2006 sculpture exhibition, staged much as ever by the Brooklyn Waterfront Artists Coalition, responds to a park's relaxed, confident spirit.
"Between the Bridges" has grown to over twenty-five works, although with many—probably too many—repeat contributors from past years, and almost all of them happily accommodate either nature or the urban landscape. On the side of nature, both Courtney Kessel and Ursula Clark weave twigs and loose scraps into open-air sculpture. Clark's small hut of wood, leaves, feathers, and small stones invites one to enter, but Kessel's giant nest of wood and old clothing feels more at home to both humanity and nature. Perhaps the nest belongs to Doug Makemson's two shiny herons of what look like automobile fenders. Both perch by the waterline, one of them well off the paths and half hidden in the bushes.
Paradoxically, hints of the urban scene and its "Relative Environment" unfold more gently still. Two separate imagined landscapes, by William Zingaro and Bernard Klevickaus, consist of bright, warped sheet tiles at ankle level. Julia Ousley's human-sized skyline undulates at much the same pace, and her human silhouettes look both childlike and at home atop the wooden pilasters. Only Tyrome Tripoli's piled kitchen sinks, Lori Nozick's simulated logs of roughened clay, or Cynthia Karasek's tall cedars wearing a bright yellow plastic cap come close to debris from neighboring gentrification. Even they seem far too cheerful for a community board meeting. See, I imagine them saying, Dumbo will throw in everything but the kitchen sink—and then some.
When human beings turn up, they do not make much of a fuss either. Matt Johnson calls his bronze creature Greed and Gluttony, but it looks more like a court jester than a real-estate developer. The men in three different works sport neckties, although more in modesty than decorum. Bill Berry plasters images of the same awkward figure in suit and tie, perhaps himself, on punching bags piled in a metal cage. Steve Dolphin punishes his corporate False Oracle still further, by slicing off its head and sticking a kind of metal-pipe anus at its feet. Garbage in, garbage out.
The figure on grandest scale, Miggy Buck's David up on the gently sloping hill, has left behind only his enormous feet. Even then, the feet of clay—or plaster—are likely to have one smiling rather than reciting Ozymandias. Other works decorously echo modernist idioms, and I not recall a single piece this year all that reminiscent of Minimalism or its heirs, unless one counts Thea Lanzisero's three spheres of something like metal bagel chips. Kevin Barrett wall of curved shapes crosses abstraction with a reddish brown out of 1950s' living-room furniture. Michael Post's drawing in space crosses David Smith and a child's toy.
Perhaps Ousley's peopled skyscrapers or Buck's pair of feet recall the Twin Towers, and indeed past shows between the bridges have grappled with memories and war. It says something, however, that the skyline includes five buildings and the feet have nothing heroic about them. Richard Brachman's colorful Power Totem sports a dollar sign and a gun, but it really seems too devil-may-care for political commentary. Perhaps it says something, too, that the installation faces largely to the north, away from Ground Zero, with roughly a quarter of the work in Brooklyn Bridge Park. Karen McCoy's Sensory Station stands touchingly alone on a railing, pointing south and out toward Manhattan. Its cone, ambiguously like a nineteenth-century hearing aid or a megaphone, awaits other voices—perhaps the presences that, everywhere this summer, have turned invisible.
Missing sculpture
On Governors Island, the art has simply vanished until "PLOT/09" in 2009 or Mark di Suvero in 2011, much as the defenders of patriotism at Ground Zero have banished culture downtown. The Lower Manhattan Cultural Council does not attempt a second summer show, although ferry service resumed, free this time, to the island's grass expanses and ghosts of American history. Now if only anyone knew what to do with the place. One writer even suggests doing nothing at all, lest living visitors ruin a perfectly good ghost town. One could almost forget that one would be preserving not just a historic fort and Civil War officers quarters, but cheap postwar housing, a bowling alley, and an abandoned Burger King as well. Come to think of it, maybe that arc does describe American history.
In fact, for some time now, art downtown has slowly pared its way down to nothing. One year the sponsors for City Hall Park withdrew a couple of pieces in mid-exhibition, in the wake of a murder inside City Hall. For the last year, they had given up on emerging artists in favor of Roy Lichtenstein and a boring import from London. And now things have became more barren still and the park proper entirely empty. Like the barriers around City Hall, it makes the park less a bit of urban greenery than an extended office plaza for the financial district.
Not that City Hall park invited sunbathing anyway, but Governors Island still does. If the Lower Manhattan Cultural Council approached it with care, the Council also does not try again to slip art installations into downtown streets or to exhibit political art near the South Street Seaport. At least it still has a studio program. Mostly, however, the Council stuck to staging concerns by established acts in Hudson River Park. Its very name might suggest the empty promise of culture in lower Manhattan.
Maybe the Council just had no stomach for yet another argument over art and politics after the Drawing Center debacle. Maybe, too, that first dent in downtown programs, starting with the removal of art from City Hall Park, tells a revealing story. A local politician had personally escorted a deranged rival past a security checkpoint, only to find his reward in heaven. Of course, the city responded with barriers irrelevant to the original danger, further isolating City Hall from anyone who might have wished to take a walk, stage a protest, or simply make one feel that the seat of New York's government belonged to its citizens. If a couple of imponderable works of art also fell by the wayside, one might fairly call that a minor complaint by comparison. Surely I should care much more that one still cannot see the lavishly restored interior of the Tweed courthouse at the park's northern border—or learn its history of urban grandeur and corruption.
And I do. It should tell you something, however, when once again a mindless response to perceived threats removes art along with access. Once again, censorship of the arts goes hand in hand with a rip in the fabric of public life and public spaces. Once again, too, keeping memories of terror alive downtown also means keeping unfamiliar symbolism at bay. If one of the pieces removed that year happened to resemble a toy airplane, and if it once sat on the side of City Hall facing Ground Zero, the grim echoes of past controversies only grew.
As it happens, the Drawing Center may yet find a home, and the Lower Manhattan Cultural Council may yet find a vision, but the debate over memorials at Ground Zero drags on, and so do plans for Governors Island. The latest proposals look sleek, curvaceously modern, and slightly futuristic, like the TWA terminal by Eero Saarinen on steroids. If they show no sense of the island's past purposes, New Yorker's still await a future one. If things get down to a struggle between preservationists defending late twentieth-century tackiness and developers building monuments to nothing, I for one am heading back to Dumbo. But could I leave behind the dream of a public space closer to City Hall—including the public spaces of art, politics, and urban life?

Cai Guo-Qiang exhibited through October 29, 2006, on the roof of The Metropolitan Museum of Art. "Between the Bridges" this year ran through October 13 in Empire Fulton-Ferry State Park in Dumbo, thanks to the Brooklyn Waterfront Artists Coalition.