Back to the Drawing Board
John Haber
in New York City
Guillermo Kuitca and the Return of the Drawing Center
J. A. S. Londoño, Certificates of Authenticity, and Alexandre Singh
It says something about the Drawing Center's ambitions that it reopens with what look very much like paintings. It says something about the Center's modesty that Guillermo Kuitca calls them his diaries.
Actually, he calls them the Diarios, but each takes a few months of his life. A second room exhibits The Yearbooks by José Antonio Suárez Londoño, notebooks that document the artist's readings and the first activity of each day. With two Latin American artists and two personal records, the Drawing Center shows its concern for art beyond many a New Yorker's field of vision. It also supplies a thematic unity that compliments its sensible new architecture by Claire Weisz and an exhibition of "certificates of authenticity." For some time, the Center committed its expansion to the development of lower Manhattan after 9/11. Now, back in Soho's Cast Iron Historic District, one can decide just what has changed—and a postscript checks in again as Alexandre Singh carries the theme to "assembly instructions."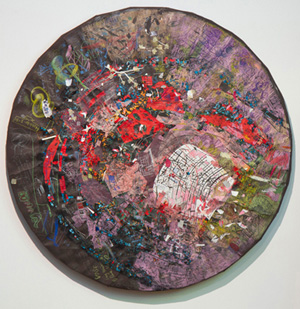 Dear diary
Guillermo Kuitca works on a table in his parents' garden in Buenos Aires. In fact, he works with the table, which forms the support for mixed media on discarded canvases. Then he replaces the circular tabletop and starts anew. At just under four feet across, the seventeen plush canvases in the Drawing Center's main gallery sure look like paintings. The circular edge of a canvas becomes part of the work's geometry and plays against the design within. Think of a diamond for Piet Mondrian or, for that matter, a circle for Frank Stella and Stella's Protractors, although Kuitca has little interest in hard-edge abstraction.
The circle, though, has little to do with Renaissance tondos or contemporary shaped canvas. It comes with all the associations with work and leisure of a kitchen table or one's own backyard. The art itself embraces doodling, none of it planned in advance, and a video shows Kuitca in progress. It owes its unity to building on the day before. Unlike the cryptic "drawings and journals" of Charles Ritchie, it also incorporates phone numbers, grids of numbers, clippings, and other texts. As one puts it, "Just play it cool boy."
Memories of a passing breakfast connect to Cubism, as does stopping just short of abstraction. Georges Braque and Pablo Picasso similarly used ovals and bits of actual furniture to evoke a café table, and these works mostly have Cubism's subdued palette and, in one case, even serif letters. As curated by Brett Littman, the Center's executive director, they get the most mileage out of black and gray, with their bursts of red from pasted paper alone. Where they have trouble outgrowing the doodles is in a shortage of concrete memories. They never do give the illusion of the moment, and then after a few months they move on. Appealing as they are, one could call them the anti-diaries.
José Antonio Suárez Londoño really does start each day with his notebooks, a dedication since 1997 that says much about his personality and his work. The Colombian artist has been around long enough to become something of a role model for Latin American art, to the point that he has earned an acronym, JASL, and theirs is not the Colombia of death squads and drug wars for Juan Manuel Echavarría. One can see more of Londoño's work and inspiration in a group show in Chelsea. Each artist in "Tracing Time" envisions the passing of time differently—from casual or obsessive marks by Bernardo Ortiz and Johanna Calle to cuttings or fissures in paper or books for Leyla Cárdenas, Mateo López, Maria Fernanda Plata, and Luis Roldán. Each, too, plainly loves reading and writing, and each nurtures memories of a work table, like the colorful rubber bands in Gloria Ortiz-Hernández's intense photorealism. That describes Londoño and his vision of Latin American art as well.
In the "drawing room" of the Drawing Center, curated by Claire Gilman, the sheets have bindings from glue to spirals to nothing at all, but they all begin as books. The daily drawings riff on whatever Londoño is reading, including W. G. Sebald, Blaise Cendrars, Jorge Luis Borges, John Berger, Arthur Rimbaud, and Rainer Maria Rilke. His library could define the tastes of a generation (my own), right down to Patti Smith and Sam Shepard. He is not out to make any of them hip, though. He represents Smith with a box of letters of the alphabet, while other images include a little girl with an old-fashioned dress, fragments of classical sculpture, and a man attempting artificial wings. Art and literature for Londoño are about keeping that past and present moment alive.
Not surprisingly, he has a fondness for diaries, like those of Franz Kafka and Paul Klee, and The Yearbooks function as his diaries as well. One should not, though, dwell on the paradoxes and charms of art about art. He is just leaving his impressions, in an image of the writer, the writer's subject, or nothing at all. The dream-like images run to animals, sleeping nudes, the sky, and concentric whirls that could stand for tree trunks or fingerprints—whether the writer's or his. They, too, shy away from weightiness. They have much the style of a children's book, so long as the child is ready for the author of The Art of Love.
A fresh cast
The first plans for a National September 11 Memorial included a cultural center, with the Drawing Center a part of it. It was shot down, shamefully, as Republican politicians and the tabloids milked public fears of art and susceptibility to blind patriotism. The Daily News pounced on a drawing in the Center's collection, by Amy Wilson, that worked through her own fears after 9/11 with a childlike innocence that Londoño would admire. In retrospect, it could be the best thing that ever happened to the Center. It is spared security checks and a tourist trap—like Ground Zero or, in later plans, the South Street Seaport. It gains a fresh appreciation of its existing site on Wooster Street and a thorough renovation.
It may not even seem much like architecture rather than a restoration, like that of the Yale University Art Gallery and a welcome contrast to MoMA's latest expansion. Claire Weisz of WXY architecture + urban design (most visible to New York so far for the Times Square Visitor Center) has, necessarily, retained the cast-iron façade, looking cleaner and whiter than one ever remembered. None of the elements inside calls attention to itself, even as one must navigate a partition just inside the entrance. If one thinks of museums these days, one probably thinks of curves and cantilevers, dead space in a central atrium, big boxes, or condos and corporate offices. This is not quite, as with the new American wing and Islamic wing at the Met, more about curating and old spaces. It bears in mind, though, the old maxim that first do no harm.
It has a taste for symmetry, as a way of creating access. Stairs the width of the building (except for one door at street level, for obvious reasons) replace an old loading dock, giving up the illusion that Soho's manufacturing and dry goods are about to resume at any moment. One can enter the main gallery from the front desk—or the smaller "drawing room" from the main gallery—to either side of a partition. Supporting columns run right down the center of the main gallery. The basement corridor has the most explicit infrastructure and leads to a third gallery for smaller shows, the "lab." It is accessible by either metal stairs from the front desk or more massive blond wood stairs from the back.
One might not realize it, but all this involved gutting the interior. It also expands the Center by more than half, by taking over the basement and, for offices, the second floor. Yet it has real drawbacks other than lack of flash. It does not incorporate seating or allow for moving walls unless someone builds them (and the next exhibition will depend on them). If you expect to throw corporate parties or to find a decent café, you are out of luck—and that vestige of art's purity surely entails less revenue. Then again, maybe one day the Center can take over the top floors, too, rather than move elsewhere, and I trust that Weisz would be delighted to help.
For those truly excited about artistic integrity, the lab opens with "In Deed: Certificates of Authenticity in Art." Originality and uniqueness sure took a hit with modern and postmodern art—or at least modern and postmodern theories of art—but exactly how each deed certifies or denies authenticity turns out to be a pretty good portrait of the artist. One expects spareness from Yoko Ono, just the facts from Sol LeWitt, a lecture from Daniel Buren, and a check for Marcel Duchamp, and they deliver. For Robert Rauschenberg, "This is a portrait . . . if I say so." For Ed Ruscha, "This is to certify that this is not an original work," but he includes his name and the heading Certificate of Authority all the same. Amazingly, Susan Hapgood and Cornelia Lauf have found fifty years of examples like these, and I refuse to tell you whether they display copies or the original.
The very strangeness of stumbling onto the lab may be the architecture's finest moment, but it is not the architecture's only moment. It can claim balance, as in the relative proportions of the two principal galleries, enhanced by the open entrance to the first and opaque glass doors protecting the realm of book art and works on paper in the second. Better still is the lighting of the main gallery, where a drop ceiling and tracks allows both indirect and direct sources. Mostly, though, one is not going to marvel at this one. Rather, just as with the opening exhibitions, one is not going to complain, and I sure am not complaining. Sensible must sound like a left-handed compliment, but sometimes sensible shoes are way more than welcome.
Postscript: assembly language
Alexandre Singh speaks of his art as "Assembly Instructions," but for what? He may have in mind the entirety of human knowledge. His images range from curved spacetime to synchronized swimmers, their sources from Life Nature Library to Linnaeus. He may mean the mystery of consciousness itself, as in a pairing of the brain and the computer. A magician presides over the works of Marcel Proust, from which he produces not a rabbit but a message—Un Monde en Soi, or a world within. At the very least, Singh means the creation of western civilization, in the ruins of ancient architecture and of modern life.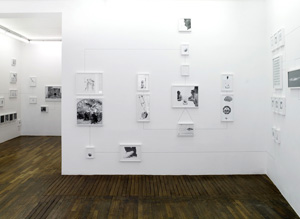 More obviously, he means the the work itself, whose assembly looks only slightly easier. Dozens of images take over the Drawing Center in a follow-up show, in patterns still to be discovered or denied. Singh, who collaborated with Jonah Freeman and Justin Lowe on their own sinister and all-encompassing installation, scans photocopies of found images to produce the digital materials for his collage, which he displays in thick white frames up and down the walls. Hand-drawn dotted lines outline the connections, but to what and to whom? The installation alone is a maze, on freestanding walls that go far to answer my doubts about the Drawing Center's architecture, unveiled just months before. While the details do not really live up to the big picture, one can always get lost.
It is an ambitious undertaking and, no doubt, a doomed one. One can see why a young artist is drawn to dodos, dinosaurs, or a 1993 Apple printer. One can see, too, why he returns often to the Tower of Babel—with the implication that art and culture do as well. Who knew that it had so many versions in paint, beyond Pieter Bruegel? Still, he is at heart an entertainer and an optimist. He even calls this incarnation of "Assembly Instructions" The Pledge, like a Hollywood action picture or a promise.
He is also something of a con artist, starting with the stories that he tells himself. He says that he began not with images, but with interviews—of half a dozen Europeans and Americans in the arts and sciences, with the finished work their "proxy portraits." The exhibition comes with a map to locate them, but the interviews are themselves a bit of a fiction. One, with the director of Eternal Sunshine of the Spotless Mind, starts "Excuse me, are you Michel Gondry?" And Gondry finds time along the way to converse with the likes of Picasso, while another interviewer gets around only halfway through ("by the way . . .") to identifying himself at all. One may not recognize the names anyway, beyond Gondry and maybe Danny Rubin, the screenwriter for Groundhog Day.
It matters more that both movies, like the exhibition, fail to run in straight lines. In one collage, a Möbius strip weaves together Transformation, Hedonism, and Despair. Singh's portraits relate to the "panopticon," or all-seeing eye, of Michel Foucault, but without Foucault's fears of human knowledge and institutions as a prison. Rather, he sees it all as a spectacle, in a world of theaters, opera houses, and arenas. Like many who bridge art and science, he also has an evident nostalgia for old-world natural histories. When Leah Kelly of the Rockefeller University eagerly introduces him to a mouse brain, her actual research (into eating disorders) may get lost along the way, but I bet he could not resist looking.
If Singh's compendium of knowledge can look awfully familiar, after everything from the Frankfurt school to the "Pictures generation," one could just as easily dismiss the Drawing Center's second space as more of the same after Sol LeWitt. That would miss the lushness that Ignacio Uriarte achieves on paper. Bic pens weave pools of color, lines of black marker accumulate a stunning density from left to right, the % key and a typewriter ribbon trace their minimalist self-portrait, a disembodied voice elevates the middle row of the keyboard into concrete poetry, and blue ballpoint arcs look like marks left in raw earth. Besides, when it comes to repetition, the German artist knows whereof he speaks. He sees his media as fresh out of the supply cabinet and their results as the "esthetics of the office." Maybe only a freelance arts writer like yours truly could miss drudgery, stress, repression, and free office supplies—but, hey, whatever it takes at this point to reconstruct western civilization.

Guillermo Kuitca, José Antonio Suárez Londoño, and "In Deed: Certificates of Authenticity in Art" ran at the Drawing Center through December 9, 2012, "Tracing Time" at Josée Bienvenu through December 29. Alexandre Singh and Ignacio Uriarte ran at the Drawing Center through March 13, 2013, along with Ishmael Randall Weeks in the lab.