Out with a Bang
John Haber
in New York City
Cai Guo-Qiang: I Want to Believe
The Guggenheim After Thomas Krens
Cai Guo-Qiang starts his show, like everything else, with a bang. A flat-panel monitor shows an explosion at night in Times Square, as billboards flash and headlights speed on by. By comparison, the conflagration near the ground has almost a human scale—just one bonfire of the vanities among so many others.
Is it a parable of capitalism, an ad, a "threat to our freedoms," or a work of art? Or is it just one more stage in the Disneyfication of art and the Guggenheim? As the museum's director, Thomas Krens, quits, Cai makes obvious what twenty years of empire building have left behind.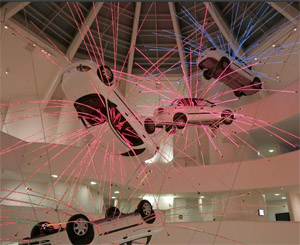 The clash of civilizations
The Chinese artist has a habit of making things visually explicit. He had better, for conceptually the works run every which way and none.
For summer sculpture at the Met in 2006, he displayed birds smashed up against a tall pane of glass. He refers both to birds that die because they cannot recognize a skyscraper and to the planes that crashed into the World Trade Center. Does he equate murderers with innocent victims of human overreach? Does he explain the attackers away as enthralled by the impersonal heights of Western finance and culture? Also on the roof, Cai fashioned a larger and fiercer creature, ambiguously a bird or a plane, out of sharp objects confiscated at the airport. Does he make passengers the real terrorists, or does he delight in the threat that he finds whenever he heads for another international art fair?
Forget the outrage. It is not worth the bother. More likely, Cai just does not think too hard, and he would just as soon others do not either. He says that he does not mind if someone misses the association with 9/11. In fact, no one could recognize all the stories that he packs into bravura installations, and he likes it that way. A more active viewer might oblige him to share center stage.
Contemporary Chinese art is often loud and conceptual. One might not notice that opening video itself, just as the drivers happily or obsessively ignore the explosion in Times Square. The screen resembles the modest, costly, and ever so cool flat panels above the admissions desk. It also hides behind a much larger spectacle in between. That spectacle, too, involves cars, human traffic, bright lights, and the sensation of explosions without doing any real harm.
Automobiles descend the seven stories from the dome almost to the floor, each pierced by a tube of flashing lights. As the lights radiate outward, the cars could be letting off sparks or plugging a product. This time, however, one can hardly overlook the associations. Like Luca Buvoli and other bad boys, Inopportune runs together Nascar and car bombs as happily as dead birds and 9/11. Outraged again? You are thinking too hard for this guy, and New York City is not exactly automobile friendly anyway.
The rest of the show pulls out some real fireworks, along with several more spectacular assemblages. Still, nothing has the site specificity of the cars and monitor, even if the former are on loan from Seattle. They fit so perfectly into the museum lobby that one might as well save almost twenty bucks and skip the ramp. More than anything, they announce the place in the museum of the celebrity artist. Cai calls his retrospective "I Want to Believe," but mostly this exile on Museum Mile believes in himself.
Above all, do no harm
That belief has got him through some bad times. He endured Mao's horrors before moving to New York in 1995. Sure, he echoes Mao when he calls the Cultural Revolution "a large societal way of reformatting and reforming culture itself." However, he is just celebrating his art. At his best, he defies Lenin's term for something like this, infantile disorder. More often, he embodies it.
The Guggenheim includes a bleak work on behalf of the regime, depicting landowners oppressing the peasantry. The nearly life-size clay figures remain cracked and unpainted. As one mounts the ramp, they also progressively dissolve into their underlying framework of wire and wood. The transition could mock the pageant of Socialist Realism, like Wang Jianwei and Brian Griffin. It could instead underscore the propaganda, serving as a metaphor for capitalism's dryness and brutality. Mostly, however, it insists that the sculptor gets the final word.
Cai can get away with ambiguity because of his talent as a stage manager. He has faith that a high-energy art scene represents the human condition. Elsewhere ninety-nine wolves pierced by innumerable arrows hurtle through the air, up the ramp, and into another glass barrier—which scales down the dimensions of the Berlin Wall, or so he says. The real brutality, self-destruction, and human fallibility, the stampede insists, belong to those who fled Communism at the cost of their lives. Fortunately, they are all the more heroic for it, or something like that. So, perhaps, is the spectator or Eastern European artist who enjoys the safety of simulated destruction.
I get a rush myself from installations like these, too, just as I show up for the fireworks on the Fourth of July. Cai, of course, relies on China's legendary invention for his best-known work. Videos show several controlled explosions, including lines of gunpowder (American made) that race against a train or that "extend" the Great Wall of China. Long before, Marina Abramovic and Ulay passed each other silently on walks the entire length of the wall. In contrast, Cai again puts neither himself nor his viewer at risk. Even the scale of the videos, on ordinary monitors, suggests a video game.
Other works apply gunpowder to canvas. They make abstract painting the record of its own destruction, as with Lucio Fontana or Alberto Burri. As with Arte Povera, too, ashes leave soft textures, formlessness, and a museum-quality patina. After a tough evening of video games, a curator needs the rest and reassurance.
From gunpowder to the Great Wall, Cai collects fragments of Chinese history and elevates them to mythic status. Other installations refer to obscure battles, the sea trade, Genghis Khan, Taoism, and . . . suppose I just stop there. One, a wooden ship run aground on fragments of pottery, wowed me, too. It also made me eager to learn more about other civilizations. Most, though, left me impatient and angry rather than awed.
The cracks are showing
I do not object to the political messages—earnest, thought provoking, self-contradictory, destructive, or merely inane. This work is ideological rather than political, and its ideology of globalization has more to do with art markets than human rights or Asian economic policy. Like Matthew Barney, it offers the comforting pretence of a street performer but with access to millions and production values to match—and with drawings in the Morgan Library. It also makes perfect sense as a last statement from the Guggenheim's departing director.
A few years ago, I wrote that art—and maybe New York—had no more urgent need than to get rid of Thomas Krens. As director of the Solomon R. Guggenheim Foundation, I argued, he "has run a landmark museum into the ground." A friend urged me to chill out. To put things in perspective, how might it compare, say, to getting rid of George W. Bush? Perhaps New Yorkers will never know, for soon both will be leaving for browner pastures.
Bush returns next year to Texas, and now Krens has announced his departure, before site-specific art celebrates the Guggenheim yet again in "theanyspacewhatever." Krens says that he likes the idea of rounding out his term at twenty years. The board's president described the move as "something that Tom and the board decided together" and a "natural transition." And so it is. After putting so much energy into glamorous satellite museums, he will oversee Frank Gehry's design for another branch operation, this time in the United Arab Emirates.
Lisa Dennison, his longtime chief curator and later director of the New York operation, has already decamped, appropriately enough, for Sotheby's. Now the Guggenheim faces the challenge of finding its identity—changing back from a mock-up of real-estate empire or auction house to a museum. The challenge comes just as so many others, too, puzzle over the present-day meaning and vitality of modern art.
Many have criticized Krens for seeking expansion at the expense of collections and exhibitions. The Whitney takes so much pride in its commitment to contemporary art that it devoted a floor this fall to acquisitions from just the last two years. The Modern keeps renewing itself with acquisitions almost unbearably close to the date of gallery display. How did that portrait of Condi Rice by Luc Tuymans slip so quickly from David Zwirner into "Out of Time," in the museum's second floor for contemporary art? MoMA has also turned up such legends as Diver, by Jasper Johns, and the Broida collection. The Guggenheim just seems to bleed money.
However, even that criticism misses the scope of its failure. While the Guggenheim in Bilbao made a museum's architecture as big a draw as its contents, a branch in Las Vegas showed little in the way of either. Plans for a Gehry building at the foot of Wall Street never materialized. Even care for the Frank Lloyd Wright structure has gone haltingly. Barely ten years after the last restoration and the addition of tower galleries to the Wright rotunda, the Guggenheim is trying again, with the cracks in the floor still showing. It has also decided against restoring Wright's color scheme.
Mission accomplished
Still, exhibitions go on. Small, mildly interesting ones have focused on the original collection, the folk origins of Suprematism, and a founding patron, Hilla Rebay. Mostly, though, the grab bag suggests a museum in search of a mission, long after its birth as the Museum of Non-Objective Painting.
Many exhibitions have pursued traveling superstars, the kind known mostly for their huge public profile and shallow entertainment value—artists like Barney, Zaha Hadid, Rirkrit Tiravanija, and now Cai. Last summer featured the disco dance floor by Piotr Uklanski that helped launch late nights in the Meatpacking District. Other shows have attempted art-historical blockbusters without the art or the history, whether of Africa, Spain, or (exclamation point duly noted) "Russia!" Most controversially, the Guggenheim has taken art-world fashion literally, with displays of Armani and motorcycles. Finally, intersperse some minor mediocrities and see how it all adds up. Italian Pointillists anyone?
For all that, something does underlie the odd assortment—an uncritical sense of art as wrapped up in international commerce and spectacle. While the Guggenheim has lost its place at the center of modern or contemporary art, its sense of art very much comports with those trends. It also extends their reach, and that may end us as Krens's most troubling and lasting legacy of all.
The museum has had some fine mainstream shows large and small, among them for Robert Rauschenberg, David Smith, Tacita Dean, and "Family Pictures." And the Guggenheim Bilbao really has offered others a tempting model—for such museum expansion plans as Tate Britain, for emerging architects, and for a new public for architecture. Now, however, just as for America after Bush, the question is not just whether a successor can figure out what to do next. Rather, has the outgoing leader squandered the resources it will take to succeed at all?
One often hears complaints about shallow, theatrical exhibitions filled with references to popular culture like Cai's, Takashi Murakami in Brooklyn, the 2008 Biennial, or even Olafur Eliasson. The complaints often trace the con jobs to Christo, but the link is mistaken. The accusation mirrors the shock at Pop Art or Minimalism's "theater" forty years back, the latter as articulated then by Michael Fried. Yet Fried himself has outlined a rich and complex history of theatrical art—from eighteenth-century painting to the intensity of performance art since the 1950s. Art may have begun with shamans and tricksters, and so many artists and dealers today still patiently develop their bag of tricks.
Christo and Jeanne-Claude, in such works as The Gates, truly engaged viewers. They made others into collaborators rather than passive spectators out to watch the fireworks. The work's constructors spread throughout Central Park rather than vanish behind an artist's outsize ego. Cai has more in common with Richard Prince, who invites one to laugh or sneer at old Borscht-circuit humor, all in the perfectly traditional medium of painting. The problem is not a lack of respect for art's supposed true medium, substance, or essence. It has to do with an art market and culture than can leap from New York to Dubai and the Great Wall, accommodating and obliterating them all.

Cai Guo-Qiang's "I Want to Believe" ran at The Solomon R. Guggenheim Museum through May 28, 2008. A related article looks at Chinese art since 1989.