A show of more than a hundred and sixty Surrealist drawings is an impressive achievement. It may sound downright impossible. With so much left to collaboration and the unconsciousness, Surrealist drawing may even sound like a contradiction in terms.
At the The Morgan Library, through April 21, it also looks essential. Like the art itself, "Drawing Surrealism" has some strange leaps in space and in time, but it helps make Surrealism strange again. It also claims for seventy artists, from Europe in the 1920s to postwar America, a seat at the Surrealist's table—and it is the subject of a longer review, in my latest upload.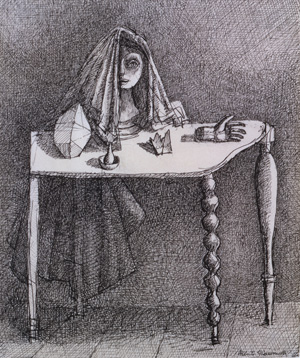 But drawing? Why take pen and ink to paper, Surrealism asked, when collage and text fragments could free up associations so much better? Why seek perfection, when found images reveal inescapable disjunctions in a larger culture and deep within the mind?
Why try to represent things at all, if things can represent themselves—when graphite rubs over them or when laid on a photographic plate exposed to light? The texture of paper alone is surely enough, brought out by its layering on a wood floor, bark, or leaves. You may no longer recognize such things at first glance, but who is to say if a first or more knowing glance is truer to life?
Why indeed worry about things, when ink or gouache on paper pressed against a second sheet and pulled apart has its own special beauty? It amounts to an ink blot, but one first hidden from view and then exposed again, as in a magic act, with much the same unexpected transformations. Why worry about preparatory drawing, to perfect a painting, when a painting can draw directly on dreams or the unconsciousness?
Why expect to the artist's inner thoughts anyway, when drawings can emerge just as well from the thoughts of others? Simply pass the sheet from one artist to another, the previous contribution covered over, to let each add something new. Then try hard to convince yourself that the jokes and juxtapositions were unplanned.
Blotted paper may sound like a Rorschach test, but then so is art to an open mind. Surrealism, in a way, may go back before any movement, and it may never have left. So, at any rate, argues "Drawing Surrealism" at the Morgan Library. It finds room for Pablo Picasso, who never joined the movement but influenced it (like everything else) greatly. Where "Inventing Abstraction" at MOMA starts with Picasso, though, the Morgan simply lets him duck into the middle and then depart. The drawings also happen to end in America, a good twenty years after some textbook histories of Surrealism and an ocean away.
The curators, Isabelle Dervaux of the Morgan and Leslie Jones of LACMA (where the exhibition began), intend a sweeping history of their own. Unusually, the show occupies both the museum's two main galleries and hardly relies on the permanent collection at all.
It also claims a greater reach than just Paris in the 1920s and 1930s. It boasts of artists from fifteen countries, including Eastern Europe and Japan. A survey of Surrealism at the Met back in 2002 already included Leonora Carrington from England and Frida Kahlo, but this one has many more women as well. One collaborative drawing passed through the hands of Jacqueline Lamba on its way from André Breton to Yves Tanguy, and another began with Eileen Agar.
The Met's survey tamed Surrealism, by treating it as fine art and polished imagery, much of it about sex. In sticking to drawing, the Morgan dispenses with the polish. Its whole story is about how one gets from here to there—from anti-art to the field of dreams. It is about who was working with whom and who was learning from the results. In particular, like the Met, it claims Abstract Expressionism as the movement's culmination. It has many wonders and much to teach—even if it has a way of wandering off from the Surrealist table.
| | |
| --- | --- |
| | Read more, now in a feature-length article on this site. |