Modernism Meets the Robber Barons
John Haber
in New York City
Renzo Piano and the Morgan Library
Federico da Montefeltro and His Library
A critical New York institution has reopened after three years—with an old face but a new look inside. Somehow, the Morgan Library has not yet drawn blockbuster crowds, but it deserves them. Renzo Piano, the architect, uses a soothingly tall glass box as a gateway to older display spaces, with their unrivaled collection of manuscripts, prints, and other rarities. Through architecture's present, one enters a culture's layered past.
A year after the reopening, the Morgan plays host to still another library. Like J. P. Morgan, Federico da Montefeltro sought an image of ruthless power combined with unequaled learning. With "the cube," a chamber for new exhibitions, Piano brings Modernism to Renaissance Urbino.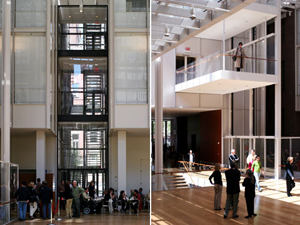 An important postscript takes the building four years later, with the restoration of the original interior. Back then, the institution did not extend into Morgan's mansion with its bookstore. In fact, two private buildings stood utterly apart.
Still me, babe
Marvelously, even after $106 million and months of anticipation, one can have a quiet visit to the Morgan Library. Instead of what guidebooks like to call a "destination," the Morgan offers a journey. In a second, one can pass from Alexander Pope's "proper study of mankind" to stationery from London's Mayfair hotel, on which Bob Dylan discovers that "It Ain't Me, Babe." One can wander amid drawings by Albrecht Dürer, Peter Paul Rubens, Rembrandt, Jean Antoine Watteau, and Rococo to Revolution, like a New Yorker's personal textbook of Western art. One can look forward to temporary exhibitions on rare prints, European drawing, manuscripts, and books, and the permanent collection has a home for them all.
Perhaps the Morgan's quiet certifies the architecture as a success, just as the constant noise and motion in the stultifying MoMA atrium must please Yoshio Taniguchi. Room to reflect shows how well Renzo Piano has preserved a private library, devoted to immersion in art and text, one that Ydessa Hendeles has mimed for her fictive one. Yet it hardly feels that way at first encounter. Piano relies on a new central court to connect three separate structures—Morgan's original library and study, the former museum areas for temporary exhibitions, and the dining area and bookshop relocated to Morgan's old house up the street, now open to the public for the first time. From the outside, the extension appears largely as two sets of glass and metal panels, one to the right of the old entrance and one around the corner on Madison Avenue. Both resemble utility cabinets waiting for someone to read the meter, but it makes for good reading.
Things get better even before one enters what the museum collegially calls its "midtown campus," which now fills an entire block. The new doors on Madison set back significantly from the street line, framed by the older buildings to either side. As people assembled restlessly one Friday evening, the exterior felt a bit less like a barrier and more like a gathering place. Inside is better still. With its high ceiling and tall west windows onto a row of trees, the lobby pays something of a homage to the Ford Foundation. Natural light comes from every side, and illuminated manuscripts (like Le Livre de la Chasse) like within.
A glass elevator offers open views, too, both outside and in (a nice touch in ongoing renovation at the Yale University Art Gallery as well). It also plays on Modernism's glass box, while creating a science fiction vision of the future. Dining tables contribute to the spaciousness, as well as sending the message that the cafeteria, too, is about common space rather than the exclusive use of wealthy members. From here, one can head for the gift shop or a proper Victorian tea at left, galleries to the right, offices upstairs, art education and a small concert hall downstairs, and an upstairs terrace for further views. In the lobby, people settle into computer terminals—surely a model for what museums should and will become. Touch screens elsewhere assist with musical scores, each allowing a comparison of performances.
Piano—I mean the celebrity museum architect, not the soundtrack—has a reputation for caution and attention to detail, and both apply here. Despite the lobby, much will seem comfortingly untouched to stodgy visitors like me. The exhibition space grows slightly, largely owing to an upstairs room, but the new galleries themselves are unremarkable, and the bookstore has not yet expanded its wares noticeably. The extravagant dome separating Morgan's study looks brighter than ever, but rooms to either side remain untouched. One could still press one's nose up against the library's glass cabinets, if not for the guards. I still imagine myself ascending its tiers to hold the books in my hand.
Piano does not try to impose a new order on the old rooms or, conversely, to imitate the old—and those refusals mean a lot these days. On the down side, he does not try anything original to pull the elements together. The central lobby, replacing a narrow hall between two old buildings, also replaces the older display, as Jed Perl complains. From the central court, the old rooms for temporary exhibitions look at first like broom closets, and one can no longer imagine Morgan himself strolling between his library and the exhibitions, each now their own worlds. He just makes it nice to visit them in search of new acquisitions and his own. Piano's next task is to placate everyone involved with the Whitney's expansion and the Lenfest Center for the Arts at Columbia University.
A little learning
As it happens, the same summer makes an excellent test for Piano's vision of where Modernism leads, with a more imposing view of architecture's future by Zaha Hadid. One can compare two visions of New York after Postmodernism. In J. P. Morgan's library and study, I can share the rewards of capitalism at its most pitiless. I can pretend to stand above the fray, as a patron of the arts and sciences, at once worldly and noble. I can happily take credit for the expertise of others. I can even overlook that the Morgan Library's greatest treasures lie elsewhere.
Morgan would feel at home again now, alongside a worthy predecessor. A year after its opening, the Morgan Library has recreated the library of Federico da Montefeltro, who ruled Urbino until his death in 1482. The duke's lectern, still preposterously grand and tall, occupies the center of the room, surrounded by a selection of rare and, of course, weighty volumes. They hit all the right notes for a man of piety, learning, and ruthless ambition—from the Gospels in Latin and Pope Gregory's Commentary on Job to Virgil, a history and maps of territory ripe for conquest, and a horoscope for advice on how and when to pull it off.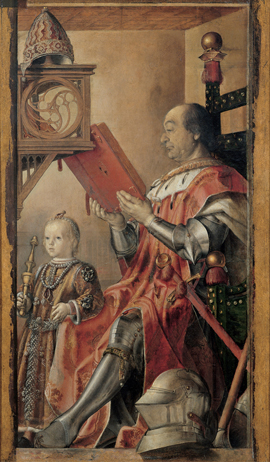 On the walls, photographs reproduce the original study's paneled walls, painted with a convincing illusion of still more symbols of an age. Why not commission paintings of the ancients and their books like this, and leave their contents to others?
Morgan would have a lot to live up to, even before museums and their celebrity architects. Italy back then had more than enough warring tyrants and city states. Leonardo da Vinci served one of the worst in Lombardy. If Florence recalls Athens, suggests one textbook, Federico's ideal of a state led by its warriors approaches Sparta. Rome, which had lost all claims to greatness by early Renaissance, had not yet had its rebirth under Raphael, Michelangelo, and renewed papal power. Ironically, the show commemorates the Vatican Apostolic Library's acquisition of Federico's collection in 1657.
The duke lived in interesting times. An illegitimate son, Federico took power after his brother was assassinated by his own angry citizens. He and the pope may have conspired to take out the Medici clan in Florence. The curator, Marcello Simonetta of Wesleyan University, believes he has the evidence in an abstruse secret code. Federico posed twice for Piero della Francesca, once kneeling at the foot of the Virgin in full armor. Another portrait, included in the show, shows him in his library reading, perhaps, that very edition of Job—but in regal fabrics again draping the instruments of war.
The portrait has a Northern Renaissance attention to detail and texture, but the lighting comes off mute, and the composition has more to do with Italy. Scholars still debate whether to assign it to a visiting artist, Justus of Ghent, or to an assistant in Urbino, Pietro Berruguette. The duke's strict profile reflects Italian models, and it also hides the loss of his right eye at sword point. His intact helmet pushes outward from a ledge at the painting's bottom edge. Its perspective positions the viewer below his feet, as his subject. His son's left arm curls comfortably and dutifully on his right knee, while the boy's robe, scepter, and upright pose mark him as an heir to power.
The Morgan hopes to convey the privacy and scale of the study, by staging it in the Thaw gallery off the new atrium (a tactic picked up by Rick Mather for the Virginia Museum of Fine Arts). It looks out of place. One has to cope with others as the duke himself never would, and one has to strain to make out text high on the walls, above the display cases. Gaps between the false paneling emphasize the bare walls and high ceiling of Piano's architecture. Museum staff will direct you to "the cube." Can there be so many competing visions of luxury, art, and empire?
A postscript: a study in scarlet
Not every New York apartment has a walk-in closet, especially not one as wide as an East Village railroad flat. Fewer still are lined with steel—and with shelf upon shelf of rare books, their fine bindings in view. J. P. Morgan had one, off his study, and four years later it is back on view, following a welcome restoration. One can see again Morgan's private rooms for work, study, and collecting, and one can feel again their seduction. The reopening of the McKim, Mead & White building brings back the core of the Morgan Library as you, too, may remember it. It also brings to a close the museum's long renovation and expansion.
It is hard to beat the timing—or at least its irony. Charles McKim completed his work up the block from Morgan's mansion (at the left in the drawing) in 1906, and the economy crashed in 1907. Morgan is said to have brought financiers together in his study and commanded them to stay until they came to a resolution. Who needs ideology on the one hand or bipartisanship on the other when one can treat both parties as superfluous? Somehow, inequality as a matter of right is fashionable again, so why not remember when it did not discourage erudition? Judging by a photo of Morgan at the Temple of Horus in Egypt, the display of learning went beyond a rich man's affectation.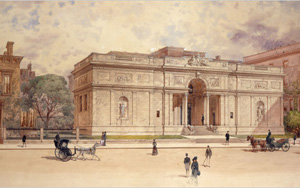 One can stand just inside the original entrance, and one can imagine entering that way, too. The rotunda, with its neoclassical ceiling by a popular muralist of the time, looks brighter than I remember because it is. A swatch of marble left uncleaned shows how much it had darkened. One can turn to Morgan's library on the one side and his study on the other, with new lighting and upholstery. From there, one can peer into the closet, crammed with books for perhaps the first time since Morgan's son Jack took the institution public in 1924. The Morgan calls it the "small vault."
A larger vault lies hidden from view in the basement, with proper climate control. Renzo Piano took care of that in 2006, along with the new atrium and the exhibition spaces. Critics of his work then—or of the architect's plans for the Whitney downtown—may see things now as a return to "normalcy," as Republicans liked to say back in Morgan's time. I had quite forgotten that the public never did use the original entrance. For added irony, a show of Roy Lichtenstein at his earliest and raunchiest includes the cartoon words Knock! Knock! from 1961 and a parallel installation from 1967.
I used to linger over the library on my way to exhibitions, in part because at heart I cling more to paperbacks than to rare books and papers. I marveled at the tiered balconies with no visible means of access, now behind plexiglas rather than glass to create the illusion of nothing standing their way, wondering if Morgan used them for browsing. I lingered, too, over the study with its luxuriant furnishings and bourgeois tastes. The Renaissance paintings run to Hans Memling with the wings of an altarpiece akin to Memling's portraits, but also to workshop productions after Donatello, Sandro Botticelli, and Giovanni Bellini and to graceful lesser lights like Francesco Francia. (Who can resist someone who is still dead and whose name sounds like Francisco Franco?) The reopening also includes a smaller office, formerly off limits, that served his first director, Belle da Costa Greene, in building the collection.
The Morgan, like the Frick with its proposed expansion, promises to treat the old building as more than an exercise in nostalgia—with more display cases than in the past, to rotate perhaps three times a year. For now, it houses a Declaration of Independence folded as its owner might have in 1776. It has ancient seals and early stories presaging the Biblical flood, Galileo's declaration of innocence, the first Bible printed in America, a Bach cantata and a Chopin Polonaise, Lincoln's debate notes, the furious revisions behind Balzac's great output and Alexander Pope's measured rhymes, and one of the Morgan's three Gutenberg Bibles. (But who is counting?) Nostalgia may still me wanting the rooms darker. But then New Yorkers are a competitive sort when it comes to culture and real estate.

The Morgan Library reopened to the public on April 29, 2006, with additions by Renzo Piano. I first saw the renovation in late May. "Federico da Montefeltro and His Library" ran through September 30, 2007. A review of Zaha Hadid includes further elaboration on Renzo Piano's architecture. The restoration of the original interior opened to the public on October 30, 2010, and the Roy Lichtenstein drawings closed January 2, 2011. Related reviews look at the Whitney's new home in May 2015 and a critique of museum expansions.