Late in life, Walker Evans returned to Hale County, Alabama, but the sharecroppers had gone. So, after all, had the Great Depression, decades ago at that, and so had the professional camera that captured its most stubborn survivors.
This time Evans brought an emblem of a different kind of transience, that of consumer culture—a Polaroid camera. The results even look disposable, and they show temporary housing with no trace of the lives within. In the past, he had also collected penny photos and but now he saw no need to defer to studio professionals of any sort. postcards,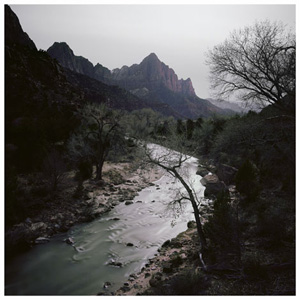 To pile on the ironies, the medium to which he turned is obsolete in today's stubbornly digital age as well.
"The Poetics of Place," through May 28, has precious little poetry and almost as little sense of place. The Met samples recent photos from its collection—and, together with an earlier report on a history of photography drawn from MoMA's collection, it is the subject of a longer review and my latest upload.
Even when Carrie Mae Weems travels to Mali and An-My Lê to Vietnam, like Evans in search of origins, their destination seems out of reach. For Weems it reduces to a mud dwelling in soft focus and for Lê to the far side of a dense riverbank, and both could just as well be left over from prehistory or the day before. And even when Wolfgang Staehle sticks to the specificity of a single day along the Hudson, his slideshow of eight thousand images seems oddly detached. In place of the Hudson River School and the American sublime, he has the banality of real time. He also has an artery along which nothing and no one seems to move.
The show it takes its theme from the 1970s. Minimalism and earthworks had discovered repetition, waste, and entropy, as with coal mines for Bernd and Hilla Becher or Robert Smithson. Photographers still traveled America, like Robert Adams or Dan Graham, but to find trailer parks and the cheap housing of Staten Island and New Jersey. They linger on railroad crossings, like Laura Burns and Lother Baumgarten. They track the damage due to industrialization and natural disasters, like California after a flash flood for Joel Sternfeld. Strong colors for William Eggleston only bring out the awkwardness.
The Met describes its subjects as landscapes and built environments, leaving open where one ends and the other begins. It notes the role of the New Topographics, in Adams and Lewis Baltz. It invokes, too, the slippery border between amateur and art photography, as with "slow snapshots" for Jean-Marc Bustamante. You may not have known Donald Judd as a photographer. Yet he traveled south of the border to document ancient ruins. They would do his Minimalism proud. They also have eerie affinities with Mexico City sidewalks that, for Damián Ortega, look like tombs.
The show can feel like a throwaway. Most of its fewer than thirty artists have only a work apiece. Some, too, have the unexpected, like Judd. Sally Mann appears not for family portraits but for Virginia in the mists. Jan Groover, known for still lifes in gleaming color, also photographed the "semantics of the highway." Suffice it to say that cars go in irreconcilable directions.
They are not above beauty, like Darren Almond, with his fifteen-minute moon." They are also not above remembering, like James Welling, who sees the present through film noir, or Matthew Brandt, who prints the ruins of Madison Square Garden with his darkroom medium its own dust. They may even try to locate a sense of place, like a coffee plantation for Jan Henle—although it looks more like the surface of Mars. Sarah Anne Johnson follows the Arctic Circle, where she photographs herself at her tripod. You may wonder if someone else is behind the camera. You may wonder, too, if she will ever break closer to the pole.
Read more, now in a feature-length article on this site.