On the Spot
John Haber
in New York City
A Dialogue with Nature: Romantic Landscapes
The Untamed Landscape: Théodore Rousseau
There will always be an England, but not the amiable one of Thomas Gainsborough. "A Dialogue with Nature" juxtaposes landscapes from England and Germany, to explain the different spirits of German line and British color, but also how both left the Enlightenment behind.
Something remarkable, it makes clear, happened in the nineteenth century: drawing became superfluous—or did they? Painters could compose studies outdoors on the spot, and those studies became the finished work of art. So did works on paper disappear?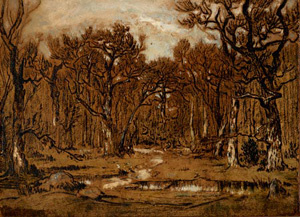 By no means, and Théodore Rousseau found time for well over a thousand. The Morgan Library goes on to ask what that meant for painting and his art.
Transcending nature
Start with Thomas Gainsborough, the painter of village comforts and fashionable portraits, the favorite of the royal family, and the founder of the Royal Academy. His time still looked to an ideal harmony, in human society as much as in nature, with each rank and each gently windswept tree in its unchanging place. End with J. M. W. Turner, whose colors flood a canvas to echo the extremes of nature, but with, magically, an unmatched clarity and accuracy. John Ruskin had in mind James McNeill Whistler many years later when he complained of "flinging a pot of paint in the public's face," but Turner shocked Europe at least as much and for much the same reason. Just this summer, the chief critic of The New York Times accused him of a tawdry expressionism. Art can travel a long way in half a century, and audiences are still catching up.
The Morgan Library traces exactly that half century, but in landscape alone and not just in England. Its thirty-seven works on paper come from London's Courtauld Gallery as well as the Morgan, and the eruptions come fast and furious. Gainsborough sketched his vision of happy rural life in 1780, and by 1802 Turner was already on his first visit to Switzerland, where he spent each summer in the 1840s. Ernst Ferdinand Oehme from Germany was in the mountains, too, with firmer outlines in ink, more natural colors, and empty skies, but much the same heightened drama. The show's final wall also includes an actual eruption, of Vesuvius in 1800. In Thomas Girtin's gray wash, a dome billows out from a cut between mountains behind a smoky plane, dwarfing the tiny hints of humanity.
The curators, Matthew Hargraves and Rachel Sloan, present the changes in art a good half a dozen times, to pin down distinct threads in the origins of Romanticism. If you seem to keep reverting to the past, you are. First comes the starting point in pastoral idylls not so very distant from Claude Lorraine in the 1600s, but already one should be looking for clues to the future. Gainsborough himself preferred landscape to portraiture, perhaps the first hint that artists had to move outdoors, with sketches and plein-air painting executed on the spot. Conversely, artists never did abandon a vocabulary of rural homes and peasant lovers, because a more organic view of nature still had to incorporate humanity—or what the twentieth century would call "the machine in the garden." It also had to incorporate the imagination, in a visionary landscape that would not disappear until Impressionism or beyond.
The show's very first work, by Paul Sandy in 1762, abandons single-point perspective for a panorama, in crisp washes. Soon enough comes the turn outdoors, including a German artist serving as a soldier, Friedrich Olivier in 1814—his quiet field a true respite from battle. Next come the subjects in nature—like a castle for a Swiss artist, Adrian Zingg, near a fort for John Robert Cozens, perched high on cliff and silhouetted against a still taller mountain. A cloud study from John Constable in the 1820s, in the space between abstraction and scientific precision, parallels one in Germany from Johan Christian Dahl, who cannot resist throwing in a sunset. Alexander Cozens, John Robert's father, introduces a blasted tree back in 1780, and Johann Georg von Dillis in Germany and David Cox in England attend to each and every branch in passionate detail. Samuel Palmer captures a still broader and wilder trunk, in fisheye perspective against the spindly weave of surrounding trees.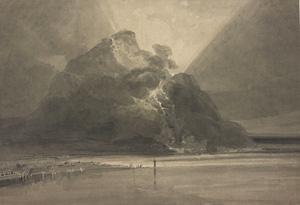 Soon enough the imagination roars back. If nature takes its own course apart from the span of a human life, how could one not bear witness to the dead? Already, Zingg's fort was a ruin, but nothing like Carl Philipp Fohr's medieval castle, which takes on a sudden translucency as it ascends into the sky. Caspar David Friedrich even presents an active church as if it were a Gothic ruin, a crucifixion above the high altar like a testimony to the triumph of death. By 1837, Karl Friedrich Lessing ups the ante with not just a cemetery, but an abandoned one, its headstones thrown aside by something mightier than the grave. If these efforts seem a tad literary, Lessing surely knew Thomas Gray's "Elegy Written in a Country Churchyard," and Turner illustrated an edition of Lord Byron.
To fill out the tensions between observation and the imagination, one needs one last and grander theme, the Romantic sublime. Here, too, things revert to the early 1790s, for Joseph Anton Koch in the Tyrol. A comparison of Johan Christian Dahl's Elbe Valley with Constable's distant hills again argues for the importance of Dresden artists alongside the English. For Friedrich, a perspective view itself stands for infinity. The imagination has persisted, but something has changed in the imagination, from a constructed ideal to a transfigured one. Still, a transfiguration implies a basis in experience.
Taming Romanticism
Théodore Rousseau, Jean-François Millet, and Charles-Francois Daubigny have entered the history books as leaders of the Barbizon school, named for a village near the forest of Fontainebleau, and the show bears the subtitle "The Road to Barbizon." And well it should, for it takes roughly half its length to get there. It also emphasizes Rousseau's travels, as part of a deepening identification of painting with place. One sees him as early as 1829, at age nineteen, in and around Paris but in search of a landscape untouched by the city. One can follow him to Auvergne in south-central France in 1830, for six critical months among its volcanic hills and streams—and to Normandy and Brittany in the 1830s for their coastal communities and sky. And then he was on to the forest, until his death in 1867, for the contrasts between mass and shadow that became his art.
The show calls itself "The Untamed Landscape," and somehow his return to within forty miles of Paris corresponds to more agitated drawing and a wilder nature. This is the artist and French drawing one remembers, in contrast to Millet's idealized scenes of peasant life or Daubigny's firm compositions and deepening skies. It also raises the question of his place in history. The previous show in the very same room described the Romantic landscape as "A Dialogue with Nature." Was Rousseau putting all that behind him, in favor of seeing things for themselves, or was he turning his back on the future by clinging to a still more naive Romanticism?
Maybe both, which is why he has pertinence for Post-Impressionism and early Modernism, with their search for "the primitive" in both humanity and nature. (The curator, Amy Kurlander, quotes Vincent van Gogh as an admirer.) At the same time, well before Modernism's garden, Rousseau sees landscape through human habitation and human eyes. The scenes are largely empty of life, despite the occasional fisherman or peasants in prayer. Still, they have room for a stone bridge, docks with sailboats at rest, a grotto open to the sun, a grand château, more than one famous cathedral, and entire villages. An untamed nature thrives on contrasts with the wilder side of all these as well.
Each stage in Rousseau's journey also corresponds to new models for his art. He studied with two largely forgotten Neoclassical painters, persisted after repeated rejections from the official Paris Salon, and skipped off to Auvergne only after competing in vain for the French Academy's Prix de Rome. His earliest studies draw on the broad panoramas and high vantage point of Claude Lorrain. He headed for the northern coast inspired by earlier French and British painters, and at least two color sketches capture Turner's swirling, glowing apocalypse. His final silent woods and plains crossed by cows mark his discovery of Jacob van Ruisdael and Aelbert Cuyp. Maybe he chose to forget that the age of Rembrandt cherished landscape as testimony not to the force of nature, but to an independent republic and to what made the Dutch who they were.
His earliest oil sketches near Paris also have strong echoes in the crisp light and houses parallel to the picture plane in early Camille Corot, a contemporary who later visited Fontainebleau. Auvergne introduces not just a greater wildness, but also an oil technique strong enough to move among cascades, rocks, and a more radiant atmosphere above. A close-up of a towering cliff uses graphite to trace gradations almost like a portrait face. Normandy, along with side trips to Switzerland and the Jura in eastern France, introduces a middle ground, converting his leaps between masses and depth into complex, interpenetrating volumes. Rousseau also turns from regular hatching to the squiggles and agitated line that characterize the dark woods of his Fontainebleau.
He settled there once and for all in the late 1940s, in a rented cottage with a barn for his studio. Things just get splashier and splashier, from the soft brushwork on foliage to the low sun on a horizon, boulders on a mountain face covered with vegetation, and all those massive, effusively branched trees. Almost every scene has evidence of civilization amid a savage landscape. They include winding paths into depth and foreground marshes overgrown with reeds. By the very end, Rousseau allows a greater lightness, whether in farm clearings or reflections on stagnant water. Still, his touches only multiply, to include highlights in wax, and grow ever more active.
So was Rousseau progressive? One can distinguish oaks from chestnut trees and, with a little effort, times of day, but his heart was not in a basis in light as with Claude Monet, but in things. Maybe that is why he kept drawing. The act had become not preparation for painting, although the show does include a few preliminary studies, but a continuation of painting—for nature and for himself. The Morgan, which can manage the portrait of an age from its own holdings, here pulls off a loan show of about sixty works. Modernism left their clutter and Romantic turmoil behind, but it still found no ideas but in things.

"A Dialogue with Nature" ran at The Morgan Library through September 7, 2014, Théodore Rousseau through January 18, 2015.