What a Dump
John Haber
in New York City
Mierle Laderman Ukeles and Eleanor Antin
Louise Dudis and Nicole Wermers
Are earthworks just overblown dump sites? One could head out to Michael Heizer at his ranch in Nevada to ask his neighbors, assuming that he has any. He has been hauling earth for his City for more than forty years. Not even the pyramids would have been good enough for this pharaoh of modern art.
Better yet, one could ask Mierle Laderman Ukeles. Closer to home, she has conceived of Freshkills, the huge landfill on Staten Island, as a public space since 1977. As Better Davis said, "what a dump." Earlier still, Eleanor Antin found her equivalent to a city's work force with 100 Boots. Meanwhile Louise Dudis stands up to tree bark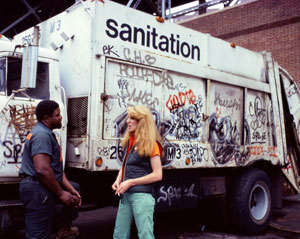 and Nicole Wermers to awnings and the urban muck beneath. For them, a city is more than just its waste, but that, too, is part of growth and change.
Earthworks as dump sites
Mierle Laderman Ukeles differs from Michael Heizer in at least one regard: her work is collaborative. She has served for all that time as artist in residence for the department of sanitation. Over the course of a year, starting in 1979, she shook hands with every one of its employees. Is New York closing the landfill and converting it into a park? Fine with her, for that will bring her Inner City Outer Space to completion in 2018.
She stands apart from Heizer in another way as well: she has seen too much of art as the latest development. Ukeles styles herself a maintenance artist, just as "sanmen" are maintenance workers. Her performances began with everyday tasks and everyday things, such as raking leaves and scrubbing a sidewalk. She asked workers in lower Manhattan in 1976 to consider an hour of their work as art as well. When a review in the Village Voice joked that the sanitation department, too, should call its work performance art, she and the department reached out to one another, and she is still in it for the long haul.
Fittingly, her retrospective unfolds in a park, at the Queens Museum in Flushing Meadow. Fittingly, too, the museum houses a model of the city's watershed, in collaboration with Rebecca Solnit, the writer and activist. It also maintains and updates its model of the entire city, left over from the 1964 World's Fair—on which Ukeles traces the course of her Touch Sanitation Performance, or handshakes, in lights. Much of the exhibition traces her residency, including a ceremonial arch of sanitation equipment and gloves, first displayed at the World Financial Center in 1988. Even earlier, she began asking garbage trucks and scows to drive in circles, as Work Ballets, like comic echoes of a movie by Jacques Tati. Every weekend of the show, a mirrored truck drives up, as if eager to join in.
Besides earthworks and performance, Ukeles has more unexpected roots. She thinks of Jackson Pollock, Mark Rothko, and Marcel Duchamp as family. She connects maintenance art to tikkun olam, the Jewish obligation to "repair the world." Her partnership also has to do with a tradition of celebrating labor, as with WPA art during the New Deal, and the city's fiscal crisis of the 1970s, when funds were lacking and workers were in need of respect. The Voice review added that they should ask for money from the National Endowment for the Arts. Most of all, though, she was making a feminist statement, going back to a Manifesto for Maintenance Art in 1969.
"I do a hell of a lot of washing, cleaning, cooking, renewing, supporting, preserving, etc.," she wrote after becoming a mother. "Also, (up to now separately) I 'do' Art." She did not yet have the sanitation department in mind, but she might well have. Washing, cleaning, supporting? No sweat. Back at the landfill, with no discarded computers to spoil it, microbes even do the cooking, breaking down garbage and emitting methane.
Minimalism arose alongside earthworks and feminism, as with Merrill Wagner, even for a maximalist like Heizer—and Ukeles differs once again in going over the top, not always to her benefit. The ceremonial arch is unashamedly gaudy. She is also unashamedly a cheerleader, from a 1984 performance erasing slurs directed at sanitation workers to a mural representing their work shifts as black areas on the face of a clock. It provides colorful wallpaper for the exterior of the model city. If too much else gets lost in a mass of documentation, a circular Peace Table of blue glass anchors the exhibition beneath the museum's skylight, with wires rising up and sunlight tumbling from above. Not only a dump site can provide common ground and a moment of quiet beauty.
Boots on the ground
After more than forty years, Eleanor Antin once again has boots on the ground. She started, modestly enough, by postcard. She had bought fifty pairs of standard-issue army-navy boots and begun photographing them as her own private army or artist collective. They assembled in a supermarket aisle and in front of a library in California. They lined up for church or a food vendor at lunch. They ascended steps, hopped over a car, circled a tree, and crossed public and private lands with a growing athleticism and determination.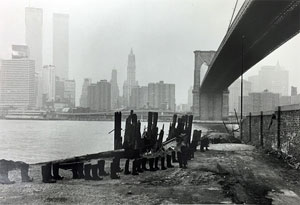 Artists back then no longer drank together at the Cedar Bar. Still, they had a certain reputation. Not the boots, which stayed more or less orderly—and decidedly quiet. They did come to the poker table one night, but Antin took them with her to a museum, where they formed a proper half circle around a painting by René Magritte, as if awaiting a docent. They made friends easily, too, joined by cattle or a flock of geese, and they stuck together through thick and thin. She photographed them, two titles explain, in and out of a job.
She called her project a travelogue or "my female version of Jack Kerouac's On the Road." Still, for a time it hardly left California, where she had moved with her husband, a poet, in 1969. No matter. From 1971 to 1973 she sent a record of her travels as fifty-one postcards without a tourist attraction in sight—mailed to hundreds around the world. The journey ended as casually as ever. The last postcard announced that 100 Boots had gone on vacation.
By then, it had reached New York as well. Antin was herself a Jewish kid from the Bronx, educated at the New School and City College, and she was back in town with a show of the postcards at MoMA in 1973. Now the Lower East Side hosts a broader selection of photos. The actual boots still have their "crash pad" closer to home, most recently at LACMA, but they have a life of their own here in the city. They cross Sixth Avenue in single file, as if blocking midtown traffic in protest. They gather under the Brooklyn Bridge, with the Twin Towers and the Woolworth Building in the distance, and look wistfully across the harbor from Staten Island.
New Yorkers had a taste at the 2016 art fairs, but now we can almost call 100 Boots our own. So can the artist, after decades of insisting that she had more on her mind than one work. She even insists on its importance by comparing herself to Meret Oppenheim, with the boots as her fur-lined teacup. Not that their black rubber has acquired a fur lining, but the comparison does point to Antin's surrealism (with a small s), humor, and feminism. In photos and performance, she has played with her body image by dieting, binging, taking on the roles of a ballerina and Florence Nightingale, and remaking art history with paper dolls. Where other women collect shoes, this mother wears army boots.
In context of today, the boots take on other political overtones, too. They gather under the bridge across from Ground Zero like the homeless, and the Woolworth Building in the distance is now converting to luxury apartments. They lined up at a border checkpoint long before Donald Trump demanded a wall. The postcards had their outtakes as well. Antin found some images just "too dramatic, too overtly political, too suggestive of other meanings"—but then the 1970s still clung to the autonomy of art. Now the photos can bridge two blue states and the demands of past and present.
Endless columns
Some art, Barnett Newman quipped, just cannot get it up. It sounds sexist and offensive, and it is, but the sculptor of Broken Obelisk literally had a point. And Newman, who directed that crude but mild dig at Minimalism, knew a thing or two about verticals, although this was to be his only significant sculpture. His "zip paintings," or color fields both broken and defined by a slim vertical, may look minimal, but in search of the erect human form and transcendence. Still, Modernism had long been wary of macho gestures, monuments, and displays of authority. Even Endless Column, by Constantin Brancusi, comes to an abrupt end, and Broken Obelisk is, after all, broken.
Now Louise Dudis and Nicole Wermers find their own ways to take art off its pedestal, while asserting the vertical. Dudis does so naturally, by laying down roots, although one never quite sees them. She photographs sycamore trees, but apart from their branches and base. Their trunks become instead a portrait of New York in close-up, as subject to dirt and decay but also fresh possibilities, like sidewalks for Henry Rothman. Ever the attentive observer, she lingers over variation and difference, even while bringing objects closer to Cubism or abstraction. They become subject to what her show calls "An Absorbent Eye."
They also bring photography closer to architecture or sculpture. Unframed at life size, they make an industrial neighborhood of Brooklyn into to an environment with the trees its inhabitants. It is a richly textured environment at that. One can easily mistake the inkjet prints for collage—and to mistake growth for peeling. Like Newman in an essay on "the sublime," she cites the influence of American transcendentalism, although in the shape of natural or human presences. These may not be endless columns, but the portrait gallery is potentially endless.
Wermers takes on the urban environment as well, although one shaped entirely by humans. Not that anyone is present apart from the pursuit of style, class, and money. Her obelisks are Vertical Awnings, actual awnings rolled up and set on their side. They look colorful and slightly comic, their curved edges sticking out from the columns and giving them individual shapes. They are also commodities, like the city's retail good and real estate. Compared to gallery-goers, they are larger than life.
They never make it off the ground, so it makes sense that another artist has the second floor. There Sandra Cinto, like Dudis, closes in on both nature and abstraction. With ink and watercolor, she conveys the flow of water over rocks—seen, as the works' title has it, as Chance and Necessity. Unfortunately, sublimity can get sentimental, and an additional work goes over the top. A cast of the artist's arm, in white alabaster, has a purity and insistence that the drawings do not. One can, though, return downstairs for the nastier side of human flesh.
There Wermers brings dirt and doo-doo into the picture along the gallery walls, as sculpture. Its two series fix on public spaces meant for the most private of uses. Givers and Takers set ventilation fans over hand driers, like top hats in stainless steel, while Mood Boards inlay baby changing stations with terrazzo tiling. To unsettle the mix, she reproduces the driers at double scale, while marbling a found place for soiled diapers. For another layer of irony, she points out that terrazzo is designed to disguise the dirt beneath one's feet. Newman might be appalled at the earthiness, but then his pointed obelisk is standing on its head.

Mierle Laderman Ukeles ran at the Queens Museum through February 19, 2017, Eleanor Antin at Alden Projects through April 9. Louise Dudis ran at Robert Henry Contemporary through May 27, 2016, Nicole Wermers at Tanya Bonakdar through July 15.