The Young and the Restless
John Haber
in New York City
The Ungovernables: The 2012 Triennial
One has to love a show called "The Ungovernables." Art is supposed to break all the rules—except, by definition, those of conceptual art. Art is supposed to express inner longings and visible realities, and those have come into stunning conflict everywhere from the Arab spring to Occupy Wall Street. The conflicts hang over the entire 2012 New Museum Triennial.
The work represents an even broader geography. Only three artists live in New York, and two of those are immigrants. For the New Museum, this is just not the center of the art world anymore. The title alludes to ideals of civil disobedience and self-determination, as outlined in 1986 by the African National Congress. It stems from a First World put-down of those unruly "natives." Now the natives are restless.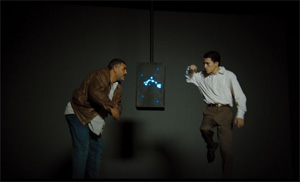 At least they are in principle. In practice, only visitors may grow restless in search of an art world turned upside-down. For a show called "The Ungovernables," the artists are awfully well-behaved. They allude rarely to violence and only indirectly to the headlines. They offer more doubts than promises, and they direct their doubts at promises of freedom in their own lands. One may end up doubting whether it even makes sense to look for a new center to a global world. In fact, that doubt could be a tame show's most lasting promise.
The manageables
The New Museum seeded those doubts three years ago, with its first triennial, labeled a "generational." Instead of "Younger than Jesus," it might have been called "shorter attention span than Facebook"—and sure enough the hype for the 2015 show, "Surround Audience," is the "social-media triennial." It suggested a global popular culture, centered on western imagery and new media. Some provocative if problematic artists emerged, like Ryan Trecartin, although all but lost within the din. That loss holds a good lesson this time out, too. If the theme gets hokey and tendentious, and the work blends together, do give individual artists a chance.
A triennial raises doubts about art, hype, and commerce all by itself. It comes on top of the Whitney Biennial, and in 2012 they open with two weeks of each other. You may find yourself doing the math to see when they will next fall together—or when they will line up with five-year celebrations of emerging artists at the Studio Museum and in PS1's "Greater New York." Instead of the next wave, the "-ennials" are becoming a perpetual demand for attention, much like the art fairs. Maybe that makes sense, now that art is more about diversity than definitions. Still, "The Ungovernables" does everyone a favor by toning itself down.
For a show that spills over six floors, counting the basement theater, a visit is quite manageable. The curator, Eungie Joo, picks just thirty-four contributors, all under forty, with good use of the awful big-box New Museum architecture. The fifth floor, normally for education, educates—enunciating the themes of hope and repression through text and images. Wu Tsang gets the lecture out of the way with a stern video, facing front, on her "refusal to learn your language." Amalia Pica uses Venn diagrams, the overlapping circles of symbolic logic, to stand for "exclusion" and "inclusion," and if that is not what Venn diagrams mean, they meant it enough in the 1970s to have them banned in Argentina. They change in response to motion, like surveillance cameras but also as interactive art.
The fourth floor has big work, including Pica's wall of colored drinking glasses unconvincingly labeled Eavesdropping. Danh Vo, born in Vietnam, displays rippling copper sheets that, it turns out, correspond to the skin of the Statue of Liberty. One can decide whether We the People represents an ideal still untarnished and awaiting assembly or one fallen forever. Adrián Villar Rojar from Argentina had a matter of days to shape a towering robot of cracked clay, pushing right into the ceiling. It, too, has a cartoon charm, a vision of the future, and the look of a decaying monument. The one born and bred New Yorker, Abigail DeVille, gets only an alcove on the way downstairs—one more reminder that America no longer runs the show.
The third floor has room for multiple works and multiple components. Lynette Yiadom-Boakye, a Londoner of Ghanaian descent (like John Akomfrah) who has exhibited before with "post-African art," has a wall for what might pass for Eric Fischl portraits of African youth. The revolution will not be televised, but it will be a bland miniseries all the same. Dave McKenzie, born in Jamaica, uses homemade bookstands for found images about blackness. The Propeller Group, from Vietnam, records a commercial for Communism and the, er, creative process behind it. "Everyone's welcome," "everyone is equal," and "speak the language of smiles." Maybe everyone could sit around the prayer carpet backed by neon lights from Slavs and Tartars.
The second floor has partitions, to create space for video and smaller work. For Rita Ponce de León it is small indeed. Her more than one hundred ink drawings resemble tiny books or ivory miniatures, even as they show landscapes, portraits, and protest slogans on Mexican walls. Finally, one comes to collective action, here and in the lobby. José Antonia Vega Macotela uses multiple performances to preserve the wishes of Mexican prisoners. A group called Invisible Borders crossed Africa, finding faces and, often as not, difficult borders. Ala Younis enlisted a team from Tokyo, Amman, and Cairo to trace soldiers on the floor, in looming perspective.
A quarrel within
What then of the ungovernable, in art or in life? When Gabriel Sierra, from Colombia, makes incisions in the cafeteria walls, his carpenter's tools fold ever so neatly into the verticals. They are haunted by the constraints of Minimalism, the museum, and political repression, but only because they allow themselves to fit. They are about private worlds rather than public lives, and so is the show. When DeVille breaks through more walls, in that stairway, I thought of children's books about discovered freedoms. Rayyane Tabet, from Lebanon, bursts a wall of her own making—behind which canvas billows out and collapses onto the floor.
As with that parable of art, hopes do not spring eternal. The artists live from day to day, like diaries. Jonathas de Andrade in fact found a diary in the trash, in Brazil, and its typewritten pages run merely to tweets, movies, and brief romances. The work's title refers to the new moon as the start of a new life, but it translates literally as Tropical Hangover. Ponce de León's drawings are another kind of diary—as are Lee Kit's days scratching at a table, Mariana Telleria's objects covered in twigs, El-superaton's cigarette ends, Pratchaya Phinthong's devalued bank notes, or Mournira Al Solh's trivial cartoons about anything from tea to waiting for elections.
Islam is just off-stage, and democracy never quite arrives. The Arab spring is off to the right for Cinthia Marcella and Tiago Mata Machado, whose windblown trash on video arrives with a resounding crash. Hassan Khan turns Cairo street protests into a comic dance between a guy dressed for clerical work and another with his shirt tails hanging out over jeans. de Andrade combines all these motifs—portraits, diaries, and street protests. Four thousand black-and-white male faces flash by in an hour. It speaks to the urgency of the personal and the political that these three works linger longest in memory.
One is witness more to a quarrel within the Third World than with the West. A wash of ink, acrylic, and tea by Minam Apang indeed describes a mythic battle between the sea and stars. Westerners are all but irrelevant, give or take the culture of advertising, hip-hop in Cairo, and a giant robot. Julia Dault, a New Yorker from Toronto, promises the "texture of modernity" but her painting and sculpture would at best fit in anywhere. For all that, though, the triennial is governable in still another way—as never less than politically correct. A huge chalk drawing by Kemang Wa Lehulere, from South Africa, even looks like a classroom.
You know where you stand, from the moment you read about off-site events on "Birthrate Palestine?" Iman Issa's abstract Material for a Sculpture Representing a Monument Erected in the Spirit of Defiance of a Larger Power (whew) critiques shrines that "seemed simplistic" to her, but you learned that lesson about the "unmonumental" long ago. A Finnish artist, Pilvi Takala, strikes her blow against capitalism by signing on as a trainee at an accounting firm, then just staring off into space and riding the elevator. Co-workers act in turn concerned, puzzled, and annoyed. Museum-goers get to smile ever so knowingly at ID tags and a welcoming letter about "marketing our global brand." Still, I want a job where I can last that long before I get canned.
The truly ungovernable might have less of her dogmatism and a lot more of her sense of humor. It might need a more active engagement with globalization, non-Western identity, or the West. Marianne Vitale barked commands at the 2010 Whitney Biennial, not unlike Wu Tsang, but she knew that she had become the authority figure she was parodying. In the end, these artists are caught between worlds, much like me and other proper liberals—or like Eastern Europe in "Ostalgie," at the New Museum last year, and in "Transmissions" at MoMA coming up. The Triennial has grown up a bit since the "generational" of 2009, with almost all its artists over thirty. Maybe it will mature next time.

"The Ungovernables," the 2012 New Museum Triennial, ran at the New Museum through April 22, 2012.