Emerging as MoMA
John Haber
in New York City
Greater New York 2010 at MoMA PS1
Maybe halfway through "Greater New York," I ducked into the old boiler room in the basement. Call it in search of peace, in a show covering four floors of emerging artists. Call it in search of history, like the small Minimalist slab in the floor dating back to P.S. 1's opening in 1976. And sure, call it in search of emerging art.
Saul Melman paints one face of the boiler gold, a worthy enough tribute. I started to take notes on whatever else Aki Sasamoto has strewn about—"salt blocks, a broom, whatever." At that point I caught myself, and the sign of fatigue was not altogether mine. Has it all come to this? Whatever.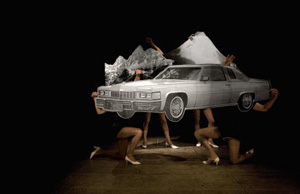 Is an invitation to look anew at emerging artists and the art world no more than business as usual in the galleries? Has a great alternative space come to this as well? A postscript returns for a second look at an alcove of "Greater New York" with changing curators. It finds visitors to MoMA PS1 utterly screwed.
The rite stuff
So much has changed in three incarnations of "Greater New York," starting back when MoMA PS1 was proudly and independently P.S. 1, despite that steel slab in the floor by Richard Serra. The first two reflected the chaos and optimism of a new century, with over a hundred artists each. This version has just sixty-eight, plus a room set aside for looking back—to five years of exhibition posters and videos from other museums as well. The recession has taken its toll, and some of the work reflects that. Elisabeth Subrin meticulously documents changes on a city street corner in 2008. Most here, though, get on with business as usual.
The first incarnation, in 2000, barely preceded a Whitney Biennial—even stealing its thunder. This one trails the 2010 Whitney Biennial, and shows of emerging artists have become a cruel norm. The Studio Museum in Harlem alone has had two now, with "Freestyle" and "Frequency" (with "Flow" and "Fore" on their way), and the New Museum has had its free-for-alls of artists with "Younger than Jesus" and "Surround Audience." Besides, the market now absorbs or ignores anything these days. Some artists on hand, like David Brooks and Erin Sherriff, appear just down the street, too, in "Knight's Move" at SculptureCenter. Brooks's gigantic tree in the two-level gallery, its base buried or stabilized by concrete, stands out all the same.
The first version and the 2005 "Greater New York" took place in winter, when one can contemplate the chill of the open rooftop by James Turrell. Not this time, and it is not the only loss of the past. The first was also the first collaboration between Alanna Heiss, P.S. 1's founder, and Glen Lowry of MoMA. Now Heiss is gone, and this is the institution's debut as MoMA PS1. Try not to notice which museum's name comes first. A memorial plaque to her sits as inconspicuous as possible, high overhead on the way out.
When renovating P.S. 1 in 1999, MoMA seemed destined to bring much-needed resources. Can the bigger institution really keep up with emerging art? This show packs lots of fun, along with an emphasis on new media. I would go just for David Adamo's unsteady floor tiled with baseball bats, The Rites of Spring. Naama Tsabar's walls of freestanding speakers, backed by metal and strings, put an interactive spin on that Marx brothers film in which Harpo dismembers a piano so that he can play the harp. On video Ryan McNamara tries to teach himself to dance, like a spastic upload to YouTube.
All this comes at a cost, though. Even Brooks's tree spreads graciously, only to dry and crumble over the months, rather than bursting its boundaries like his sidewalk climbing toward a gallery ceiling this spring. The show's one critic of the art world, the Bruce High Quality Foundation, has already made itself a fixture. And it deserves to have. Its full room of irregular white pedestals, Perpetual Homage to Students of Art, looks as if Sol LeWitt forgot his own conceptual formula. Still, as with Adamo, these are the boys of summer, so relax and enjoy.
The previous incarnations often smoothed out the rough edges, too, although they also taught me about so many worthy artists. One left the first "Greater New York" by an artist's sliding pond. Has MoMA unceremoniously dumped the ideal of an alternative space altogether? Already, with "1969," it has used Long Island City to display its permanent collection. Even without a slide, say goodbye on your way out. I worry that one great museum has swallowed another whole and spit it out.
Upbeat threats
Klaus Biesenbach, MoMA PS1's director, curates with Connie Butler and Neville Wakefield of the Modern, and they definitely spent more time on the Lower East Side than looking at slides. They also set a room aside as a "rotating gallery" for guest curators. The first, Oliva Shao, might as well have called her choices "Minimalists and the Artists Who Mock Them." Not that the show shies away from provocation. Politics dominates—especially race and gender. African American themes get particular attention.
That includes some clunkers, like "whatever" by Aki Sasamoto, a kind of black MTV by Rashaad Newsome, or a cross between an argument and a sitcom by Kalup Linzy. I have no idea why Conrad Ventur requires a music video for Shirley Bassey. More sharply, Hank Willis Thomas creates pretend advertising targeting African Americans culled from real stereotypes. It may go on too long, in pairs assigned a year, but it has a point: so little has changed. Adam Pendleton's mixed media strut a great deal, but more power to him. LaToya Ruby Frazier suggests the impact on black families of failure at U.S. Steel.
Globalization is another theme. A collaborative Atlas of Radical Cartography includes the course of New York City garbage. Xaviera Simmons's boat people fill a lobby wall—just down the hall from her photographs of foreclosed housing. Amy Yao intends arrows feathered with our paper of record to refer to lofty issues like G8 (and, no, it does not taste like tomato juice). Art of the Americas also includes an environment by Ishmael Randall Weeks crafted of books pages, plants, and cinder blocks. A maze of LP covers alludes to Incan civilization, although William Cordova has better taste in music.
Lucy Raven takes a longer view of the earth's resources. Her video takes one from a nineteenth-century Nevada mining town to contemporary China. It looks somber enough, but also oddly calming. Once again, "Greater New York" generally does not so much provoke as give one time to breathe. I could have stood with a more shocks and surprises.
Gender themes are particularly upbeat. Sharon Hayes surrounds videos of protests—their subject inaudible—with bright balloons labeled GAY, like an angry child's birthday party. A. L. Steiner calls her wall-scale gay photo collage Angry, Articulate, Inevitable, although it looks more like a scrapbook and very much at ease. Deville Cohen tweaks the epic struggles of Bill Viola and Matthew Barney with his three-act video of a car wash, men in heels, and goodness knows what else. It, too, is more in the spirit of Fluxus than of outrage. Debo Eilers calls a work Secret Faggot, but no one here can keep a secret, and no one will pop any balloons.
The artists get most challenging when they detach lust from a cause. Leigh Ledare continues his amazing chronicle of his own desires and his mother's. A cryptic installation by Maria Petschnig starts with childhood and Catholic ritual. One views the video from a sofa and table littered with scraps of life. A second room continues with even more cryptic wallpaper. Is she imagining a girl's evolution from a struggling childhood to a whorehouse?
Efficient markets and emerging artists
Other loaded poses include dress-up photographs by K8 Hardy, Brooklyn kids by Alice O'Malley, and victims of a serial killer gathered by Deana Lawson. Zipora Fried photographs some threatening customers, including a man from the back, his hands grasped behind him. Her assemblages set out oblique threats as well. Bottles hang down from a table as in an alcoholic's sinister experiment, and knives penetrate a wardrobe. Liz Magic Laser has an even wittier balance between threats and desires. Laser's robot surgery tears into a fat purse on video, and the purse is there to prove it, packed with credit cards and possessions.
"Greater New York" has so many photographs and videos that one can despair of finding anything else. The list goes on and on, like the mud or oil bubbling up on Alex Hubbard's huge video slab. Does it matter that Gilad Ratman has more mud coursing through tubes or that Dominic Nurre has still more salt blocks? The standout natural history goes to Tommy Hartung. Do I have to say what The Ascent of Man sends up?
Mixed media take on another form, too—the trend of art that bridges photography, architecture, and abstraction, like Mariah Robertson's electric print that unfolds as if released from an airplane. Here I encountered many more familiar names. Hubbard, also at SculptureCenter, pairs his black video bath with what look like big, sloppy monochrome paintings. However, he applies fiberglass as well as paint. As in the Biennial, Tamar Halpern creates the illusion in paint of photographs of creased canvas, while David Benjamin Perry's prints look like a past trend for "bad painting." Erin Sherriff again photographs spare silhouettes of sculptural models.
Anyone looking for painting or sculpture for its own sake had better look elsewhere. The closest one comes to old-fashioned painting is folk-influenced art by Alisha Kerlin, Leidy Churchman, or Caleb Considine. The closest one comes to sculpture may be from Sam Moyer, even before Moyer's weightier art to come, with constructions of ink on paper. And the closest one comes to Minimalism may be Brian O'Connell's pillars of earth and cement. "Greater New York" plays down old media in another way as well, by pairings. Who wants to look at Sherriff's enigmas when one can play Tsabar's huge guitar?
Who, for that matter, wants another show of emerging art? Can even a Whitney Biennial find its role? Efficient markets and perpetual art fairs have eaten away at both—giving new meaning to Kant's idea of beauty as "purposiveness without a purpose." So has the paradox of museum expansions combined with austere museum budgets. The very idea of so much new media reflects a demand for passive entertainment. So does the video's dated lack of interactivity.
For all the political art on display, the politics of art goes almost unspoken, despite Emily Roydson's apparent dancers in an artist's studio. That includes the politics of emerging artists. Do artists over thirty who have not made it big still have a chance? "Greater New York" is good enough, but also narrow and familiar—the very same summer that emerging art engaging race and gender is on display with "Usable Pasts" at the Studio Museum. It puts on the spot the role of MoMA PS1 as well. I wish Heiss the best in retirement, but I hope her departure does not shut the door on a once-open institution.
A postscript: screwed at MoMA PS1
For a show of emerging artists, "Greater New York" could pack far more surprises, but MoMA PS1 has a few in store anyway. In the third installment of its "rotating gallery," Sylvia Sleigh faces off against Judith Bernstein. Sleigh, born in 1916 in Wales, paints people in their home or garden, mixing photorealism with flattened perspective and brighter colors—like Philip Pearlstein with gentler shadows and body parts intact. Bernstein, working back in 1973, leaves stark charcoal on sheets that scroll down from the ceiling. They may wonder what they have to do with each other or emerging artists. I guess curators can be emerging, too.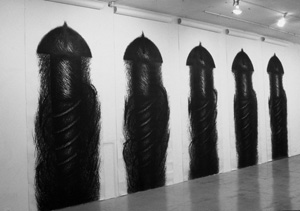 So little is emerging at P.S. 1 under MoMA, and so much is unfocused, that one has to ask yet again if it has lost its way. Its founder has retired, only to reemerge in August at the Clocktower, where her Institute for Art and Urban Resources extended some thirty years ago. The painted stairwells, once a way of making the museum itself an emerging artist project, lie as dark, neglected relics. "Greater New York" barely reaches beyond the galleries as it did five and ten years ago, and emerging curators sound rather like sinister night creatures. Merger has led to one compromise after another. An exhibition from three years past, "Not for Sale," has taken on sadder and sadder meanings.
Visitors may have another surprise in store, too. On summer Saturdays "pay what you will" ramps up to a healthy admission fee, in conjunction with "Warm Up"—a series of performances in the courtyard. Those who thought they had free admission from "two for one" tickets at MoMA will have an extra shock. Maybe MoMA forgot that P.S. 1 created the courtyard and its summer installations as a gathering space. Maybe it missed that the Brooklyn Museum throws open its doors once a month to both events and the public. Maybe it no longer cares that some people need their weekends to see the art.
Maybe it forgot that it ever was a fabled alternative space, just as MoMA's 2004 expansion can feel like an extension of its condos. Regardless, it truly has lost its purpose, without gaining an audience. The line on an August Saturday contained all of four people, and the next day I had almost the entire building to myself. Two families with little kids took the courtyard as a playground and then moved on, leaving its nets and sand like a deserted construction site. It says something that "Greater New York" now spans the summer doldrums. Perhaps a show of emerging artists, along with so many others now, will never generate the same anticipation again.
The New Museum called its own first crack at the idea "Younger than Jesus," and P.S. 1 is now thirty-four. If it is to recover its vitality, it had better start thinking now. Its Web page for the rotating gallery even lists the curators rather than artists, as if art no longer matters. That said, Cecilia Alemani deserves credit for "The Comfort of Strangers." Sleigh for all her quaintness combines domesticity with nudity, with men strikingly more awkward but confident. Bernstein's funny and savage totems are ambiguously screws, drill bits, armaments, and penises.
With a little effort, one can see them in dialogue, or one can see Bernstein's twisting parallels in Jack Whiten's thick acrylic abstractions from a few years later. One can almost situate a black-and-white by Leslie Thornton video in Sleigh's interiors. In the prologue to her decades-long project, Peggy and Fred in Hell, a little boy and girl sing loudly, plaintively, and never quite coherently. I had wanted to see more of Bernstein's larger-than-life series ever since her appearance (along with Sleigh) in Brooklyn, for "WACK! Art and the Feminist Revolution." Her charcoal cuts deeply and yet spirals freely, and the white of the paper pushes forward with gleaming highlights on the illusion of ridged steel. It also underlines the message that, right now, visitors to MoMA PS1 are screwed.

"Greater New York 2010" ran at MoMA PS1 through October 18, 2010. "The Comfort of Strangers" closed September 5. A related review takes up "Greater New York 2015."