The Latest Thing
John Haber
in New York City
Younger than Jesus: The Generational
Let me see if I have this straight. The New Museum puts on another noisy, sprawling exhibition—its third since the building opened barely a year before. It fills five floors and more exhibition spaces that you knew existed. And it plans to repeat this "generational" every three years. Take that, Biennial!
The fifty young artists grew up in at least twenty-five countries and untold religions. That global reach includes Israel, Iran, Algeria, Turkey, China, India, Vietnam, and Japan, along with Europe and the Americas. And the show's title? "Younger than Jesus." Praise the lord.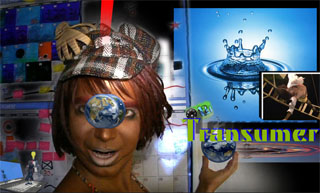 That tone-deaf title says a great deal about what goes wrong with this mess of a triennial. Press it a bit harder, however, and it also helps tease out the show's point of view. It is not about multiculturalism, but globalization. These artists have seen McDonald's come to Norway and Texas to Kazakhstan, and they can watch it happening on YouTube. The results say less about a generation than about a museum with a short attention span. At least, though, they say something.
Talkin' about whose generation?
The title makes no sense anyway. The artists were all born since 1976, but Jesus (whose date of birth is uncertain) died at thirty-three. Does that mean that the artists are all about to die, missing the 2012 Triennial, 2015 Triennial, and 2018 Triennial? More likely, the New Museum is making a statement about its 1977 founding as a historic moment. It does not yield a round number for an anniversary, but so it goes. Never trust any museum under thirty.
The show should make people uneasy—and not just non-Christians. Does the state of the art really need another blockbuster survey or another display of art smarts? The perpetual Biennials and art fairs already attest to art as a matter of global commerce. P.S. 1's "Greater New York" (or, coming right up, "Greater New York 2010" and "Greater New York 2015") and the Studio Museum in Harlem already trot out emerging artists every five years or so, and they do it well. The first makes a real effort to open art to new faces beyond the gallery scene. The latter takes the promise of diversity seriously, by giving African American artists a chance.
The New Museum's stress on youth has problems all by itself. It reinforces the demand for "the latest thing." That alone feeds the transformation of art into a branch of economics. It also subtly shifts the emphasis from emerging artists to age. Cory Arcangel, whose "I Shot Andy Warhol" as a video game was a hit of the 2004 Armory Show, exhibits in Soho—at a nexus of art's commercial and social network. Josh Smith just showed his impulsive abstractions at an elegant Chelsea gallery, and you may recognize others as well.
The trust in youth also has nasty implications for who gets shown and what gets made. Artists who have not made it early are finding it harder and harder to sustain a career—unless, of course, they can come back as "folk art" and "outsider art." At least the New Museum makes the trend downright laughable. Galleries have already responded, with group shows called "Wiser than God" and "Old Dogs, New Tricks." I would say more, but I am older than Methuselah, and he lied about his age.
The very idea of a generation seems simply artificial. Emerging artists have something obvious in common, their emergence. Do twenty somethings? If the New Museum sticks to the generational theme every three years, the idea will grow even more incoherent. It will speed up the reproductive cycle to match the pace of product rollouts. Disturbingly, the Met now feels obliged to call its show of the irony that emerged in art around 1980 "The Pictures Generation."
The artifice stands out all the more with well over a hundred works from so many places, even if Alexander Ugay truly can identify the plains of his native Kazakhstan with Texas. Surely art reflects distinct cultures, and surely some traditions evolve more quickly than others. Lauren Cornell, Massimiliano Gioni, and Laura Hoptman think otherwise. As curators, they imagine planet connected by American consumerism. A butterfly flapping its wings in LA can now start a storm almost anywhere instantaneously. After all, it has text messaging.
Going nowhere fast
The show's theme lends it unity, and that alone is interesting. Restricting a big survey to fifty names is helpful, too. Yet this view of a generation is neither wholly true nor wholly new. It also leads to transient and annoying art.
It is not true because a lot of art is being made, some of it by artists with a memory. They may accept a culture that still cannot get over Vincent van Gogh and Salvador Dalí, or they may challenge it. In America, they are likely to have voted for Obama and to have a greater engagement with politics than seen in a long time, and that kind of anger and commitment takes memory, too. They know boomer reference points like the Beatles cold, while Broadway has been playing to nostalgia for musicals that even boomers do not remember. I imagined singing this show's title to the tune of "Younger than Springtime," from South Pacific. ("Younger than Jesus are you; softer than Buddha are you. . . .")
It is also not new. In fact, it echoes Romanticism and Modernism. J. M. W. Turner painted Rain, Steam, and Speed. The Futurists praised the hood ornament on a speeding automobile. "Younger than Jesus" has entirely visceral art with a notable lack of irony. It defines a generation as a rejection of Postmodernism, but with shiny new gadgets.
It is definitely not going back to older media. The closest it gets to sculpture is a rotating circular stairway painted black, by Loris Gréaud. And that, too, is about the moment—about going nowhere fast. Daniel Keller and Nik Kosmas, calling themselves AIDS-30, echo the Modernism of Kenneth Snelson with constructions of rods and wire, but these flank a black plinth labeled OMG. Liz Glynn built an entire cardboard model of ancient Rome on opening day, only to destroy it. See, Rome was built in a day, and its ruins still litter the cafeteria.
Painting, too, appears rarely and seemingly prefabricated. Arcangel's glossy blue-green copies the palette in Photoshop, while nearly Tauba Auerbach rips off Op Art dots without the illusion. Smith tosses off his shapeless version of Abstract Expressionism as a mere accompaniment to his signature. Kerstin Brätsch's bland canvases look like geometric abstraction, but they allow a purple, nude female mannequin to contemplate herself. Adam Pendleton scatters some of the letters in BLACK on black canvas, as if to insist that even painting as text has become unreadable. The most traditional of all, obsessive geometries by Jakub Julian Ziolkowski and cartoon apocalypses by Emre Hüner, look to outsider art.
Everywhere else, though, the show is in motion. It has installations that move and installations that keep one moving. It has a record number of videos, and they do not resemble Hollis Frampton's long, steady shot of a lemon. The curators claim eight themes, including "imagining the future" and "the romance of obsolescence." One would never spot them without a press release. It is a show on speed.
Present mirth hath present laughter
Actually, it includes a live woman on downers. One could mistake Chu Yun's sleeper in bed for sculpture, until she moves (and here you thought the show was putting you to sleep). Her spooky rest makes one that much more aware of all the light and noise, and her need for a pill accords with a culture of instant gratification. More comfort in noise and excess appears in Dineo Seshee Bopape's assemblage of music, video, and artificial leaves. It appears in Icaro Zorbar's turntable shared by three tone arms. It appears, too, in Luke Fowler's mix of documentary and staged footage, in tribute to R. D. Laing's twisted belief in schizophrenia as an exalted, creative state of mind.
Many refer directly to consumer culture, while placing themselves at its center. Faye Driscoll's dancer dressed only in a green tablecloth or Shilpa Gupta's Kama Sutra in modern dress would make an excellent fashion spread. Ciprian Muresan documents consumption on video, Elad Lassry takes the ads from print media and erases the rest, Ida Ekblad turns the Golden Arches into abstraction, and Liu Chuang buys up everything and anything from passers-by. Matt Keegan finds an entire history of his life in magazines. Talk about the me generation.
New media and social networking appear often, with the clumsy, low-tech feel of YouTube videos. Mark Essen plays with old video games, Cao Fei with staged mock combat, and Guthrie Lonergan with clips found on MySpace. Stephen G. Rhodes places an old motherboard at the center of a spectral canvas. Ryan Trecartin tapes his friends (and alter egos) carrying on, the action amplified by a clutter of furniture and a fishtank. In Ziad Antar's music videos, two children sing the syllables WA WA, and a pianist plays Mozart on a keyboard without strings attached. Many have found these the show's highlights, but I learned only that dorm rooms are fun, that kids are cute, and that classical music incorporates rhythm and meter.
Even political art has tossed away the baggage of the past, like Ruth Ewan's jukebox of protest songs that never play. When Carolina Caycedo hangs banners with such messages as Don't Pay Taxes, or when Brendan Fowler recycles AIDS posters, they become room décor. Anna Molska tapes two men in g-strings pushing blocks around the floor, like a cross between Minimalism in action and slave labor. Mohamed Bourouissa photographs Paris's sordid outer neighborhoods, the banlieue. And Cyprien Gaillard makes a light show out of fireworks, building demolition, and Russian fight clubs. All these pack one heck of a punch, but as pleasure rather than history.
As it happens, history and diversity appear vividly—not in the show, but in how it came together. To scour the world, the curators relied on dozens of others, and the exhibition catalog contains all five hundred submissions. The education center is worth a visit, too, for a time line of events since 1976. It does more than any artist can to overcome the building's limitations. The long stairwell that looked so majestic at the New Museum opening now makes a cramped space to watch video, while walking between other floors feels more and more like a fire drill. Still, the maze of installations gives a taste of the museum's potential.
The show is more a picture of the museum than of a generation. Its works blend into the diffuse obscurity of the preceding group shows, "Unmonumental" and "After Nature." One work does have a history, but a family history, and a traditional medium, only in the hands of another. Katerina Sedá taped her grandmother sketching household objects, and she displays the drawings on a high wall. Besides the generations, the process, and its traces, it has acquired another history with her grandmother's death. Maybe this generation is younger than Jesus, but as Shakespeare said, "Youth's a stuff will not endure."

"The Generational: Younger than Jesus" ran at The New Museum of Contemporary Art through July 5, 2009.