Losing Face
John Haber
in New York City
Social Media and Face Time
Corporations Are People Too
"Social Media" starts with brightly colored text right on the entrance wall. The night of the opening, at one of New York's oldest and wealthiest galleries for contemporary art, the tweets took on Michele Bachmann's link between the HPV vaccine and mental retardation. Well, that explains her, right? Maybe not, but the display, created by Michelle Leftheris, repeated the line twice. People make compromises when they go online, only starting with their privacy.
With new media now established and everywhere, so much so that a New Museum triennial takes social media for granted, it makes sense that artists are finally getting around to something more collaborative. They also have in mind something more corporate, threatening, and impersonal. "Social Media" opened right in the middle of art's carnival, with a celebrity artist and musician just part of the show. Naturally it has the most optimistic view, but also the glibbest and most forgettable.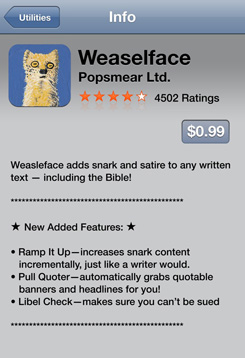 "Facetime" opened downtown on a quiet Sunday evening in winter, with artists as removed as possible from Silicon Valley. And naturally it sees only darkness and inhumanity—plus a little sex.
Unfortunately, there are other ways of losing humanity and losing face as well. After updating your privacy controls and Facebook profile, you probably worried about Apple's outsourcing to China. But hey, "Corporations are people, my friend." When Mitt Romney insists on it, he does more than express Republican ideals—and his own inability to act fully human. He also supplies the theme for "Corporations Are People Too," a show with not a friend in sight. Maybe he explains, too, why the show's images are so impersonal.
I could easily have fit other shows, too, like a spring group show, "Through a Glass, Darkly" or whatthe International Center of Photography calls "Public, Private, Secret." Oasa DuVerney, Julia Kul, and Jayson Musson treat issues of race and gender as a series of stand-up acts on YouTube. A gallery dedicated to new media naturally continues the theme for its summer group show. Daniel Canogar has an eerie, wall-sized cross between a crowd scene and a literal crawl space, Casey Reas again takes computer instruction to a space between geometric abstraction and cyberspace, and Mark Napier creates a "mash-up" of world flags that makes an Alighiero Boetti mapping look colorless by comparison. Even the gallery right next door finds itself for once in the space of social media and art. Is it hopelessly dated when Andrew Kuo maps his own life as a painted computer graphic and Ken Solomon paints a monitor so heavily pixilated—or a welcome metaphor for the limits of online friendship?
My writing would not exist without the Web. It began twenty years ago now in an already obsolete social medium, a "Fine Arts Forum" on Compuserve. Have social media taken over everything then? If these shows view social media and face-to-face interactions as alternately a celebration and a crisis, one can easily understand. Artists (including my Facebook friends) excluded from the last bubble are unlikely to find much to celebrate in the recession. Regardless, future shows are certain to remake new media as something new.
Social work
Where would all those open-studio weekends be without Tweets and Facebook? And is an open studio weekend itself an invasion of privacy? And what about a self-portrait or Neo-Expressionism? Consider a gallery whose other branches were hosting the uncanny silences of Ad Reinhardt and Agnes Martin. Right next door to Pace, for the run of "Social Medial," David Byrne squeezed an inflatable globe under the High Line, as old-fashioned as grade school. Now, though, the kids may have to turn off their phones before class.
Critics debunked the "originality of the avant-garde" long ago, but for once that poses a problem. Six months from now, will anyone get the joke—or the work? Can art about the latest thing keep up, and need it bother? Can Chelsea turn social media into art, just when alternative spaces elsewhere are styling themselves as "do it yourself"? So many artists have moved to new media for its promise to transform art. This time the medium truly is the message, as simultaneously device and subject matter, only it threatens to leave the work behind.
Christopher Baker recognizes the problem. He searches Twitter for such eloquence as aargh and hmphh, sending the live stream to thermal printing that spews onto the gallery floor. Others seem torn between stating the obvious and lending it refinement. On the obvious side, Penelope Umbrico culls from ten million Flickr sunset pictures on a single day, plus interiors reflected off TV sets advertised on craigslist. As for refinement, Emilio Chapele converts the numbers of Web searches for the two major parties (plus the Tea Party) into the volumes of brightly colored cubes. You probably knew that people reveal far too much online, including their own banality, and bar charts work just fine apart from Minimalism.
The show takes its inspiration from Robert Heinecken, who invaded people's privacy long before the Web. Heinecken, who died in 2006, altered mass-circulation magazines to protest war and commercialism, returning the "compromised" magazines to unwitting newsstands for sale. With Miranda July and Harrell Fletcher, even participatory democracy becomes something of a lecture to its participants, much as Heinecken's guerrilla tactics lectured buyers. They invite people to "act out" moments in lives in the news, as seen on democracynow.org. Jonathan Harris's two-channel video "diary" follows nine women filming a lesbian porn site. It recovers them, but it also reduces nine lives to ten-second clips.
The transformative power of new media and political art always comes with question marks, and so does the social in social media. The Web allows egotism and individualism in the guise of openness—just as with my self-published art criticism after Twitter. It also allows chaos in the guise of community. Ironically enough, Postmodernism brought exactly those charges against much of modernists like Jackson Pollock, with his male posturing and drip paintings. Harris and Sep Komvar raise the very same charges when they "harvest" the cuddly "I feel" from blog posts. And a big-name gallery intensifies the conundrum, game as it is in trying to take the lead.
"Social Media" runs to inside jokes, like Aram Bartholl's QR code portraits of such arty celebrities as Ai Weiwei. Byrne, better known for his public installations (not to mention music), downright relishes one-liners. His paintings advertise imaginary apps, while Democracy in Action displays parliaments in session as an image shuffle. The jokes gain nothing from old-fashioned paint on new-fangled Plexiglas, but he makes one wonder at political debate going nowhere fast. Still, sometimes it helps to turn off the computer or iPhone and to head outside. Byrne's inflatable globe is lightweight, but it hints at all sorts of communities.
Significant others
One may leave "Facetime" desperate for some face time. Where exactly are the faces? When the show, which originated in Copenhagen, departs the Lower East Side, will it have taken human contact with it? Or do these artists know something you do not? Definitely, and you may not find it online. In fact, you may or may not find it at all.
One first sees two oversized coat hooks, as if blown up in Photoshop, but real. The artist, with the mysterious handle A Kassan, calls them Mask/Hook, perhaps to note the resemblance to a face—or to a mask hiding a face—with screws in place of eyes and a very long turned-up nose. The work's subtitle offers the invitation Make Yourself at Home, but one of the two has its nose (excuse me, hook) torn off, as if the room's sole other occupant had left all too hurriedly. Zevs (normally an anonymous street artist) rephotographs icons of knowledge and invention, like Plato and Thomas Edison, but with their faces "violated" by what appears an overeager flashbulb. Maiken Bent leaves room for faces, in a display of handmade dog collars and stitched leather, but one must supply one's own at a clear risk. Jan S. Hansen's mask-like watercolors derive from Sufi imagery, with perhaps the same sexual associations.
There is video, but either more or less than meets the eye. Lilibeth Cuenca Rasmussen's monitor rests on the floor, welcoming eye contact, should one kneel and submit. Naturally, it supplies a tale of sexual abuse—with a promise of salvation, through a boyfriend's face time, disrupted in the end by yet another act of betrayal. Maria Petschnig projects her video high up in a corner, behind supporting beams, where one may not notice it at all. She even calls it Pareidolia, meaning a vague stimulus, and it presents only a woman's breasts and torso bound up for an unknown person's pleasure. Rosalind Nashashibi sticks to the rough rhythms of sixteen-millimeter film, outside a police station that one might well mistake for a crime scene.
Aleksandra Domanović and Odires Mlászho do photograph faces, but at a further physical, artistic, and sexual remove. Domanović gives an image of Marshal Tito, the former communist leader of the former Yugoslavia, the texture of fabric or cold stone. Mlászho appropriates museum images of Roman relics of women who died long ago from a class that common people might have known only as images. Their eyes bear yet another mask, from the circular overlay of other photographs, of men. Debo Eilers also includes faces, from which colored squares pop out as for a touch screen or a mouse click. And the faces belong to the artist's computer desktop.
Then again, his work is perhaps the most tactile and least digital, in a show about recourse from the digital. Of course, face time refers to that recourse, as a basic human need. But is it, too, mediated? The curators, Toke Lykkeberg and Julia Rodrigues, sure think so. They also cite Emmanuel Levinas, a midcentury philosopher and the author of Entre Nous ("between us"). For an existentialist like him or Jean-Paul Sartre, the self is itself discovered, created, and mediated through face-to-face encounters with others.
Make that the other, a term they adopted from Martin Heidegger. One might look quite some time here for one's significant other, and one might not find the encounter all that reassuring after all. It is not likely to come from Daniel Gordon's Blue Eye, an abstract photo with a spot of blue, or from Michel Journiac's staged family portrait as "travestis" of themselves—in French, suggestive at once of travesty and transvestite (and still in use to describe cross-dressing roles, as in Shakespearean comedy). It can hardly come from DIS Magazine's advice on How to Hide from Machines, as a Web site. The show's international bent helps account for the darkness and obscurity, as with the 2012 New Museum Triennial, although Eilers and Petschnig also appeared in "Greater New York 2010" with more dark or erotic fables. Compared to the all too American glibness of "Social Media," though, it comes as an unhealthy and much-needed antidote.
We, the people, too
"Corporations Are People Too" could make you downright nostalgic for corporate abuse. It starts long before the latest Republican presidential primary, with classic photography by Berenice Abbott, Lewis Hine, Dorothea Lange, and Louis Faurer. Abbott finds precisionist beauty in a coffee factory, while Hine and Lange shift perspective to workers. Faurer even allows them to enjoy themselves, on a drive through Times Square, with the top down. Is that a corporation in the back seat? If so, it is the last time corporations here take the back seat to anyone.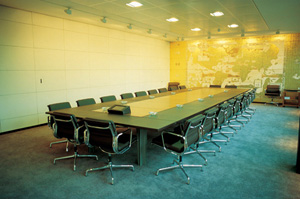 Corporations aside, people after that are in short supply. In Phillip Toledano's photos, they vanished long ago, although one would hardly know it. Cubicles look much the same in bankrupt offices as in yours, give or take the pencils shot through drop ceiling tiles. Yes, Ian Davis lends a board meeting or an act of CPR the look of a Soviet party rally, with a flat painting style to match. Yet the stately boardrooms in Jacqueline Hassink's photographs omit even the empty suits. The blurry silkscreen Hilton and stylized logos of Chris Dorland serve as signs of alien life.
Yevgeniy Fiks does hear back from individuals, in response to his donating Lenin's Imperialism to their corporate libraries. (If you are looking to borrow it, it bears the subtitle The Highest Form of Capitalism.) Much of the humor lies in their personalized responses, which pointedly avoid questions of content. Most often, they say that their companies simply do not have libraries. If by now you are ready to give a corporation a big hug, Kota Ezawa's painted L. L. Bean catalog could make anyone want to shop online. And that points to an interesting problem for the show—and for art.
Corporate personhood is, alas, long-settled law—in a limited sense that I could not explain for you while staying awake. It is also just one pillar of Citizens United v. FEC, the 2010 Court decision that unleashed a flood of campaign spending and gave Mitt Romney's point new and bitter relevance. The Court also relied on the ideas of money as speech, freedom of association, and absolute freedom of speech. But think about it. Taken together, do these mean that a wealthy collector is really an artist? Do they mean that a corporate collection is necessarily a museum?
Come to think of it, maybe yes. It amounts to many a postmodern critique of art institutions and arts funding—starting well before Jeffrey Deitch took over LA MOCA, the New Museum sold out to the Joannou collection, or the New York Public Library unloaded a great American landscape to Wal-Mart as, in time, the core of a new museum. This show means to continue that critique, but it could fall victim to it, too. In fact, if you (heaven forfend) are a corporation, you may have want to respond along with those librarians. (People do, you know.) Big business, you may want to object, is a big subject, and can a small group show treat it fairly?
What connects early modern empathy to corporate identity, although elsewhere Liz Magic Laser gives those very terms her best shot? And what exactly runs through these works—other than the obvious lesson that corporate interiors and logos have creative designers? Most of all, could the whole idea of an impersonal corporation mask personal and corporate responsibility? In the real world, people occupy those boardrooms, mostly without saluting, and they make fateful decisions. Even Fik's humor comes at the expense of individuals, who are, after all, underlings. I can only say in defense that group shows are people, too, and this one has a creative design all its own.

"Social Media" ran at Pace through October 15, 2011, "Tight Spot" by David Byrne through October 1. "Facetime" ran at On Stellar Rays through February 19, 2012, "Corporations Are People Too" at Winkleman through February 11, and "Through a Glass, Darkly" at Postmasters through May 5. I also mention summer group shows at Bitforms, through August 3, and Josée Bienvenu, through September 8.